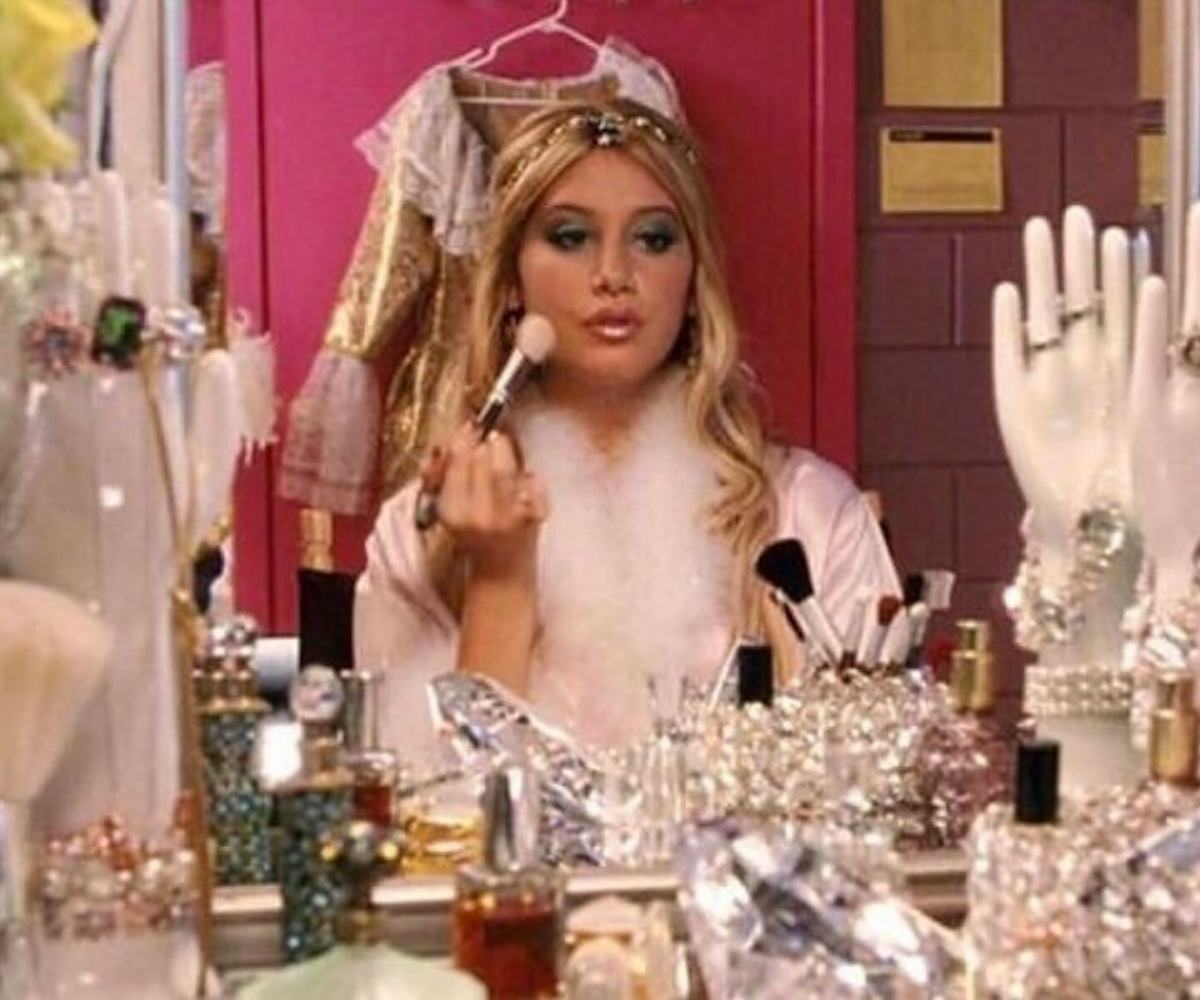 Screenshot via surfboardt__ Twitter
A Look Back At Sharpay Evans' Best 'High School Musical' Beauty Looks
So, Twitter has rediscovered its love for Sharpay Evans. And I mean, fair. It's been 13 years since High School Musical shuffle-ball-changed into our lives, bringing Ashley Tisdale, Vanessa Hudgens, and Zac Efron along with it. When it aired, many of us hated Sharpay—the movie's over-the-top "villain"—for trying to foil Gabriella and Troy's plans to star in the school's musical and catapult herself to the top instead. But, looking back on it, people feel different.
In hindsight, Twitter has realized that Sharpay was, in fact, an icon. "Sharpay Evans raised me to be the extra bitch I am today," one user tweeted, along with an array of nostalgic stills from the movie. "Sharpay Evans was FABULOUS and hoes were MAD. Simple," shared another. One fan even created a powerpoint, titled"How Sharpay Evans Was Bopped From The Top," which chronicled the various injustices she experienced throughout the film.
It makes sense. Troy and Gabriella spent most of the movie endlessly pursuing each other, the musical a subplot in their plans to share a mildly passionate Disney-approved kiss; Sharpay, however, was endlessly ambitious from the beginning. She wanted to go to college, stunt in designer threads, and traipse around the stage while doing it. She didn't have to get ready because she stayed ready, and she refused to apologize for it. While everyone was all in this together, Sharpay was all in it for herself.
She also turned looks. A key component of Sharpay's persona was her all-pink, do-the-most ensembles, which sharply contrasted with Gabriella's girl-next-door vibe. While it seemed like a lot at the time, Sharpay actually offered up a masterclass in early aughts glam. In celebration of her resurgence, we're looking back at her best beauty looks across the HSM franchise ahead.
When She Wore a Smokey Eye and Iridescent Gloss
Fresh-Faced With A Choppy Side Bang—Hello!
That Time She Boldly Rocked Silver Eyeshadow, Magenta Lips, and A Crown
The Monochrome Masterpiece That Was HSM 2
Who Among Us Could Wear Black Bottom Liner and Rhinestones And Get Away With It?
Okay But This Headband Though