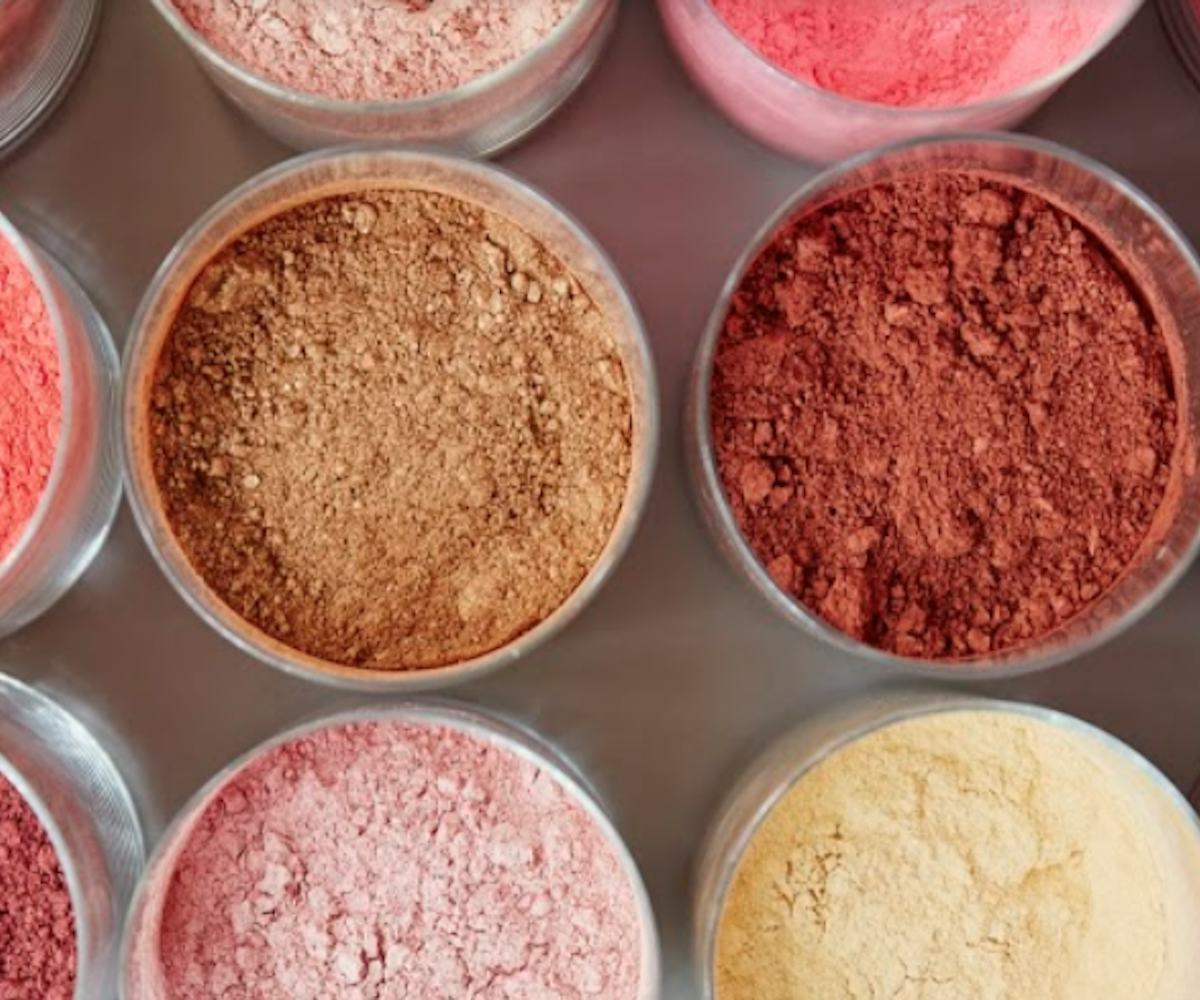 This Brand Is Bringing Bespoke Beauty To The Masses
Speaking to the founders of SheSpoke, which is revolutionizing the bespoke beauty experience
With a highly saturated beauty industry and an ever-changing number of brands that are focusing more on diversity in their makeup collections, one company is looking to change the game by allowing consumers to take the reins of what they want for their beauty.
SheSpoke, which began six years ago as Rouge Beauty Bar, offers custom beauty products both out of their New York City storefront and online. The company can credit a chance meeting on the set of Law & Order SVU, where actress Stephanie March and makeup artist Rebecca Perkins bonded over their love of makeup and decided to go into business together, where, for $49 each, they deliver custom lipsticks, lip glosses, and lip balms that rival those of any luxury brand at a traditional beauty counter.
NYLON recently caught up with March and Perkins to learn all about their business, their thoughts on the industry, and what they've got in store for the future.
How did SheSpoke come from Rouge Beauty Bar?
Stephanie March: We opened Rouge Beauty Bar because we said, "If you can get your hair done everywhere and your nails done everywhere, why not your makeup? Why is your only option to go to the beauty counter of a large department store and be sold a bunch of stuff?" That was a terrific experience, and we probably could have done that forever. But we had a bit of extra square footage in our uptown location, so we opened what we called our bespoke beauty bar. We were custom-making just lipstick at the time, but when we saw how much people gravitated toward the custom makeup, we thought, Oh, this is what we need to be doing.
We still apply makeup, so we still service all of our Rouge clients and we continue to bring in new clients, but when we realized we were going to pivot the business, [we knew we needed to have] a full rebrand and relaunch. So, we closed Rouge, we rebranded, and we reconfigured a space that serves our clients. We soft launched in October and launched e-commerce in April. Why buy a pre-made color when you can buy a color that's just for you?
What's the demographic that comes for custom makeup?
SM: This tends to be something that's done pretty socially. It's very rare that there's just one person coming to do it. It's generally mothers and daughters, two friends, [or groups that come in for] bachelorette parties, bridal showers, bat mitzvahs—it runs the gamut.
What did you feel was missing in the beauty industry that made you want to transition to custom makeup?
Rebecca Perkins: I've only ever done makeup for my job, but I've never sold makeup, so it's always been doing makeup for a client to make them feel beautiful, get them ready, make them look like their character. And so, when we opened Rouge, people would say, "Do you want to have your own line?" And we would say, "No, no, no. There's enough beautiful makeup out there. That's a whole sea of noise. We want to do a service."
But then, when we started doing the lipstick, we realized that the product was a service and that women were very comfortable approaching the service through a product. And so, how could we make something that was perfect for them, while not sitting on an inventory of 100,000 things in the back and hoping that it's a hit color? We wanted to have something for everybody, so nobody's left off the table. Basically, it was that we started offering the service, and once we started putting it out there that we did the service—and it expanded 583 percent in a quarter—we were like, Oh, that's a number to pay attention to. So, that's where it really stemmed from.
How can each person make their lip product one-of-a-kind?
SM: We wanted to make sure there were multiple levels of personalization and customization because that's what makes it fun. So, you can name it, engrave it, add a scent to it.
The SheSpoke experience is emphasized as being community, theater, and the democratization of beauty. What do you mean by that?
SM: If you're going to come out and buy something, we need to offer our customers something that is unique: an experience that you can add to going to lunch, going to the museum, or taking a friend out for her birthday. And so, we wanted the customization process to be an affordable luxury. It's at a price point that people can afford, but it is customized to our clients. It is a personalization experience that I don't think could get more personal, and it really takes about half an hour, so it's something you can easily fit into your day. And we wanted each woman to feel served, the best of herself, and like she was getting the product she wanted, not the product we needed her to have because we have that kind of inventory.
Since starting SheSpoke, has it changed the way you relate to the beauty industry?
SM: We've learned so much. Because I was on the receiving end of the services, I have really enjoyed getting to know our clientele and having customers. It really is fun to have a business where you make people happy. Especially in today's climate, we have something that's a bit more pleasing and light-hearted. And we've learned so much about the beauty industry, especially about clean beauty. We call our products "bee-gan"—so they're vegan, except for beeswax. We would never start a business that didn't address cruelty-free and clean products. That's what people want; that's what we want.
RP: It's interesting that when you're starting a beauty business yourself, you can choose to put whatever you want in your products. But especially for a lip product, why wouldn't you just start from that point of clean beauty? So, that was interesting to me that you don't have to compromise on anything when you're doing it clean, so why wouldn't you just do it that way?
Why did you choose to branch into e-commerce along with the store?
SM: Without a digital platform, we can't reach all of the people we want to reach. So, ultimately, our goal is to be able to in the place where you can customize more or less online. In the meantime, we have a spectrophotometer where we can swatch your color so, if you make a color in store, you'll be able to order it online. And we have a collection of colors which we crowdsourced from what we were putting on the 15,000 clients who came to Rouge, and we made a pretty inclusive collection of reds and balms. And, of course, these are a lower price point than the lipstick service, but we wanted it to be available to people around the country.
Do you have any people or brands in beauty that inspire you?
RP: Pat McGrath. I worship Pat McGrath. Urban Decay has really good makeup.
SM: Pat McGrath. Rihanna.
In terms of skin care, I love Supergoop. One Ocean, it's the clean La Mer. I love clean and cruelty-free, and those two companies are doing a great job at that.
What's in store for SheSpoke's future?
SM: We plan on partnering with major retailers so we can try other markets and see how it works. Obviously, we'd like to be in a few more places across the country. I'm from Texas, so that would be one of my dreams; it's a great place for beauty.
RP: We also have a vision for a digital experience; that is a big priority for us. So, if you're in Dallas or Des Moines or Cleveland, that you could, on your app or your computer screen, digitally create a custom experience. So that's what we're working on.