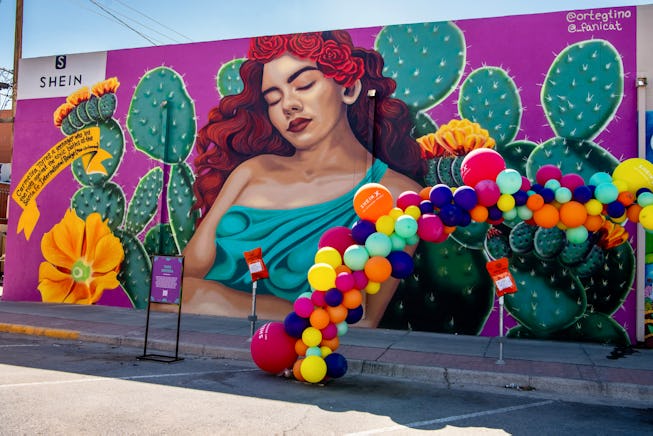 Courtesy: SHEIN
Meet The Inspiring Artists Behind These Hispanic Heritage Murals
Get an exclusive look at SHEIN's 'Art Discovery' event celebrating Latinx artists.
Every year, Hispanic Heritage Month celebrates the rich culture of the Hispanic American community from September 15 through October 15. To commemorate this important time, SHEIN hosted a day-long block party — filled with food trucks, T-shirt screen printing, and other fun activities — all held in the heart of El Paso, Texas. The event was open to the public and part of the brand's SHEIN X Art Discovery Project, an initiative that focuses on supporting community, culture, and small businesses. "We are excited to bring our next Art Discovery Project to the city of El Paso," said George Chiao, U.S. President of SHEIN. "Our community of Latinx designers, artists, partners and employees are an integral part of the SHEIN brand and we celebrate them not only this month, but every month." At the event, the online retailer announced a $50,000 donation to the Rubin Center for Visual Arts, a contemporary arts institution serving the El Paso and Juárez region. The Center has produced over 150 original exhibitions and site-specific commissions with numerous international artists, centered around Latinx and Latin American voices.
For the block party, SHEIN also commissioned four local artists to create one-of-a-kind hand painted murals. Each artist has deep roots in the El Paso community, and drew on their heritages to create vibrant pieces reflecting their vision and artistic identity. The murals will serve as incredible monuments to El Paso's culture and community.
Keep reading to learn about the four talented mural artists and the inspiration behind each of their pieces.
Adrian Lopez
El Paso artist Adrian Lopez centers his work around his community, allowing his large-scale murals to help tell their stories. He feels that his work celebrates the identity of an area. "All of my work has a lot of personal references — this was a photo shoot between my wife and I, [where I put] something as simple as a flower in her hair," says Lopez. Despite the individual moment represented, however, Lopez says many people connect to the piece. "What's beautiful about this is there can be so many different interpretations… Whether it's love or something bigger than that, it's all representative of us and our culture," he adds.
Jesus "CIMI" Alvarado
For Cimi, his relationship with art started when he was a graffiti artist in El Paso. Inspired by contemporary and historic Chicanx figures, Cimi's work pays tribute to his connections with communities, and El Paso's border culture. He also co-founded the Kalavera Culture Shop, which helps provide art supplies to the community, as well as a network of supportive artists.
"One of the things we have that is really great here in El Paso is music," says Cimi. "We have mariachi music, a lot of Cumbia, [and more]." To many, El Paso is a gateway into the United States from other cultures, he adds, and that gateway can introduce "a lot of other beautiful music, beautiful culture, and beautiful art."
Kelsey Kilcrease
Born and raised in El Paso, Kelsey Kilcrease's art ranges from digital work to vibrantly colorful murals. She considers her art to be a love letter to her culture, reflecting the multifaceted beauty of her community. This piece is based after her muse, her younger sister. "When we were painting it, we had a lot of foot traffic coming by and someone asked 'What does this painting mean?' and we asked [what they thought it meant]," says Kilcrease. "They said 'I see a strong woman defending her culture,' and to me, that really does sum it all up." Kilcrease says she wanted to personify the vibrancy of Hispanic culture "using someone I love."
Albert "Tino" Ortega
Though a muralist for the past 10 years, Tino Ortega has also experimented with a variety of styles and mediums. His upbringing on the border has always informed his work, as he frequently illustrates multicultural people and areas near the southern border. Through his art, Ortega celebrates the strength and unity of his community.
"This is a woman named Carmelita Torres, who stood up for the rights of Mexican-Americans and Mexicans alike, so she's very impactful in our own community," says Ortega. "I wanted to make sure that she was represented, especially in a specific location such as this, because we're so close to all of these things that she stood up for — right here at the Santa Fe International Bridge."
To get the latest updates on SHEIN pop-ups and events in your area, follow SHEIN on Instagram.