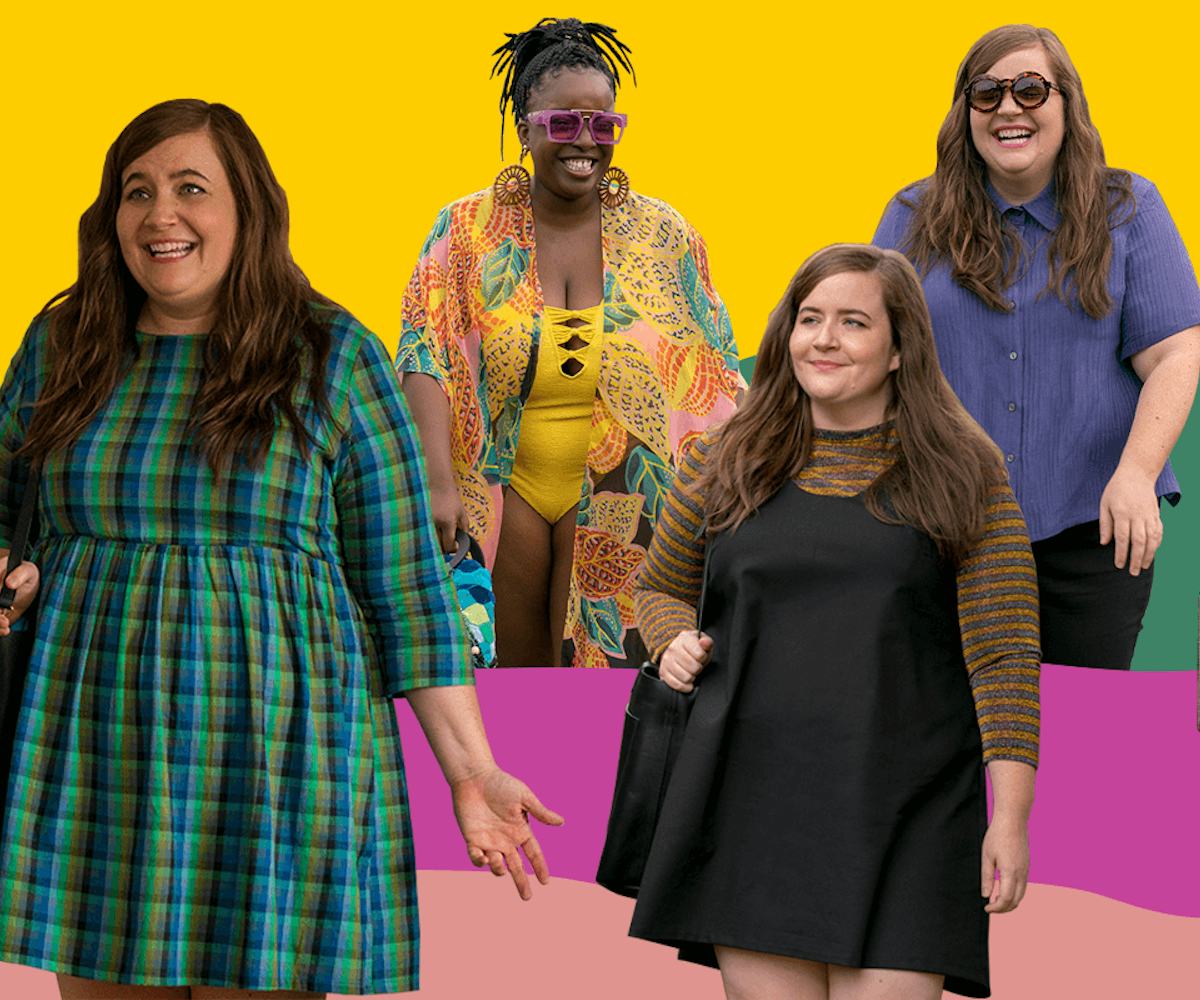 The Costumes On 'Shrill' Show What's Possible In Plus-Size Fashion
We chat with Amanda Needham, the show's costume designer
Costume designer Amanda Needham was naively optimistic about the plus-size fashion market before signing on to Hulu'sShrill. Brands like Madewell, J. Crew, Anthropologie, and others have recently extended sizing, and a handful of other brands have launched specifically for the underserved market. So, when she interviewed with star Aidy Bryant for the job, she had it in her head that she was going to present a new world, a "fashion mecca" if you will, to the actress. She reached out to "every single kind of brand" and was met with the same response. "It was this blanket statement of, 'Unfortunately, right now we can't really do anything for you,'" Needham says. "The truth is, I kind of gave up really, really early in prepping because the things that I would get were not great fits, not great styles, the fabric was really cheap… I didn't realize how bad it was, to be honest with you."
Someone who did realize that, though, is Bryant herself. She pokes fun at this very problem in the show, stating: "Everything is either like a big Indiana Walmart sack or it's like some cutesy shit covered in Eiffel Tower postage stamps." Needham says the lack of stylish clothing options on the market became something of a running joke between her and the star. Bryant, being the delight that she is, was open-minded throughout the process despite anticipating the forthcoming sartorial disappointment. "I would present things, and I'd say, 'Oh, did you see what Rachel Antonoff is doing or what Mara Hoffmann is doing?' And she'd already have every single piece that I had on the rack for her," Needham says. "And she said, 'You know, when you're my size, there's not a lot of designers doing much, and so every girl has these pieces.'"
It was a rude awakening for Needham, and made her dedication to the show even stronger. "It took me a second to sort of reorient myself and say, 'Okay, wow, I cannot believe that this door is being shut so hard and in so many ways for somebody who is pretty average sized for America now,'" she recalls. "I think there was a part of me that felt kind of responsible for the fashion industry. Like, why isn't there anything happening and why is it such a strange concept that somebody who's over a size 8 would actually want to be stylish? Why is that so foreign?"
Since finding clothes that aligned with the direction of the show was nearly impossible, Needham and her team ended up custom making "about 90 percent" of the show's wardrobe. She designed the standout rainbow sequined dress Annie wears to her work party as well as the bold blue dress she wears out to dinner with her "situationship" boyfriend Ryan. The bathing suit that Annie wears during the pivotal swimsuit party scene is from Cynthia Rowley, but Needham says that she and her team did end up having to custom make a lot of the pieces for the other plus-size party attendees, though. She adds that they relied a lot on accessories because, "once you get into a certain size, it's like how many black bathing suits can you really see?"
The result though is one of the most memorable scenes of the show. "Me and my team we were all up before the sun and, as the sun was rising, everybody was kind of fully dressed, and there were so many tears, and people were so overwhelmed and so happy," she says. "I don't think I've ever seen that many women that size on camera looking that fashionable in my career. And it was just a nice moment to be able to bring that to all of them."
The mixing of patterns and colors throughout the show was very much intentional also. "As you get bigger it gets darker and bigger and not really all that interesting, so we just really wanted to amp it up and make it bright and have it be loud," Needham says. Annie's style overall is like that of a fashionably elevated kindergarten teacher, something that a character on the show mistakes her for being in the last episode. It's approachable, comfortable (even while wearing heeled clogs, most of which were sourced from Rachel Comey), and still stylish.
Needham took cues from Bryant's real-life style as well as that of Lindy West, upon whose memoir the show is based, but overall she says, "We wanted to create something we're not really seeing in the plus-size market and create something new and fresh and interesting." She continues: "I think there's sometimes this thing in plus size fashion where you're just exposing so much to prove a point, and what I like about Annie's style is that it's really tailored and put together and it fits her body, but her boobs aren't out the entire time… Unless they're supposed to be."
So, in a way, having to make a majority of the pieces from scratch ended up being a good thing and, Needham says, took a lot of pressure off of her, but it also served as a Catch-22. The show, as Jezebel points out, is about "navigating the world while fat," and a lot of plus-size women have expressed feeling seen while watching it. But "the bummer of it all," as Needham puts it, is that you can't buy a lot of the clothes characters like Annie and her best friend Fran (played brilliantly by Lolly Adefope) wear. Needham does point out that brands like Savage X Fenty, 11 Honoré, ASOS, Wildfang, and Universal Standard are doing a good job, but there's still a gaping hole in the industry that she hopes is at least on its way to being filled come Season 2 (which, Needham says, is going into production in June).
"I'm really hoping that there are some collaborations in the works or lines catching up to speed because I really want it to be a shoppable show," she says, adding that it comes down to brands recognizing that "this is a real movement and that we need to just do the basic human thing, and see people for who they are without pushing them out."