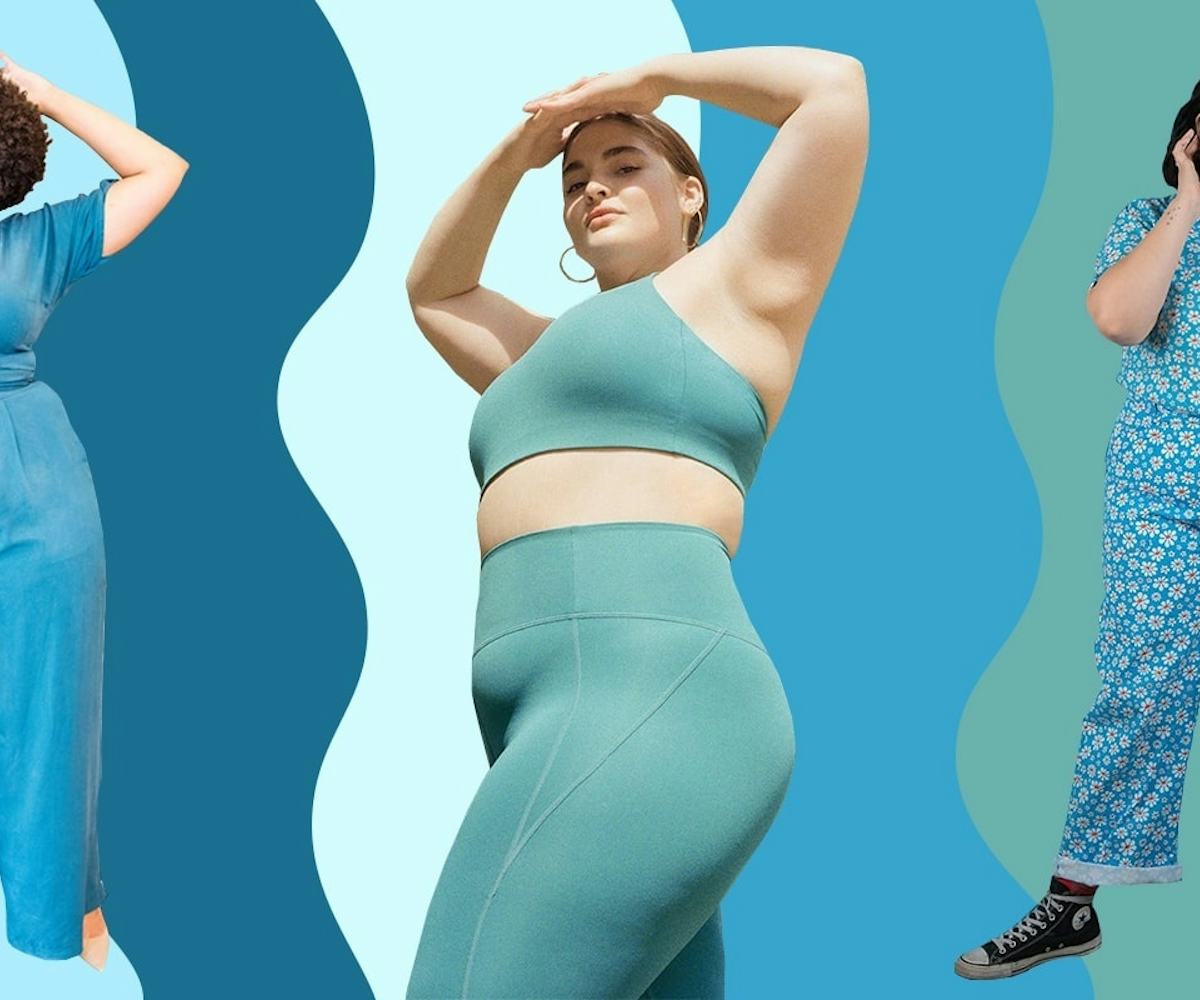 Get To Know These Sustainable And Size-Inclusive Brands
They're intersecting at two of fashion's most important movements
When we look at how the fashion industry has changed over the past decade, it's clear that there are two major movements happening. The first is a shift toward sustainability, and the second is one toward inclusivity—specifically as it relates to sizing.
However, it's still uncommon to find a brand that does both. There's a serious lack in size diversity when it comes to today's sustainable brands—both established and emerging—and on the flip side, many of today's most beloved size-inclusive and plus labels have quite a lot of work to do in terms of their sustainability efforts.
With that said, the brands that are doing both? They're at the forefront of this revolution, and, simply put, they are the future.
We highlighted six brands putting an effort towards making the fashion industry a better place overall: one that's less polluting and that creates with sustainability and the future of our planet in mind, while also prioritizing inclusivity and encompassing all body types and sizes. Get to know each of these brands a little better, below.
Big Bud Press
If you're looking to bring a bit of color (and sunshine) into your wardrobe, Los Angeles brand Big Bud Press might be the label for you. Founded by Lacey Micallef back in 2015, the brand consists of an inclusive and colorful range of unisex apparel and accessories—our personal favorite being its rainbow array of boiler suits.
All of its clothing styles are offered in a range of sizes from XXS up to 5XL, thus catering to a wide range of body types. Everything is also made in Los Angeles, where the brand is headquartered, and the clothes are constructed almost entirely at factories and shops owned and operated by women and POC, with guidelines for both ethical production practices and treatment of workers. Big Bud Press also tries to use only sustainable fabrics made from plant fibers as much as possible, making sure never to use any synthetics.
In terms of inclusivity in the world of sustainable fashion, Micallef stresses that it's a problem across the industry. "I sincerely feel there's a serious lack of inclusivity in all aspects of fashion," she says. "How can you ignore such a large percentage of the population? So few people fit into the size window offered by most brands—why is that the standard window? If [a brand] as small as us can do it, I don't understand why other's can't as well."
Girlfriend Collective
Girlfriend Collective believes that health and wellness comes in a multitude of shapes and sizes and that representation matters, which is why you'll find its range of activewear—featuring multiple styles of sports bras, leggings, and shorts in clean, minimalist silhouettes—offered in sizes ranging from XXS up to 6XL, and photographed on models that represent this range. "Everyone should be more inclusive, including us," co-founders Ellie and Quang Dinh tell us. "Everyone deserves to be represented in marketing and messaging, and our goal is to keep that top of mind and be better every day."
While its extensive size range and high-end fit and feel is a major focus for the brand, so are its practices in sustainability. It puts a lot of effort into being as transparent as possible, and so it has chosen every part of its process—from raw materials to facilities and partners—with the utmost care.
On top of using a range of recycled and eco-friendly textiles (like recycled polyester and recycled nylon) and dyes, Girlfriend Collective also consciously treats its wastewater at a plant located 100 feet away from its machines, before it is released back into the earth. Its leftover dye mud gets turned into paving stones to create better sidewalks for its community. Most recently, it teamed up with Rent The Runway to host a pre-Earth Day "plogging" (or jogging while picking up litter) event, organizing a group of people to help clean up the Hudson River Greenway in New York City.
And Comfort
A minimalist's dream, And Comfort creates wardrobe essentials in premium sustainable fabrics, offering its designs in an inclusive size range from 10 to 28.
Founded by Karine Hsu and Jeffrey Zhao in 2017, the name derived from its fit process. Each design is fitted on at least 25 different fit models across its entire size set, allowing And Comfort to tweak even the tiniest adjustments between sizes, ensuring that its product is not only inclusive but also fits every body properly. "The fit process most brands currently use is not one developed with different body shapes and sizes in mind," Hsu says. "It generally varies from brand to brand, but it typically involves using just one fit model to test pieces on. Naturally, the process often results in poor fits for different body shapes and sizes."
Of course, sustainability and ethical production are other aspects important to the brand (and, well, what makes it comfortable). Rather than use plastic textiles such as polyester, the brand works with natural fibers such as organic cotton and Tencel derived from recycled eucalyptus trees, which are not only obviously more sustainable choices, but also more breathable, durable, and comfortable. The brand also works with a small, family-owned artisan factory located in Ningbo, China, that has been working with designers to create responsible, sustainable, and ethical clothing for over 50 years.
Alice Alexander
Looking to revamp your wardrobe with timeless staples and basics that you actually can feel good about? Look no further than Alice Alexander. The Philadelphia-based brand was founded as a one-woman, one-sewing machine label back in 2017, after founder Mary Alice Duff realized the serious lack of size diversity in the world of sustainable fashion. Fast-forward to two years later, and her brand is thriving, having grown to a team of five.
The sustainable and ethical size-inclusive brand is made entirely in Philadelphia and sold through a direct-to-consumer, made-to-order model, which allows it to create clothing for a multitude of body types, use some of the most sustainable materials out there, and cut down majorly on potential waste. You'll find its offering of bodysuits, tees, outerwear, and more offered not only in sizes XS up to 4X but also a variety of lengths, from petite to tall.
Everything is made from earth-friendly, biodegradable materials such as linen, hemp, organic cotton, and more, with any leftover scraps being responsibly recycled. Recycled and recyclable packing materials are also used, ensuring that the process is green from start to finish. And considering that Duff built manufacturing capability herself, rather than outsourcing production to outside factories, it's possible for her to ensure garments are made ethically and workers are paid fair wages.
"There is an incredible lack of size-inclusivity in the ethical and sustainable fashion space, and an overwhelming majority of ethical and sustainable brands do not cater to women over a size 14," says Duff. "Furthermore, the overall aesthetic of sustainable and ethical fashion is thin, young, and white. I'm of the belief that there are firmly held stereotypes about plus-size bodies—whether it's conscious or not—that dissuade ethical brands from including larger bodies in their design."
Duff feels that the improvements and changes that need to happen industry-wide are not necessarily going to come from the established ethical and sustainable mainstays, but are rather going to be put into motion by the new and emerging inclusive brands—like hers, of course.
Dazey LA
Dazey LA is a T-shirt line and e-commerce store that serves to empower women through conversation. Every collection launched by the brand is inspired by and revolves around subjects that modern women struggle with, with the purpose of inspiring its customers to talk and share, and providing a platform for these conversations to happen. All of its apparel is made from organic cotton and is hand-drawn and handmade to order in Los Angeles, with the intention to create zero overproduction and textile waste. In addition to its own line, the site proudly carries ethical apparel and accessories created by other female entrepreneurs, highlighting these women on the brand's Boss Blog along the way.
While Dazey LA strives to be as size-inclusive as possible, founder Dani Nagel is consistently working on expanding its range. She recognizes the serious lack of size inclusivity within the sustainable fashion market but explains that, especially for a smaller brand, it can sometimes be tough to offer a widely expansive range right off the bat. "The intersection of sustainable and size-inclusive fashion is a total underserved market," she says. "Dazey has been expanding its size offerings for some time now, but, as a small brand on a budget, it has been hard and slow-going. Most sustainable brands are also small on top of having high production costs and tight margins."
It wasn't until she attended an inclusive fashion panel and heard the plus-size blogger speakers talk about the struggle it is to find ethically made apparel in their size, that she became determined to speed up that process. The brand recently put out a campaign, teaming up with the founders of the body positive podcast She's All Fat, to raise the money to aid in its mission to expand its sizing, which is proving to be a success. "For the first time, we offered our tees in sizing up to 4X, and all proceeds from that design go directly into funding our size-inclusive initiative. We hope more brands follow suit because all women deserve beautiful, ethical apparel."
Reformation
When it comes to millennials and shopping sustainably, Reformation is likely one of the first brands to come to mind. It puts sustainability at the core of everything it does, from eco-conscious fabric and textile selection to its carbon footprint and green infrastructure of its factories to its waste and energy footprints. It's also transparent about every aspect of the process, from production to finished product. The result is a line of effortlessly feminine dresses and separates with a laid-back L.A. vibe.
However, up until recently, it was also known for being limited in terms of sizing. Then, back in March 2018, it launched its first plus-size capsule collection in collaboration with model Ali Tate Cutler. While this capsule was limited-run (and, thus, sold out quickly), the brand decided to make extended sizing part of its permanent collection, bringing it back permanently this past March. This new iteration features a number of the brand's classic and loved styles in sizes 1X to 3X and 14 to 24.
The fact that Reformation brought it back as a permanent extension of the line is a good sign for the fashion industry as a whole. We hope that it will influence other major players in the sustainable fashion space to recognize that consumers want clothing that is both sustainable and inclusive, and they want it now.