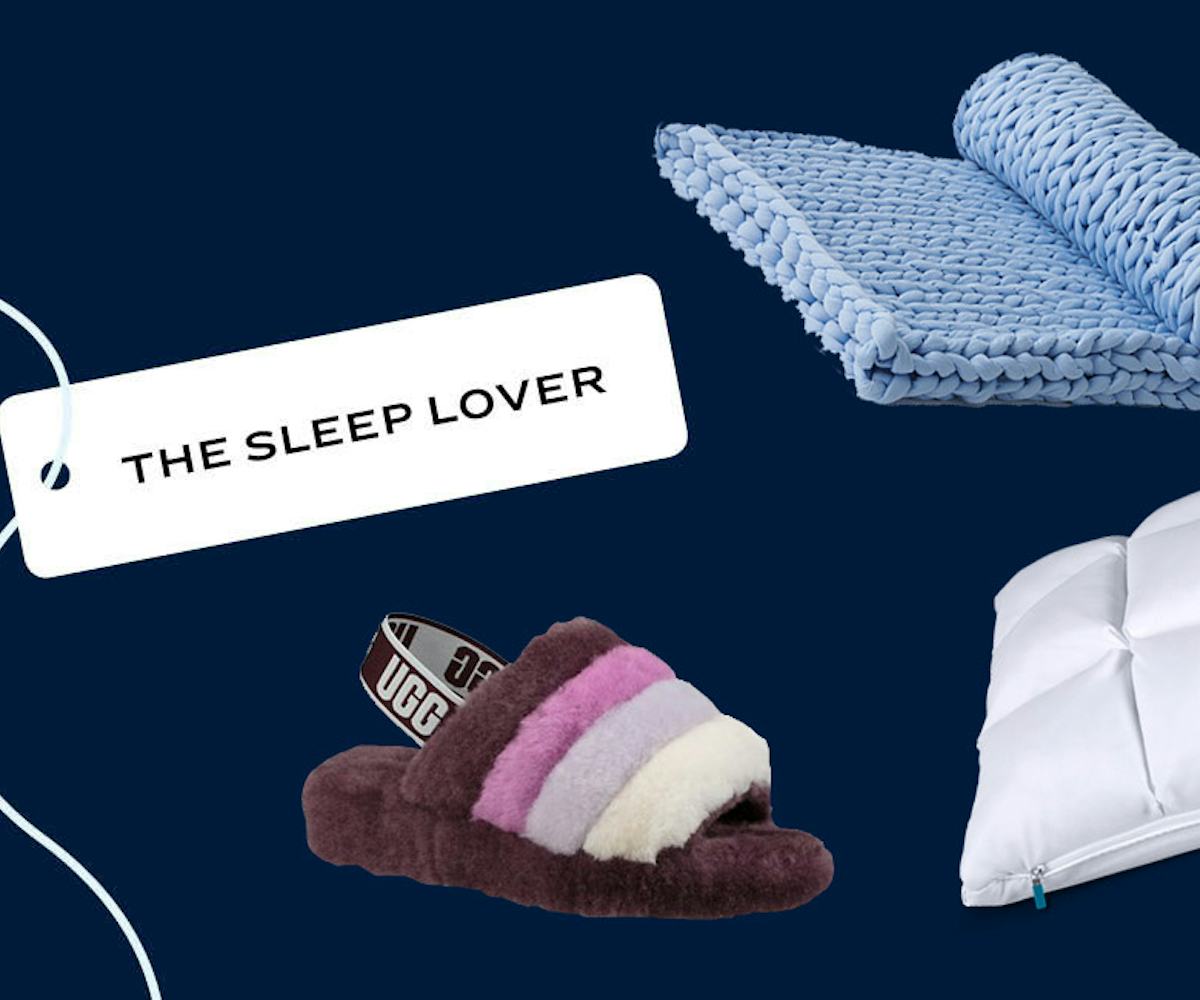 Unwrapped: 20 Gifts For The Sleep Lover In Your Life
Insomniacs and the sleep-obsessed, this one is for you
Tis officially the season for gift-giving. For us, that's a full month in which we'll be providing gift ideas for everyone on your list with our Unwrapped holiday gift guides. So make your holiday shopping a breeze this season, and let us help you find gifts for all the people in your life.
Did you just wake up from Thursday's food- and Friday's shopping-induced slumber relishing the fact that you still have a whole weekend of sleeping in ahead of you? If so, you will appreciate the dreamy picks we've assembled for you and your fellow nesters, homebodies, and sleep-obsessed just in time for peak sleep holiday season.
From cozy bed accessories that promise to give you the best sleep of your life to chic loungewear that you won't want to take off when leaving the bed, and sleep-enhancing beauty and wellness products, here are the 20 gifts that every snooze-loving person on your list will want come December. Bonus: Some of them are on sale this weekend.
Bearaby, The Napper, $259, available December 5 at Bearaby.
Said to reduce stress, contribute to better sleep, and reduce anxiety, weighted blankets are all the rage right now. The Napper, launching next month, is a beautifully woven blanket made from sustainable all-natural fibers and featuring evenly distributed weight that brings about deeper sleep.
Soda Says x Dodow, Metronome Light, $59, available at Nordstrom.
Having just launched in the U.S., Soda Says (short for School of the Digital Age) is responsible for tech gadgets that we don't know how we previously lived without. This one, made in collaboration with France's Dodow, produces a light on the ceiling which can help slow breathing to six breaths per minute, the optimal number for a restful sleep.
Higher Dose, Infrared Sauna Blanket, $499, available at Higher Dose.
I've never slept better than after sweating in a heated bed in an "urban sweat lodge." For those who want to take it up a notch from gifting a gift card, there is this infrared sauna blanket that can get you sweating at home or on the go.
Enso, $99, available at Enso.
This "gadget" measures your heartbeat and plays it back to you as a way to encourage meditation, calm, and slower breathing. Made from sustainably harvested maple wood, carved to mimic a river stone, it allows you to also record, share, receive, and play back heartbeats from your loved ones should you need some extra comfort when trying to fall asleep.
Tank Garage Winery, Too Much To Dream Last Night red wine, $45, available at Tank Garage Winery.
This Napa Valley winery and tasting room puts out some of most creative wine labels we've ever seen. While the sleep lovers in your life will likely first appreciate the bottle, they will be just as enamored by its delicious blend with its spicy-warm notes of chocolate, berries, and licorice upon tasting.
Leesa, Hybrid Pillow, from $125, available at Leesa.
While this brand is known for its innovative multilayer foam mattresses, we're fond of this reversible pillow that has cool-to-the-touch fabric on one side for more restorative sleep and a down-like quilted pocket on the other side for support.
Naadam, Kisaya Cotton Cashmere Pillow Sham, $75, available at Naadam.
To go with that pillow, may we recommend this ridiculously soft pillow sham composed of 100 percent Mongolian cashmere and extra-long staple cotton, made using clean energy-powered production facilities and sustainable practices?
Byredo, Rose Hand Care Gift Set, $135, available at Byredo.
While lavender may seem like the more obvious choice for a nighttime bath ritual, we're fans of this rose-scented hand wash and lotion that smells so good you'll want to fall asleep with your nose tucked into your hands.
Moon Juice, Cosmic Cocoa, $30, available at Moon Juice.
Is there anything more soothing than a hot beverage before bed? This hot chocolate, made from heirloom cacao and stress-reducing adaptogens like Ashwagandha and Reishi, is said to calm the mind and help support a healthy immune system.
Everlane, Cashmere Sweatpant, $140, available at Everlane.
So that you can live your best couch/bed life, our favorite direct-to-consumer brand is here to offer the most luxe sweatpants.
Brooklinen, Hammam Towel, $65, available at Brooklinen.
While we've long been obsessed with Brookline's luxurious bed sheets, we've just recently gotten to know their towel offerings, which includes this ultra-absorbent and soft take on a Turkish towel.
Walden x Shantell Martin, Meditation Cushion, $145, available at Walden.
If the gift recipient in your life lives in meditation studios, gift them this mediation cushion made in collaboration with British artist Shantell Martin.
UGG, Fluff Yeah Slide Slipper, $99.95, available at Amazon.
These shoes make a strong case for wearing slippers outside the house.
Evewear, The Tomboy, $150, available at Eyewear.
With ruched shoulder caps and heart-shaped buttons, this might be the cutest sleepwear set we've ever seen. Added bonus: It's made with deadstock fabrics (to avoid adding to the waste fashion produces) by artisans in L.A.
Vitruvi x The Setting, Ceramic Mixing Bowl, $35, available at Vitruvi.
Responsible for some of the most beautiful diffusers currently on the market (Gwyneth Paltrow is a fan), vitruvi has now expanded into skin care with a line of carrier and essential oils. Mix them in the above bowl, made in collaboration with The Setting, to create custom face oils.
The Citizenry, Stonewashed Linen Sheet Set, $250, available at The Citizenry.
We can easily lose an hour browsing through The Citizenry's selection of home goods. We are, though, partial to these soft, stonewashed, sustainably made French linen sheets.
Gelato Pique, Powder Stripe Waist Warmer, $22.30, available at Gelato Pique.
Anything from this Japanese brand (just recently made available in the U.S.) could easily fit on this list. Our pick though? This waist warmer that not only promises to keep your stomach warm on the days that you need it most but that's also super-soft and cute.
The Nue Co., Sleep Kit, $70, available at The Nue Co.
Made up of Magnesium Ease and Sleep Drops, this kit promises to calm your mind and help you fall asleep (and stay asleep!) without any residual drowsiness the next morning.
Cuyana, Baby Alpaca Travel Set, $195, available at Guyana.
Gift a jet-setting sleep lover this pack, made up of eye mask and blanket made in Peru, so they can make a bed anywhere they are.
Ivy Park, Contrast Rib Crop Lounge Sweatshirt, $65, available at Nordstrom.
While Beyoncé's brand Ivy Park is more known for its activewear, we love its more lounge-leaning offerings, including this sweatshirt set.
NYLON uses affiliate links and may earn a commission if you purchase something through those links, but every product chosen is selected independently.