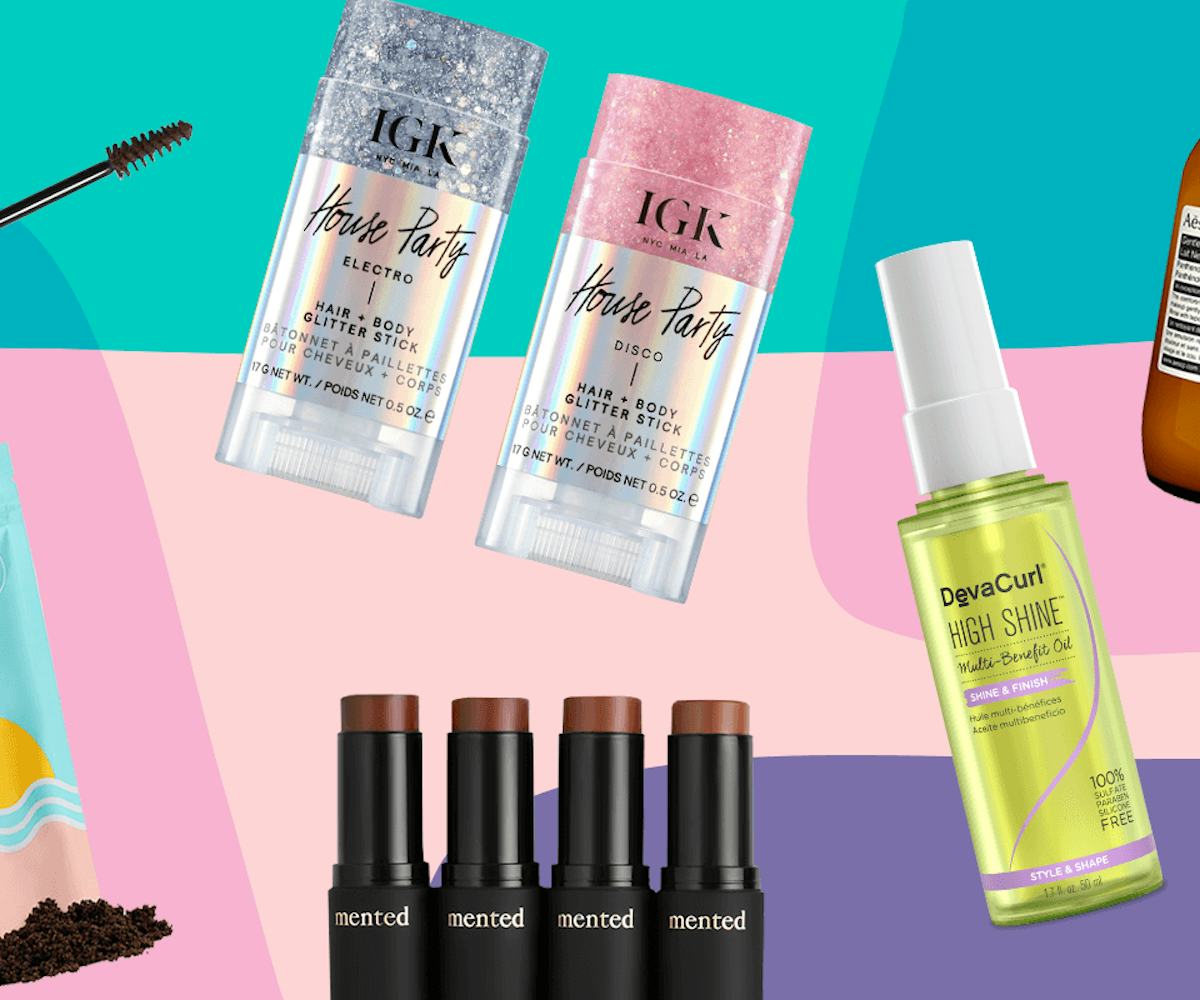 The 29 Spring Beauty Launches We Can't Wait To Use
All this season's best new products
Spring is finally here, and you know what that means: plenty of spring beauty launches are also upon us.
Sure, we might be gearing up to KonMari our beauty stashes in the spirit of spring cleaning, but that doesn't mean we won't be swapping out our clutter for some of the most exciting new products to drop this season.
What do we have to look forward to in terms of Spring 2019 beauty? Lots of sparkle and shimmer, plenty of refreshing fruit-derived ingredients, and everything we need to revive our skin and hair from winter's harsh conditions, for starters.
Below, check out the 29 latest and greatest launches that we can't wait to get our hands on. Out with the old, and in with the new!
Amika, 3D Volume and Thickening Shampoo and Conditioner, $24 each, available at Amika.
For anyone who needs that extra oomph, look no further than Amika's latest hair care collection that not only boosts thickness and volume but also stimulates hair regeneration to promote growth and reduce hair loss.
Peter Thomas Roth, Amino Acid Exfoliating Peel Pads, $52, available at Sephora.
Everything Peter Thomas Roth puts out is a godsend for our skin, but these pads, drenched in acids and vitamin A and E, have particularly been saving us this month, by gently exfoliating our winter-ravaged skin and revealing a healthier-looking complexion underneath.
Oribe, Priming Lotion Leave-In Conditioning Detangler, $38, available April 1 at Oribe.
Oribe is (finally) venturing into the coily hair category, and its new line is made specifically with type 4 curls in mind. A personal favorite of ours is the detangling leave-in conditioner. I'm usually loyal to Kinky Curly's Knot Today, but this is giving it some pretty slippery competition.
Fur, Ingrown Eliminator Mitts, $18, available at Ulta.
Swimsuit season is approaching, and anyone who suffers from the occasional ingrown hair from shaving will consider Fur's new ingrown hair product a blessing. The serum-soaked mitts help soothe redness and eliminate bumps, leaving you with smooth, calm skin post-shaving.
Volition, Strawberry-C Brightening Serum, $42, available at Volition.
Did you know that strawberries contain more vitamin C than oranges? Yeah, neither did we. Volition's new Strawberry-C serum contains a high concentrate of vitamin C from our favorite berry for a product that brightens, plumps, and smooths.
Function of Beauty, Leave In Treatment, $18, available at Function of Beauty.
The creators behind the custom shampoo and conditioner revolution have released a brand-new product, custom leave-in treatment, and we are likewise obsessed. As you do when buying their shampoo and conditioner, you will need to fill out a hair quiz to find the unique formula that will leave your hair smooth, hydrated, and protected.
Dr. Dennis Gross Skincare, Clinical Grade Resurfacing Liquid Peel, $95, available at Sephora.
If you haven't tried Dennis Gross' Daily Peel Pads yet do yourself a favor and do that. Once you're hooked, then try out the brand's newest product, which is basically the pad in liquid form. Both products can be pretty intense, so if you have sensitive skin be careful but if you don't go crazy.
IGK, House Party Hair + Body Glitter Stick, $16, available at Sephora.
With festival season upon us, we couldn't be more excited for these new easy-to-use body and hair glitter sticks from IGK. The portable stick formula makes it super-easy to add a bit of glitz on the go. (Oh, and bonus, it smells really nice.)
Clarisonic, Sonic Exfoliator Facial Brush Head, $39, available at Sephora.
A must following cold-weather season, Clarisonic's newest brush promises to gently massage away dull and dead skin and leave your face feeling renewed and healthier.
Mented Cosmetics, Skin By Mented, $30, available at Mented Cosmetics.
The brand that's created the perfect red lipstick for Black women is now coming out with a line of foundation shades to address the beauty industry's inability to get this particular category of makeup right. The collection, which comes in 16 shades and is called Skin, is akin to no-makeup makeup in that it's meant to feel weightless and not heavy or cake-y.
VDL, Creamy Stick Jelly in 'Ann,' $25, available at VDL.
What can feel more spring-like than a dewy, sheer wash of color? The new Creamy Stick Jelly blushes from K-beauty favorite VDL deliver a natural and nourishing flush of color to the cheeks—and can be used on the lips, too.
Agent Nateur, Holi (Skin) Shave Oil, $42, available starting 3/18/2019 at Agent Nateur.
Luxury clean beauty brand Agent Nateur just reimagined its cult-favorite Holi Oil facial oil as a shaving oil, mixing its original base of Bulgarian rose oil with soothing calendula, chamomile, and a coconut-derived natural foaming agent for a smooth shave you can feel good about.
M-61, Vitablast Face Oil, $78, available at Bluemercury.
The latest addition to M-61's vitamin C line—which includes the amazing serum pads that everyone needs to also try!—this face oil holds 10 percent of stabilized vitamin C and brightens dull skin and protects against environmental stressors—all while nourishing the skin.
DevaCurl, High Shine Multi-Benefit Oil, $29, available at DevaCurl.
DevaCurl's newest product (and first oil) not only provides shine but, when used after a leave-in conditioner as a part of the LOC method (leave-in, oil, curl cream), it seals in moisture and helps to cut down on frizz.
Frank Body, A-Beauty Scrub, $18.95, available 3/25/2019 at Frank Body.
Our favorite body scrub just got the ultimate Aussie makeover. Australian-based Frank Body is introducing a new member of its body scrub fam, this one using ingredients native to the world Down Under including kakadu plum, finger lime, and eucalyptus.
Supergoop!, Shimmershade, $24 each, available at Supergoop!.
Introducing, the first eyeshadow to protect against harmful UV rays. Supergoop!'s latest provides your lids with a shimmery wash of SPF 30 protection, perfect for the beach or for every day.
Boscia, Skin Perfecting BB Cream Broad Spectrum SPF 30, $38, available April 2019 at Sephora.
This BB cream is the ultimate dream. Not only does it provide light, yet buildable, coverage, but it also features an active rice blend that protects against blue light damage, has SPF 30, and boasts a number of ingredients (such as taro root extract, turmeric oil, and quinoa oil) to smooth skin and reverse discoloration over time.
One Over One, Free Foam Micellar Cleanser, $34, available at One Over One.
If you're looking for a gentle cleanser that will remove all the day's makeup and impurities, look no further than the micellar one from this clean, minimalist makeup brand. Made with natural plant extracts and essence, it dissolves makeup and dirt without leaving the skin feeling parched.
The Mane Choice, Prickly Pear Paradise Dry Overnight Mask, $16.99, available at Target.
If you're a mask lover like me and will jump at any and every opportunity to incorporate one into your routine, this is for you. Mane Choice's overnight mask is meant to be applied before shampooing and on dirty, dry hair as a pre-poo treatment. It provides extra moisture while also smelling divine.
Sephora Collection, All Day Hydrator – Hydrate and Glow, $16, available at Sephora.
The latest skin-care launch from Sephora is the perfect moisturizer for the upcoming warmer months: it's ultra-light, absorbs quickly, and features hyaluronic acid for a hydrating glow.
Huda Beauty, Matte Power Bullet Lipsticks, $25, available at Huda Beauty.
Dubbed "the most intense matte lipstick ever," Huda Beauty's latest launch features eight gorgeous rose-toned matte lipsticks in a highly pigmented, full coverage, nourishing formula.
Aesop, Gentle Facial Cleansing Milk, starting at $35, available April 2019 at Aesop.
This milky new cleanser coming from Aesop is the answer to all of our sensitive skin prayers. This ultra-nourishing and mild formula (with grapeseed oil and vitamin B5) works to purify the skin without stripping it of necessary lipids, preventing any post-cleansing dryness or irritation.
JINSoon, Mamagami Collection, $18 each, available at JINsoon.
Legendary nail artist Jin Soon Choi was inspired by the origami her mother used to make when creating her Spring 2019 nail collection, and we couldn't ask for a spring-ier, more uplifting set of polishes. We're most obsessed with Dotty, a confetti-like topcoat we're going to throw over everything.
Unframe The Beauty, Eye Opening Liner, $16 in 'Black,' available at Unframe The Beauty.
Unframe The Beauty has been making quite the buzz since partnering with 3.1 Phillip Lim at its Fall 2019 show this past February. This liquid liner has been a best seller in Japan for some time now, and we've been awaiting its U.S. debut. While you can snag the ergonomic, precise, and smudge-proof liner in basic colors such as black, brown-black, and gray now, be on the lookout out for plenty of brights launching later this month through early April.
Joico, Defy Damage Protective Shield, $20.99, available at Ulta.
Think of Joico's new Defy Damage Protective Shield as your hair's bodyguard against, well, life. This new leave-in protects against thermal styling, pollution, and UV damage.
Neogen Dermatology, Real Vita C Powder Lemon, $20, available at Soko Glam.
Look, we're pretty obsessed with vitamin C right now. That's why we're loving this new lemon-derived vitamin C powder by Neogen Dermatology that's exclusive to Soko Glam. This travel-friendly powder won't oxidize and can be mixed with your favorite toner or essence to revitalize your complexion.
Anastasia Beverly Hills, Dipbrow Gel, $18, available at Anastasia Beverly Hills.
For its first brow launch in three years, Anastasia Beverly Hills did not disappoint. Its new Dipbrow Gel is a highly pigmented pomade that coats and separates brow hairs with rich color payoff for full, bold brows that stay put. And, it's waterproof, so you know what that means: perfect pool- and beachside brows that won't wash off your face.
Pinrose, Sun Saint Shimmer Mist, $47, available 4/2/2019 at Sephora.
This moisturizing mist contains the prettiest subtle golden sparkle and smells like our favorite breezy, beachy scent.
Pat McGrath, EYEdols Eye Shadow Singles, $25 each, available 3/28/2019 at Pat McGrath Labs.
A mix of mattes, metallics, and shimmers, 11 of Pat McGrath's legendary palette favorites, plus six brand-new shades, will be released as solo shadow pots this month.
NYLON uses affiliate links and may earn a commission if you purchase something through those links, but every product chosen is selected independently.