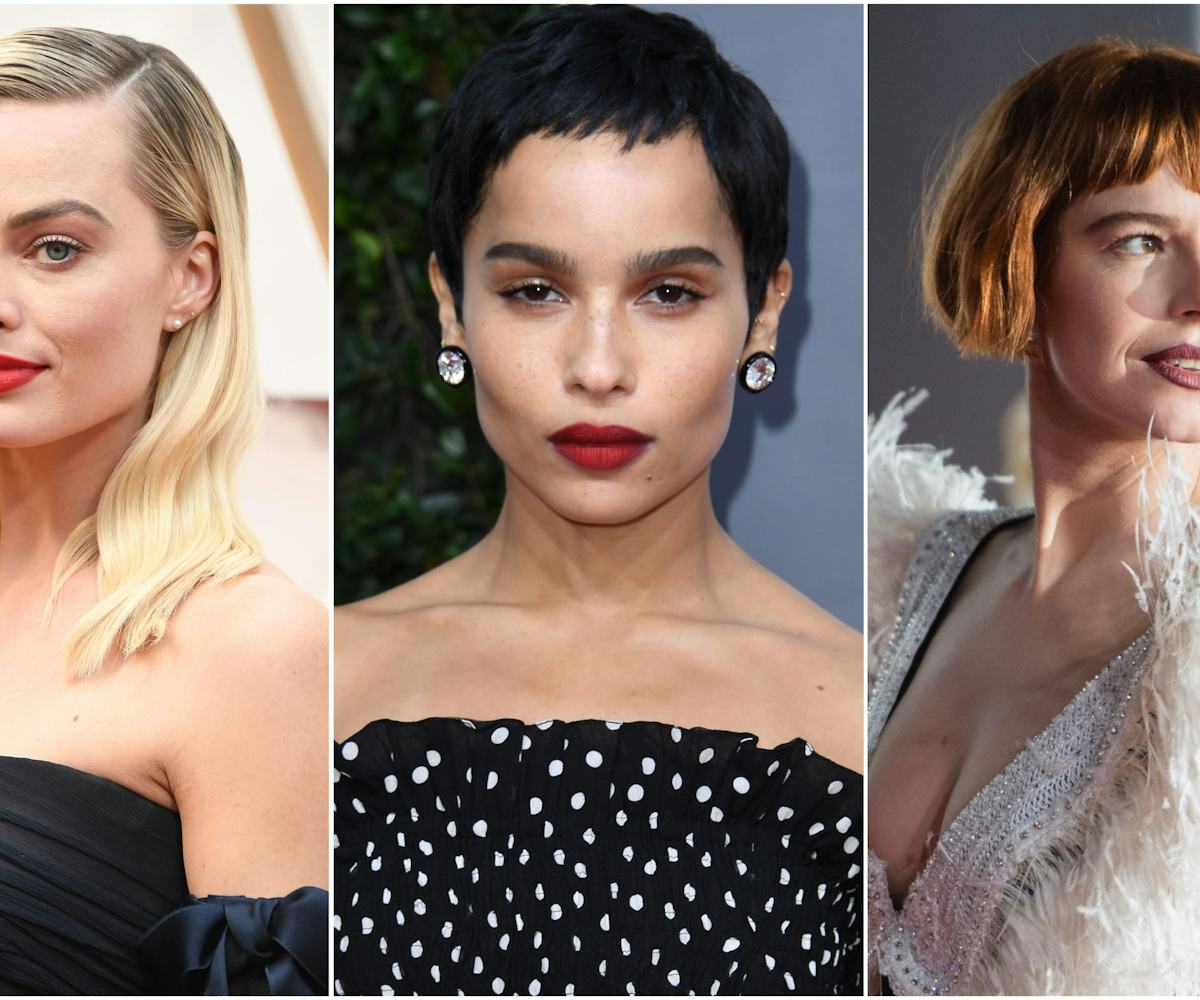 Images courtesy of Steve Granitz/WireImage; Jon Kopaloff/Getty Images; Samir Hussein/WireImage
7 Haircut Trends You're Going To See Everywhere This Spring And Summer
All signs point to a serious switch-up
The biggest spring and summer 2020 haircut trends are calling for some of the biggest switch-ups possible. From chin-grazing bobs to micro-fringe and undercuts, some of the industry's best hairstylists from across the country are all predicting that cutting serious length will be popular during the warmer months ahead.
Thankfully, you don't have to go into a haircut without having a solid visual understanding of how you'll walk out of the salon. Celebrities like Zoe Kravitz, Selena Gomez, and Kaia Gerber have been some of the best spokespeople, showing off how to play with texture and daring length, and taking away some of the uncertainty that comes with making such bold changes.
Check out eight of the best spring and summer 2020 haircut trends, below.
Spring 2020 Haircut Trend: Curtain Bangs
Curtain bangs have been making their rounds for the last few years now, showing up on celebrities and influencers alike. According to celebrity stylist Julius Michael, you can plan to see an uptick in the look this spring and summer, as more people find out how to make the style work for their face shape. "Curtain bangs are meant to be parted in the middle, but some women have a cowlick in their hairline, making it much harder to style," says Michael. For those cases, he suggests using a paddle brush to smooth out the roots, and part the bangs down the middle using a larger round barrel brush on the ends to sweep them off to the sides. "Curtain bangs can give a sexy, sultry look, a little lived-in and not overly polished."
Spring 2020 Haircut Trend: Pixie Cuts
"In 2020, you'll be seeing many short hair trends that are bold, bright, and apologetic," celebrity stylist Robin D. Groover tells NYLON, noting that the classic looks are easy to maintain, offering no-fuss styling.
Spring 2020 Haircut Trend: The Modern Shag
Hairstylist and creative director of ECRU New York, Lisa Lobosco, tells NYLON that the shag is one of the most versatile hair trends of 2020, noting that the look works on virtually all lengths and textures. "Layering your bob, lob, or long locks releases your natural texture, creating soft volume around the face. It can be further customized with a tousled fringe, and looks great on straight, wavy, and curly hair and on any length of hair — short, mid, or long." Proving her point, all sorts of celebrities, from Ciara and Selena Gomez to Barbie Ferreira and Miley Cyrus have opted for the shag look in 2020.
Spring 2020 Haircut Trend: Chin-Grazing Bob
"The lob has been a really popular cut, but I see that short, jaw-length bob is having a moment in 2020," says celebrity hairstylist Sally Hershberger, noting model Kaia Gerber's '20s-inspired style. "I'm super drawn to androgynous looks, and I think the new decade is the perfect time for us to experiment. To create the look, chop your hair to the jawline and add layers, which adds some more dimension and volume," she adds, suggesting the Sally Hershberger 24K Supreme Body Volumizing Mousse to create lots of body in the hair. Want to be on the edgier side? Opt for a hair-shaping balm to slick it back.
Spring 2020 Haircut Trend: The Undercut
"Matched with the short pixie [cut], think about the undercut as the 'modern Kris Jenner' look, adding a little edge and flare," Michael Sparks, co-owner of Tabb & Sparks Salon, tells NYLON of the revitalized look.
Spring 2020 Haircut Trend: Angled Cuts
"For relaxed wavy glamour, this haircut is beyond the collarbone with an angle forward," Amy Abramite, creative director at Maxine Salon in Chicago, tells NYLON of the angled cut. "The front lengths are the longest, attracting your eyes to the slimming effect of the style. The hair is parted on the side to lift the eyebrow, opening one side of the face with a tuck behind the ear, while the other side caresses the cheekbone. This haircut works best on fine-haired women who want to keep their length with maximum density and strength at the ends," she says.
Spring 2020 Haircut Trend: Micro-Fringe
Celebrity stylist Adir Abergel matched Jessie Buckley's super-short bob with even shorter, textured bangs, framing the face with just enough fringe to give the look volume.