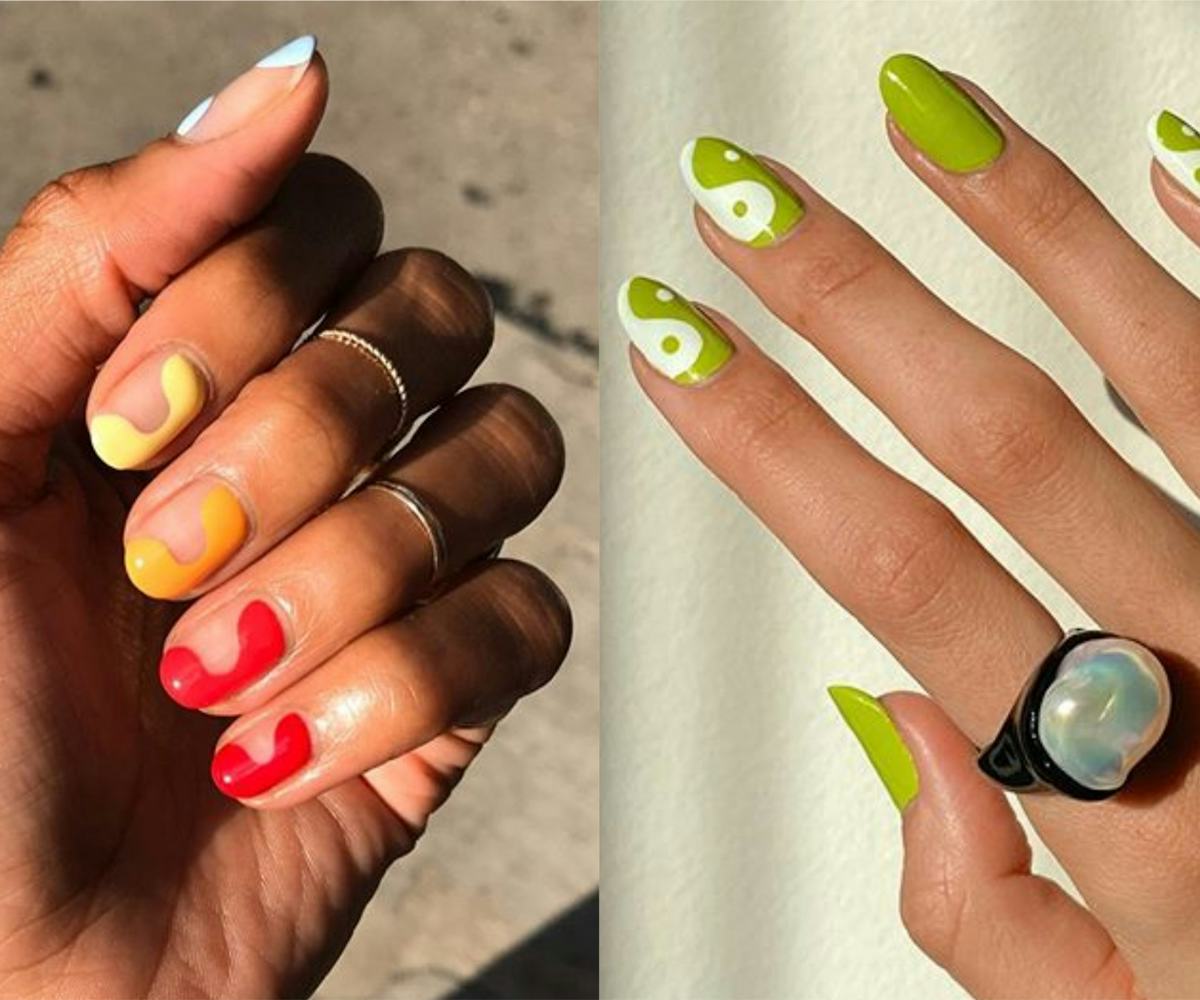 Images courtesy of @christinagranthands, @laurenladnier via Instagram
11 Spring Manicure Trends That Will Be All Over Your Instagram Explore Page
You'll want to bookmark this
A new season has nearly sprung, and that means one major thing for your beauty routine — it's time for a change. Spring is typically a time for embracing color, and this proves especially true when it comes to the season's trending manicures. Deciding on new nail art is no easy feat, but according to the experts, the most popular spring 2020 manicure trends will feature twists on old favorites, and lots of seasonal-inspired shading.
And when it comes to the latter, its time to bid farewell to icy, winter-inspired shades, because as Sarah Gibson Tuttle, Founder and CEO of Olive & June told NYLON, spring manicures present us a unique opportunity to properly welcome the season. "It's time to emerge from your winter cocoon and get into a garden party state of mind," Tuttle said. "And when you're really feeling it, add some floral nail art to create the prettiest mani."
Along with ideas inspired by the eventual arrival of May flowers, manicurist Lisa Logan, who spoke to NYLON on behalf of Nails.INC, predicted that one classic trend will never go out of style. "I think an unexpected twist on a French manicure is something we're going to see continue into spring. I love incorporating different colors and abstract art, like a marbled design, into a traditional French to really make it pop," she said.
Check out those 2020 manicure ideas and more, below.
Abstract French Tips
Brighten up your typical French tips with a punch of color. "I love incorporating different colors and abstract art, like a marbled design, into a traditional French to really make it pop," Logan said. She suggested using a collection of soft, shimmery shades to accomplish this look or you could take a cue from Instagram and select a neon color.
Denim Blue Nails
Much like your favorite pair of blue jeans will never go out of style, Rita Remark, essie Global Lead Educator, told NYLON that denim blue manicures are here to stay. "Denim blue is the perfect match for this year's Pantone color of the year — classic blue. Like your denim jeans, this color goes with everything," Remark said.
Minimal Doodles
If you don't have the time — or skill — to be super precious with your at-home manicure, opt for something intentionally a little messy, like these nail-lining doodles.
Intricate Floral Nail Art
Nails of all sizes can get in on this spring's floral trend. You can paint dainty flowers like this manicure — or take a tip from Tuttle and rely on flower stickers to get the look.
Ying & Yang
The yin & yang sign was all but made for a manicure, lending to both the curvature and multi-color nail art trends that have been dominating all of 2020. Paint each nail in the design, or leave some in solid colors to mix things up, like the manicure below.
Butterfly Nails
Flowers aren't the only thing popping up in spring. Welcome a season of butterflies with nail art that features your favorite winged insect.
Carmel Polish
In lieu of a traditional nude nail, Remark suggested using a caramel shade. The color feels more alive than a classic nude, but doesn't feel too bold or overt, either.
Checkerboard Nails
Another graphic trend that allows you to play up two of your favorite contrasting (or complimenting) colors.
Rose Gold Nails
According to Tuttle, metallic manis remain a popular option. As for a shade that will be spotted throughout spring, she noted that rose gold remains a fan fave.
Floating Pigments
This fun trend sees two floating blobs of color opposite each other on each nail. Go for something subdued like the colors chosen below, or play up neons for a bolder look.
Matisse-Inspired Flicks
As the trend of non-matching manicures has picked up speed over the last few seasons, viewing each nail as its own, Matisse-inspired work of art is becoming just as common. Pick a range of colors (this look can happily include over five shades), and go wild.