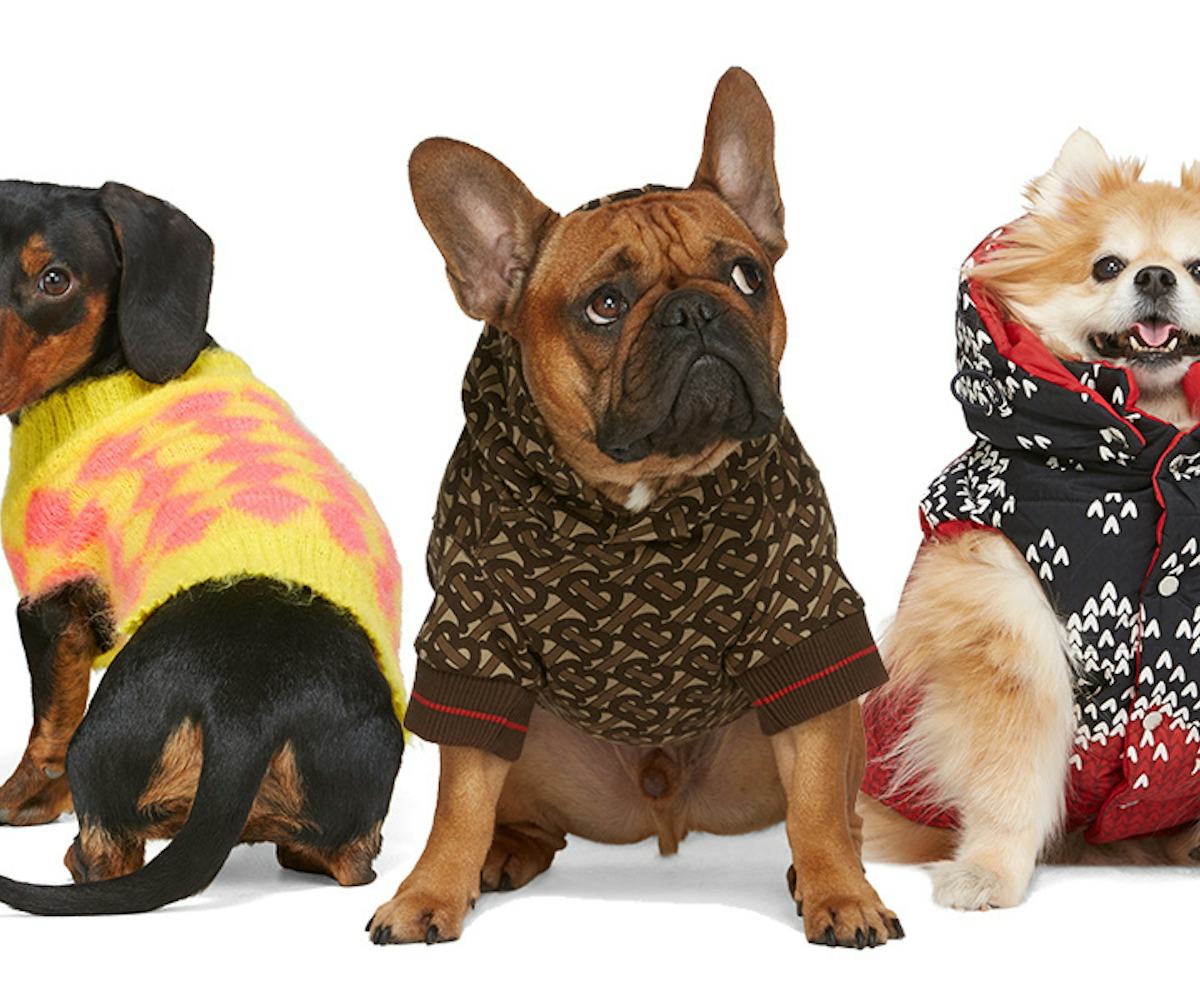 SSENSE Is Selling Designer Items For Dogs Now
Your pup's fit pics are about to get really, really good
Get ready for quite the end-of-the-work-week treat this Friday morning: SSENSE is now selling fashion apparel and accessories for dogs, which means your pup's fit pics are about to get really good. And, if your budget allows, you both could wear the same designer-name items on your daily walks. Can you imagine matching Marine Serre half-moon garments or Moncler puffers during off-leash hours at the park? I can't handle it!
SSENSE's official foray into petwear was inspired by the reactions and engagement the online retailer regularly receives from its Instagram Stories series #SSENSEInterns. (Read: Not actual human interns, but really the staff's adorable dogs who get to do whatever they want, such as trying on some of the site's stylish inventory.) Throw in the fact that millennials are spending more than ever on their dogs, including aesthetic-friendly apparel and accessories, along with SSENSE's customer base being placed within that sweet spot of 18 through 34 years old, and the new category addition makes complete sense.
For SSENSE's initial launch, the e-commerce site commissioned a mix of emerging, luxury, and streetwear designers to create exclusive dogwear — harnesses, leashes, collars, sweaters, hoodies, and jackets — priced between $60 and $1,395. The impressive list of brands include Burberry, Versace, Marine Serre, Heron Preston, Ashley Williams, 032c, and more.
"I have two rescue dogs that I love so much. Being able to do a capsule with them in mind for SSENSE has been from the heart," said Williams in an official statement. (It's the London designer's first time making pooch-friendly product.) "The best friend graphic reflects the Ashley Williams brand DNA and my feelings towards dogs in general. We have also included matching dog collars and hair accessories in our most popular fabrics, which we hope people will be able to enjoy with their pets."
Come Spring 2020, SSENSE will release even more exclusive items from the likes of Thom Browne, Martine Ali, MISBHV, Maisie Wilen, and 1017ALYX 9SM. See SSENSE's dogwear offerings, below, and visit the website to start shopping for your favorite furry pals now.