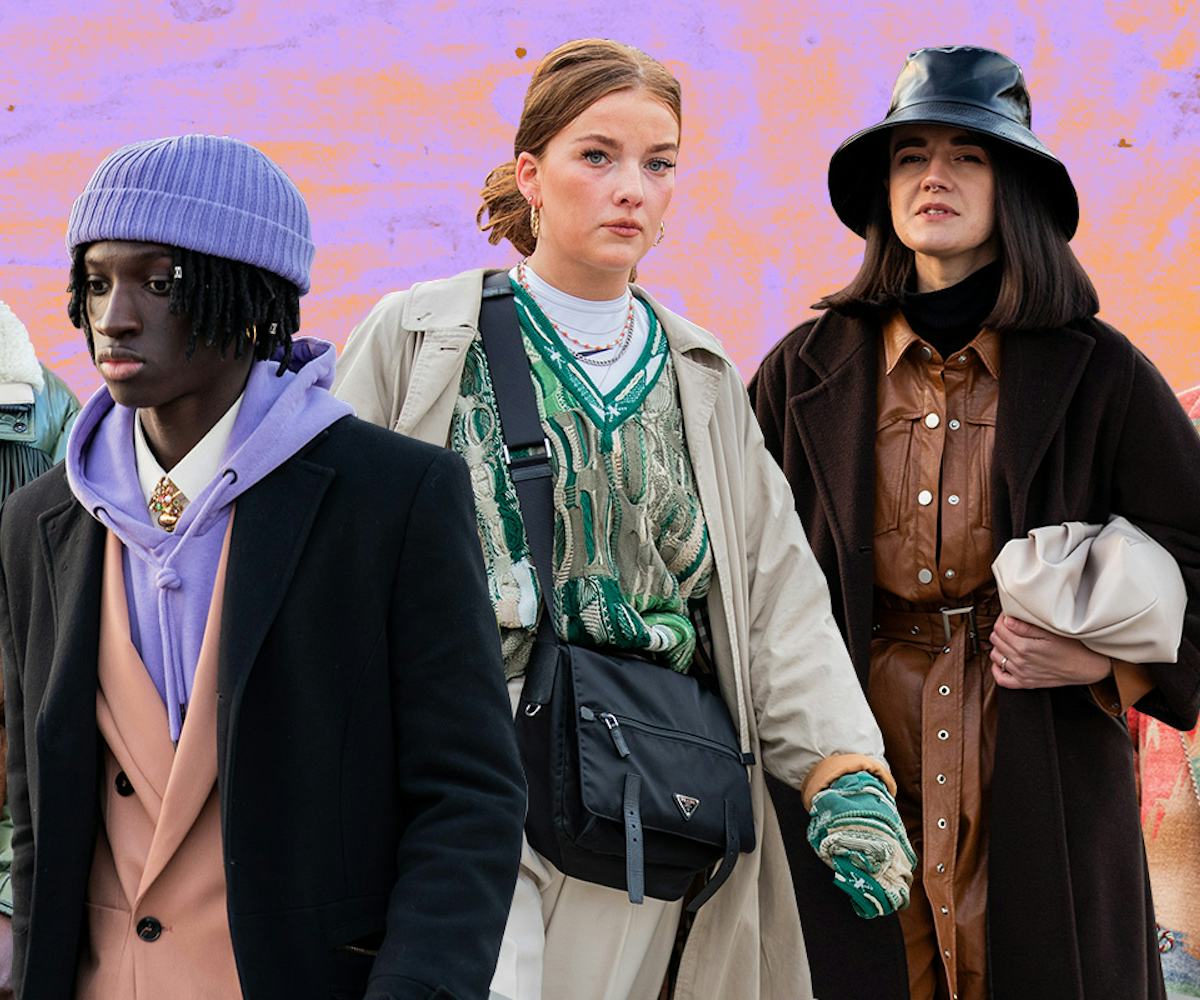 Photos by Christian Vierig/Getty Images
11 Winter Layering Outfit Ideas, Inspired By Pitti Uomo Street Style
Statements coats and the occasional blanket-slash-poncho
Men's fashion month is in full swing to kick off the new year. After London's Fashion Week Men's, the fashion crowd migrated over to Italy, where the Pitti Uomo Fall 2020 shows just wrapped on Thursday, which featured well-received collections by Telfar, Stefano Pilati's Random Identities, and Jil Sander. But we're not here to talk about the clothes on the runway. Rather, we want to highlight the street style outfits that are giving us plenty of fashionable lessons when it comes to winter layering.
Whether you're into #menswear or not, these outfit ideas apply to all aesthetics and personal style types. We're talking base layers, statements coats, and the occasional blanket-slash-poncho. Three-piece suits are thrown into the mix, too — this is Pitti, after all — but what's important to call out is how exactly they're styled for the colder months. (Hint: It's all about the outerwear.) Whether you love to pile on every cozy thing you own or tend to easily overheat and like to don one can't-miss piece, chances are the street style looks we've chosen will give you a tip or two on how to keep warm once the temperature drops.
See our favorite winter layering outfit ideas, straight from Pitti Uomo Fall 2020 in Florence, below.
A three-piece suit —with a coat thrown over — is winter layering at its most classic. A short neck scarf and a beret add a touch of feminine to the look.
V-neck sweaters are suddenly winter-friendly once you find the perfect base layer, which can be as easy as a simple white T-shirt.
There's not much to learn from this look besides the fact that it's just so good. Or perhaps winter coats in a catchy pattern can distract you from how cold it is.
Turtlenecks are your crutch during freezing temps. Throw them on under anything: a sweater, a dress, and, as seen here, a jumpsuit.
The precision! The creativity! A hoodie over a collared shirt but under a blazer all while looking extremely polished? You love to see it.
Two jackets must be better than one, especially when you go all-Americana in this denim-jacket-meets-sporty-bomber combo. Add a cowboy hat for good measure.
Layering lightweight knitwear sounds like a great idea, like this buttoned polo underneath a vest. Let the fuzzy shearling coat take care of the rest.
If long-length coats aren't your thing, bundle up by pairing a chunky turtleneck with an extra-warm puffer jacket. Done and done.
Suits are a given at Pitti Uomo, and so one's outerwear choice is key. Here, a case study that shows matching (or not) doesn't really matter. Anything goes.
Ah, yes, the winter scarf blanket/poncho. Infinite cozy points.
The most important thing to keep warm during the winter months is your chest (home to very vital organs!); a vest is a great option should you want to forgo a jacket and coat entirely.