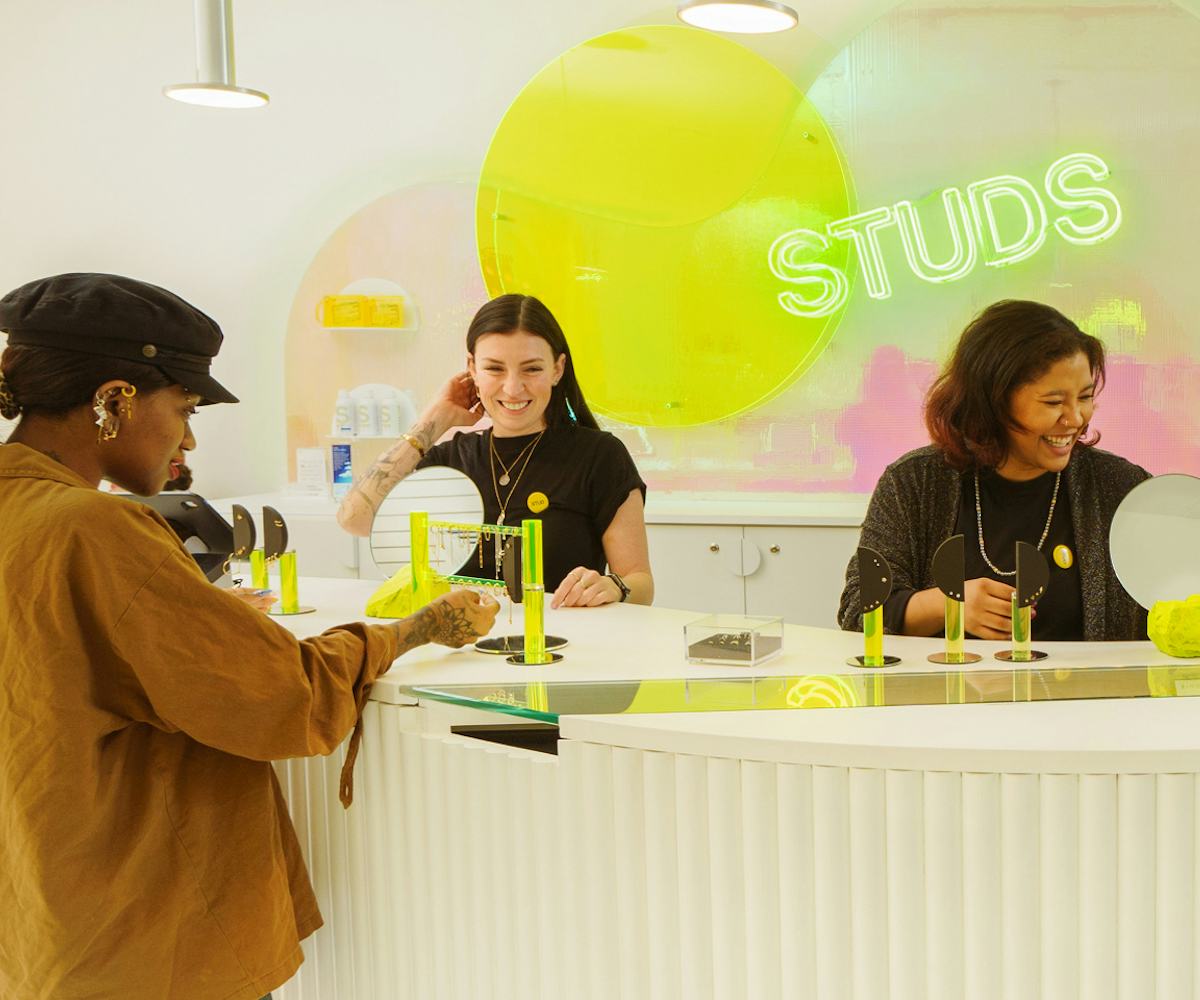 Photo by Tory Williams/Courtesy of Studs
Studs Wants To Reinvent The Traditional Ear Piercing Experience
This new studio and e-commerce site is nothing like you remember from your teenage years
For those of you who grew up in the '90s, getting your ears pierced was a rite of passage during your teenage years, and it usually went a little something like this: You asked your parents for permission (or not). You went to the mall and showed up at either a jewelry store, like Claire's, or a kiosk, like, say, Piercing Pagoda. You got the infamous earring gun held against your lobe — one, two, and you were done. Finally, you tended to your newly pierced ears to prevent any sort of infection, and sometimes it (unfortunately) happened anyway. You repeated the entire process again when you decided to get a second, third, or even a cartilage piercing.
These days, trips to the mall are rare and infrequent, which leaves us with the option of getting an ear piercing at a tattoo shop or a boutique (read: sometimes pricey) jewelry store. But Studs, which launches on Tuesday, wants to reinvent the traditional ear piercing experience. That comes with a newly opened studio in New York City's Nolita, complete with plenty of fashion-forward, trend-driven earring options within a wide price range ($30 to $180), as well as accessible piercing costs, which start at $35 for one hole and $50 for two. The new space, brightened with neon yellow and silver details and creative lighting, is equally convenient for your Instagram Stories as it is for a fun hangout with friends.
"We felt like what existed for piercing was either something that was very outdated and gendered," says Lisa Bubbers, who co-founded Studs with Anna Harman. "We wanted to create something that would appeal to everyone, no matter your identity, gender, or age, and something that's extremely experiential and fun, but then also really clean and healthy. It is a medical procedure, after all."
Once you pick out your jewelry at Studs' Ear Bar (choices run the gamut from zodiac signs and pearl studs to a weed leaf or money sign), a fully trained expert piercer — dressed in a very stylish Dickies jumpsuit with "Studs" embroidered in slime green goth font across the back — will take you to a separate, sterile room to get pierced with a needle (read: definitely not a piercing gun). Once you're finished, Studs will keep in touch with you via email and text to make sure that the healing process goes smoothly.
Aside from professional piercing, Studs' specialty also lies in "earscaping," or providing different styles and themed groupings of earrings: "It's Not A Phase," channels your inner punk or goth with pins, cuffs, and skull studs, while "Vibes" offers delicate threaders, gemstones, and all sorts of positive signs and symbols. "Basic Instinct" boasts classic pavé details and gold hoops, and "It Me" takes personalization to the next level with loads of options that best fit your aesthetic. "Our goal is to connect this service of getting your ear pierced and then the styling of your ear, whether it's in-store or online," says Bubbers. Plus, Studs takes note of all of your piercings and purchases, which serves as data to help recommend styles in the future. "Our future vision is that you can do a drag-and-drop ear and start styling your ear and plan your piercings," she adds.
Until then, we suggest making a visit to Studs at 12 Prince Street if you can; everyone from Kaia Gerber to literally every New York-based Fashion Person stop by to get pierced. Don't worry, there are definite plans to open more locations in 2020, and you'll even be able to rent Studs out for a private piercing party. Teenagerdom forever!