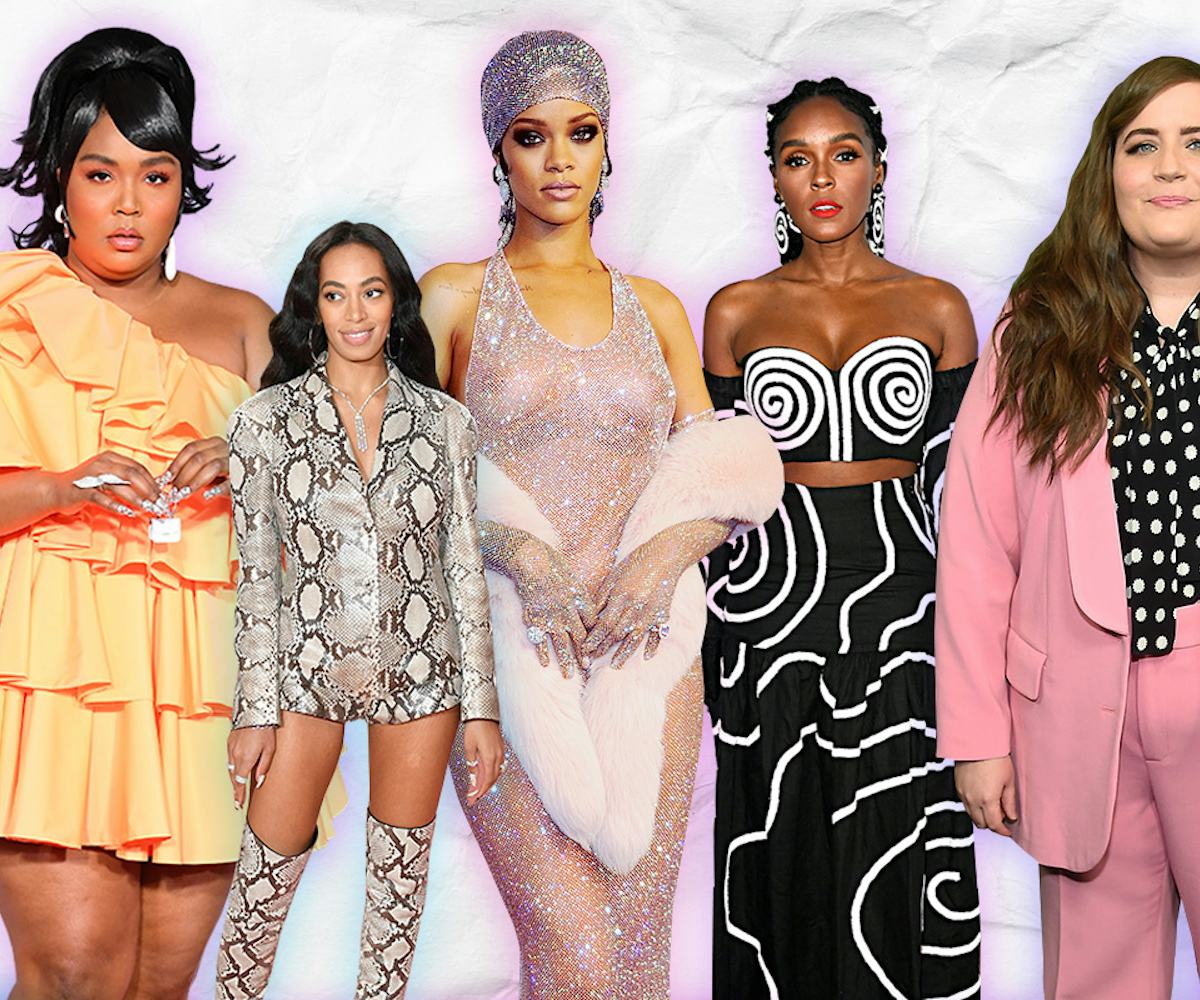 Photos from Getty Images
The 21 Definitive Style Icons Of The 2010s
Featuring A$AP Rocky, Billie Eilish, Rihanna, and more
The overall style vibe of the last decade has been good as hell. All fashion rules went out the window, from the complete eradication of dressing for your gender à la Harry Styles, Billie Eilish, and Billy Porter, to exploring tiny bags and giant personalities, like Lizzo and Cardi B. When it came to their style, the theme for fashion icons of the 2010s seemed to be "who gives a f*ck?"
There were obviously a ton of heavy style hitters throughout the last decade, but a handful really stood out as pushing boundaries. Take, for example, Rihanna, whose fashion prowess expanded into a full-blown Fenty empire. Then there's Zendaya and Elle Fanning, who both not only faced growing (and glowing) acting careers, but expanded their sartorial horizons, too. Those in the music industry helped push the fashion needle as well, such as A$AP Rocky's penchant for designer names and Tyler, the Creator's knack for staying true to his laid-back skater roots. A lot can happen in a decade, and these icons gave us style inspiration sure to take us into the next one
Ahead, take a walk down memory lane and explore all of NYLON's definitive style icons of the 2010s.
A$AP Rocky
This self-described "Fashion Killa" had the style to back up the title after he debuted the album "Live.Love.ASAP" in 2011, which was full of offbeat fashion designer shout outs. Did Ann Demeulemeester ever think she'd get name-checked in a rap song? Doubtful. Over the decade, Rocky stayed true to his fashion roots, pulling off sharp tailoring, fur-lined Gucci shoes, and even a babushka.
Aidy Bryant
The Saturday Night Live star caught our eye with her enviable curls and printed A-line dresses. Since starring in Lindy West's Shrill, she has become an all-out style crush. With a penchant for booties, sequins, and a cat eye — along with her very own a plus-size fashion line called Pauline — Bryant's fashion mantra is all about being flirty and fun for yourself first and foremost.
Alessandro Michele
How did Gucci get cool again? This guy. The Italian designer was named one of the most influential people in the industry by Hypebeast, wore matching ensembles with Jared Leto and Lana Del Ray at the 2018 Met Gala, and generally serves and creates iconic, unexpected "ugliness" on the runway. His signature aesthetic not only brought plenty of profit to parent company Kering, but a brand new "Guccified" style that plenty of brands have attempted to capture.
Billie Eilish
Making being the bad guy cool again, teen performer and IRL anime character Billie Eilish came in hot with her in-your-face, gender non-comforming fashion choices. From highlighter-inspired hair color to oversized designer-name ensembles, Eilish knows how to turn the right heads. She's the teen dream when it comes to fashion experimentation.
Billy Porter
This Pose star came seemingly out of nowhere at the 2019 Oscars in a custom Christian Siriano tux-gown, and quickly became a fashion must-watch. Since then, he's wowed us in statement look after statement look: giant satin bows, eye-catching headpieces, epic floral capes, and style D-R-A-M-A.
Cara Delevingne
It may seem like she's been around forever, but THE Cara Delevingne made her modeling debut in 2011 on the Burberry runway at London Fashion Week. Soon after, she really showed us that style shouldn't be taken seriously, as she effortlessly sported sweatpants and beanies while off-duty, followed up with chic evening looks for the red carpet. And let's not forget her epic brows, which helped spur a full-brow movement in the beauty world.
Cardi B
The past decade has gone to show that personality is also style, and who showed us that more than Cardi B? Heaping with her own style to her core, the Bronx-born rapper has shown us that Louboutins can be tough AF, and that Fashion Nova is sometimes the way to go over designer. Anna Wintour even gave her stamp of Cardi-approval by inviting her to sit front row during New York Fashion Week.
Elle Fanning
The indie film darling has become a style sleeper the past decade, surprising us when we least expect it, from premieres to Cannes and the Met Gala. Since becoming a red carpet mainstay in 2011 for Super 8, she has grown into an edgy feminine look we love. Think: Alexander McQueen, Ellie Saab, and so many Gucci gowns.
Harry Styles
We may most recently know Harry Styles as the guy who wore a sequin jumpsuit on SNL, but his style takeoff has been headed in this (one) direction for quite some time. Who else but a rock star sure to stand the test of time would easily be down to wear pink velvet pants, metallic brocade suits paired with Gucci loafers, and open shirts galore?
Janelle Monáe
Besides releasing three studio albums in a decade (Dirty Computer, an absolute masterpiece), Monáe has been known for her go-to look: a tuxedo, a pompadour, and dewy skin for days paired with a red lip. She has since broken out to experiment with her style, while staying true to her love for black-and-white ensembles, and we were not left disappointed. The queer icon has since been seen in a number of statement evening gowns, googly eyes stuck onto baby buns, and a general mix of fun and pure style joy.
Kristen Stewart
Twilight has truly been left in the dust with this one, and the future for this newest Charlie's Angel is as a style icon and forever crush. She has been daring as hell the past few years, specifically with tailored suits and bra tops, pixie cuts and bleach-blonde hair, and, of course, plenty of Chanel outfits. We swoon for Stewart.
Lena Waithe
Besides being a multi-hyphenate herself (actor, producer, writer, and Emmy winner), Lena Waithe's looks are as meaningful and sophisticated as her voice. She brings culturally important messages to the red carpet, with her stunning custom rainbow cape by Carolina Herrera or a Black Lives Matter T-shirt.
Lizzo
This pop star took the patriarchy by storm and swept the rest of us off our feet with her pipes and her attitude. Lizzo's message of self-love and celebration show up in her words and in her fashion choices: puffy sleeved mini dresses, that teeny tiny purse, going full "Like a Virgin" by Madonna at the BET Awards, and bedazzled bodysuits for days.
Lupita Nyong'o
When we think about a reason to watch an awards show, Lupita Nyong'o is number one. This stunning actress had her Cinderalla moment on the red carpet in a blue Prada gown for the 2014 Oscars, where she won an award for Best Supporting Actress in "12 Years A Slave." Since then, she continues to wow us with her gorgeous evening looks, like that royal purple and gold Versace outfit for the premiere of Black Panther.
Rihanna
It might seem like Rihanna has been around since literally before time existed, but the past decade has launched her into well... Rihanna status. How can we forget that Adam Selman "naked" gown from the 2014 CFDA Awards? Or the Saint Laurent heart-shaped jacket for a casual night out in NYC? Her style has been lauded so much over the past decade, she's gone on to launch her own fashion brands that have disrupted the industry. What will Rihanna wear though the 2020s? We can't wait to see.
Rooney Mara
The sweet, goth-adjacent actress appeared around 2011 and turned heads for her commitment to the aesthetic of The Girl with the Dragon Tattoo. Her character's bleached brows, piercings, and blunt black baby bangs was the epitome of a dark makeover gone right. The look inspired many runway and IRL looks for years afterward, as well as a longtime role as a Givenchy muse.
Solange
The past decade has firmly established Solange as a style icon and talent, and never again will she just be Beyoncé's little sister. Besides releasing two full albums and an EP, Solange has made a sartorial splash in bright and bold prints, avant-garde designs, and the girl rocks yellow like nobody's business.
Timothée Chalamet
The swoopy-haired heartbreaker has captured our attention when it comes to the fun he has with fashion choices. While others his age are in joggers and streetwear, Timothée owns the red carpet in floral Alexander McQueen suits, Louis Vuitton sequin hoodies, and the occasional keychain as an accessory.
Tyler, the Creator
Streetwear has gotten a serious style come-up, in no small part to Tyler, the Creator. The performer stayed close to his skater roots despite the fame, often wearing hoodies and hats from his label Golf Wang, along with a worn-in pair of Vans. The dude can even pull off the most casual outfits on the red carpet, but make them look like a million bucks.
Zendaya
Besides her Euphoria leadingrole being the reason we all glued gemstones to our faces with reckless abandon, Zendaya shed her Disney roots and grew up before our eyes. The glow-up was real, from fitted suits and slicked back hair to plenty of Met Gala showstoppers.
Zoe Kravitz
We'd be telling "big little lies" if we said we didn't see this coming. Zoe Kravitz hails from a lineage of fashion icons with parents Lenny Kravitz and Lisa Bonet, so she's essentially style royalty. Her carefree aesthetic is everything we needed in casual fashion perfection. Plus, 18-karat gold bra tops.