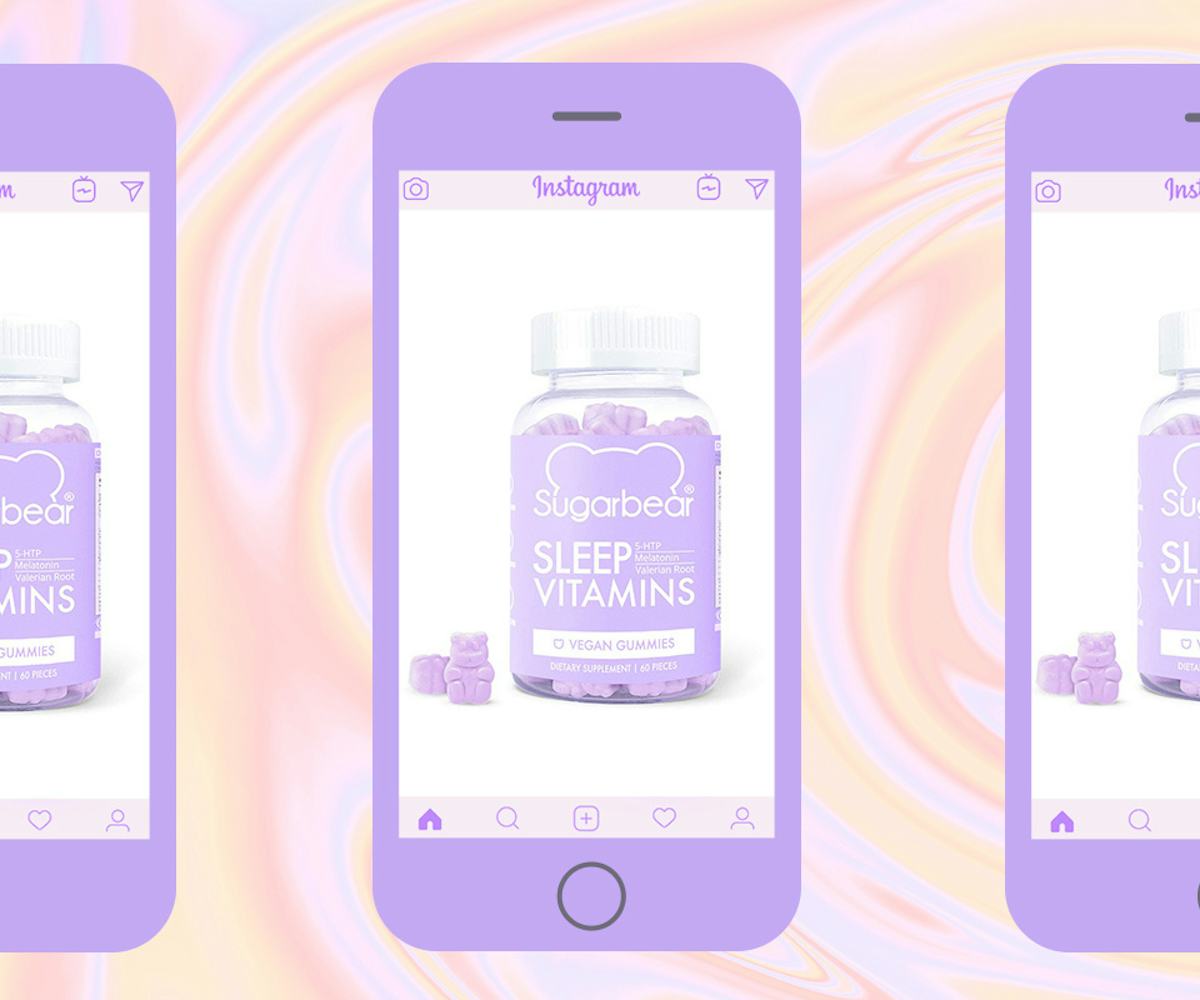 Instagram (And YouTube Drama) Made Me Try SugarBear Sleep Vitamins
It was interesting, to say the least
Sugarbear Hair gummies have been a fixture on Instagram feeds for a while now. The OG, small blue bears can often be found hanging just so outside of an influencer's mouth or carefully held in an influencer's hand, a copy-and-paste caption tacked on the end.
I'd always deemed all things SugarBear a part of the Instagram influencer starter pack—a sign you'd made it into the world of slightly sketchy #sponcon, and I'd never seen a post that believably suggested the gummies actually worked. So, when one of their products was at the core of a heated drama between beauty YouTubers James Charles and Tati Westbrook, with the former suggesting that he actually ate one and that they helped him, I was genuinely surprised. Never did I imagine that people—specifically influencers—actually ate the gummies. In my mind, they were carefully tucked back into the bottle for safekeeping and subsequently trotted out for the next person's post.
Since the launch of its hero product SugarBear Hair Vitamins—which come in an instantly recognizable shade of turquoise blue—SugarBear has expanded its portfolio to include SugarBear Women's Multi and Sleep Vitamins. Naturally, I was most curious about the product that sparked one of the biggest beauty beefs to date, so when a bottle of the pastel purple sleep gummies floated across my desk, I couldn't resist the siren song of trying them for myself.
I wouldn't say that I have issues with sleep, exactly, but sometimes I find myself lying awake in the middle of the night, planning my fictional wedding on Pinterest or scrolling through random pages on the 'gram. I hoped this would help me cut that behavior out altogether, and get closer to my goal of tucking in promptly by 10pm. I decided to give myself two weeks of trying the gummies, just to see what kind of effect they had on me in the short term.
For starters, they taste amazing. Like, this-should-be-a-candy-instead-of-a-supplement amazing. Every time I popped the recommended dosage of two, I'd always feel tempted to sneak a third—although the active ingredients involved stopped me from trying. The gummies are packed with melatonin and a proprietary blend of lemon balm leaf, passion flower, valerian root, and 5-HTP, all ingredients which the company claims help to optimize sleep. They're also vegan, halal, and kosher, making them a viable option for a variety of diet restrictions. One bottle, which SugarBear says is a one-month supply, will run you $30, which, should be noted, is double the price of other popular gummy options like Olly and Hum Nutrition.
The first night I tried them, I fell asleep as normal (about an hour and a half after taking two), and woke up the next morning feeling the same. It was kind of like taking NyQuil, sans the fog that comes after. Like other melatonin sleep supplements I've tried, it made my dreams weird. Or maybe I'm weird, and it's just a coincidence? I can't be sure, but they were odd enough that I started journaling about it. (On August 4, I dreamt that my sister and childhood best friend were vigorously hooking up, which, in the dream, made me so angry I went hoarse from screaming at the both of them.) The dreams left me confused, a little curious as to what they could mean, and, maybe most importantly, eager to eat the purple bear-shaped gummies each night.
Beyond giving me weird dreams, the gummies do work. They definitely made me sleepy and kept me asleep—but they still aren't something I'd work into my nightly routine. And, to be honest, you probably shouldn't either. Melatonin is fine on a short-term basis (think one to two months) and occasional usage, but it isn't meant to become part of your daily sleep ritual or address a long-term sleep disorder. What's concerning to me about these particular supplements is that they lack clear directions for use. The bottle suggests a 30-day supply (two a day, taken daily), and there are options to buy a three- and six-month supply. While other options on the market specifically note that the supplement is for occasional use, SugarBear does not. The brand also recommends them to teens as young as 13, which is concerning considering the six milligrams of melatonin a full dose contains. The National Sleep Foundation says between two-tenths of a milligram and five milligrams an hour before bed is a regular dose for adults, while children should opt for a smaller amount. And although SugarBear does recommend asking a guardian or health care provider before working them into their routine, it doesn't stop kids from purchasing the product on their own and taking it anyway. The outrage from the internet during Tati x James makes all the more sense once you know this, especially because Charles' audience skews so young.
All in all, if you want to try these—go forth, you have my blessing. But I did it for the 'gram, so you really don't have to.
SugarBear, Sleep Vitamins, $30, available at SugarBearHair.com.