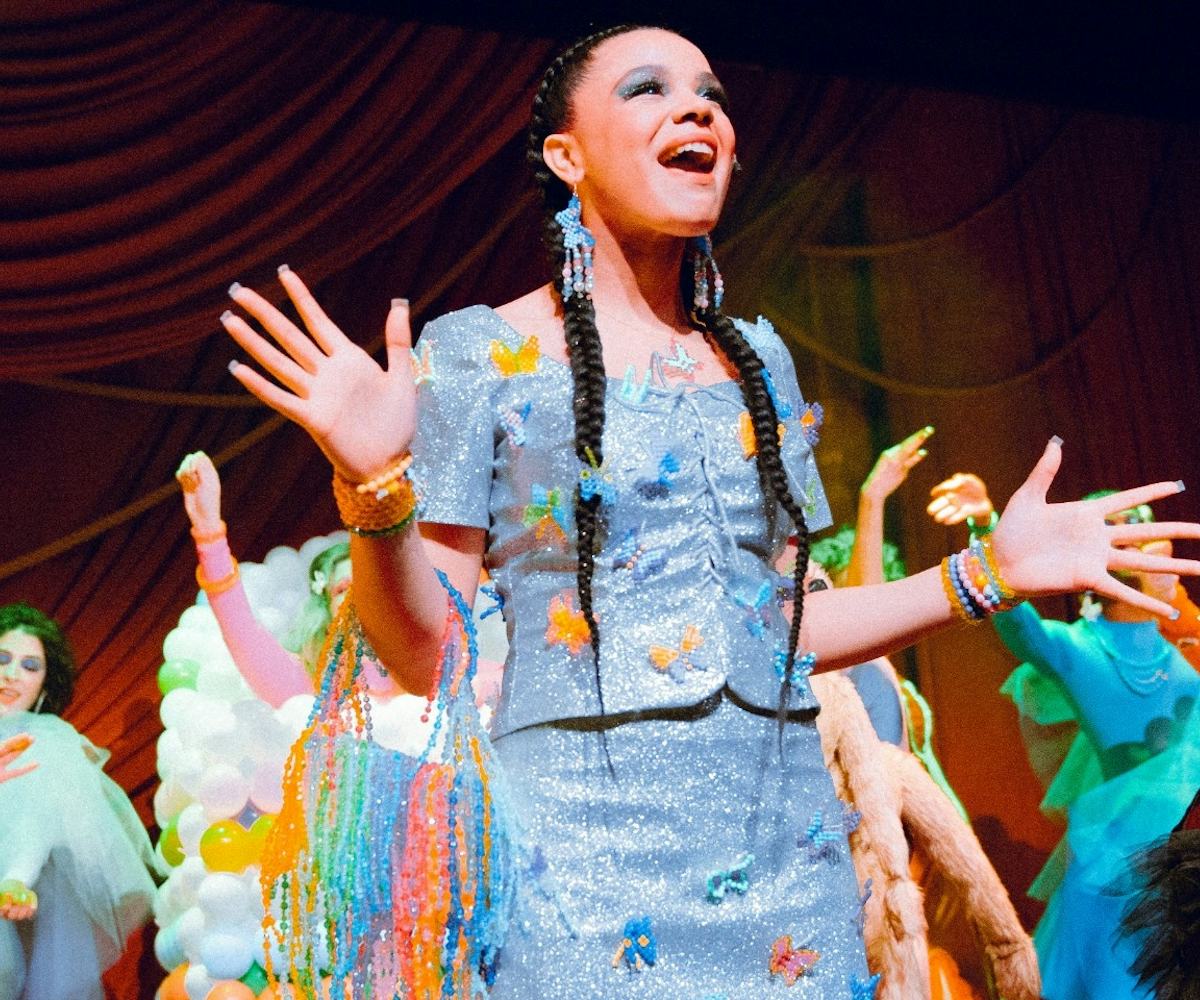 Photo by Jacqueline M. Justice/Courtesy of Susan Alexandra
Go Behind The Scenes Of Susan Alexandra's New York Fashion Week Musical
The designer, known for her bright and beaded handbags, turned to Broadway for inspiration
The line of people for Susan Alexandra's Fall 2020 New York Fashion Week show reached down the block from its Public Arts venue in SoHo on Saturday. The crowd, boasting colorful ensembles and equally vibrant beaded handbags (the designer's specialty), is no surprise: Designer Susan Korn's fashion week experiences are a breath of fresh air in a multi-day streak of runway shows, presentations, and overall sameness.
The designer has been showing at NYFW for three seasons now, including this past weekend. First, she took over a restaurant with models performing as servers, and last season in September, she threw a Bat Mitzvah that even the most jaded industry insider would catch FOMO from, as well as launched ready-to-wear. For her latest collection, Korn went big, creating an original 20-minute musical inspired by her own experience in fashion.
"When I started showing at Fashion Week, I never wanted to do something where it's just beautiful models walking down a runway, smiling blankly into the abyss," Korn tells NYLON. "I wanted it to be something really interactive and exciting. I wanted to put on a show. I wanted to create an environment. I've been living in New York for about 11 years, and I feel like Fashion Week, the energy around it, is so exclusive, and I used to feel so much anxiety. I wanted to create something that would really leave people with a feeling they would never forget."
It was over the holidays in December when Korn first came up with the idea to produce her very own musical, turning to the things that excite her most: Broadway, singing, dancing, and costumes. She worked alongside New York-based artist Mur for the music and lyrics, as well as Hannah Cullen to choreograph and direct the show. To cast her performers, she took to Instagram.
"I looked at all of the people I'm following who I adore, and I reached out to them and was like, 'Hey, by any chance do you sing?'" recalls Korn. "Some people were like, 'Nope,' and some were like, 'I could.' If they're willing to be on stage and wear a crazy costume, then I would love for them to be involved in this. It's a mix of people who actually are Broadway performers and people who are comedians or work in fashion."
The Susan Alexandra musical follows Aisha Kerensa, who plays Susan (inspired by the designer herself and wearing the brand's newest apparel) as she struggles with fear and doubt while following her dreams to start her own business. "The theme is loosely based on my career," says Korn. "It's about a girl, a sort of Wizard of Oz theme. Her dream is to own a store in SoHo, and she is clawing her way through just to exist in New York, which we all know is very difficult."
Along the way, she meets a slew of quirky characters, like a "disagreeable landlord" (played by Jessica Joffe) and a stray dog (played by the extremely funny superstar Larry Owens), who gives Susan the courage to believe in herself. "It's ultimately about fashion, but it's a really hopeful message," says Korn. The performance certainly struck a few personal chords throughout the crowd, all while energizing everyone to take on the rest of their week's busy schedule.
Of course, creating a full-on, original musical comes with its challenges. And Korn was quick to admit all of the new things she had to learn ahead of the show's debut. But the struggle was well worth it. "The coolest thing for me is that I get to work with this unbelievable cast of really talented people, and I get to connect with people from all different walks of life. It just connects me with a community that I wouldn't have the opportunity to know otherwise," she says. "Everyone says New York Fashion Week is dead, and I'm like, 'Well, the reason I'm doing all of this stuff is to find connections with people.' I really feel like that was what was accomplished."
See more behind-the-scenes action from Susan Alexandra's Fall 2020 musical, below.
The musical's colorfully dressed cast — Jade Litaker, Tessa Albertson, and Nyah Rapos — hang out backstage ahead of the show.
Putting the finishing touches on Aisha Kerensa's costume.
Benito Skinner strikes a pose (and raises a martini glass purse) before the show.
Nyah Rapos, Sasha Spielberg, and Mitra Jouhari show off their Susan Alexandra bags.
Hunter Abrams, Meg Stalter, Jade Litaker, and Demi Vee perform one of the original songs of Susan Alexandra's musical.
Larry Owens and Susan Alexandra celebrate the show.
Aisha Kerensa and Jessica Joffe share a moment before taking the stage.
The performers of Susan Alexandra's musical.
Susan Alexandra takes a bow.
Mitra Jouhari showing off her Kettle Brand chips (a sponsor of the show).
Mary Beth Barone wearing her rainbow-inspired glam.
Lauren Servideo letting loose backstage.