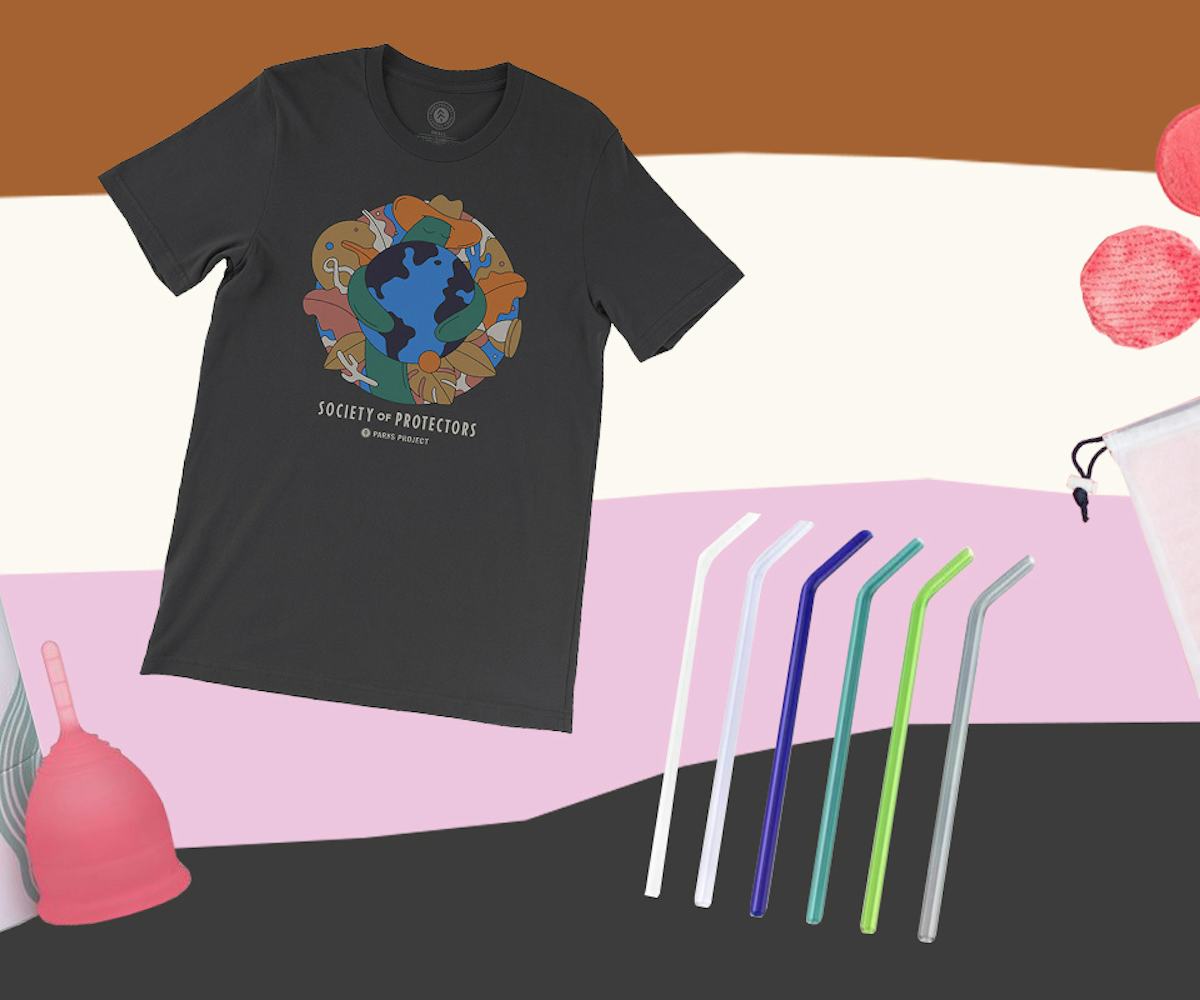 The Most Environmentally Friendly Brands—In Every Category
From fashion to lifestyle to beauty
Earth Day is a reminder—as if we needed one—to take sustainability seriously, and figure out how to lessen our environmental impact. One way to do that is to make sure that when we shop, we do so responsibly, and with an eye toward how our purchasing power affects our planet. Luckily, there are many brands that keep sustainability in mind, and make it easier for consumers to be conscientious about the impact capitalism has on the climate.
Below, find the brands—from fashion to beauty to lifestyle—that make shopping a little less detrimental for Mother Earth.
Your beauty routine doesn't need to rely on single-use plastics. By Humankind is making it easier to go plastic-free by offering products like deodorant, mouthwash, and shampoo in refillable, "plastic-neutral" containers. The brand then sends refills right to your door.
All of Back Beat Rags' pieces are created locally in Los Angeles, and so are the textiles they design with. The brand partners with small, family-owned businesses to bring its designs to life with a small environmental footprint. It also relies on sustainable fabrics like organic cotton, recycled cotton, hemp, and tencel and uses 100 percent post-consumer recycled mailers and clothing bags to ship so they make as little waste as possible, throughout the process.
Gender-free botanics brand NOTO is trying to not only change the way our society talks about gender, but it's also aiming to revolutionize the ingredients in and production of our beauty products. The founder, a former makeup artist, realized that the products in her industry were "cocktails of chemicals, pollutants, and fillers." NOTO products don't have any of that.
Kala's range of intimates and sleepwear come in an inclusive array of sizes and nude tones, which is inspiring in and of itself, but to make it better, each piece is also made with ethically sourced material. The textiles used to make each piece are either all-natural or biodegradable, and they're made by local artisans who are paid a fair wage.
Wolf Circus' jewelry collections are made from recycled materials only, which makes them more eco-friendly. And all their products are made by women.
-This slide is sponsored by Parks Project -
Parks Project is dedicated to making our public lands healthier and happier. The brand uses sustainable materials to make its products, and also upcycles vintage finds, so it doesn't add to the fast fashion problem. Also, Parks Project donates proceeds from all of its sales to nature conservancy groups, literally putting its money where its mouth is. While its collections are super-granola year-round, we're particularly excited about its Earth Day products.
Simply StrawsIf you're environmentally conscious at all, you're not using plastic straws anymore. Simply Straws has a gorgeous assortment of glass and metal straws that you can use on hot and cold drinks, without the waste.
Indigo's entire line actually works to clean up the ocean: Each product is made from old fishing nets and ocean waste, as well as ECONYL (regenerated nylon). According to the brand, this not only "reduces the global warming impact of nylon by up to 80 percent," but it also saves thousands of barrels of crude oil and avoids almost 60,000 tons of CO2 emissions. Plus, for each piece manufactured, a percentage of proceeds is donated to beach cleanups in Bali; and for each piece sold, a percentage is donated to local cleanups in California.
Bearaby's weighted blankets have become somewhat of a staple in my bedroom, and when I found out that it was dropping a more sustainable and environmentally friendly line, I jumped. The Tree Napper, which launches today, is formulated with TENCEL Lyocell fabric, which the brand notes is "sourced from raw wood pulp and produced through an environmentally responsible closed loop process that uses 10 times less water than traditional fabrics."
Nuria, on top of making products that are unbelievably moisturizing and make my skin feel amazing every time I dab them on, is on a mission to pack its products with the most environmentally friendly ingredients. All of the product ingredients are ethically sourced and grown in environments which "maximize plant health and nutrient robustness." And it's not just what's inside the package that's important: All packaging is completely recyclable and its carton paperboard is manufactured using only renewable energy sources, like wind power and hydropower.
We already know that tampons are super-wasteful, which is why we're lucky that so many environmentally friendly menstrual products have hit the market recently. So much cotton waste could be foregone if we used something better for the environment instead. A Saalt menstrual cup, with proper upkeep, can last up to 10 years, which would sidestep the use of hundreds of tampons. In time for Earth Day, the brand has partnered with the Newport Bay Conservancy to pledge 10 pounds of trash is cleaned up for each Saalt Cup purchased on the brand's site.
This shop both creates products and partners with brands who want to decrease their negative impact on the environment. The store itself makes sure that there is as little packaging as possible on all products, even shipped orders. Its Zero Waste Kits are a personal favorite: smartly curated collections of items intent on helping you cut out single-use plastics and containers.
Every time I used to wash my face, I would use either micellar water-soaked cotton pads or a makeup remover wipe first, not thinking about the fact that this caused waste to accumulate quite fast. Croon's face washing pads are your makeup remover and cleanser, packed into one: simply wet the pad, and it will get rid of your makeup and wash your face, with no suds necessary. They can be thrown right in the wash and reused for up to a year, too.
All of the pieces that Dazey LA creates are made to order with 100 percent certified organic cotton or deadstock materials. Its "slow fashion" process keeps the brand as close to zero-waste as it possibly can be.