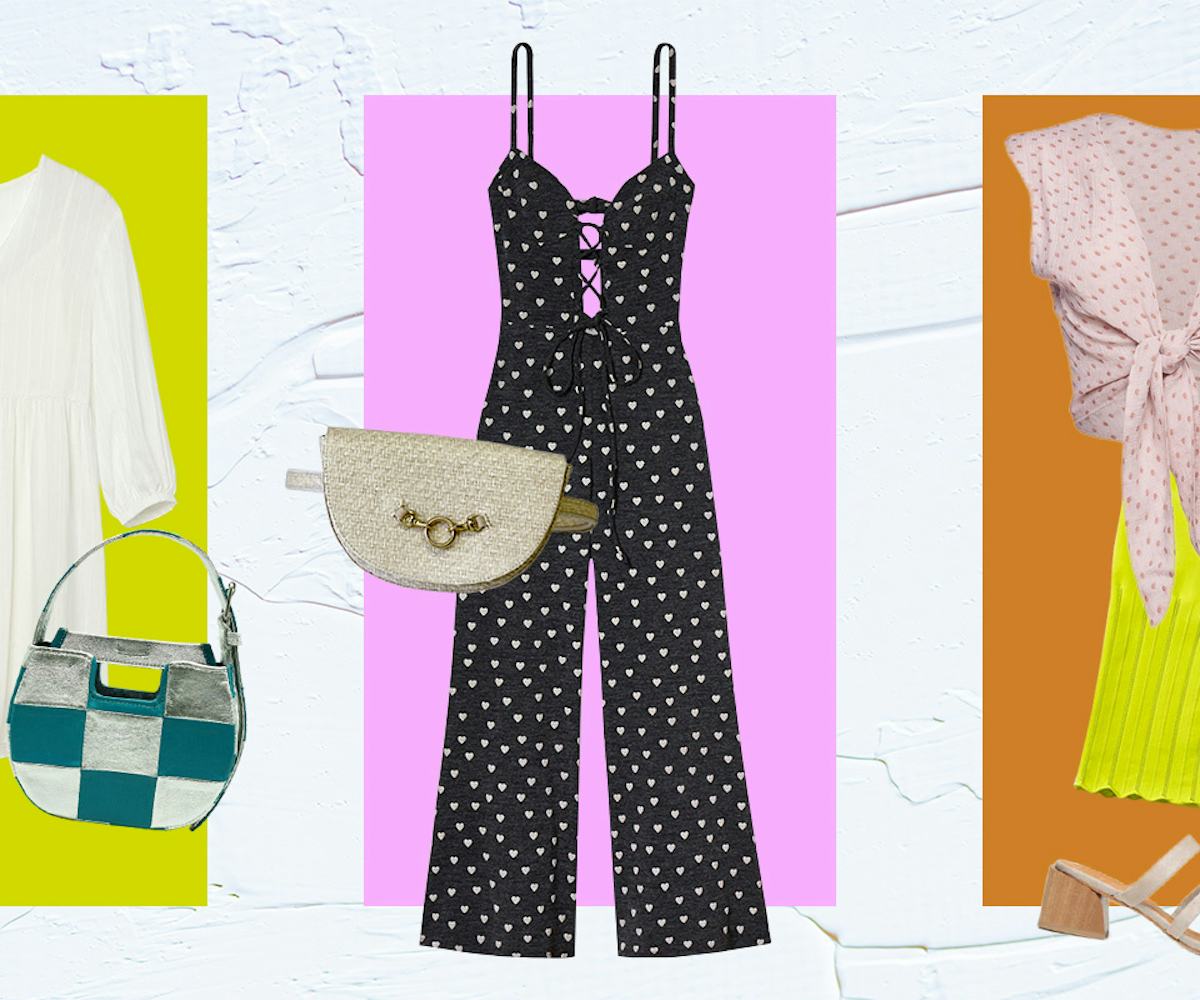 5 Festival-Ready Outfits That Are Cute And Sustainable
The biggest festival trend of the season? Dressing eco-friendly
Festival season is upon us—do you know what you're wearing?
With Coachella's first weekend just around the corner, it's time to start planning out the looks you'll be sporting to all the festivities coming our way this year. But rather than stocking up on the festival-themed collections pumped out by fast fashion retailers, we're calling on music enthusiasts and street style darlings alike to support the brands putting in the work to take care of our planet.
That's why we came up with five festival-ready looks you can feel good about, from head-to-toe. From dresses made of deadstock fabric to sunglasses created with plant-based acetate and jewelry that gives global artisans a safe and fair work environment, these pieces are protecting not only the planet but also the people and animals that inhabit it. Bonus? It's all really cute stuff.
Check out each look, and read about how each brand is doing their part, below.
RiLEY STUDiO, MBR Crop II, $52, available at The Lunary.
RiLEY STUDiO sources fabrics that have been created from waste materials or ones that are natural and biodegradable.
Ética, Tyler Ankle Ziggy, $145, available at Ética.
Ética has its denim exclusively manufactured in one of the most eco-friendly denim factories on Earth, working to minimize waste, water usage, and its energy footprint throughout the manufacturing process.
Nisolo, Elayna Sneaker, $148, available at Nisolo.
Nisolo not only ensures that fair wages and ethical standards are held throughout its factories, but it also offsets its carbon emissions by working with Ecosphere+ to protect the rainforest.
Angela Roi, Hamilton Belt Bag, $165, available at Angela Roi.
Angela Roi uses only animal-friendly materials to produce its vegan bags, while also giving back to animal welfare programs and ensuring its factories follow ethical standards.
Modo, Mina, $195, available at Modo.
Modo's sustainable frames are either partially castor seed-derived or recycled, making them the perfect lightweight, sustainable choice. The brand also works to give back to the environment, already planting over two million trees since conception.
Soko, Embellished Horn Hoop Earrings, $68, available at Soko.
Soko works directly with artisans around the world to help bring ethically produced, handmade jewelry to consumers around the world.
Fae, Frida Suit in Zest, $42.42, available at Fae.
Fae's swimsuit is made from a sustainable techno-fabric derived from recycled nylon from post-consumer materials.
Reformation, Margot Skirt, $98, available at Reformation.
Sustainability is at the core of everything Reformation does. Not only does it work to produce sustainable products ethically, but it closely tracks its carbon footprint and gives back to various programs to help replenish the world's resources.
D'arçé, Saint Sauveur Sandals, $160, available at Reve En Vert.
D'arçé's sandals are handmade with vegetable-tanned leather, aimed to be long-lasting, timeless wardrobe staples. The brand also employs indigenous women so they can become economically independent.
Dick Moby, Amsterdam, $111, available at Dick Moby.
Dick Moby uses recycled acetate and bio-based acetate to create its frames.
Raven + Lily, Yami Backpack, $168, available at Raven + Lily; Raven + Lily, Anya Choker, $78, available at Raven + Lily.
Raven + Lily sources artisans around the world to create its beautiful sustainable bags and jewelry, paying them fair wages and giving them access to a safe job with sustainable income, health care, and other benefits.
Whimsy + Row, Valentina Top in Blush Polka Dot, $78, available at Whimsy + Row.
Whimsy + Row produces all of its pieces in sustainable fabrics in Los Angeles.
Yan Yan, Holey Bike Short in Sprout Yellow, $125, available at Yan Yan.
Yan Yan incorporates leftover yarns into its knits, ensuring they aren't tossed, ending up in landfills.
Coclico, Oulette Sandal, $350, availabe at Coclico.
Coclico uses the most sustainable, ethical materials for its footwear, tracking its carbon footprint and investing in renewable energy to offset it.
Westward Leaning, Seaspray 03, $255, available at Westward Leaning.
Westward Leaning uses plant-based cellulose acetates for its frames, ensuring that they're biodegradable.
Mashu, Blue Daphne Vegan Bag, $467, available at Reve En Vert.
Mashu's vegan bags come from multiple sustainable materials, from recycled plastic and polyester to pineapple-based faux leather, Piñatex.
Wild Fawn, Minimal Earrings, $43.34, available at Etsy.
Wild Fawn only uses the most ethically sustainable materials it can find, such as recycled silver and fair trade gold.
Evewear, The Free Spirit Jumpsuit, $135, available at Evewear.
Evewear is made entirely out of recycled deadstock fabric in Los Angeles.
Everlane, The Block Heel Sandal, $125, available at Everlane.
Everlane is committed to transparency, ethical factories, and creates timeless pieces that last.
HFS Collective, Half Moon Convertible Crossbody in White Sand, $198, available at HFS Collective.
Produced entirely in Los Angeles, HFS Collective is committed to using the most animal- and earth-friendly materials they can source.
Sticks & Sparrow, Coast Ivory Tortoie, $199.95, available at Sticks & Sparrow.
Sticks & Sparrow glasses are made from plant-based acetate, bamboo, and other sustainable materials.
Akola, Ode Earring, $78, available at Akola.
Akola pieces are handcrafted by women in Uganda and Dallas, Texas, reinvesting its purchases to provide work opportunities and training to women in crisis.
Amour Vert, Phair Baby Doll Dress, $168, available at Amour Vert.
Amour Vert uses sustainable, better-for-the-environment materials for its products as well as closely works with American Forest to plant trees for every T-shirt purchase.
Nomadic State Of Mind, Romano Camel, $48, available at Nomadic State Of Mind
Nomadic State of Mind's rope sandals are made from recycled hemp, rope, and upcycled sails, making for the perfect animal-friendly summer shoe.
Alfeya Valrina, Joe Joe Bag Upcycled Project #3, $250, available at Alfeya Valrina.
Alfeya Valrina is dedicated to promoting fair labor practices, using ethically sourced, local materials, and implementing zero-waste production processes. Its latest patchwork bags, seen above, are made from scrap leathers.
Carla Colour, Modan $250, available at Carla Colour.
Carla Colour sunglasses are produced from zyl acetate, a type of plant-based acetate, and in small runs to ensure the least amount of waste.
Machete, Kate Hoops, $44, available at The Lunary.
Machete only uses eco-friendly materials to create its jewelry and accessories, such as the cellulose acetate used in the above earrings.
NYLON uses affiliate links and may earn a commission if you purchase something through those links, but every product chosen is selected independently.