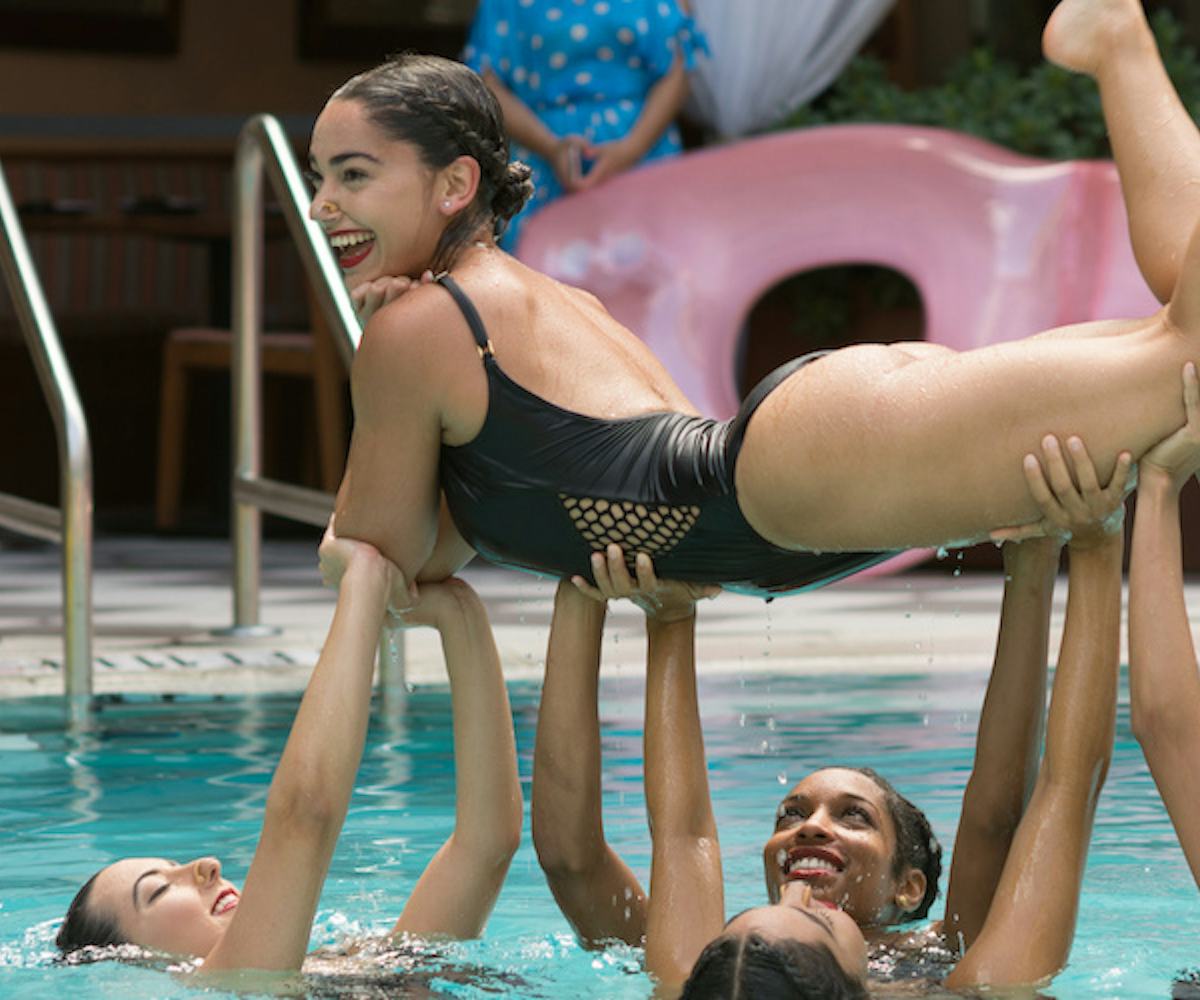 Photo courtesy of Paraiso Miami Beach
The Best Poolside Beauty Tips, According To Synchronized Swimmers
The Aqualillies spill their underwater beauty tips and hacks
Earlier this month in Miami, I had the pleasure of catching the Aqualillies, synchronized swimming wonders, perform a routine at the Izipizi poolside soiree during Paraiso Miami Beach. When they were finished, I was left in awe. Not only are they immensely talented (I mean, it's one thing to be able to dance flawlessly, but to dance flawlessly underwater?), but they also managed to emerge from the water one final time to take a bow with absolutely immaculate hair and makeup, despite, you know, dunking in and out of chlorinated water for 20 minutes straight.
I had to know their secrets. How do they keep their makeup on? How are their hairstyles still so shiny and... intact? And, considering how much time they regularly spend in chlorine, how the hell do they prevent their skin from looking like crap?
I caught up with a handful of the Lillies to get the lowdown on what it takes to create gorgeous poolside beauty look, go underwater multiple times, and still emerge looking camera ready. Because, if your look can survive a full synchronized swimming routine, then it'll obviously last a leisurely swim and shallow-end handstand or two. Meaning, these would be tips we could all benefit from.
Below, all the Lilly-approved skin-care, makeup, and hair hacks to stay perfect, poolside, all summer long.
Don't forget your SPF
While, yes, this is a no-brainer, it has to be said: Do not forget your SPF. Ever. Almost all the Aqualillies we chatted with noted facial SPF as a crucial first step to any poolside beauty routine, not only to prevent any immediate sun damage but also to keep your skin healthy over time. Lilly Noelis Orochena opts for one that doubles as a moisturizer. "Chlorine can be very drying to the skin, so it's important to apply a moisturizer with SPF prior to anything else," she says.
There's no need to buy waterproof everything
Despite what you may think, not all of your makeup needs to be labeled waterproof or water-resistant in order to outlast a day spent swimming. "Surprisingly, a lot of makeup is more water-resistant than you think," says Lilly Kristy Aguirre. "Generally, a simple primer or concealer will provide a good base for the rest of the makeup to go on. Regular powdered eyeshadow and blush are more than fine for waterproof applications as well. However, the main products you should definitely purchase with a waterproof label are mascara and eyeliner." Otherwise, black mascara tears are in your future.
In a pinch? Chapstick works as an eyeshadow primer
Looking to both take a dip and wear a full eye look, but don't have any primer? A hack that Orochena swears by is using chapstick, instead. "The stickiness will hold the shadow in place," she says.
Opt for a matte foundation
Whether you're looking for light, medium, or full coverage in terms of foundation, the general consensus among the Lillies is that matte is the way to go. "I've found that dewier foundations could be wiped off easier when wet," says Aguirre. Of course, many of us love a glowy, dewy look when spending a day in the sun, so she suggests topping off a dewy-finish foundation with setting powder and setting spray to help lock it down.
Setting spray is a must
Dewy skin or not, almost all of the Aqualillies we spoke to counted setting spray as a necessary item in their poolside arsenal. Whether your look is on the natural side or full coverage, a setting spray will help make sure it survives a swim.
Forget mascara, get a lash lift
While many of the girls mention that, really, the only product that needs to be waterproof when swimming is your mascara, the product also has its downfalls: not only does it flake and can be tough to remove, but it also tends to dry out and damage your lashes. Kate and Carla Ni, Lilllies and twin sisters, swear by getting lash lifts, instead. "This has been a game-changer for our Asian eyelashes," they say. "We have naturally long and thick black eyelashes, but they slope downwards, so we've always had to use an eyelash curler before putting on mascara. A lash lift is basically a little perm for your eyelashes, and you don't have to worry about any additional maintenance factors, like when you get extensions."
Don't have naturally dark lashes? Opt for a lift and tint, so you can skip mascara altogether.
Red, chlorine-irritated eyes? Grab some milk
Makeup aside, sometimes it's our eyeballs that need some assistance.
Accidentally got splashed with pool water and ended up with itchy, red, and irritated eyeballs? Not a problem! Aguirre shared a very, err, interesting hack: "You can alleviate chlorine irritated eyes with a milk bath. Simply fill up your goggles with some milk, put it to your face, and open your eyes for a few seconds. Repeat a couple times as needed, and you'll be feeling much better." If you're wearing contacts, she recommends taking them out before trying this.
For natural hairstyles, moisturize before and immediately after
It's no news that chlorine is seriously damaging to hair, so Lilly Maryann Benjamin provided her tips for keeping natural hairstyles protected: "For my natural short cut, the night before shows, I add castor or coconut oils and a few drops of essential oils to my favorite deep conditioner and leave overnight. In the morning, I rinse my hair about 75 percent and style in a protective braided or flat twist hairstyle. Immediately after the pool, I rinse my hair and coat it with more conditioner and oils to hydrate."
Not sure which essential oils to incorporate into your routine? Benjamin recommends geranium oil to strengthen hair, lavender oil to deep condition, sandalwood to help dry ends, and jojoba oil for extra moisture.
Opt for braids
If you're looking to go from pool to party and you're planning to take frequent dips underwater, leaving your hair down and natural (if you have a bob or longer) probably isn't the best hairstyle choice. Rather, you should opt for a tight style that will last all day. Many of the Lillies recommend some sort of braid, should your hairstyle permit. (If your style survives a performance, then be assured it will last from a day at the pool through a night out.)
"The best hairstyle to wear when we don't have our caps on is French braids twisted into a bun," says Orochena. "It's great for keeping shorter layers in and looks really cute." Aguirre also agrees that double French braids twists into a bun is best for layers, bangs, or shorter styles."
Bring out the heavy, waxy styling products
A French braid not your thing? A slicked-back look will do if you want your style to remain intact after taking a dip. For this, Lilly Michelle Dawley suggests opting for products that are on the heavier side and have a waxy texture.
Or… gelatin?
If you're really looking to keep that 'do in place, a few of the Aqualillies shared their secret hack for shiny, smooth, and unmovable hairstyles: unflavored, colorless gelatin. "If you've ever wondered what makes synchronized swimmers' heads so shiny and smooth during the Olympics, it's unflavored, colorless gelatin that's mixed with hot water to form a paste that basically acts as an ultra heavy-duty hair gel," say the Ni twins.
"It's pretty messy and smells a little funny, but it is by far the most effective thing that will keep our hair intact," says Orochena.