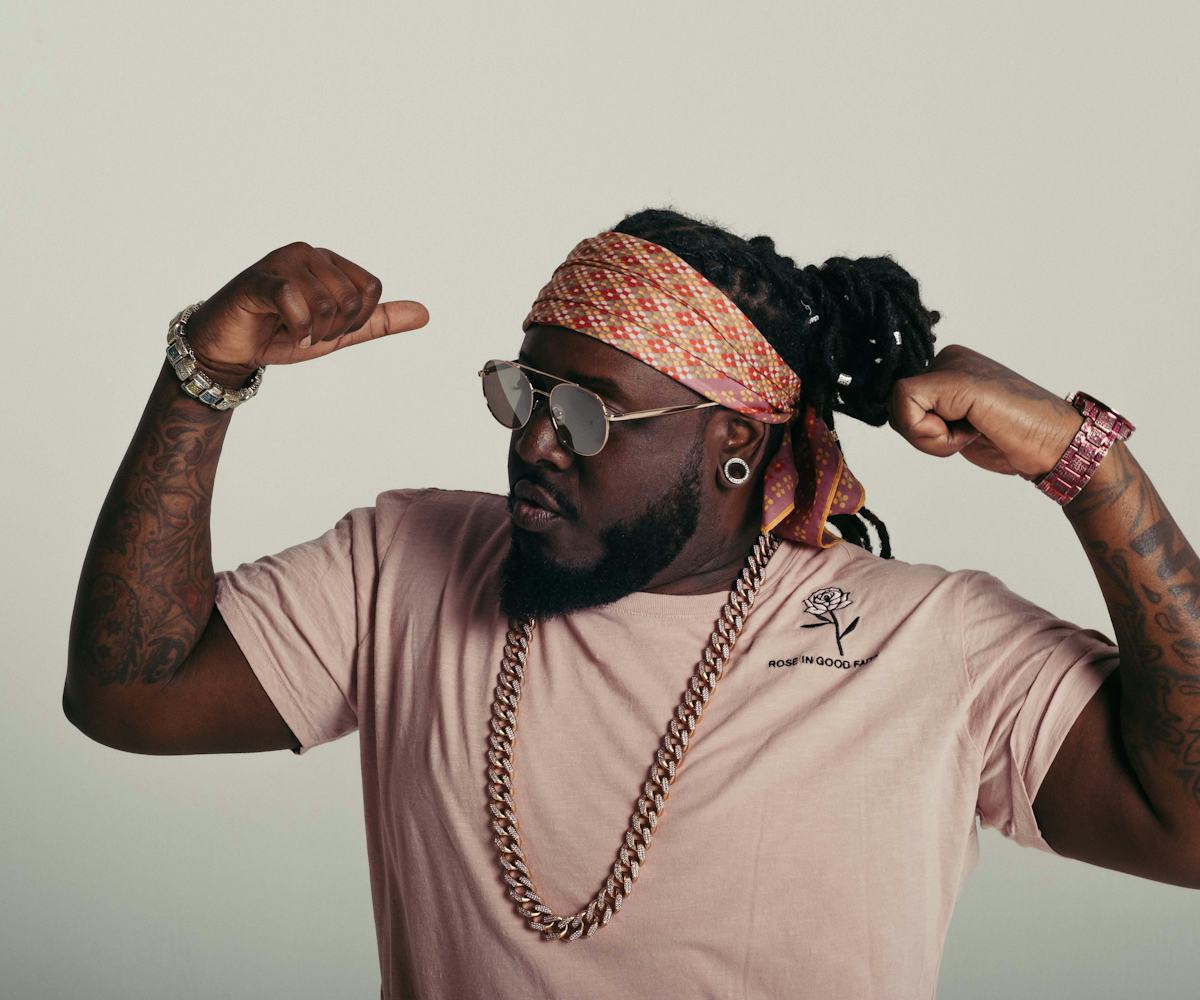 Photographed by Nathalie Basoska.
T-Pain Doesn't Care What You Think
At the end of the first episode of T-Pain's new Fuse show, T-Pain's School of Business, a series in which the singer travels around the country to "meet with entrepreneurs who are defining the future," as the synopsis explains, he recounts the biggest takeaways of the roughly 30 minute show. First: "Believe in yourself and what you're doing, even if other people don't believe in it." Then: "Don't be afraid to take a risk. You might end up changing the world forever." Both are lessons and tips he gleaned from the different men he met up with (and both are already fairly widely established lessons and tips), but as would be evident for anyone who's been paying attention to T-Pain for the last decade, it's advice that he's clearly followed—or learned to follow—within his own career.
There was once a time when T-Pain owned the charts. His first album, Rappa Ternt Sanga, was released in 2005; he was still a young boy from Tallahassee, Florida (T-Pain stands for "Tallahassee Pain"), who would sing his way into homes across America with his debut single, "I'm Sprung." Soon thereafter, he made guest appearances on songs with big names like Kanye West, Lil' Wayne, E-40, and DJ Khaled. There was once a time, while listening to the radio in the summer, when T-Pain was as inescapable as Drake.
A big part of T-Pain's success in the '00s was thanks to the digital voice manipulation of Auto-Tune. Though originally used to help artists fix off-pitch vocal performances, the resultant sound, a combination of robotic and melodic, has been adopted with great effect by many musicians—including, notably, T-Pain. Though he doesn't claim to be the first to use the technology, (some might give Cher and her 1998 hit "Believe" that accolade, but T-Pain remembers hearing it used for the first time in a Darkchild remix of J.Lo's "If You Had My Love," and thinking, That shit sounded dope as shit on that one part, somebody should make a whole song like that), he did popularize it, both making it his own and making everyone else want to make it their own too.
But, as often happens to those reaching the kind of ubiquity T-Pain did, the industry turned on him; or maybe it's just that music trends shifted. Either way, in 2009, Jay Z declared a "moment of silence" for the technology on his song "D.O.A. (Death of Auto-Tune)." "Y'all niggas singing too much," he says on the track. "Get back to rap, you T-Pain-ing too much." The same year, Death Cab for Cutie's Ben Gibbard declared during the Grammy Awards: "Over the last 10 years, we've seen a lot of good musicians being affected by this newfound digital manipulation of the human voice, and we feel enough is enough. Let's really try to get music back to its roots of actual people singing and sounding like human beings." Though that didn't exactly happen, it did signal a shift in what sounds artists created. And as a result, the man who had become known as Auto-Tune's ringleader—complete with a comically large top hat and white-rimmed sunglasses—was shunned in the process.
In 2014, The New Yorkerwrote that the "apparent collapse of his career" sent T-Pain into a "depression that left him unmotivated to make any more music." He's also talked openly about struggling with alcoholism at the time, and the issues he had with his record label. Though, today, the artist is hesitant to call what he went through a depression. "I realized it was a place that I was choosing to be in," he explained to me, recently. "It was more of a—for a lack of a better term—a fake depression, because I've seen what actual mental illness looks like... and that's something you can't get out of. But, if I can wake up one day and just be like, 'Oh, never mind, that's fine, you know what, fuck those people…'" He paused for a moment. "Like, my dark place was where you go when you got to cry in a movie. Real clinical depression, that's on a whole different level, and when I realized that, it brought me immediately out of it." He returned to the scene in 2013 without his signature dreadlocks, but with his signature Auto-Tune sound still in tow.
Before T-Pain signed on to do School of Business, he was approached to do a show about, you guessed it, Auto-Tune. Producers wanted him to talk about what it is, show viewers how to use it, and go to other studios and ask other people how they use it. The problem with that is, he explained, "they only had like one episode, and that's exactly how long you can talk about Auto-Tune." One "big production company" wanted to make a show called Life After Auto-Tune, which also didn't make much sense to him, because, "like what the fuck does that even mean?" But also it's hard to talk about "life after" something when that something is very much still around.
As The Fader outlines in a story titled "How Auto-Tune Revolutionized the Sound of Popular Music," artists still use Auto-Tune, using Beyoncé and Jay Z's "Ape Shit" and most Future songs as recent examples. In fact, they probably use it more today than they did 13 years ago, it's just more subtle. "Some speculate that it features in 99 percent of today's pop music," the story reads. The technology hasn't gone anywhere, it's just evolved.
One way to look at Auto-Tune's evolution over the years is as being similar to that of trap music's, which, after originating in the South and being popularized by rappers like T.I. and Jeezy, also in the early '00s, has become one of the most popular genres over the years, used by everyone from hip-hop to pop to EDM artists. And, similar to Auto-Tune, there's little recognition of where it came from by those who now use it.
For example, T-Pain says people don't reach out to him for help on songs anymore like they did back in the day. "I think the last person to do that was Jamie Foxx?" He says."Everybody was like, 'We could probably just not pay him to do this and just try it ourselves.' Everyone was like, 'That's close enough… That kind of sounds like T-Pain. Let's just do that. Just put that out.'"
That's how these things go, of course. If something's been proven to work, everyone's going to try doing that thing for themselves. T-Pain doesn't have a monopoly on the technology, so he can't stop people from using it. When I ask, though, if he thinks anyone's improved on his artistry, he didn't sugarcoat his answer. "No, no, no," he said matter-of-factly. "It's like, if I'm the ShamWow, then everybody else is like the Shammy Cloth. It still does the same thing, but maybe just not as great and it probably won't last as long." What sets him apart, he said, is that he studied the history and the mechanics of Auto-Tune before he started using it. He went to the creator, Dr. Andy Hildebrand, and learned about how it works. Like, did you know Auto-Tune was created with the same process they use for digging oil? T-Pain didn't, but he does now. It's a little confusing, so we'll let him explain it: "You got to send pitches down underground and, depending [on] how it comes back, [it] will indicate if there's oil underground or not. So, [Dr. Andy] took that and, when you send a signal into a software and it comes back a different pitch, it's the same map."
Even after discovering it and learning about its nuances, T-Pain didn't make a song using Auto-Tune for "like a year, year and a half." He took his time with it, which he says people don't do today. He said, "The way I made my music was giving a fuck about it first and not just doing like, 'Oh, that's that shit that dude used, slap it on that, put the song out.'" He calls a lot of music out today as being "fast food," while the gourmet stuff is what he did; he explained: "It's when you actually pay attention to something, you go back, and find history."
This might sound a little bit like T-Pain is resentful of the way other people are capitalizing off his innovations. He says he's not, though, and explained, "It's not hindering me at all. Because when I do it, people pay attention and it's a whole separate thing. People know the difference between the quality and the motherfucker that's just trying it."
He's not wrong. Even with the previous backlash against him and the ensuing hiatus, any mention of T-Pain is met with respect—the kind that's usually garnered over time and with perspective. He still makes headlines for remixing a song better than Nicki Minaj or defending Frank Ocean, or that time earlier this summer when he had a random but charming back-and-forth with Delta Air Lines. His music and his general presence trigger the kind of nostalgia millennials are constantly seeking. He's an innovator, and, many say, he changed the course of music forever (whether for better or worse depends who you ask). So, in a way it's as if T-Pain never really left; in a way, he's always been around.
In 2014, T-Pain appeared on NPR's "Tiny Desk Concert" with just a microphone, a cable, and his buddy playing the keyboard. He didn't walk into this situation knowingly, he told me. "I mean, you hear NPR, and you're thinking like talk radio, so I'm thinking I'm just going to do an interview real quick, get up out of there." Instead, he finds himself, while a little hungover and after just smoking a cigarette, in front of "like 303 employees all packed along the cubicles and shit," singing acoustic renditions of his tracks "Buy U A Drank (Shawty Snappin')," "Up Down (Do This All Day)," and "Drankin' Patna." More than four years later, it's the second most-watched video from the "Tiny Desk Concert" series (Anderson. Paak holds the No.1 spot), with 14 million views and counting.
There's a theme to the comments under the YouTube video, most having to do with some version of T-Pain being slept on. The one that stood out the most to me read: "T-Pain was using Auto-Tune as a handicap, my God." Some could argue that. It's interesting to think how his career might be different if he never discovered the technology. Would T-Pain still be T-Pain without Auto-Tune? Would he be more respected? Or would he never have been discovered at all?
"It's mostly my fault that I got slept on because it was normal to me, so I didn't think it was something to showcase," he said, referring to his acoustic performance. "I thought people knew more how Auto-Tune worked and that you actually have to be able to sing to make something happen, but nope, people didn't know that, because they're not in their fucking rooms studying it for a fucking year."
And perhaps because of his relationship to the technology and the success he's had from it, he says he doesn't have plans to put out an acoustic album or anything like that. Auto-Tune will stay a part of the T-Pain brand—at least for now. "With something that got so popular that I popularized, I don't want to be the one to stop using it first," he said. "It's kind of like a waiting game. If it gets to a point to where I just…" he pauses and shifts his thought process a bit. "I think I'd stop doing music before I stopped using Auto-Tune, for sure, no question. Because if it gets that boring to where I feel like I've got to switch it up, I shouldn't be doing it anyway. If it's not a passion that I want to pursue and keep going, then I don't need to do it regardless."
He'll follow up the release of his two recent mixtapes Everything Must Go (Vol. 1) and Everything Must Go (Vol. 2) with a new album slated to come in "the first quarter" of 2019. The music-making process over the past couple of years hasn't been easy, he says. He's had to deal with people from his old label telling him to switch up his style or "sing like other people that came after me that took from my sound," he explains. "I didn't want to do that. That's backwards as hell." Once he got rid of the extra voices, the songs came easily. He linked up with old producers from Florida and spent time sitting in the studio alone, listening to himself and listening to his gut feeling again. It's that same instinct that's gotten him this far in his career, after all. "I'm—as everyone should be—afraid of failure," he says. "So, you try to get all of these opinions and you're bringing in young people in the studio, you let them listen to it, and if it don't sound like trap music, then they don't like it and shit. And I'm like you know what, never mind, everybody get the fuck out of here. Let me do this."