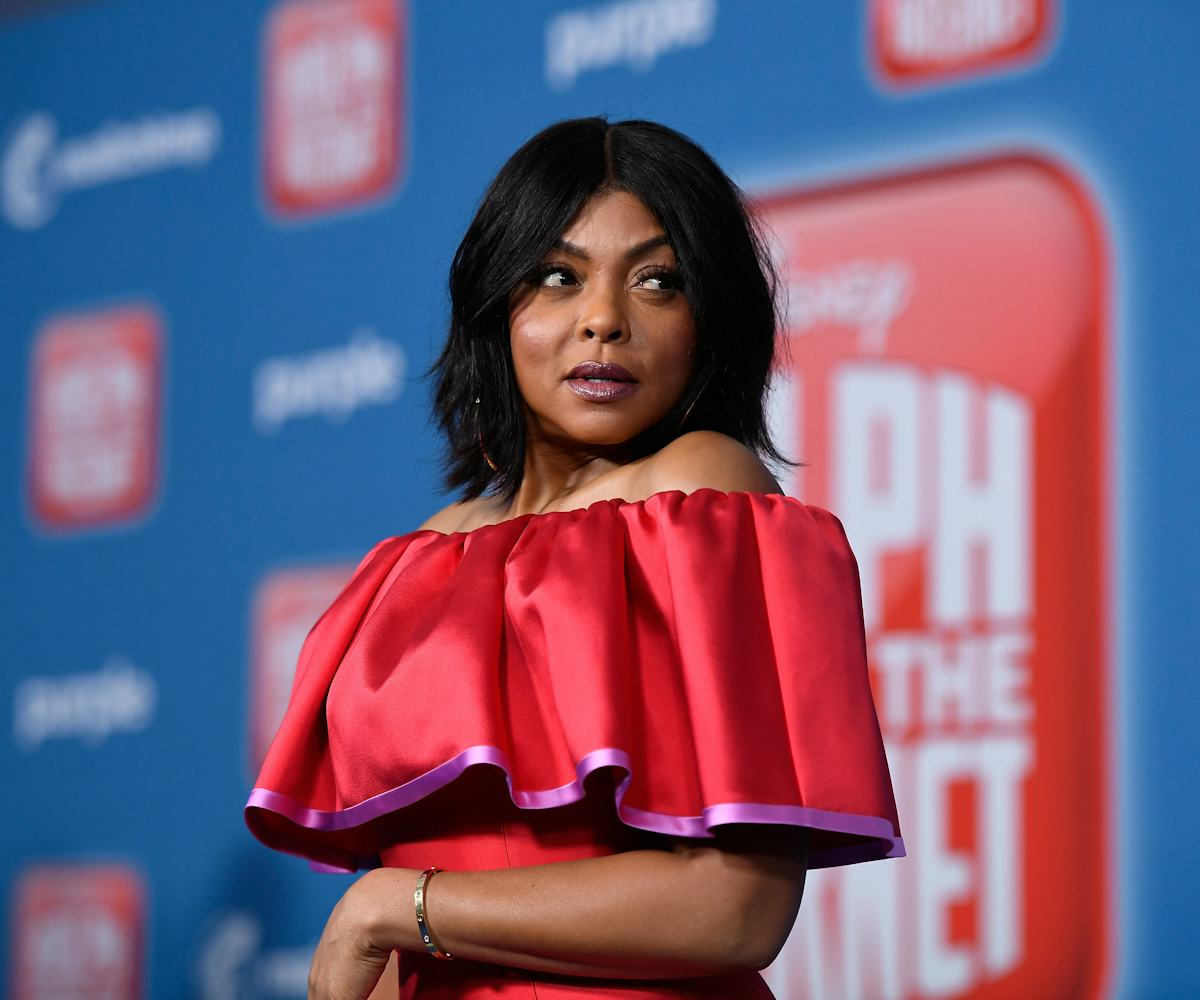 Photo by Kevork Djansezian / Stringer / Getty Images.
Taraji P. Henson Seems To Think R. Kelly Is Being Treated Unfairly
My favorite celebrity aunties are on the wrong side of the R. Kelly debate
Taraji P. Henson took to Instagram on Tuesday to share her thoughts on two of the entertainment industry's most vilified men: Harvey Weinstein and R. Kelly. She thought it was worth searching for #muteWeinstein and #muteHarveyWeinstein to make note of the lack of of posts compared to the various #muteRKelly hashtags. She let out a knowing "hmph" after her findings. By comparing social media responses to Harvey Weinstein and R. Kelly, both of whom have been accused of sexual misconduct and other sex crimes, Henson seemed to be insinuating that Kelly is unfairly receiving more backlash than his white counterparts. If this is indeed what Henson is saying, though, she is wrong on all fronts.
Let's start with the most obvious—if trivial—flaws in her logic. Kelly is a musician. Music is made to be listened to. The call to mute him is a direct reference to the action of no longer listening to his music. Weinstein is a television and film producer. You watch those. No one has started a viral campaign to mute him because his primary product is not purely sonic.
Furthermore, social media buzz is not the same thing as being held responsible and accountable for one's actions. So it's also worth noting that despite more online chatter appearing to be predominantly directed at Kelly, Weinstein, currently, is actually facing more material consequences. Like Kelly—who was at the center of the Lifetime docuseries, Surviving R. Kelly—Weinstein is the focus of a damning documentary; in his case, it's called The Reckoning: Hollywood's Worst Kept Secret. Weinstein was fired from his company after news of his alleged sexual abuse. He was suspended from the British Academy of Film and Television Arts, expelled from the Academy of Motion Picture Arts & Sciences, and he "resigned" from the Director's Guild of America. He was arrested and charged with rape in New York and is currently awaiting trial after posting a million dollar bail.
Despite decades of damning evidence, multiple allegations, court settlements, investigations into Kelly have only just opened in the wake of Surviving R. Kelly. No charges have been filed against him and his label didn't decide to part ways with the singer until last week. You can still stream his music on all streaming platforms and amidst the controversy, interest in his music has been increasing. Sure, it does seem as though more people have bad things to say about Kelly and his alleged crimes but he is in no way being persecuted.
Henson's Instagram posts come just a few days after Erykah Badu—who, ironically, also appears in Henson's latest movie project, What Men Want—told a Chicago crowd that she was putting up a prayer "for R." Concert goers booed her and she then took to the internet to insist that she only wants "unconditional love" for everyone, including Kelly and his victims.
At 47 and 48, Badu and Henson's position on Kelly seems to suggest a generational difference in how we respond to black men accused of sexual assault. The idea that they deserve unconditional love and protection is not one that I've noticed many of my own peers subscribe to. To focus on racism that would lead a black men to face harsher consequences for sexual assault than a white man completely erases the experiences of survivors; not to mention the way it ignores how racism plays a part in which survivors get taken more seriously. This position encourages survivors to remain silent because black men are always deemed more important. And to spout love above accountability gives reprieve to the alleged perpetrator only. That this rhetoric is coming from the auntie generation, the group of black women that I hope to emulate is a painful reminder of how easily misogynoir is internalized.