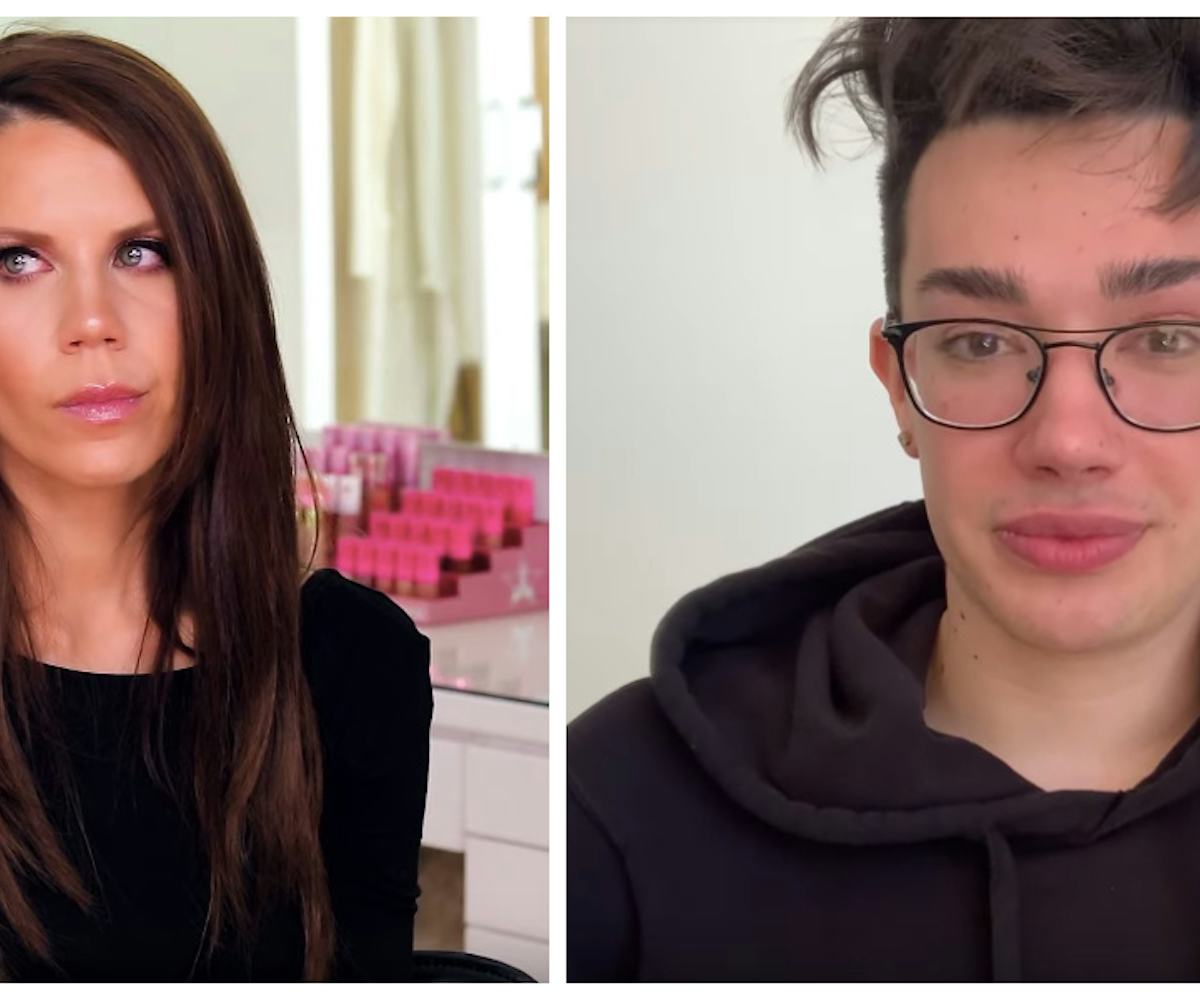 Screenshots via YouTube
Tati Westbrook Made A Follow-Up Video Saying We Shouldn't Be So Mean To James Charles
She doesn't think he's canceled for good
In a new video, YouTube influencer Tati Westbrook followed up on her original claims about fellow influencer, James Charles, saying that she wants the drama to stop and that she's not a fan of the way that Charles is being treated on social media. Westbrook further states that she would give all of her new success back if she could. (If you're new to this very, very detailed drama, take a minute to catch up to speed.)
Now then! After Westbrook posted a 43-minute long video in which she slammed Charles for predatory sexual behavior and cited his promotion of SugarBearHair—a hair vitamin company that rivals her own Halo Beauty—Charles has been dragged through the mud on social media. He's lost about 3 million subscribers on YouTube, while Westbrook has gained about 4 million, and he's been the subject of many joking tweets about his behavior. People who have been harassed or come onto by him have also come forwardwith their own stories.
In the new video, Westbrook says that she was surprised that her video exploded the way it did. "Never in a million years did I think the situation would reach what it did," she says. "I knew this would cause a lot of controversy, I know that, but I didn't think it would get to this magnitude. I didn't think it was possible." She also says that she expected to take the hit for coming forward, and not the other way around.
Westbrook goes on to address the claims that she only made her video because Charles partnered with a rival vitamin company, which she says is not true: "This is a cut that is much deeper than vitamins." She explained: "It's about a lot, and it's about a lot that I didn't even talk about. It's about someone that reaches—across all platforms—30 million people, that are dominantly children."
Westbrook says that she has been trying to get through to Charles, and that her video was "me trying to reach someone who I found completely unreachable... The last straw for me was the way I was treated and the way our relationship was treated with zero respect."
But, even still, Westbrook says that she "really want[s] the hate to stop," whether it be directed at her or Charles, saying that "that's not why I made the video." Since her video was posted, Charles (and to a lesser extent, Westbrook herself) has been the subject of a lot of criticism, and has been mocked on social media for his behavior. Though Westbrook's original video was the catalyst for all this, she says that she still cares about Charles and doesn't want him being picked apart. "I don't want you guys hating on him. I can't even go online right now," she says. "It's painful to watch someone that you have cared about be dragged and to know that this all started because of me. I don't think anyone deserves that."
While Westbrook knows that their relationship probably won't be repaired, she does "think that we owe it to James to figure it out and heal, and I hope that he does that." She clarifies: "I don't want it to just go away and be dusted under the rug but I do want to move through this and I pray that he moves through it." She says that since he's publicly apologized for the things he's done, "I'm just hoping that we can leave it at that and close this up and that people can drop this and move forward and let some actual healing happen."
While some people are taking Westbrook's claims about Charles' predatory behavior and using them to make homophobic statements, we'd argue that many people online are doing exactly what Westbrook's video did: holding Charles accountable for his actions. There's no excuse for the predatory behavior that he has been able to get away with due to how much power and fame he has, and he should be held accountable for it—he should have been long ago. And though Westbrook doesn't want or think that this controversy is the end of Charles' career or will "cancel" him, we'd think that all the controversies stacked up against him are enough to cancel anyone.
Watch Westbrook's full video, below.