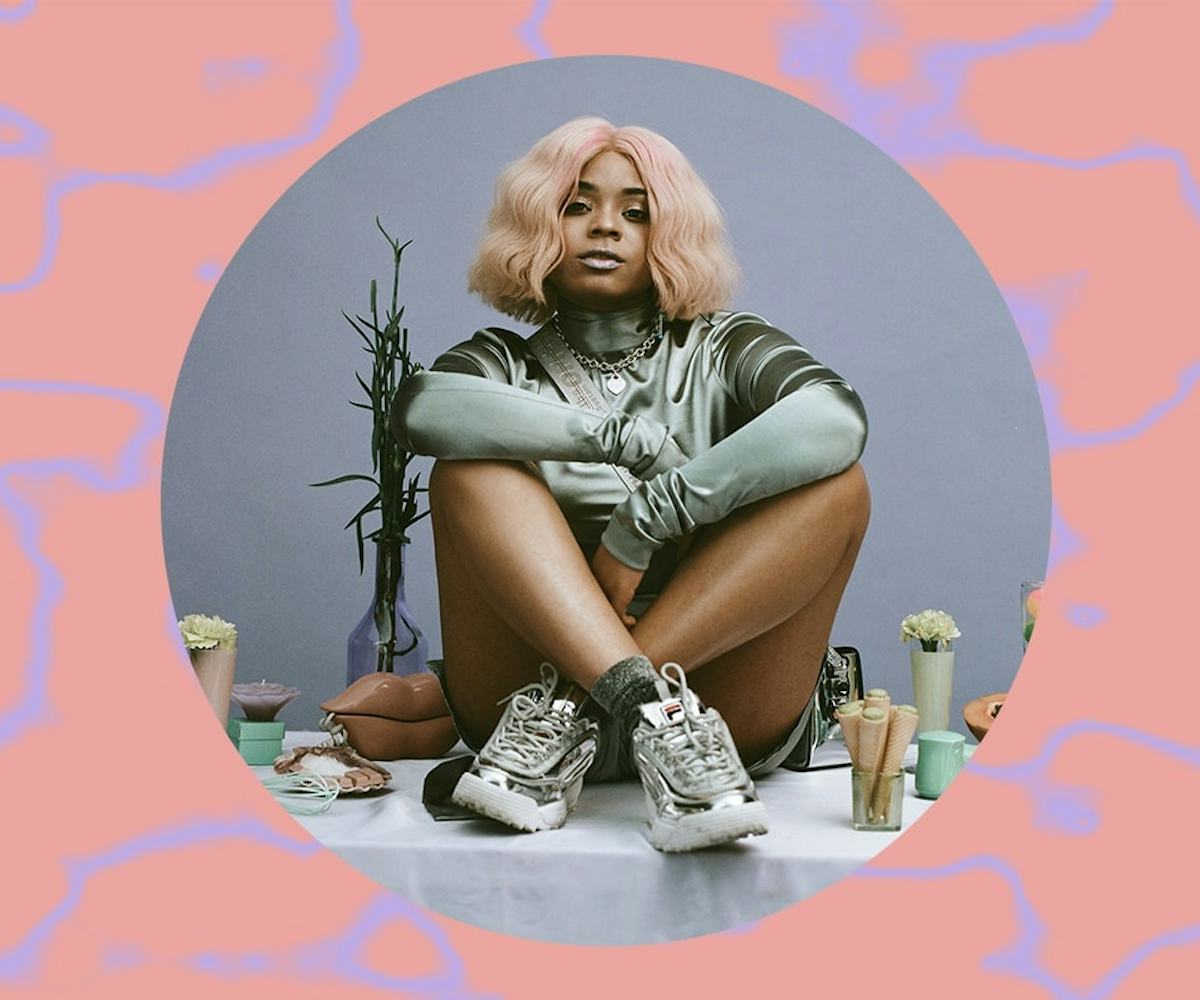 Photo by Madeleine Dalla
Tayla Parx Has Written Number One Songs With Ariana Grande—Now She's Doing Her Own Thing
Tayla Parx is an artist in every way you can imagine. Whether it's songwriting, singing, or producing, her creativity shines through all elements of her craft.
Describing her sound as Tayla-made, Parx makes clear that each record she makes is uniquely hers—the same way each hit record she writes for others is unique to that artist. And that's really impressive considering the 25-year-old's writing credits include Ariana Grande's "thank u, next" and "7 Rings," Khalid and Normani's double-Platinum "Love Lies," Anderson .Paak's "Tints," featuring Kendrick Lamar, and she even co-produced Demi Lovato's "Cry Baby."
And that's just barely scratching the surface. The three-time-Grammy-nominated recording artist has naturally shifted her focus from acting and songwriting for others to focus on her own artistry, prepping the release of her debut full-length album titled WE NEED TO TALK, home to standout singles "I Want You" and "Easy." It's her quirky fusion of pop and R&B, while keeping things fun and positive at all times, that is not only cherished by her fans but appreciated by critics.
Now Tayla Parx—real name Taylor Monet Parks—is in a phase where she's being completely honest with herself, and writing the best music of her career. NYLON caught up with Parx over the phone while she was traveling through Europe on tour with Anderson .Paak and spoke with her about her music, her friendship with Grande, and so much more.
You're from Dallas, how does that play into your life and career?
It's kept me grounded for sure, 'cause I can always go back home and see the same people. I'm always a Southerner at the bottom of my heart, that's something that never goes away. Also, you can also hear it in my music. In new songs I have coming out, I always have a certain bounce. I have a certain cadence, and it's because I'm from the South.
At what point did you realize this music thing was for real?
I don't think I ever had a choice. When I was a kid, I never thought it would go this far. I never imagined. But I continued to grow, learn, and find all these different ways to express my creativity, and it just expanded from there. I was always in music. At first, I started off in the church, singing, then it went to stage and transformed into acting and all these other forms of expression.
Talk about your strong pen game. Did you think you would be this poppin' as a songwriter?
I never really understood how far I would take it as a songwriter, but I definitely knew I had the drive to be one of the greatest for sure. I wanted to look back 20, 30 years from now and be able to say I invested in a career path that I love. Even outside of the artistry, I love the art of being a songwriter. I believed in myself and this art enough to take it as far as I could possibly go.
Congrats on the number one songs with Ariana Grande. Talk about your friendship with her.
Me and Ariana's friendship has really, really evolved. That's an interesting one because, first, we were fans of each other through acting. Started off, I saw her in 13, and she was a fan of Hairspray, then we ran into each other again during our Nickelodeon days. She was on Victorious, and I did True Jackson, VP.
Eventually, I did some of My Everything with Victoria [Monet] and Tommy [Brown], which became the very first song I ever wrote for her. She didn't know I was a writer on it at the time. It was just kind of a shock, like, "Oh, okay, cool to see you in this world now—not on a set but in the studio." We're both doing music now and really evolving into this completely new artistry. To see each other glow along the way has been incredible. Obviously now we're both sharing some of our biggest successes together.
Did you think "thank u next" would be what it was?
Definitely knew the song would be big because of the fact that it was so honest. Any time an artist is that honest, they're able to do things they've never done before in their career. Any time they're able to say, "Hey, I'm gonna take a complete leap of faith right now." I really admired her for that, for taking that chance. You never know what happens when you actually just go for it. She made history over and over and over again with songs she created.
What was it like bringing that record to life?
It was incredible. It felt like we were at the studio all over again. You have your best friends again. You're getting made up, getting dressed, doing all those glamorous things—except it's not a regular girls night, we're shooting a music video. But it felt like it anyway. [laughs]
What was the best memory on set?
So many. It was really cool to do the cheerleading scene just because we were all excited about the concept. We were excited even about the scenes we weren't in, so when we all finally did our scene together, we were just messing around, having fun, and doing our thing. But definitely, the cheerleading scene is something I'll never forget for the rest of my life.
I saw on Ellen when Ariana slipped, can you bring us back to that moment?
It was definitely another moment of her just being so awesome and honest. She could have re-filmed it, but she didn't. She liked the fact that it was real and showed a genuine moment. Everybody else liked that as well. It was one of my favorite performances I've seen from her just because she was just being open and honest with the audience, and with me and Victoria.
Let's talk about transitioning to your own artistry. What's been the best part?
Being my own therapist, literally figuring out with every step of the way. With every song that I write, I go into this mode of saying, "I'm just gonna have fun." It's been exciting to discover myself basically.
What's been the most difficult part?
I guess it's a double-edged sword. In discovering yourself, you notice things you love about yourself and things you'd love to change about yourself. That's just a part of growing up. Noticing good and bad parts has been a really fun experience. I'm 25 years old and have so much to learn along the way, outside of my career—which is the main focus. For the first time, I'm allowing my heart to lead the way. 'Cause you make better art that way, and you also grow as a person. I'm trying to let loose and let life take me away where it decides to.
What can we expect from your album?
Definitely more stories. In my Tayla Made mixtape, I tell the whole story of that point in my life and those relationships I was in. This time, you're coming in a little bit further into that story line, writing more about me, Tayla Parx. Like Tayla Made, it's fun to listen to. The serious songs, we're able to connect a little bit more. That's the most exciting thing about touring: being able to connect with fans on a completely different level.
Any features?
We do have some features, but I can't tell people what they are yet. I'm definitely excited. One of them is Cautious Clay. I'm a really big fan of his. I remember when I felt I had this cool artist that nobody knew about, the same way I introduced some of the other features on my mixtape. Any feature I ever have is somebody I think would be a fun collaboration, but also someone I'd want to tour with and really rip these songs out of the game.
I was watching the video for "Slow Dancing." Talk about being a typical girl!
It's interesting because of the simple fact I've never in my life been as girly as I am right now. I've always been a little of a girly tomboy, but now it's makeup, designers, pearls, all these things I've never been into before and been falling into it deeply. I actually really enjoy it. Going back to the things I've realized about myself along the way, that's where that song came from. I'm excited to have that record on the album because it opens my fans up more into me discovering those different sides of myself and my different ideas of femininity.
What goes behind your visuals?
I always want to make sure they're as colorful as the music. When I'm able to work with directors, creative directors, set designers, all these cool people that are able to help get that vision across, I'm so, so lucky to be able to just get it out. I'm very particular about my visuals because I'm just as particular about the music.
What is it you want fans to get from your story?
To do the same thing I'm doing in regards to claiming whatever it is you are and being confident in that. Claiming your identity as a woman, as a man, whatever you're comfortable in. It's all about self-discovery, whatever that is, and not judging yourself for whatever you find along the way.
What are some of your goals as an artist at this point in your career?
Right now, my main focus is to be as fearless as possible. I'm in a phase in my career where I'm doing a lot of things for the first time. I'm playing arenas for the first time, I played SNL for the first time, my first live TV audience, all these things. It's been so incredible. Along the way, continuing to be fearless enough to fall into these new experiences and have fun.
How important is social media for your career?
Social media's something I've had to get used to, 'cause I'm in the studio with a lot of big artists. I usually pride myself in being able to keep that privacy and trust between artists I work with, me as an artist, as well as the relationship between my fans. We have a very healthy relationship right now, but knowing that it's something that eventually always gets out of our control is a little scary, but also necessary. As long as I'm being genuine as can be, throughout every facet of social media whether it's Twitter, Instagram, or Facebook, I can say what I need to say unapologetically.
Who's your favorite person to follow?
Right now, Will Smith, because he's literally hilarious. He kind of got social media down better than most young people. And he caught on so fast, which is incredible to me.
What would you be doing if you weren't doing music?
Before the music (and during), I was in college. I wanted to study entertainment law. I'd be at UCLA at the moment. [laughs] I literally had some of my mentors from UCLA hit me up like, "Whoa, I remember when you said you were gonna be a songwriter and artist." It's so funny. I forget sometimes that I've had this whole college experience, kind of.
Did you graduate?
I actually didn't make it through. The other day, I was actually talking about going back when I have some time, 'cause I'm definitely gonna get that degree.
Who's the most played artist on your phone?
I play a lot of King Princess right now, and a lot of Rosalía. Those are the two artists I've been really geeking out over. They're just pushing the needle with their style, I love them.
What's a normal day in the life? Walk us through.
Right now, it's hectic because I'm on tour and finishing the album. I wake up, usually go for a run depending on how cold it is. Me and my crew have been on our healthy vibes. I'm so energetic on stage, I have to keep my stamina up. I usually try to shop or do something in whatever city I wake up in, then load into the venue, start soundcheck. After the show, I hang out with the taylattotts. Me, Anderson .Paak, and The Free Nationals definitely know how to find fun wherever we are.
Three things you need in the studio?
A TV with cartoons on silent; my phone, so I can always be recording because my first ideas are usually my favorite; and good company. That's where the best songs come from.
Dream collab?
Tyler The Creator. I really respect him as an all-around creative, from the clothes he designs to the music to the movement he's created. He has so many unique perspectives, it's exciting to feel like a genuine fan again.