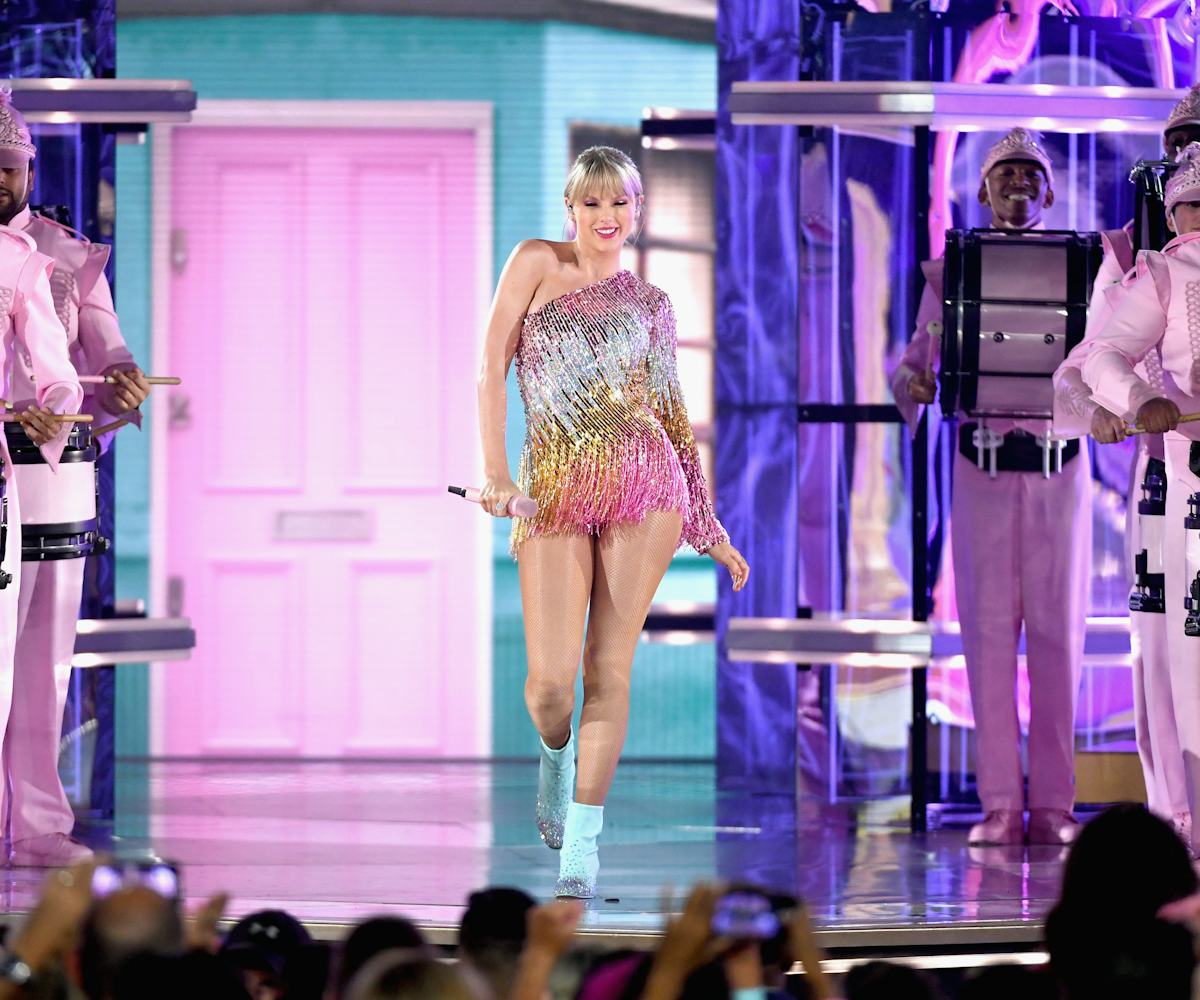 Photo courtesy of Ethan Miller / Getty Images.
Taylor Swift's BBMA Performance Is Not A Copy Of Beyoncé—It's Worse
It's cultural appropriation
At last night's Billboard Music Awards, Taylor Swift hit the stage for her first live performance of her new single, "ME!" You know, the song she relentlessly teased for months, only for it to be a song best suited to play at a Claire's. Naturally, Swift wanted to make a big entrance, and she did so with the help of a huge marching band.
Now, when was the last time we saw a marching band be similarly used in a major live performance by a pop star? It was *checks notes* 14 days ago when Beyoncé dropped her Homecoming documentary on Netflix. Well, you could say it's been a year, which was when Beyoncé gave her iconic performance at Coachella—the one that featured a marching band comprising various HBCU band members. But it's only been two weeks since Homecoming gave us a behind-the-scenes look at Beychella, so it's pretty fresh in all our minds right now. Including, it seems, Swift's.
All to say, people with eyes and ears, including the Beyhive, quickly called out Swift's performance for knocking off Beyoncé's Coachella set. They've even christened Swift's performance with a new name: Mayochella.
Swifties fought back with a resounding chorus of: BeYoNcÉ dIdN't InVeNt MaRcHiNg BaNdS. In Swift's defense, they dug up prior instances of Swift performing with marching bands, Madonna performing with marching bands, and Gwen Stefani performing with marching bands.
They're right. Beyoncé didn't create the concept of marching band, but harping on Swift as a mere swagger-jacker is missing a much bigger point. This moment isn't about who did it first, it's about how it was done, and why Swift couldn't be celebrated for doing it: cultural appropriation.
Homecoming documents Beyoncé's fraught personal journey to pull off her two-hour Coachella set, but it exists to put her personal journey into a larger cultural context, and serves as a celebration of a Black collegiate culture that utilizes marching bands as a megaphone and connects those on campus to broader communities. Bey used her moment to uplift historically Black colleges and universities, which are underfunded and undervalued because education is still a powerful vehicle for racism. In doing so, she once again put her own Black identity front and center. She was honoring an art form that Black people have, per usual, transformed into something unique, and greater than what it had originally been.
And, of course, Beyoncé was also working within a larger tradition of Black music that incorporated marching bands; Trick Daddy & Trina's "Shut Up," Crime Mob's "Rock Yo Hips," Dem Franchize Boyz's "Talkin Out Da Side Of Ya Neck," and even Destiny's Child's 1999 video for "Bug A Boo" also used marching bands. Why? Because Black marching bands are part of our musical culture and heritage and are a huge part of our style.
For Beyoncé, for Black folks, Black marching bands are our legacy, and should be deployed with pride and context. Swift used her marching band to tell one of the dudes from Panic! at the Disco that he'll never find another lover like her. And she did so in a performance that feels like it exists only because Beyoncé made drumlines cute again for 2019.
And that's why Swift's show is worse than just mere copying. Cultural appropriation is a form of disrespect and oppression when it borrows surface-level elements from a practice or art form without honoring the history, legacy, or significance of the group that owns it. It's not at all a coincidence that Gwen Stefani and Madonna—the white women whose performances are being used to defend Swift—have also been repeatedly called out for appropriating multiple cultures. Beyoncé reintroduced the broader public to marching bands on a mission to advocate and educate. Swift used our collective renewed interest for her own interests in a song literally called "ME!" That's may more disrespectful than merely dancing off beat to a not great song.
But hey, at least Swift looked good. To quote the late Aretha Franklin: "Great gowns, beautiful gowns."