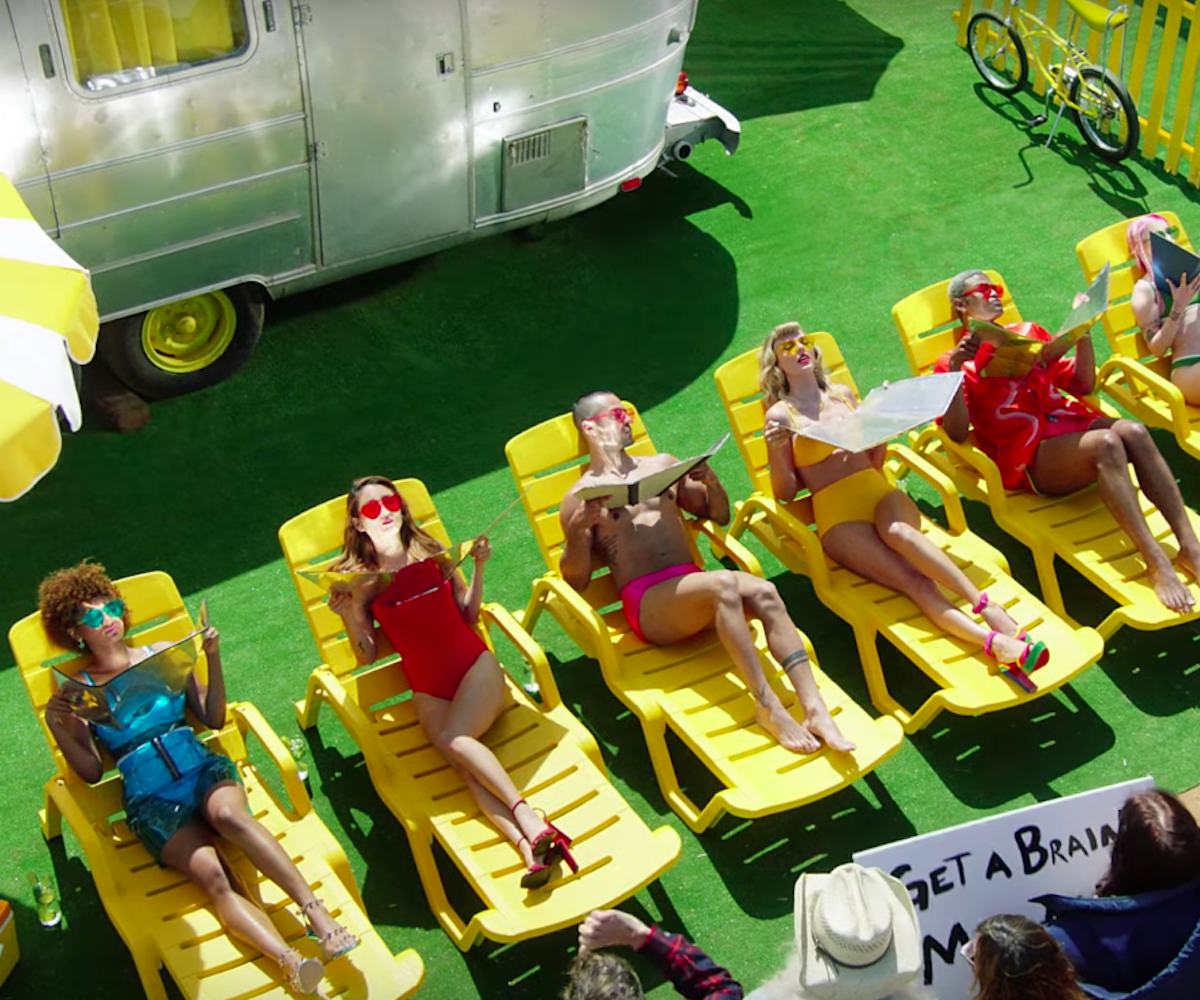 Screenshot via YouTube
Taylor Swift Lives In A Super Gay Trailer Park In "You Need To Calm Down" Video
Also: She officially makes up with Katy Perry, so there's that too
Taylor Swift released the music video for her new single "You Need To Calm Down" this morning, and it features just about every gay person I'd ever want to see, like Laverne Cox, Hayley Kiyoko, Todrick Hall, and Ellen DeGeneres—plus Ryan Reynolds, because, sure, why not?
In this candy-colored fantasia, they all live in a trailer park that seems to have tea flowing through its pipes. RuPaul also makes an appearance to judge a drag competition where queens are dressed as Swift, Cardi B, Beyoncé, Adele, and other celebrities. Instead of giving one queen a crown, though, he throws it up in the air, because "we all got crowns." Where do I fill out a housing application?
Of course, not everything is rainbows and happiness: The video does feature a bunch of scrubby anti-gay protesters, but not even they can dull Swift and her crew's shine.
And that's not the only drama in this video, which is also notable for showing Swift as she officially makes up with Katy Perry, who is dressed in her Met Gala afterparty hamburger costume; Swift is dressed as a carton of french fries. The two hug as best they can in their huge costumes, thus putting their feud behind them.
Is Swift saying that if she and Perry can get along, so can virulent homophobes and the LGBTQ community? That feels like a... stretch, but I guess I'm not really sure what she's saying by including Perry in this visual. Anyway, the video ends with a call to action: "Let's show our pride by demanding that, on a national level, our laws truly treat our citizens equally," urging watchers to sign her petition to ask the Senate to support the Equality Act.
Watch it all go down, below.