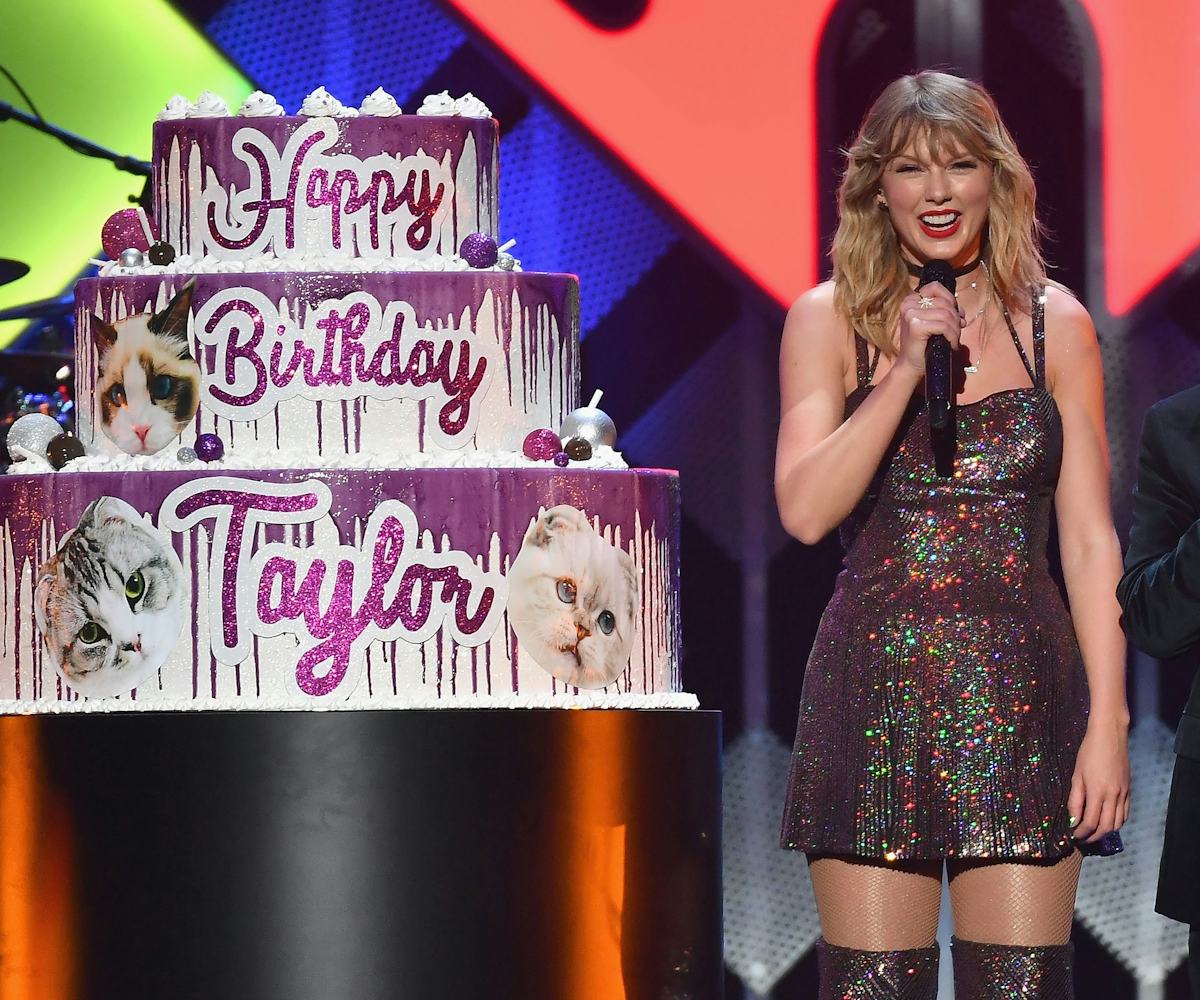 Photo courtesy of Getty Images
Taylor Swift, Sparkle Enthusiast, Wore 3 Different Glittery Outfits On Her Birthday
More like Sparkles Fly, am I right?
On Friday, one of the most famous people in the world celebrated a major milestone. Yes, the one and only Taylor Swift is officially thirty years old. Naturally, a typical post-work happy hour or intimate dinner party, as are common around the thirty-something set, wouldn't suffice for this particular celebration. No, when you're Taylor Swift, the only way to ring in your thirties is to go big or go home. And in this case, we're talking Madison Square Garden big.
Swift kicked off her birthday by opening iHeartRadio's Z100 Jingle Ball 2019 to a packed MSG in New York City. The singer took the stage promptly at 7:15 p.m., playing a rousing set that included hits like "Blank Space," "Lover," and "You Need to Calm Down," as well as her new holiday song "Christmas Tree Farm" and an acoustic version of "Welcome to New York." Her set, which was followed by the night's other acts including Jonas Brothers, Lizzo, and Halsey, was topped with a surprise, massive birthday cake with the whole arena singing "Happy Birthday".
So, yeah, not your typical birthday celebrations. But there was one tradition Swift did adhere to: When it's your big day, you wear something sparkly. And let's be real, Swift has never been one to shy away from a little glitter. So, on Friday alone, she wore not one, but three different glittery ensembles.
For Jingle Ball's red carpet, Swift donned a black-and-white striped Rixo dress, cinched with a vintage gold Chanel chain belt and paired with platform Aquazarra heels. Soon after, she changed into a custom multi-colored mini dress designed by her stylist Joseph Cassel with matching knee-high boots made from the same material. The third look came later that evening when Swift hit her private birthday party — private being the pivotal word here, as the only glimpses of the event came from Swift's own Instagram, where she shared pics of herself and fellow guests like Gigi Hadid, Blake Lively, and Camila Cabello, this time dressed in a black sequin dress, making the final tally one outfit for each decade of her life.
See Swift's birthday looks, plus all the other standout moments from Jingle Ball below.
Taylor Swift wears Rixo at iHeartRadio's Z100 Jingle Ball 2019.
The Jonas Brothers attend iHeartRadio's Z100 Jingle Ball 2019.
Lizzo attends iHeartRadio's Z100 Jingle Ball 2019.
Camila Cabello attends iHeartRadio's Z100 Jingle Ball 2019.
Monsta X attends iHeartRadio's Z100 Jingle Ball 2019
Katie Holmes attends iHeartRadio's Z100 Jingle Ball 2019.
Niall Horan attends iHeartRadio's Z100 Jingle Ball 2019
Lizzo attends iHeartRadio's Z100 Jingle Ball 2019
Olivia Wilde attends iHeartRadio's Z100 Jingle Ball 2019