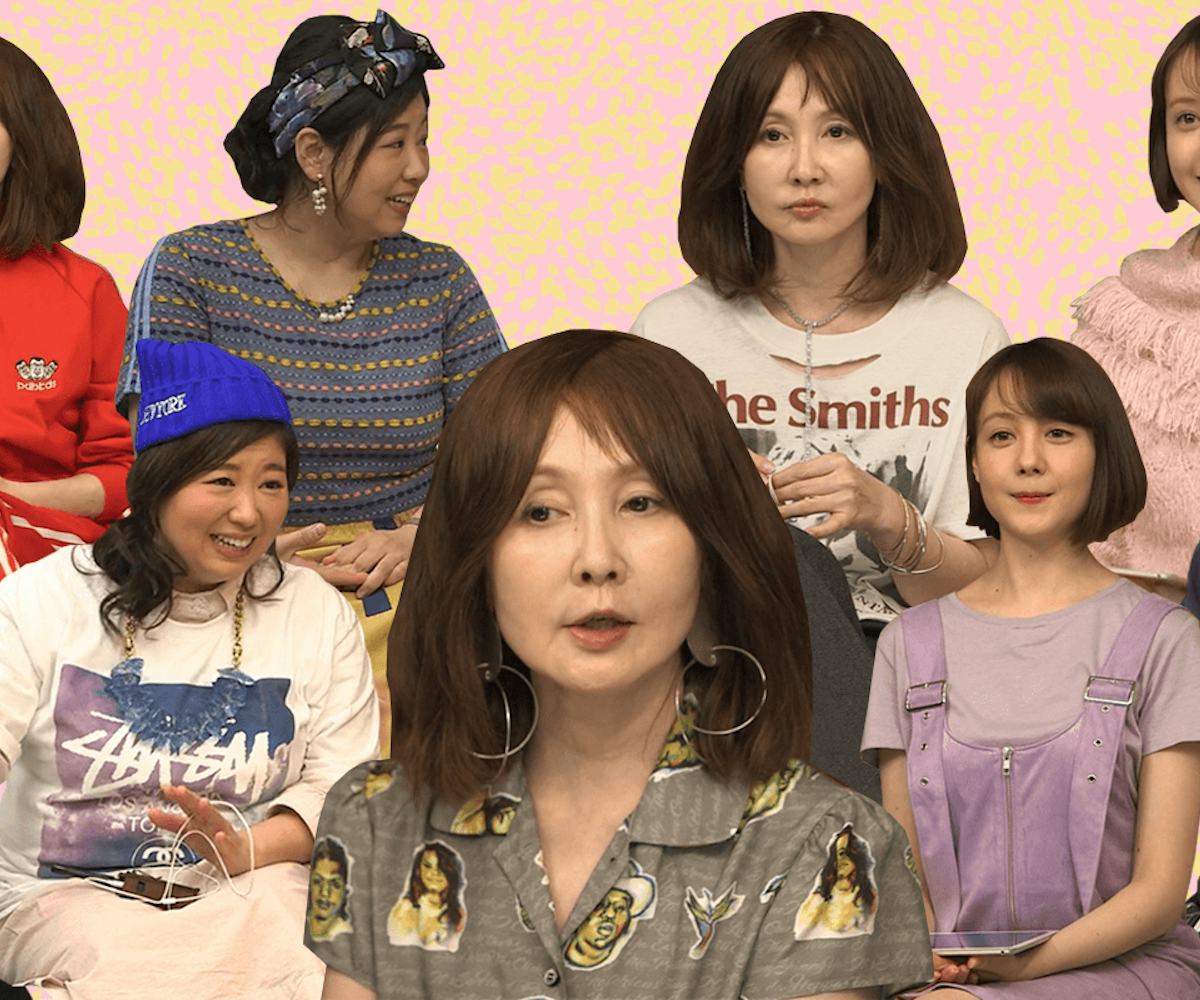 The Women Panelists On 'Terrace House' Are True Style Icons
Each brings completely different vibes to the show
It's hard to explain the intense appeal of Terrace House to someone who's never watched it—particularly if they are used to overblown American reality shows. Terrace House is a Japanese reality show where the cast members are extremely respectful, announce themselves when entering any and every room, and where the biggest drama involves someone eating another roommate's meat without asking. As Americans, we're accustomed to scandalous hookups and fights that turn into people throwing things at one another. It's in our blood! It's a part of our psyche! Terrace House offers the exact opposite of that, and that is exactly what makes it so charming. The real stars of the show, though, aren't the cast members and their tame story lines, but the panelists.
Oh yeah, that's another thing that throws you off about Terrace House when you first start watching. At the beginning of each episode and again in the middle, there's a group of men and women who recap the most important parts and offer up their sometimes crude, always spot-on commentary. There's TV personality and singer Yukiko Ehara (or You), who isn't averse to a dirty joke or two; model Reina Triendl (or Torichan), who's like the sweet Charlotte of the bunch; and comedians Azusa Babazono, the quiet alpha female, Ryota Yamasato, who thoroughly enjoys making fun of and judging the roommates, and Yoshimi Tokui, the quirky uncle-type who loves to act out imaginary scenes and reminisce on past loves. Each season they also rotate in a young actor, who's pretty irrelevant based off the fact that they barely talk.
The panelists' presence is a bit jarring at first, in a "who are these people and why do I care about their opinions" way, but after the first season, you'll find yourself craving Ryota's cynical outlook and Torichan's naïve and innocent takes. They're essential to the overall flow of the show, anchoring it with their reactions that more often than not mirror your own. But something that makes them stand out even more than their wit and wisdom is their fashion.
While most of the cast members wear streetwear brands like Supreme and Off-White or the occasional fun slogan shirt, like Minori's So Tired shirts or Shion's Unemployed hoodie, the panelists go all out. The men do put in an effort (and, yes, I'm thinking about Ryota and his loud tops here), but it's the women and their sartorially pleasing looks that dominate each episode.
Below, we break down and admire the style of three of Terrace House's panelists.
As mentioned above, Torichan is like the Charlotte of the bunch and her outfits follow suit. You could call her girly, pristine clothes boring, but you'd be wrong. (It's called style, look it up.) She knows what she likes (furry tops, feminine colors, flattering and classic silhouettes), and she sticks to that. Her put together looks mirror her put together attitude, and where would the show be without her ability to keep everyone in line? Not the same, that's where.
You's style is something of a foil to Torichan's. If Torichan is the goody two-shoes older sister, You is the rebellious younger one who dreamt of going on tour with The Rolling Stones. She's the cool aunt who will let you drink before you're of age and let you curse in front of her. She's fun! And her clothes, like the many band T-shirts, plaid tops, and tracksuits, show that. Season 5 is when she really peaked, wearing a button-up top with fallen artists like Aaliyah and Big Pun on it. As Jezebel points out, at one point, she also wore a clear pouch necklace, which held a Juul with Barack Obama's face on it. She's cooler than you, and she knows it!
I like to think that Azusa Babazono doesn't have a lot to say on the show because she talks through her clothes, which scream,
Look at what a quirky outfit I've managed to pull off this episode!
She has an affinity for colored tights and American university-branded gear, for hats and statement necklaces, and for bold prints and long skirts. She's by far the most adventurous, and her risks are very much appreciated.
Terrace House is available to stream on Netflix.