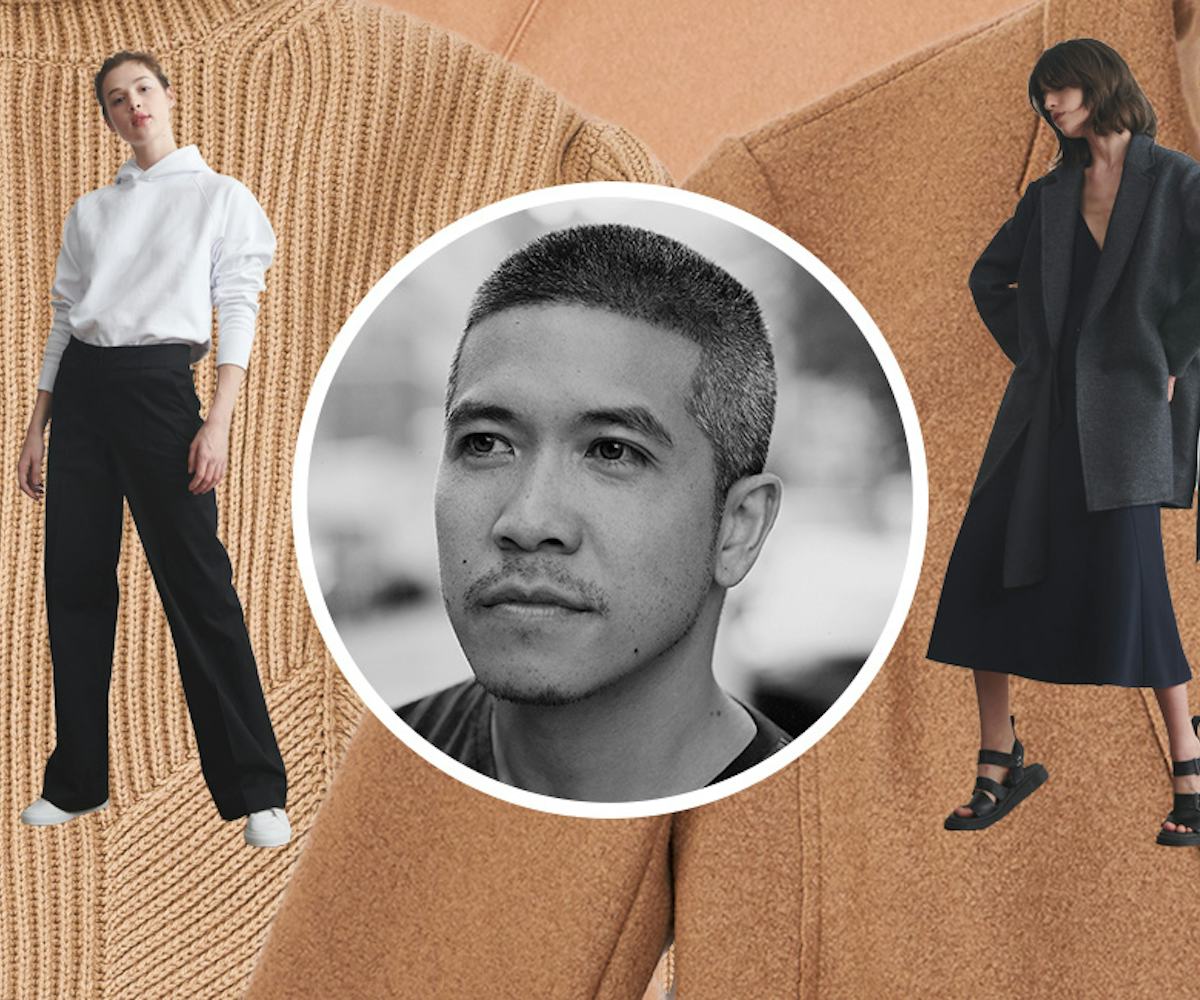 Photographs courtesy of Thakoon.
Thakoon Panichgul Is Back With An Affordable New Line
We caught up with the designer following a two-year hiatus from Thakoon
It seems wrong to say that Thakoon Panichgul is "back." While the Thai-American fashion designer did take two years off from designing his eponymous fashion label, he never really went away, and instead took those years to think about the future of the line and fashion, in general. "I spent a lot of time traveling and thinking from a macro perspective and personally for me: What do I want to do? Do I like fashion, do I not like fashion? Even when I was sort of just relaxing and not thinking about stuff, I was kind of always thinking about some form of fashion," he tells me. "I knew that I wanted to figure it out. So for me, the two years led me to explore personally what I want to make in terms of clothes, and who I want to make them for."
The result of his ruminations is a new line that, while it operates under the same name, is a departure from the aesthetic Panichgul has become known for since first presenting the label in 2004. In place of florals and prints on special occasion silhouettes, the new collection is comprised of wardrobe essentials in neutral shades. "We are doing things that are simpler tonally and more toned-down pieces, but they're well-designed," he says. "If you know Thakoon as a brand and their designs, you'll see those Thakoon-isms in the pieces, even if they're not as colorful and not as print-heavy."
Made up of 12 pieces, the first collection features turtleneck sweaters, a wrap coat, and a slip among other items, in hues like brown, black, and white; all are meant to be worn every day, rather than saved for a special occasion. "I think clothes now have to have a functioning sort of support too," he says. "We are busier. We don't have time. We also want clothes that are practical. We want clothes that are well-designed and beautiful and special, but we want them to work for our every day, but then also we want to be able to afford them, too. So that's where the Thakoon relaunch is coming into play."
While previously, pieces from Thakoon could cost upwards of $2,000, now the line taps out at around $250. "People are more particular about what they want, and I think that what they want is something that's affordable. I think that's always been the case. I just think that now there are more choices out there at a good price point," he says. "The customer is saying, 'Why shouldn't this be affordable, and why do I have to spend this much money for something?' I think that those are valid questions, and I think that's what I am addressing."
One way that Panichgul is keeping the costs down is by selling direct-to-consumer, a model that he has championed in the previous iteration of Thakoon. "It is the world that we live in now; it's funny, because, in any other design discipline, we've never talked about the idea of direct-to-consumer," he says of his reasoning behind the model. "Cars are direct-to-consumer. Mobile phones are direct-to-consumer. Computers, and furniture, everything is direct-to-consumer. Fashion just happens to be the only industry where it wasn't direct-to-consumer, which I think is kind of odd to me. I think that you have to think of the consumer first, and I think that, if you design for the customer and if it's direct-to-consumer, that's where you're going to see the most success and you're going to make the most impact."
Something else that he thought about during his hiatus is the change in how the public consumes fashion in general. "Because of the communication tools that we have now, it has opened up fashion to a bigger stage. We're grappling with how to deal with that, because, I think, for the longest time, there was one way of messaging in fashion, which was from the top down, and now that's been turned upside down," he says. "When I first started designing, fashion was operating differently. We were the leaders in setting trends in that you'd have a runway show, you'd have the fashion press, you'd have the fashion retailers putting bets on your pieces, and then that's how the audience learned about it and discovered it and consumed it. I think now we are at a different time where that's not the case, and a lot of the time I think that the consumer is discovering brands and fashion at the same time as fashion insiders. Sometimes they even are discovering fashion sooner than the fashion insiders."
This led to him abandoning the typical fashion calendar in favor of seasonal drops. "I think that I've always been the kind of designer that designs into pieces, into styles, and not specifically designing into a theme," he says. "Like, when it gets colder, there's a quick coat coming... I don't think of it as, Next season is all about Mexico City. I don't think in that term, and I think that the customer doesn't think that way either." In fact, he sees the pieces as "building blocks to a whole wardrobe," with camel sweatshirts made to be worn with the high-waisted sand-colored pants and layered under the camel wrap coat.
Prior to the relaunch of the line, Panichgul, who used to be a fashion editor before becoming a designer, launched Hommegirls—a website-zine-Instagram account dedicated to women who like to dress in masculine clothing (think: Katharine Hepburn and the Saint Laurent Le Smoking-era aesthetic reimagined for the modern-day)—another result of his sabbatical. "Hommegirls addresses gender fluidity, but is actually more femme-forward, capturing femininity," he says of the platform's manifesto. "[It's about] the feminine energy that you ignite in those [masculine] clothes."
While he sees the clothing line and the platform as two distinctly separate things, he does note that they are "coming from the same headspace and cohabitate nicely" as both "reflect the mood that's going on in culture right now." What's that mood? Women "dictating how they want to portray themselves." He explains, "Sometimes I think that bodycon dressing, or 'sexy' dressing, is for the male gaze. Has that been dictated by men, or is that something that women wholeheartedly want to do? I think it's a conversation worth having in this day and age, when a lot of women are talking about gender equality and gender empowerment issues. I think that [either way, it's about] women controlling the message of how they want to portray themselves."
You can shop the new line on Thakoon.com.