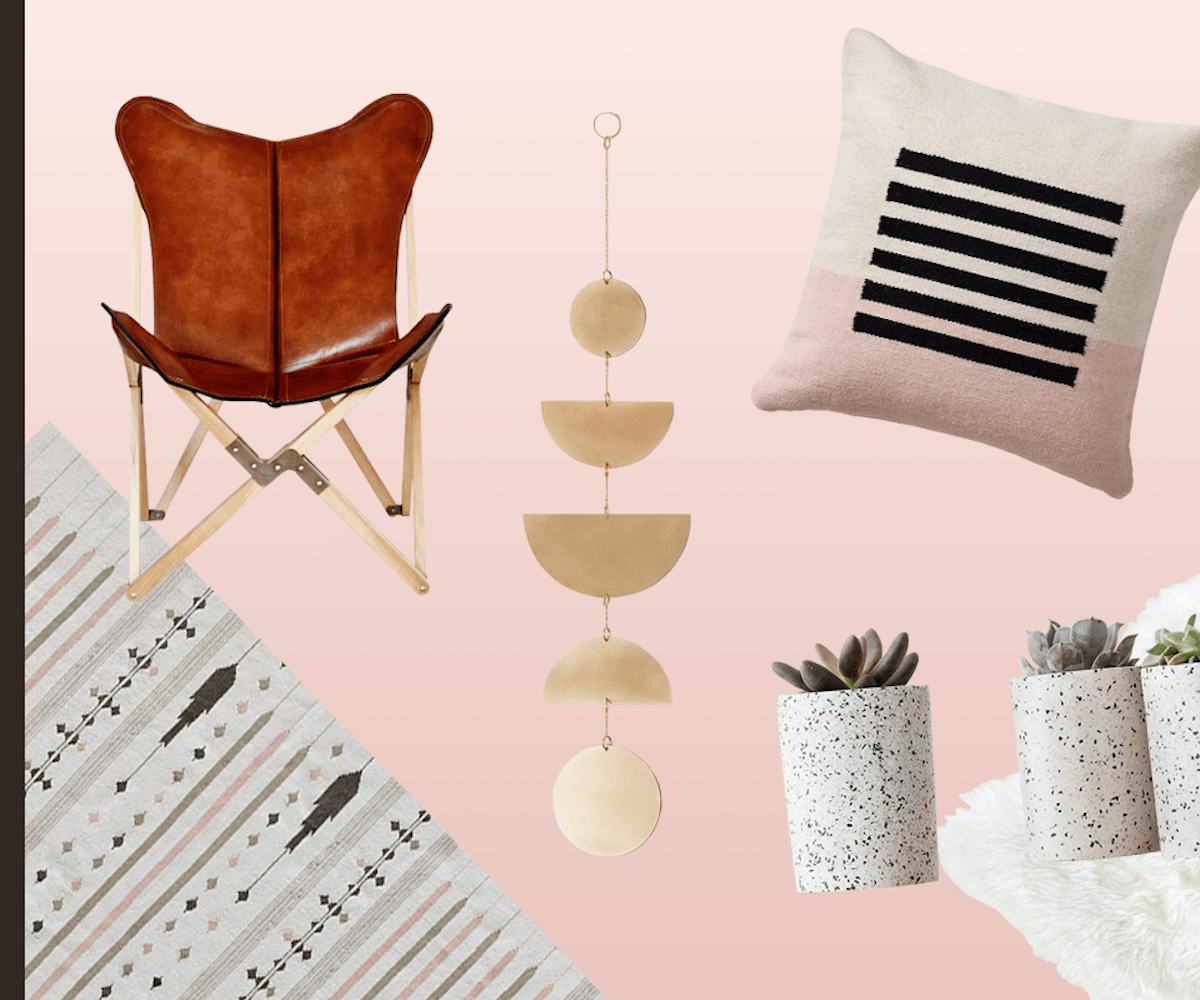 Photographs courtesy of The Citizenry.
The Citizenry Is More Than Just A Shop For Instagram-Friendly Home Goods
It also works with artisans around the world in a beneficial direct-to-consumer model
Friends don't let friends miss out on all the cool, under-the-radar things they know about, like which little-known beauty brand is low-key making the best highlighter around. And because we consider our readers to be like friends, we gather together all our best finds in our Don't Sleep On This series. Check in every week to see what things we can't wait to share with you.
The home item that I get the most compliments on is not my couch or coffee table or anything particularly big, but rather it's... a six-piece set of coasters. Made of black and white hexagons and circles, these coasters beg for people to pick them up, rub their fingers against the smooth and grainy surfaces, and try to shape them together, as if they are a puzzle of sorts, rather than just plop their drink on them. It makes sense: They're aesthetically stunning, made from hand-carved volcanic rock and white marble stone by artisans from Guadalajara, Mexico. This fact makes my guests' compliments even more enthusiastic. It's one thing to like something because it's pretty, but to like something that's truly unique? That makes the admiration feel even more worthy.
Which is kind of the point of The Citizenry, the online home-goods store from where I got the coasters. It stocks the most beautiful array of modern textiles, decor, furniture, and tabletop goods that are all made by artisans, often using techniques that have been passed down for generations.
Rachel Bentley and Carly Nance began the direct-to-consumer retailer five years ago. "Rachel and I were both at the stage of life where we were starting to invest in the design of our homes, and we both found ourselves so uninspired by all the mass-produced, dime-a-dozen things out there," Nance says. "The items we loved most in our homes were pieces we'd picked up on our travels. They had a soul and a story—we had met the makers, learned about the materials, and connected with the piece on a deeper level. We thought, What if we could create a digital destination that gave people that 'next best' experience to traveling the world, meeting these makers, and finding objects that are made in environments people could feel good about?"
While the goods may not seem cheap—prices start at $30 for a hand towel and $70 for a duo of bowls or mugs, and go up to around $400 for a bedding set and $900 for furniture—you are guaranteed unique, high-quality pieces that are responsibly manufactured in a fair-trade environment. "Making clothes and home goods require lots of human labor. Cheap prices, like $8 for a button-down shirt or $30 for an embroidered pillow, are more likely to be the result of horrible working conditions for humans than the result of machines. Less than 1 percent of the world's textiles are made in fair-trade, safe environments," Bentley says. "All too often manufacturers take advantage of the makers, our model is designed to change that entirely. Their work is truly art, and we want to be sure these talented makers receive the credit and compensation for their skills and artistry."
At the time of publishing, The Citizenry works with 1,570 artisans across 16 countries. In picking who to work with, Nance says they "choose destinations based on a brilliant natural resource and a history of craftsmanship and expertise in a certain category—like leather from Argentina, alpaca textiles from Peru, or rattan from Indonesia." These then get translated into modern goods that would fit in most of today's homes, not just eclectic ones of the traveler/collector types. There's the softest stonewashed linen bedding that's woven in an old, family-run linen mill in Portugal; vibrant dhurrie rugs hand-dyed by artisans in Banskho, India; Instagrammable terrazzo houseplant vessels handcrafted using granite, marble, and quartz by a family-run workshop in Ho Chi Minh, Vietnam; and the most beautiful wood cheese knives by a master craftsman in Wicklow, Ireland.
Beyond supplying customers with products that they may not otherwise get without the privilege of traveling or knowing where to shop on said travels, The Citizenry wants to contribute to the communities the artisans live in. In addition to supporting them by providing safe jobs and fair income (two to three times the minimum wage, in comparison to many companies that pay only 10 percent above minimum wage that's needed to meet Fair Trade Standards, according to Nance), 10 percent of proceeds go directly back into the communities through Entrepreneur Development Grants. "We want our impact to go beyond individual artisans and extend to the communities they live in," Bentley says. "[Through the grants,] we invest in product design and development, training and resources needed to scale the infrastructure, tools, and equipment for these cooperatives—no strings attached."
Through their partnerships and grants, they have already seen an impact in the communities beyond financial security. In Indonesia, the artisans were able to build a center for early childhood education, allowing their children the opportunity to go to school, which otherwise would be too far for them to walk to at such a young age. In Mali, a cooperative they work with was able to drill a well, giving their weavers and other women in their community better access to clean water much closer to home. "We don't want to just provide jobs, we want to create a lasting impact in our partners' communities," says Nance.
They make sure to let that impact be known to customer, by accompanying each product on the site with a description of the artisans that made the item and having pages for each of the cooperatives; the items in the store, too, list the number of employees that each collective holds and the origin. (If you live in New York City, make sure to visit the store in West Village—the brand uses it as a testing ground of sorts where one-of-a-kind goods, that aren't listed online, are available in limited quantities.)
And even if supporting artisans is not something you've ever thought about or have been able to afford (Nance and Bentley, by having a direct-to-consumer business, offer lower prices by eliminating typical retail markups), The Citizenry carries a selection that's so aesthetically pleasing that you may want to redecorate your entire home after one look. Or you may just want to get new coasters.