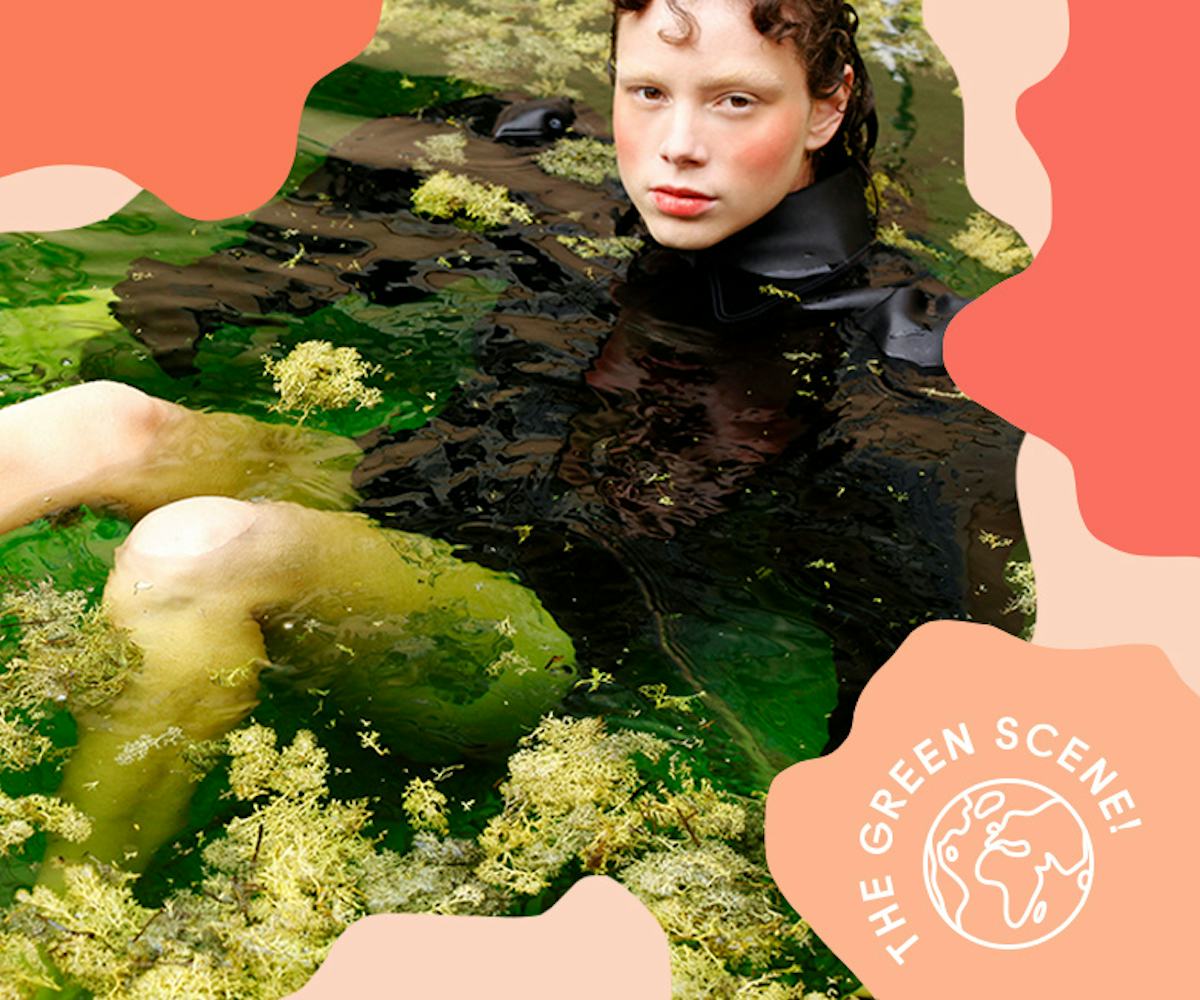 Photo courtesy of Ballūta
These Gorgeous Vegan Shoes Have A Cruelty-Free Agenda
Ballūta creates conceptual and sustainably vegan footwear
Welcome to The Green Scene. Every week, we're highlighting the designers and brands working to make the world of fashion and beauty a greener, more sustainable place. The brands to support are the ones making a difference; check back every Tuesday to meet your new favorites.
When it comes to sustainable fashion, footwear is an often-neglected category. It's much more common to see eco-conscious apparel or ethically sourced jewelry than it is to find a solid pair of sustainable shoes that would also be considered stylish. That is exactly why Ballūta, a Portugal-based sustainable footwear label, was launched.
Founder Catarina Pedroso had found herself frustrated with what the current eco-conscious shoe market had to offer, and felt it was difficult to find designs that she truly liked. Having lived in Portugal, a country known for its impeccable footwear production, and already having had some experience working within the fashion industry as a makeup artist, she found the best way to deal with her frustration was to take matters into her own hands. Also, thanks to her fine arts degree, design came naturally to her—helping her to create the unique, sustainable shoes she felt the world needed.
But Ballūta's beginning goes back further than Pedroso's shopping frustration; her interest in sustainable fashion began with her upbringing. Born and raised in Lisbon, Portugal, Pedroso grew up within a family that followed the tradition of bullfighting at their countryside estate. This affected her greatly, influencing her to become a vegetarian and to care deeply for and become involved with the cruelty-free movement—thus creating a brand with a heavy focus on it. "I felt this was my way to give back; a sort of mission, if you will," she says.
Respecting nature, animals, and people, Ballūta puts sustainability first over everything, making it the core tenet of the brand. Shoes are handmade in a family-run factory in São João da Madeira, Portugal, under safe and dignified working conditions, using the highest quality sustainable—and vegan—materials. As we all know, vegan materials don't always translate to sustainable, which is why Ballūta uses materials such as recycled polyester, water-based microfibers, cereal-derived materials, nickel-free rivets and eyelets, cork heels, and sustainably sourced wood—all of which are sourced locally within the EU.
But it goes beyond just materials and workers: "Our team looks at it from a broad perspective, ranging from material sourcing, labor conditions, proximity to production, and the transparency of the entire supply chain, to smaller elements, like using 100 percent recycled paper on our packaging, our beauty cards, and even the tape we use to seal our orders," says Pedroso.
In addition to these sustainability efforts, Pedroso aims for her brand to be circular. Her designs are meant to be timeless and transcend seasons, while still maintaining a distinct and unique feel—meaning they're less likely to end up in a landfill after being worn for a season.
What makes Ballūta such a standout in the world of sustainable fashion is the effort the team makes to continue to grow toward a more sustainable existence. "We, as a team, are constantly researching and making sure we incorporate better performing ecological materials and overall improved sustainable practices," says Pedroso. "We have this restlessness stemming from this huge will of running the best possible business we can."
Ballūta's Spring Summer 2019 collection is inspired by algae, for both its visually appealing qualities and its positive impact on the planet—from pollution control due to its ability to decompose some plastics to its production of oxygen through photosynthesis. You'll find aquatic and botanical influences throughout the collection, in the form of plant-inspired cutouts, "spongy" heels, and liquid-like textures. "I always try to design collections that have a story behind it that translates into the shoes," says Pedroso. "I'm not interested in designing empty objects, or just following trends. It's this creative challenge that fuels me to continue, even when, as an independent emerging brand, obstacles may appear."
Pedroso hopes for her brand to exist eventually as entirely plastic-free. While she isn't currently, as she uses recycled plastic materials, it's a goal that she feels the world must collectively work toward. "To use recycled plastics is great, but recycling is the last step," she says. "We should first avoid making the trash; we should get rid of our disposable mentality."
Pedroso believes true change depends on all of us—from consumers to designers and retailers—to create a shift toward shopping for timeless pieces that we'll cherish forever, rather than buying disposable pieces season after season. "The challenge, I think, is to question everything: our mentality as consumers and as society, the way we shop, our need to own, the way retail has 'sold' us this idea that three-month-old garments are obsolete and out of fashion," she says, "This starts with the education of designers to shift the paradigm from visually appealing products to considering all cycles of life of the objects they create, adopting a cradle-to-cradle approach."
You can shop Ballūta's current offering at Balluta-Shoes.com.