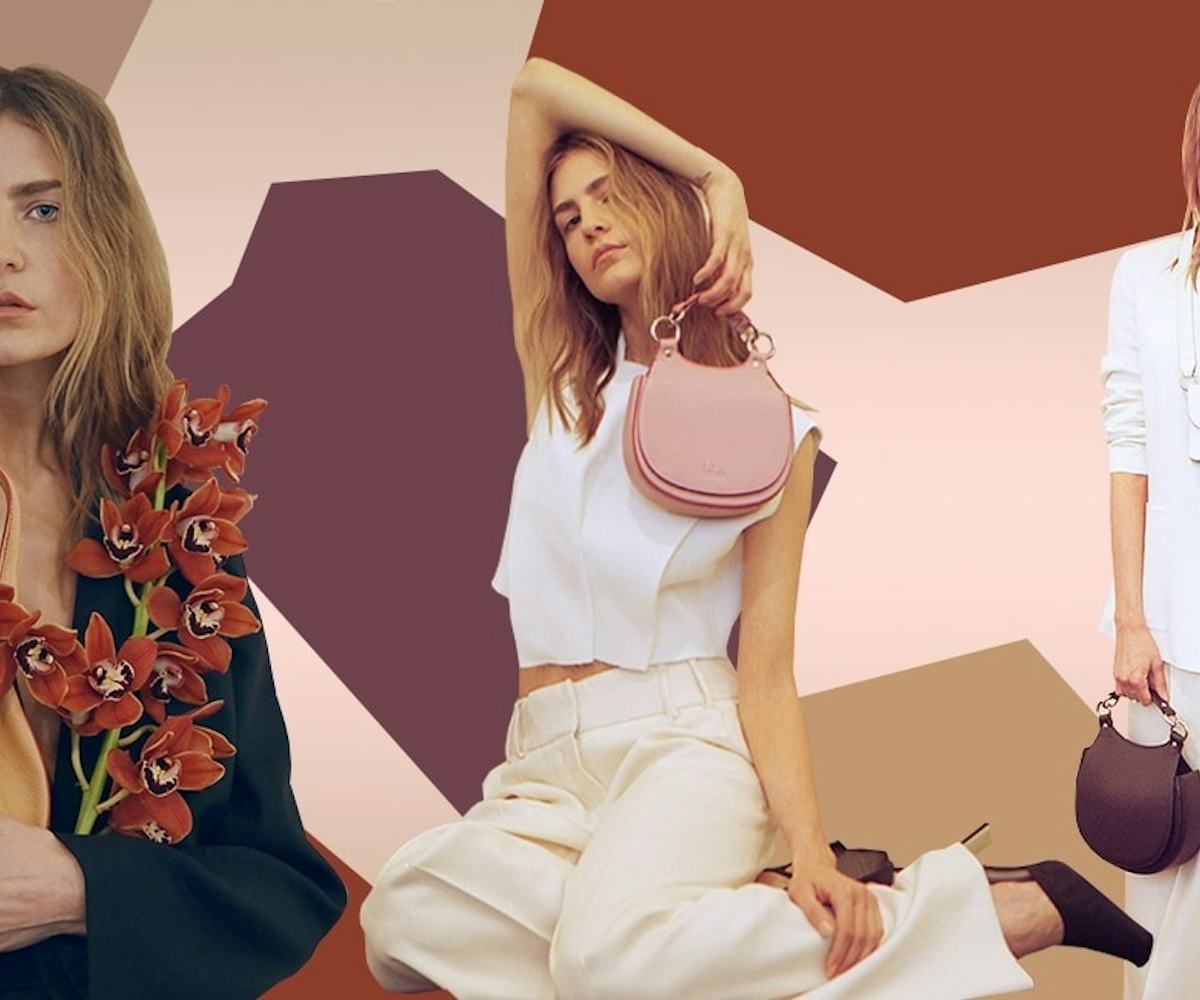 This Sustainable Handbag Brand Is Working To Make Factory Conditions Safer
Following the Rana Plaza disaster, Behno is looking to bring more awareness to sustainability and ethics in fashion
Welcome to The Green Scene. Every week, we're highlighting the designers and brands working to make the world of fashion and beauty a greener, more sustainable place. The brands to support are the ones making a difference; check back every Tuesday to meet your new favorites.
Take one look at New York-based, Italian-sourced, and Indian-made handbag label Behno, and you'll immediately become enamored with its clean and minimal cinched mini bags, heavy-duty hardware saddle bags, colorful totes, and more. However, there's much more to Behno's story than creating the next It bag, carried by the cool girls of Instagram and sold at some of the world's biggest department stores: It's looking to change the faults of the fashion industry once and for all.
Founder Shivam Punjya felt the urge to start Behno after the Rana Plaza disaster of 2013, when a Bangladeshi garment factory collapsed and killed over one thousand of its workers. On top of its sustainable and ethical practices, the brand is committed to mapping out its supply chain to promote both transparency and traceability, and overall improving factory conditions in India, where its bags are made.
Punjya is more than just your average handbag designer, too. His career began in global health; in grad school, he focused on sustaining the health of the rural and peri-urban communities in India. "The sustainability of the people in our communities has always been a driving force for me, and effectively is what pulled me to the fashion industry and inspired the work Behno now does," he says. "The ability to mobilize a massive industry for social change—both for our planet and its people—is one way forward to working within systems that are so nuanced and complex."
It was then, during his time working with local female artisans for his thesis, that Rana Plaza collapsed, urging him to start a brand that both redefined the standards of sustainability and ethics in fashion and brought more awareness to the obvious need for it. "This devastating news was a heartbreaking, angering, striking moment in my life," he says. "In a world of rapid progress, the overlooked humanity of communities that power tremendous industries—like ours—needs to be a part of an evolving cultural narrative."
Rather than pursue a career in the health industry, Punjya partnered with a large nonprofit to build an ethical garment factory in Gujarat, India, called MSA Ethos—and from there, Behno was born. Since the launch of the brand, it's been the only U.S. finalist in the Green Carpet Talent Competition and has participated in Eco-Age's Commonwealth Fashion Exchange.
While Behno began as a ready-to-wear label six years ago, Punjya decided to pivot the brand's focus on handbags in order to provide more job opportunities to factory workers in India. A large part of Behno's ethos is the improvement of factory conditions, which is why Punjya came up with The Behno Standard, a rubric that's broken down into six categories that cover everything from improving factory conditions and quality of life and safety to women's rights and family planning to eco-consciousness. A large number of these standards are derived from The UN Sustainable Development Goals.
In addition to ethical production, the leather used is the byproduct of the food industry and, as Punjya points out, is biodegradable. Each bag's lining comes from upcycled fabric from the brand's previous ready-to-wear collections, while the dyes used are AZO-free and non-toxic. The brand's Indian factory is ISO 14001-certified and uses energy-saving equipment.
For the most recent collection, Collection 5, Punjya drew inspiration from time spent in Tanzania, where he and his family learned about wildlife ecosystems. "It was my first time to an African country for a safari, but both of my mothers were born in Zambia, and the land is referenced often in their stories," he says. "It was sort of a homecoming for them. The collection draws from the vibrancy of the Lilac Breasted Roller [a colorful bird native to the area], borrowing textures from the earthy terrain of Kilimanjaro and a figment of a familial history that I finally was able to see, hear, and feel."
Within this collection, you'll find contrast seam mini bags, color blocked totes, and travel-ready belt bags, available in a neutral color palette with pops of color throughout. The collection also features a campaign shot on outspoken model and sustainability activist Renee Elizabeth Peters.
While Punjya and Behno are doing their part in making the industry a more sustainable and safer place, Punjya believes it's up to us as consumers to truly make change. "The future of sustainable and ethical fashion is about mobilizing—at both grassroots and systemic levels—consumers to take ownership of their actions as they consume," he says. "The world's most powerful movements were—and continue to be—a product of communities banding together to demand a better future. The Civil Rights Movement, the Women's Mach, the disbanding of colonial India—these were all moments when people united against something larger. Fashion needs this."
Want to see more stories like this? Sign up for our wellness newsletter