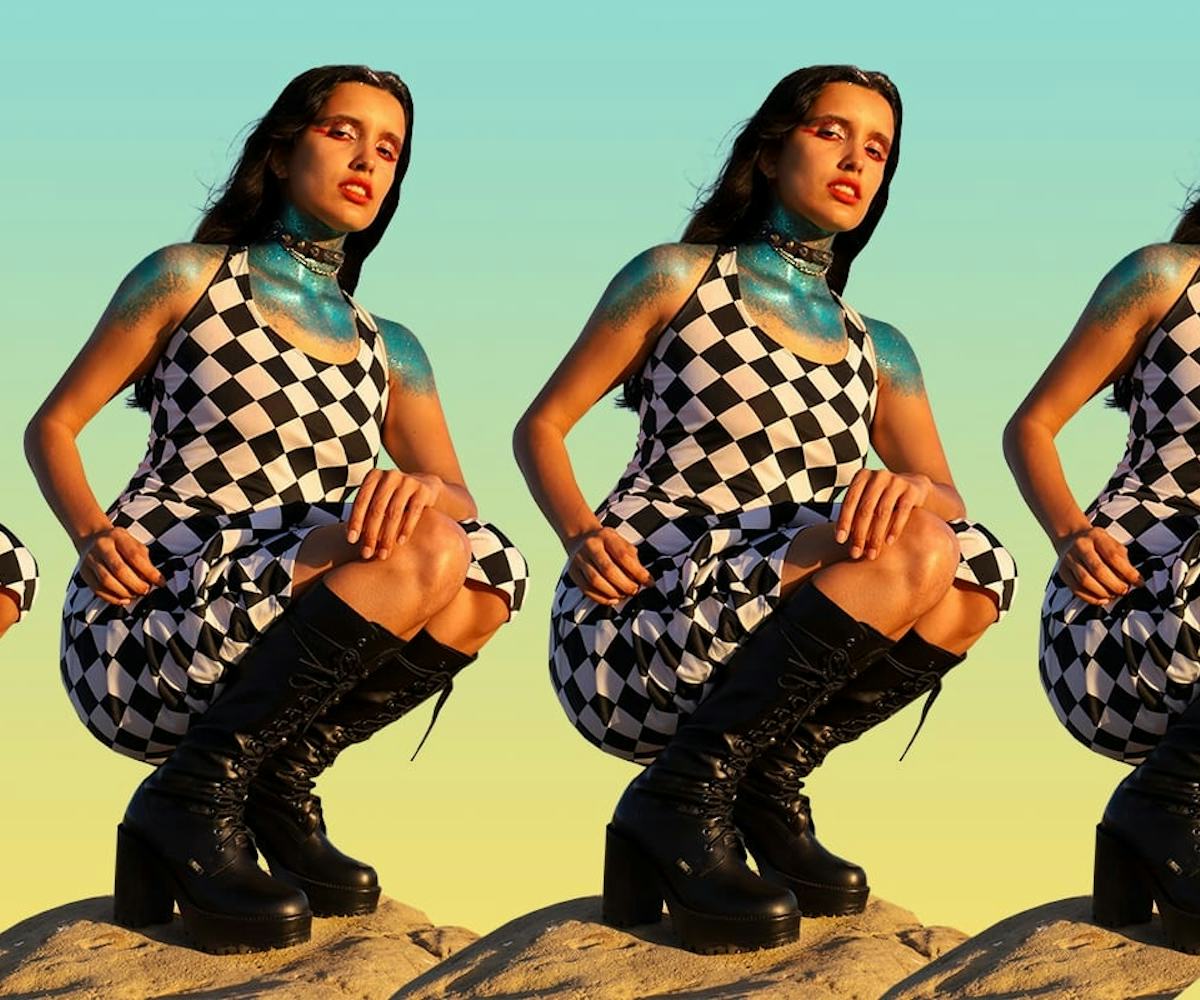 Photo by Nat Souza
Sparkle Responsibly With This Plant-Based Glitter
"Taking the litter out of glitter"
Welcome to The Green Scene. Twice a week during the month of April, we're highlighting the designers and brands working to make the world of fashion and beauty a greener, more sustainable place. The brands to support are the ones making a difference; check back every Tuesday and Thursday to meet your new favorites.
In case you weren't aware, glitter is pretty terrible for the environment. The conventional glitters you'll find in both the craft aisle and the beauty aisle are just as bad as the microbeads that have been banned from our skin care, because glitter, too, makes its way into our waterways and oceans, polluting them and getting ingested by the small and delicate organisms that live in our underwater eco-systems. And that's only the tip of the sparkly iceberg.
But all hope is not lost for those who love to shimmer and shine. The technology for sustainable materials is always advancing, and more people are beginning to acknowledge the damage plastic does to our environment, and so more eco-friendly options are beginning to emerge. That's where BioGlitz, a plant-based glitter brand that's far from lackluster, comes in to play.
Rather than being made from the same petroleum-derived PET microplastics used in traditional glitters, BioGlitz is made of FSC-certified regenerated eucalyptus cellulose, making it both plant-based and biodegradable. "It will biodegrade when it reacts with sunlight, moisture, and oxygen, as microbes munch away at it, breaking it down," the brand's co-founder Rebecca Richards explains. The brand also doesn't use any genetically modified organisms or test on animals.
However, for BioGlitz, being a responsible brand is a lot more than using sustainable materials. While the eco-friendly aspect is important to the brand, so is social sustainability—and how the two intersect.
"To be truly sustainable, beauty brands must be inclusive and affirming of everyone's beauty in addition to making eco-friendly products."
The brand was initially born out of founder Saba Gray's mission to "normalize" glitter, breaking down the preconceived gender barriers that come with glitter—seeing it as a means of sartorial freedom and extravagant expression rather than something "girly" or solely to be worn to a music festival. Gray explains that breaking down gender barriers is actually related to eco-responsibility and sustainability. "Defining the world through preconceived notions of normality, prioritizing one form of beauty over another, and enforcing gender binaries is not sustainable," she says. "To be truly sustainable, beauty brands must be inclusive and affirming of everyone's beauty in addition to making eco-friendly products."
For Richards and Gray, building their brand on the foundation of all-around sustainability was a no-brainer. "We never really saw it as a choice," says Gray. "Our generation has seen so many environmental catastrophes and will see so many more if we don't do anything. In our opinion, if brands are not thinking about the environmental impact of their actions daily, then they are not thinking."
Through BioGlitz and its inclusive messaging, they hope to bring more attention to the fact that the glitter in our makeup can be just as detrimental to the environment as plastic straws and other pollutants—and that this is a topic of conversation we all need to start having:
Most people we encounter admit they don't think of glitter as a toxic micro-plastic; they think of it as a magical dust created by fairies. We think glitter is indeed magic, but it is also important to acknowledge that glitter is a commodity, and like most commodities, it is currently produced from the cheapest possible materials without any foresight of how those materials affect the planet. It's vital to our planet's health that we start conversations of how things are made, and luckily we have been able to do that through spreading our sustainable shine!
You can shop BioGlitz's current rainbow of sparkly confections at BioGlitz.co.
Photos by Nat Souza
Creative Direction by BioGlitz
Models: Paula Kahn and Kohinoorgasm