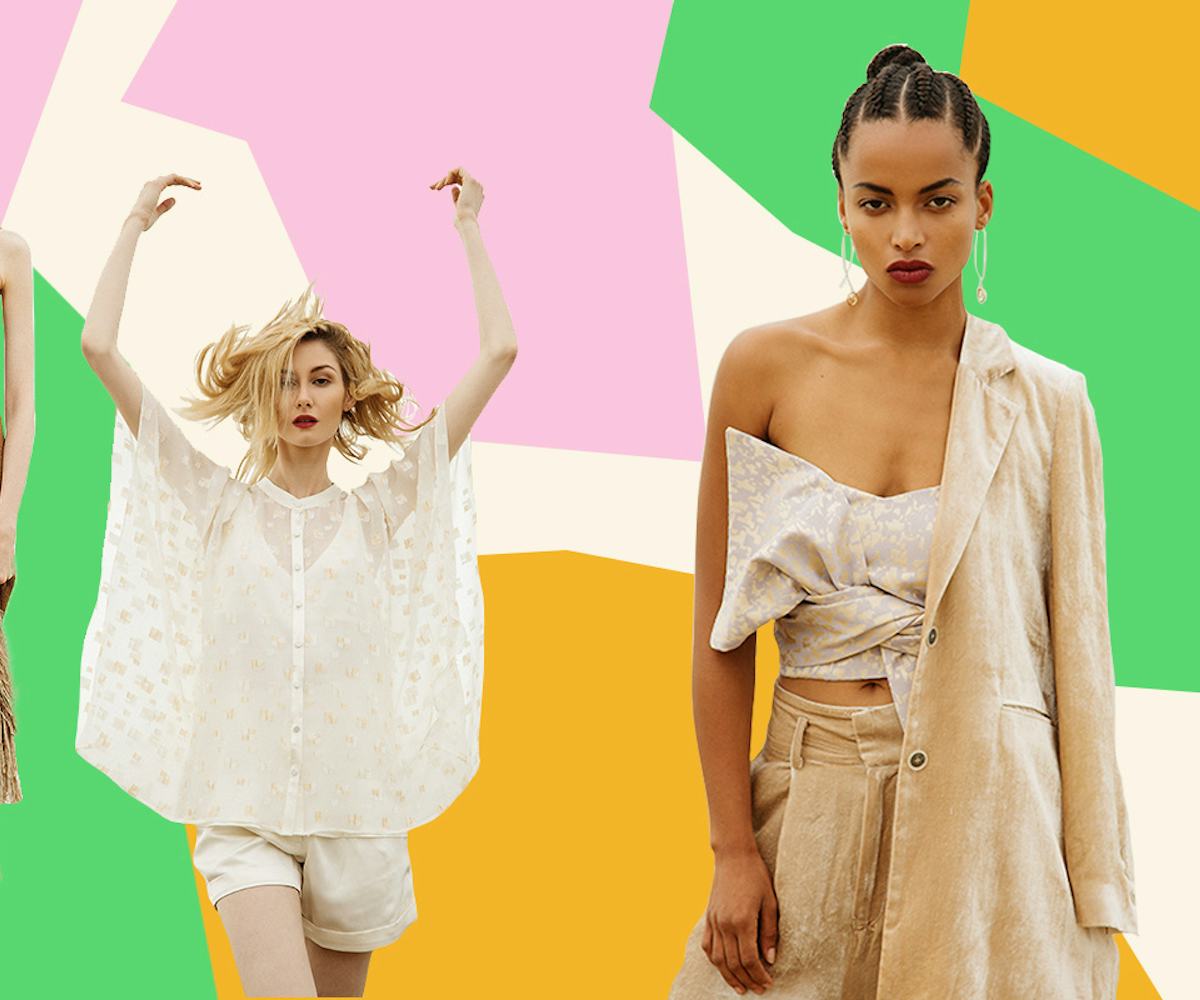 Photos courtesy of Floriane Fosso
This Designer Uses Discarded Haute Couture Fabrics To Create The Newest In French Girl Style
Floriane Fosso creates luxe sustainable clothing with a Parisian flair
Welcome to The Green Scene. Twice a week during the month of April, we're highlighting the designers and brands working to make the world of fashion and beauty a greener, more sustainable place. The brands to support are the ones making a difference; check back every Tuesday and Thursday to meet your new favorites.
Fashion designer Floriane Fosso has always considered herself more passionate about fabrics and textiles than fashion itself, an infatuation that began when the French-Cameroonian designer took her first trip to a textile market in Cameroon with her parents at the age of six. "All of the different prints and fabrics were telling me a very unique story, and this was a strong source of imagination for me," she says. "I was always interested in the story behind the fabric: Who made it? Why? How?"
Fast-forward to 2019, and Fosso now has a two-year-old sustainable, luxury fashion brand, though she was never planning for a future in the industry. After going on to study marketing and management at business school, it wasn't until she pursued a masters program that her love for fabrics would turn into her very own label. "As a fashionista, a business school student, and an eco-friendly person, I started realizing that I was frustrated with the current fashion offering," she says. "I wanted to buy accessible, glamorous, and eco-friendly clothes, but the only clothes I could find were not very creative, or were too expensive for my budget."
From there, Fosso began to look more into sustainable fabrics and fashion, basing her entire final project around it. After she graduated in 2017, her original concept and first collections for the project are what she developed into her namesake brand.
Floriane Fosso has grown to become a two-part collection that exudes a French sophistication with a modern, earthy flair. The Studio Collection is a capsule of contemporary cocktail attire, while the "From Paris To" collection features pieces inspired by cities Fosso has traveled to over the years; each season, she meshes a Parisian aesthetic with a different part of the world.
One look at Floriane Fosso, and it's clear that it's a high fashion, luxury brand. However, because of its sustainable practices, its price range of $300 to $1,000 is a long-lasting investment that's well worth it.
Being that Fosso's biggest passion is fabric, she founded her brand on the sustainable basis of sourcing high-quality, upcycled fabric leftover at couture houses, which are then handcrafted into her collection in Parisian workshops by local artisans. But since 2017, Fosso has put her focus on evolving sustainably with every collection she puts out.
"Every new collection is a challenge and an evolving process," she says. "My overall goal is to develop a sustainable fashion brand, which by definition is something quite wide, which is why, with each new collection, I make a charter. The objective is to grow our efforts and objectives for each collection. I began by only upcycling haute couture fabrics, and now that the brand is growing, I'm able to invest in other ways in order to develop a global, sustainable brand."
Her focus has grown from just expert craftsmanship using upcycled couture fabrics to incorporating other recycled and sustainable materials, such as recycled plastic used in her upcoming sneaker launch, recycled polyester used in her vegan "down" jackets, and organic, fair-trade cotton used for her T-shirts and sweaters. She also plans to incorporate new materials, such as Piñatex, an eco-friendly vegan leather derived from pineapples, starting in 2020.
Additionally, Fosso runs special social projects that advocate for protecting nature, animals, and people. In the past, she's supported annual causes such as Tablée des Chefs, donating 10 percent of sales to fight against food waste.
In terms of incorporating sustainable practices into her craft from day one, it's a standard that comes from a personal place. "At some point, I think we should just regularly questions ourselves: Can I honestly look myself in the mirror and smile at myself? I am far from being perfect, but with each new collection, each new partnership, each new encounter, every new choice is the opportunity to smile at myself. Do I want to make billions with my brands? Yes, this is all I wish for myself and my partners, but not just at any cost." With that said, she thinks that designers today should be looking at what they create and ask themselves whether they want to leave a positive mark on the planet, or simply stick their heads in the sand and ignore the environmental crises surrounding us.
From a business perspective, too, though, she doesn't understand how any brand could not attempt to be more sustainable in modern times. "It's important, simply, because it's what people are asking for."
However, she does feely strongly about the brands that have been jumping on the bandwagon, even the ones that may not seem the most genuine. "I think that a lot of old brands choose the simplicity of keeping up with bad habits because they are afraid of taking a new direction, but are still interested in adopting more sustainable practices. When the giants of fast fashion create conscious capsules, some people are outraged. I understand how it might be hypocritical, but think it can also be seen as an attempt of trying something new with their consumers and slowly change their business model—call me optimistic!"
Fosso believes that sustainable fashion is not just a part of the fashion industry, it is the future of it. "Look at the cosmetics industry, for instance—15 years ago, it was unthinkable for the leader in cosmetics to have green brands in their portfolio, the green brands were considered folkloric and the interest of a few outsiders," she says. "Like the growing green food revolution, we will assist a transformation of the fashion industry. There has been a shift in consumer awareness and expectations, and they put creativity at the same level as sustainability."
The Floriane Fosso Spring 2019 collection will be available to shop Stateside starting today at FlorianeFosso.com. Take a closer look at what to expect, below.