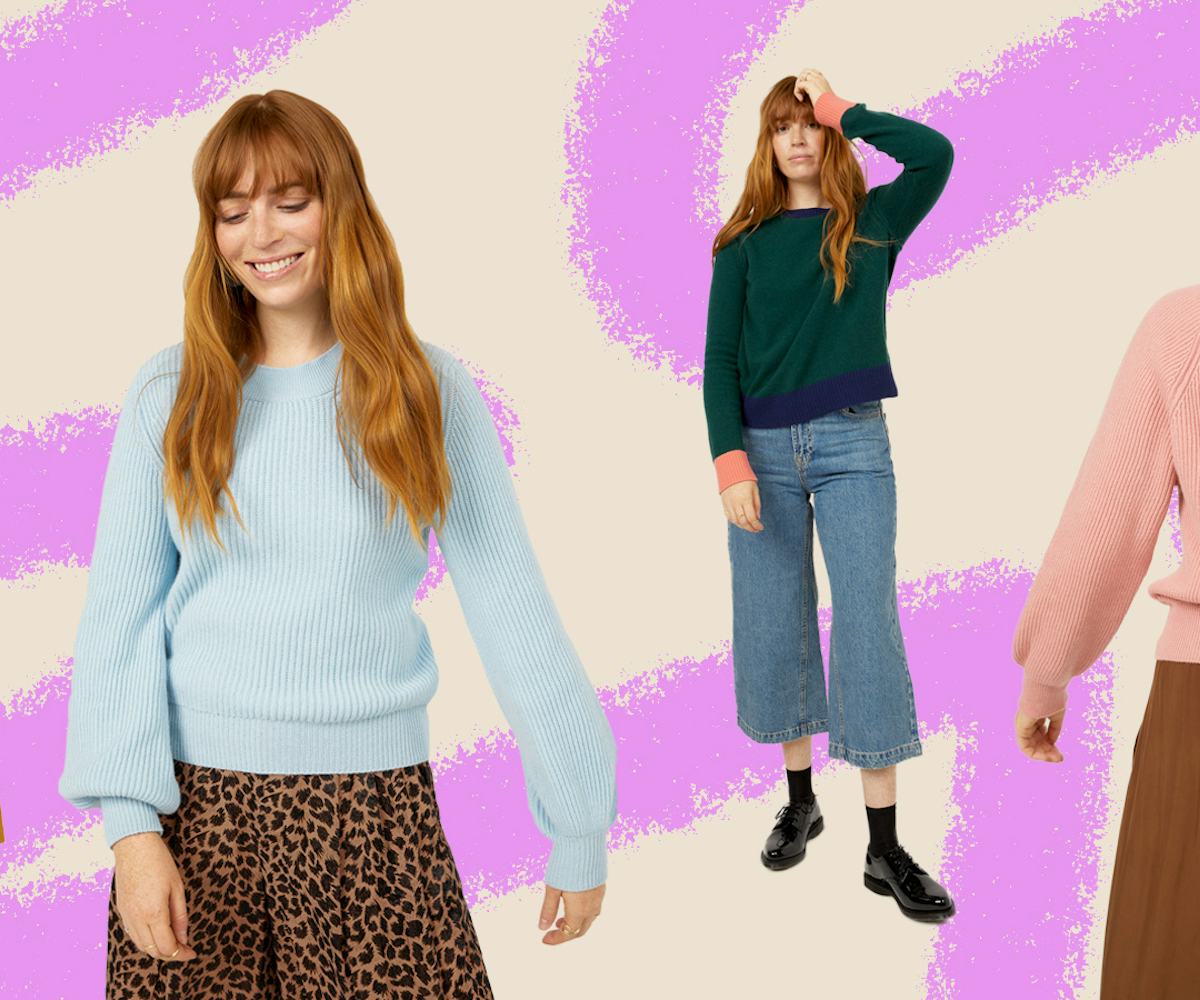 Photos courtesy of Frances Austen
This Cozy Sweater Label Offers Quality Cashmere That's Also Ethical
Frances Austen is working to make eco-conscious, luxury cashmere more accessible
Welcome to The Green Scene. Every week, we're highlighting the designers and brands working to make the world of fashion and beauty a greener, more sustainable place. The brands to support are the ones making a difference; check back every Tuesday to meet your new favorites.
As of yesterday, it's officially fall—and, therefore, officially cozy sweater season. Soon, dropping temperatures will allow us to curl up in our favorite knits. But, the one thing we should all be asking ourselves is: Do I know where this sweater even came from?
Frances Austen, a San Francisco-based conscious cashmere label, is here to answer that question, by creating quality cashmere that's not only transparent and produced ethically and sustainably, but also much more financially accessible than your average luxury cashmere product.
Founder Margaret Coblentz was inspired by her grandmother's collection of vintage cashmere sweaters. "They were incredible; I wore them religiously and loved them, but struggled to find any other pieces of the same high quality in stores today that didn't come with a price tag upwards of $1,000," she says. On the other hand, she had no interest in making sweaters that were fast fashion.
"I decided to create something unique that spoke to my personal values and passion," she says. "I've always loved to mix a carefully considered investment piece with vintage and other affordable closet favorites. Other women do as well, and I knew there was room in the world for a brand with thoughtful sourcing and luxury designer quality offering beautiful, wearable pieces." From there, Frances Austen, and its colorful offering of cozy cashmere sweaters, was born, offering wardrobe staples you can feel good about, all at moderate prices.
Frances Austen's cashmere is sourced from Mongolia, which is where nearly all cashmere comes from. The brand's yarn is spun by Cariaggi in Italy, which not only holds ISO 14001 certifications for wool sustainability but is also a founding member of the CCMI, which stands for both accountability and sustainability in the production of cashmere products.
As Coblentz explains, Cariaggi has long-standing relationships with Mongolian herders and is constantly checking on the well-being of the herds and herders alike. Yarn is manufactured at a plant using 100 percent renewable energy that also focuses on 100 percent traceability of all chemicals and raw materials. "It's both complex in terms of the steps they have taken over the years to institute these high standards, but also simple in that they are devoted to continued innovation and investment to make the product and process as low-impact as possible," she says.
From there, the sweaters are manufactured with Scotland-based Johnstons of Elgin on a direct-to-consumer capacity, which allows the brand to put out heirloom-quality, luxury cashmere, without the super high price point. In addition to using zero-waste manufacturing and biodegradable materials, the brand focuses on using 100 percent biodegradable packaging, too.
Knowing that certifications are still tough to navigate, Coblentz and her team also take the time to visit the brand's factories. "We know the owners and sit down with them to make sure we understand every piece of the process they go through, from sourcing raw materials all the way through production, in order to ensure we are meeting the highest standards we have set for ourselves," she explains. "We research their certifications and spend time understanding how that impacts their manufacturing process. We also pay attention to the other brands that are working with them, as their long relationships with these brands speak to how the factories live up to their commitments over time, and their ability to deliver."
For past collections, Coblentz had been working with silk in addition to cashmere, though she has since decided to completely phase out silk from the brand as she feels it's too difficult to keep strictly sustainable. "We made the decision that anything we work with has to meet the same high standard as our cashmere from both an ethical/sustainability perspective and a quality/cost perspective," she says. "That standard has proved hard to meet, so I am focused on growing the business through cashmere and continuing to entertain other possibilities that fit our ethos."
For Frances Austen, the brand ethos is definitely quality over quantity. Coblentz feels that the most common misconception about cashmere is that cheap cashmere is a good value. "It's not!" she says. "With cheap cashmere, the quality of the yarn is poor, and the lower quality of the yarn, the more it will pill. When you wear a sweater twice and it explodes into pills, you will probably stop wearing it, banish it to the back of your closet, and regret the $100 purchase."
Due to the hair length of the cashmere yarn, Frances Austen sweaters will have almost no pilling. "This means significantly lower cost per wear than the cheap cashmere you bought and couldn't keep wearing," she says. "I'm a big believer in owning fewer things you love rather than a lot of things you like 'just okay.'"
While the brand's direct-to-consumer model helps significantly reduce the price compared to other luxury cashmere products on the market today, prices still range between $300 and $400. But while spending about $400 on a cashmere sweater may feel steep, it's actually a sound investment for someone looking to buy a quality product that will last them for years to come. I mean, think about it: How much do you live in your cozy sweaters as soon as temperatures start to drop each fall? Why not ensure your fall and winter uniforms are built to last, and done so with the planet's, animals', and workers' well-being in mind?
Admittedly, Coblentz wasn't sure how well the brand's message would resonate when initially launching, but she's seeing the changes in consumer taste happening, led by millennial and Gen Z women willing to invest in staples that will actually last and are better for the planet. "Hearing from women who are frustrated with quality and companies without values shows me we are moving into a new paradigm," she says. "And I am so excited to see what the future brings."