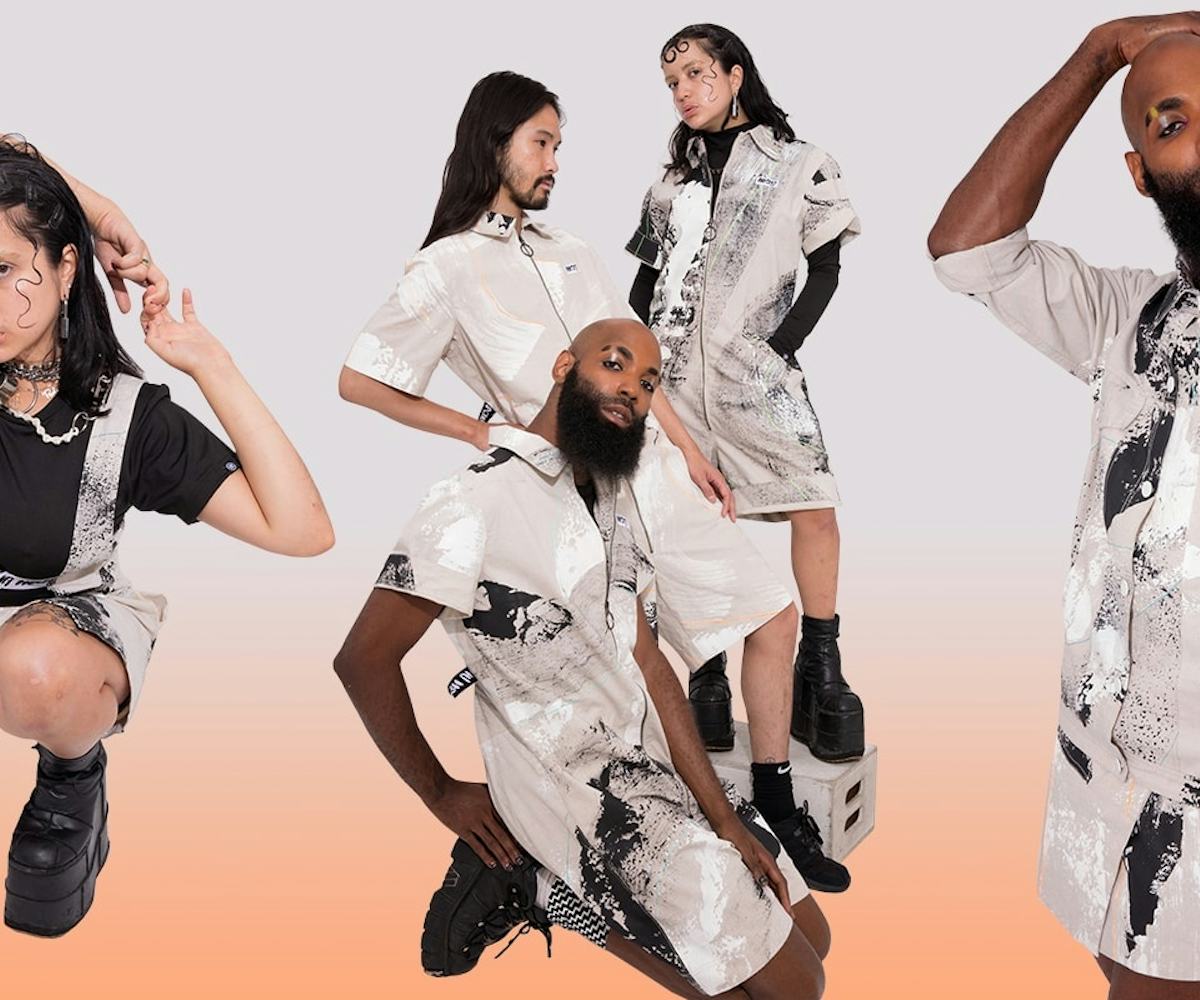 Photos by Daryl Oh
​This Sustainable, Gender-Fluid Clothing Label Was Born At A Rave In Queens
HECHA / 做 will take you from the office to the club
Welcome to The Green Scene. Twice a week during the month of April, we're highlighting the designers and brands working to make the world of fashion and beauty a greener, more sustainable place. The brands to support are the ones making a difference; check back every Tuesday and Thursday to meet your new favorites.
It's not often that a line of rave-friendly clothing is versatile enough to wear to the office as well as to wherever you may find yourself dancing later that evening (err, or the next morning). And when it also happens to be sustainable and ethically produced? Well, sign us up.
HECHA / 做 was started by two friends, Luz Fernández and Ting Ding. The now-business partners first met through a mutual friend while living in Berlin in 2013, but it wasn't until they both found themselves in New York City in 2016 and attending the same raves—including one in Ridgewood, Queens—that the idea for HECHA / 做 came to be. "The collaboration made a lot of sense; Luz would use her artistic expertise to drive the creation and production aspects of the brand, while Ting would be on the back end focusing on the marketing and commercialization of the product," they tell me. "Together, we approach the fashion industry with a fresh set of eyes that allows us to think and do things outside of pre-established systems."
The line is small and simple, with launches spread out over the course of a season, consisting of two garments at a time. Currently, the brand boasts a unisex, hand-painted pair of overalls and a matching jacket, as well as an athleisure-inspired turtleneck and legging.
While these pieces are apt for any rave that you'd find Ding and Fernández attending, they are also meant to be much more versatile and functional than that. "Our hope is to bring about an awareness that extends beyond fashion and the material object," they tell me. "Streetwear is often considered a token, or collectible branded object, rather than a reflection of everyday life and personal culture. As seasoned ravers, we consider the importance of being able to jump from a work environment to the club or art space."
The name represents both Fernández and Ding, by incorporating the first languages they each learned to speak, serving as a tie to both of their origins and cultural backgrounds—as well as the act of labor and physically making something: "Hecha" is the feminine form of "made" or "created" in Spanish, while "做" is the Chinese character that means "to make" or "to produce."
"Since fashion often disassociates itself from the less glamorous aspect of the production process, we felt that it was important to link the labor or production to the brand," the two tell me.
For Fernández and Ding, sustainability was an important aspect of HECHA / 做 from the very beginning. "We figured if we weren't going to be conscientious about what we do, then why do it at all?" they say. "We, as a society, are all moving too fast and in a way that's not sustainable for neither ourselves nor Mother Earth." They cite capitalism and its continuous need for expansion as a part of the problem, saying:
HECHA / 做approaches things with empathy by recognizing that everything and everyone has value. By hand-painting the fabrics and taking the time to explain the ideology behind the garments, we hope to add value and give our consumers a chance to build a relationship with the object, rather than overwhelming them with the false illusion of choice. The idea is to slow down HECHA / 做's involvement in the rapid cycling of fashion seasons by creating items that are made well—and with added value—to increase each piece's longevity in order to reduce waste.
However, HECHA / 做's sustainability aspect goes beyond just a slow fashion cycle and products that are built to last. All of its hand-painted garments are made of a hemp-based material. "Hemp is a sturdy plant that consumes four times less water than cotton and does not rely on the use of herbicides or pesticides, making it gentle on the earth," they tell me. The ink used for each piece is water-based, non-toxic, screen-printing ink. All activewear is made from recycled polyester, which not only reduces environmental pollution by keeping it out of landfills, but it cuts back on fossil fuel and energy consumption and decreases CO2 emissions.
In terms of production, the brand supports local businesses, allowing Fernández and Ding to be present in the process, making on-site visits and having on-site meetings, and to oversee quality and ethical working conditions.
And it will only to continue to grow from there. "Being a sustainable brand is an ongoing process of observation and experimentation that never ends, and we're continuously improving along the way," they say. "Sustainability is a broad and generic term with no consistent standard or definition. We take a more holistic view on it and consider many aspects along the production chain to define our practices. Every detail of the fabric-to-garment-to-utility is considered."
"Being a sustainable brand is an ongoing process of observation and experimentation that never ends, and we're continuously improving along the way."
In addition to sustainability, the brand strives to create products with "empathy-driven gestures"—and the founders believe all brands should be taking these measures in order to resonate with today's consumers. "The meme 'There is no such thing as ethical consumption under capitalism' rings true, more or less, calling out how we are all roped into complicity with brand standards," they say. "If brands wish to resonate with the growing market of customers who are more aware of their consumption, then companies should, and ought to, move toward sustainable practices. Any brand that sympathizes with their consumers will push for an 'empathy-driven' business model, focused on transparency and re-standardization."
An example of this would be its Make Techno Black Again hat project, a collaboration with the creative agency Grit Creative Group. "The hat celebrates the origins of techno and its roots in cities like Detroit and the African-American working-class experience," the founders tell me. "The Make Techno Black Again campaign is a project of canonical reinstatement, in which 20 percent of revenues are donated to Living Arts, a Detroit-based youth arts nonprofit. Giving back and creating social alliances akin to subculture are ways in which brands can keep up with their consumer's growing consciousness."
This summer, HECHA / 做's full collection will be available at Refuge Arts, a Brooklyn-based creative space, as a pop-up running from June 20 to 23. The pop-up will use the space as a "blank canvas" that will be painted, and thus "filled with context," by the brand's collaborators and fellow friends and artists of Ding and Fernández.
Not based in New York City? Head on over to the brand's newly launched e-shop, which runs with a slow-release strategy, dropping two new designs every few weeks. Each drop highlights and profiles a "creative-doer" from their local New York City community, styling the garments themselves in an environment of their choice.
Photos: Daryl Oh
Models: Aarron Ricks, Pauli Cakes, and Paul Bui