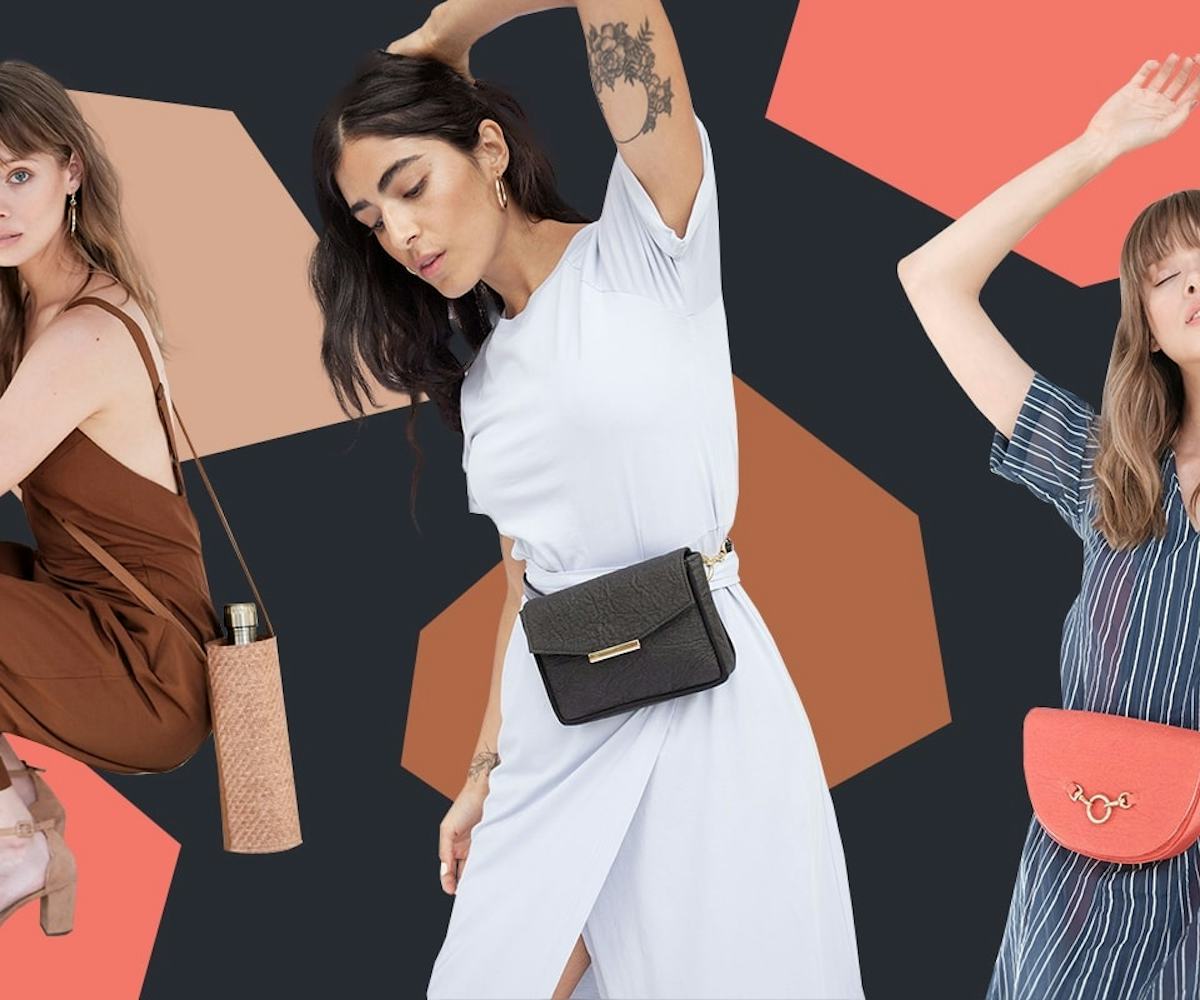 Photos courtesy of HFS Collective
This Hands-Free Handbag Line Reminds Us To Carry Less Stuff
HFS Collective is sustainable in more ways than one
Welcome to The Green Scene. Twice a week during the month of April, we're highlighting the designers and brands working to make the world of fashion and beauty a greener, more sustainable place. The brands to support are the ones making a difference; check back every Tuesday and Thursday to meet your new favorites.
When it comes to festival season, we have to be pretty strategic about what we're bringing with us, and how we plan to lug it around throughout the day. Based on the amount of impractical "festival season" bags that mass retailers launch as soon as Coachella is on the horizon, it's pretty refreshing to come across a brand such as HFS Collective—a practical, hands-free bag line that also happens to be fully sustainable. And now that festival season is in full swing with a jam-packed schedule for the rest of the summer, we couldn't have been introduced to it at a better time.
Founded on the idea of not only always being hands-free, but also "the joy of less," the Los Angeles-based mother-daughter duo who launched HFS is on a mission to liberate us from carrying so much stuff and make less of an impact on the planet while doing so. "Our brand is really centered upon the notion of the 'joy of less'—the idea that we really don't need all of the stuff we think we do to go throughout our day, and in fact, we are able to have more freedom, joy, and happiness in exchange for less stuff," says co-founder Rachel Denniston.
The brand was born in 2012 out of the duo's love for the fanny pack and the freedom it allows its wearer—and the idea that they can actually be cute. (Think about it, 2012 was way before the fanny pack and belt bag made its runway comeback.)
Since its initial launch, the brand has moved on to create other hands-free styles, like this neon orange half-moon cross body and an assortment of reusable water bottle holders—all inspired by the notion that we should be carrying just those things that matter most.
Another huge part of HFS Collective's ethos is sustainability—and sustainability across the boards. HFS Collective products are made using Piñatex, an eco-friendly pineapple-waste derived leather alternative that has been growing in popularity; eco-suede, a suede alternative derived from recycled plastic bottles; as well as naturally low-impact fabrics such as hemp, organic cotton, plant-based raffia, and cork. "Most people don't know, but leather is extremely toxic, and its production is incredibly polluting to our planet," says Denniston. "For this reason, we refuse to use it in our line, especially when there are so many other healthier options available."
"The future of sustainable fashion and accessories is biodegradable and circular," says Denniston. "We have to think about the end product, where it will be and what it will look like 20, 50, and 100 years from now. Will it still look exactly the same, or will it decompose? Can the fibers be recycled or repurposed into something else?"
Additionally, all of the brand's bags and small goods are produced in small batches locally, just a few miles from its Los Angeles office. "For us, it's important that things are made mindfully," says Denniston. "We don't want to contribute more waste to an already polluting industry, so small production runs enable us to sell through our inventory, creating less waste and fewer styles that go without homes. We know by name all of the craftsmen and craftswomen that make our bags and that they're being paid a fair, living wage in safe and pleasant working conditions."
"We have to think about the end product, where it will be and what it will look like 20, 50, and 100 years from now. Will it still look exactly the same, or will it decompose? Can the fibers be recycled or repurposed into something else?"
While neither of the two founders had prior experience in fashion or production, they were aware of the horrors of the leather industry, which is what urged them to seek out more sustainable ways of operating—and to continue evolving. "In our first year, we started out with traditional leathers [which are typically not eco-friendly] and quickly realized that we had to do better, so we sought out eco-friendly certified polyurethanes instead, and since then, we've been doing our part to be even more sustainable by using entirely sustainable, plant-based materials as well as fabrics made from recycled materials."
For them, sustainable is the only way to go. "The world doesn't need more stuff, and the earth certainly can't sustain the impact of the rate at which we are consuming," says Denniston. "I don't think we, as a society, are going to be able to change our consumption patterns overnight, so the power, and responsibility, lies in the hands of the brands to be producing products in a more sustainable manner."
HFS Collective will continue to evolve in terms of the earth-friendly materials it uses and the sustainability measures it takes. Currently, it has a couple of "secret projects" in the works with engineers who are formulating new sustainable, plant-based textiles for the brand—so we can expect some exciting new launches in the near future.
So even if you're not heading to a festival this summer, HFS Collective bags are a solid choice year-round, and a choice you can actually feel good about.
Head on over to HFSCollective.com to shop the full offering.