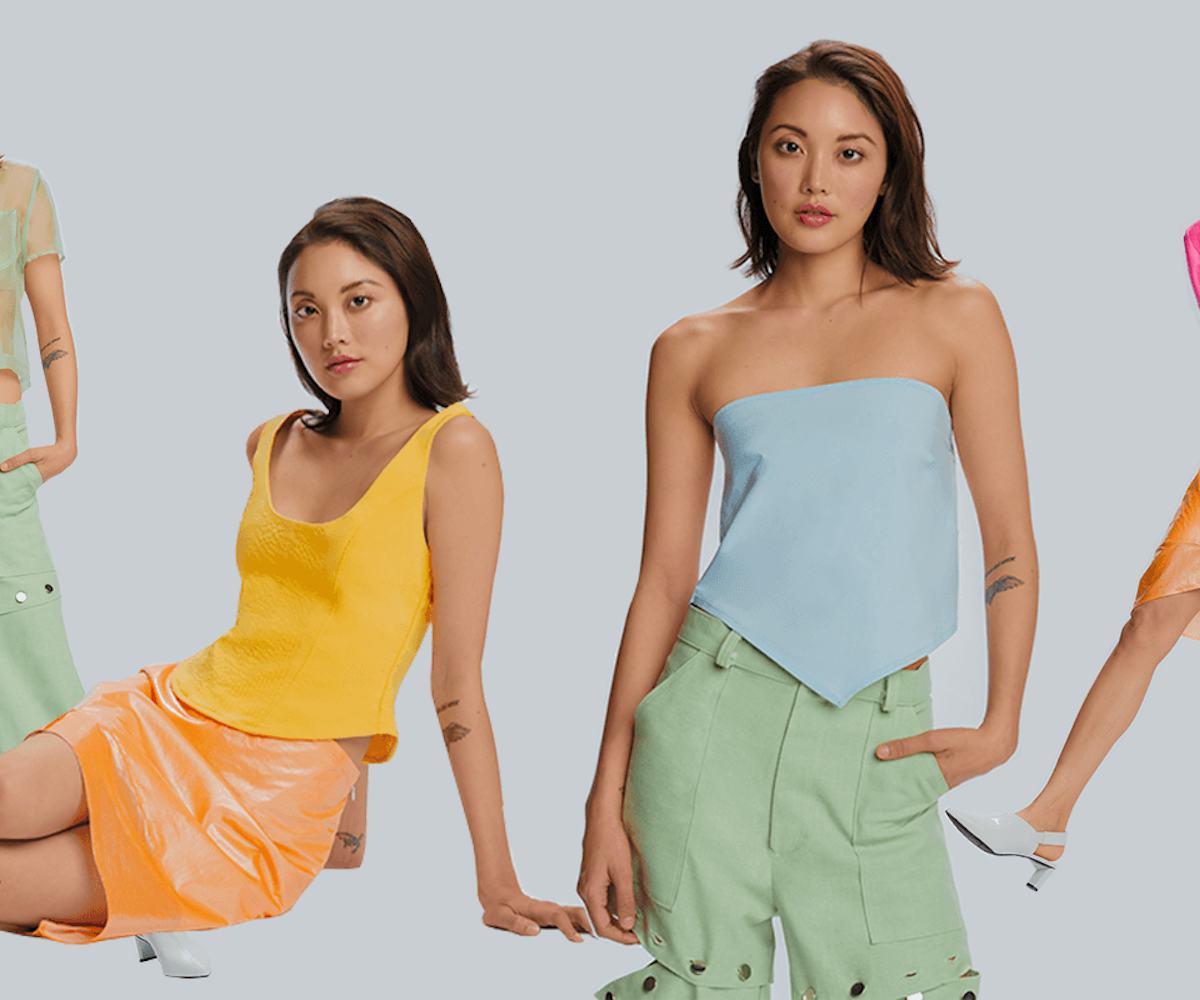 Photos courtesy of Lilt Clothings
See How This Designer Is Breathing New Life Into Old Fabric
"We only have one Mother Earth, and she's in need of major TLC"
Welcome to The Green Scene. Twice a week during the month of April, we're highlighting the designers and brands working to make the world of fashion and beauty a greener, more sustainable place. The brands to support are the ones making a difference; check back every Tuesday and Thursday to meet your new favorites.
Chicago-based designer Tiffany Lee loves the environment just as much as she loves fashion, so when she decided to start her own brand, she knew that sustainability had to be at its core. "I saw the effects of my own consumerism and the emergence of slower, more conscious brands," says Lee. "I knew of warehouses here in the Midwest stocked to the ceiling with forgotten, unused fabrics and saw that as an opportunity to self-express through clothing but in a less guilty way that isn't so impactful to the environment."
With these Midwest warehouses in mind, Lee went on to start Lilt Clothing, an apparel line built on entirely deadstock fabric.
"A lot of deadstock fabric ends up in the Midwest after circulating throughout larger coast cities," she says. "The majority of fabrics I scope are cast aside due to minor cosmetic issues or because their yardage is too low and doesn't meet the minimums of other larger brands." She essentially breathes new life into these fabrics, ensuring that they don't one day end up in a landfill, by transforming them into her line of bold and sometimes quirky wardrobe essentials. "Lilt is unapologetically feminine and bold with a touch of whimsy," she says. "To me, clothing is supposed to be uncomplicated, expressive, and fun." And her Spring 2019 might just be her boldest, most expressive—and most fun—yet.
Inspired by the playfulness of the season, from the colors to overall energy, Lee went for extra bold with her latest collection, incorporating neons in the form of vinyl skirts and blazer-inspired crop tops into a classic pastel spring offering. However, a favorite would have to be her version of the convertible pant, a pistachio green trouser with detachable legs that become shorts. Sustainable and multifunctional? Don't mind if we do.
Aside from only using deadstock, she's also working to make the brand as recyclable and as plastic-free as possible throughout its design, production, and shipment phases. And being that each piece is made-to-order, leftover fabric waste isn't part of the equation.
Lee believes that it's important for consumers to be aware of sustainability and to push toward it, because every one of our actions has an effect on our futures—"and the future is a shared entity. We only have one Mother Earth, and she's in need of major TLC."
As this push toward sustainability in fashion begins to be pushed even harder, Lee believes that recycling is the future of green fashion. Much like she recycles deadstock fabric by giving it new life, she believes that secondhand and vintage shopping is also a major player in this fashion revolution. "I love the spotlight that's been positioning secondhand and vintage purchasing as not an economical option, but a trendy one."
She also sees the shift in consumers opting to spend more on a quality garment that will last longer, and opting for brands that align with their morals. "People today are much more educated than before, that their dollar has a major impact on changing the future."
You can shop the full spring collection now at Lilt Clothing, but as each piece is derived from deadstock, pieces are limited-run. And when they're this cute (and cute for the planet, too), they're sure to sell out quick.