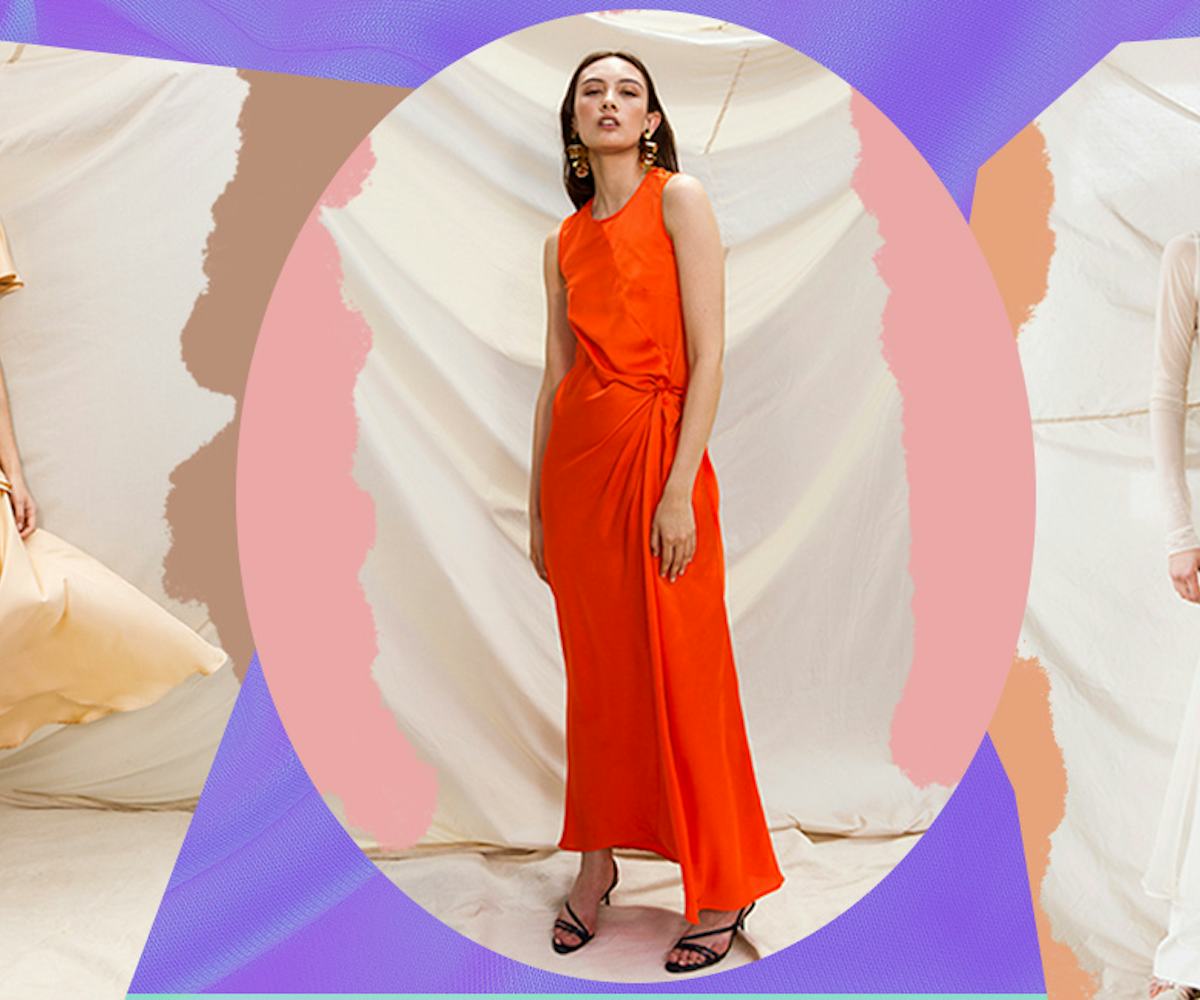 Photos courtesy of Maggie Marilyn
This Brand Fuses Style And Sustainability With Rose Petal-Derived Fabrics
New Zealand label Maggie Marilyn prioritizes transparency and sustainability education
Welcome to The Green Scene. Every week, we're highlighting the designers and brands working to make the world of fashion and beauty a greener, more sustainable place. The brands to support are the ones making a difference; check back every Tuesday to meet your new favorites.
For fashion designer Maggie Hewitt, sustainability has always been of the utmost importance. Growing up in the picturesque Bay of Islands, a rural, coastal region of New Zealand's North Island, Hewitt had a natural appreciation and respect for the planet and all of its beauty, as well as a yearning to protect it.
That's why her label Maggie Marilyn, which she launched in 2016 when she was 22, has sustainability at its very core. Hewitt founded the brand with one simple mission in mind: "To make a difference in an industry that is ready for change," she tells me. "Making a difference meant building a brand that champions transparency, empowers all people in the supply chain, and ensures the health of our beautiful planet is at the forefront of every decision made. I believe that style and sustainability can and should exist."
Three years ago, sustainable fashion looked a lot different than it does now. If it was accessible, it was the hemp- and linen-based earthy designs that don't necessarily appeal to the high fashion customer, and if it was high fashion, well, it was way too pricey. That's why it's not surprising that when Hewitt launched with her very first collection, consisting of ruffled, off-the-shoulder dresses, raw-edged silk pieces, sleek suiting, and structured shirting at prices that weren't outrageous, it was immediately picked up by Net-A-Porter.
Hewitt has since made sure sustainability is reflected in all steps of the supply chain, from the textiles she uses to production to shipping the finished clothes to customer. First and foremost, Maggie Marilyn is proudly made in Hewitt's native New Zealand. "It's important for us to support our local industry and give back to our community while keeping our carbon footprint as low as possible," she says.
Hewitt regularly works with recycled, ethical, repurposed, or low-impact fabrics, which currently make up around 69 percent of the fabrics used for each collection, with goals to remove virgin-sourced synthetic fibers from the supply chain by the end of 2020, and up her usage of recycled and repurposed materials as well. Organic cotton, linen, peace silk (silk that allows the silkworm to live out its natural life cycle before removing silk fibers), and recycled polyester are just a few of the ethical fabrics you'll find used each collection.
She's also always looking for innovative and unique sustainable materials to work with. For her Season 7 High Summer collection, which launched this past May, she used a new-to-market silk alternative that's derived from rose petal fibers for a handful of pieces, because it's not only eco-friendly but also is fully biodegradable.
Currently, the brand ships to wholesalers using biodegradable poly bags, while customer-facing mailing bags are made with recycled limestone quarry waste in a process that uses only renewable solar power and zero water, acid, or bleaches and creates zero pollution or greenhouse gas emissions.
Hewitt is looking to continuously grow and improve her label's eco-friendly practices, which is what led her to write her (very thorough) Sustainability Strategy, which outlines the company's current practices and its goals to be achieved by 2020, all in line with the United Nations Sustainable Development Goals. To her, transparency is key, which is why you'll find detailed information about the brand's supply chain—including both what she's proud of and the challenges the brand faces.
Most importantly, Hewitt wishes to educate. As conversations surrounding sustainable fashion tend to focus a lot on overconsumption, Hewitt instead wishes to offer all of the information a customer would need in order for them to make an informed purchase decision. "Our renewed focus at Maggie Marilyn is not to alienate a customer, not to shame them into not buying beautiful clothes because we are told not to consume; the idea is to reinvigorate the spirit of choosing a wardrobe based on being informed and having such choices at hand," Hewitt said in a press release for her High Summer collection.
As we know, a huge part of the life cycle of a garment (and keeping it out of landfills) has to do with how it's cared for once it's in the hands of the customer. This is why Hewitt has also chosen to educate her customers on how to care for her pieces, including detailed steps for how to treat each specific material, how to spot clean, and how to mend.
While Maggie Marilyn is known as a sustainable brand, Hewitt hopes that one day, there's no need to label a brand sustainable or not. "I hope in the future, there is no sustainable fashion and unsustainable fashion businesses—only an industry where sustainable practices are the norm. Circularity must be the future. We have to operate in a way where what we take from this earth, we give back. We have a regenerative impact on not just the planet, but on every person involved in the supply chain."