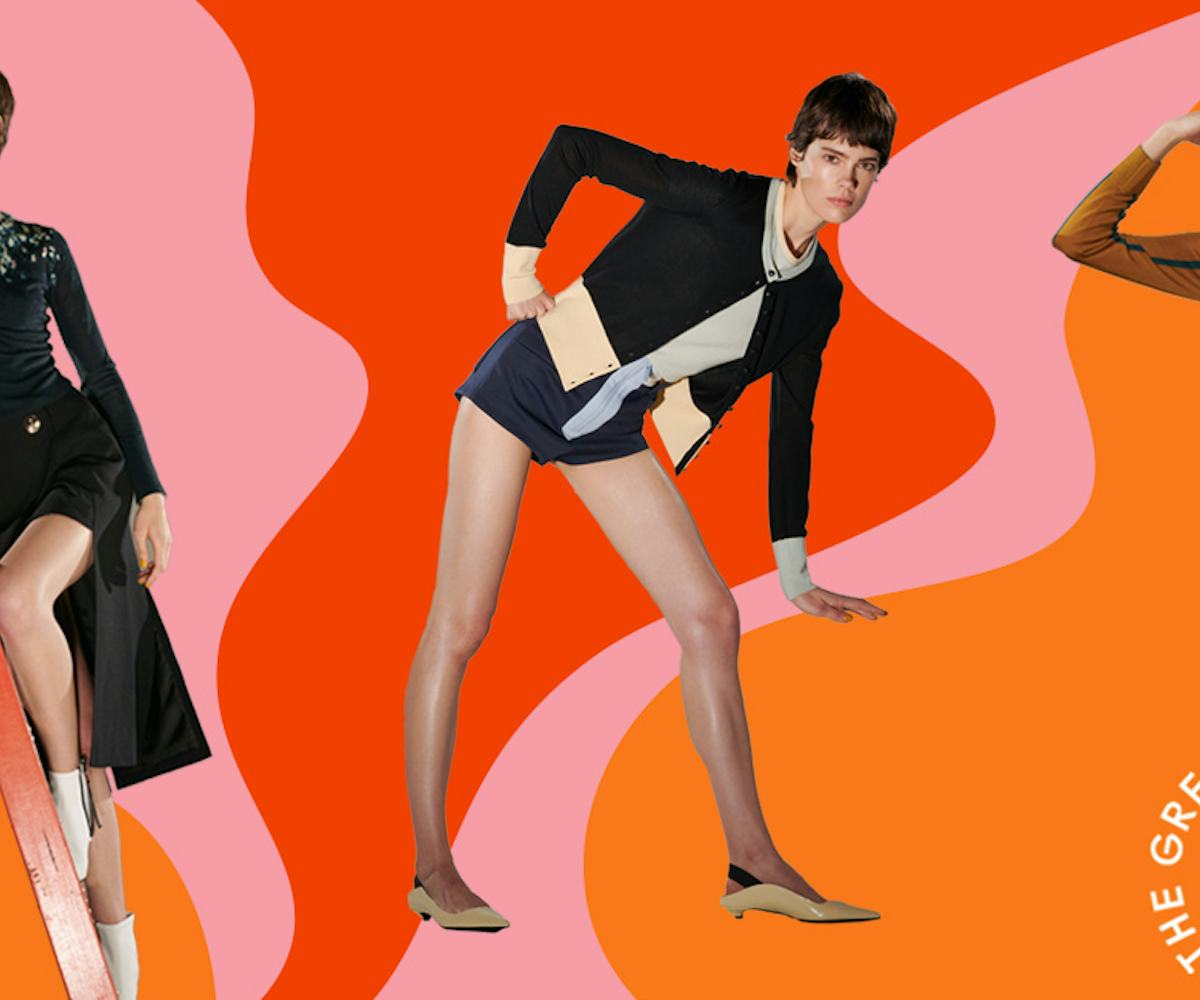 Photos courtesy of Ply-Knits
This Sustainable Knitwear Brand Is Reclaiming What It Means To Be "Made In China"
"40 years later, it's a totally different landscape"
Welcome to The Green Scene. Every week, we're highlighting the designers and brands working to make the world of fashion and beauty a greener, more sustainable place. The brands to support are the ones making a difference; check back every Tuesday to meet your new favorites.
You could say designing knitwear is in Ply-Knits founder Carolyn Yim's genes. The Hong Kong native comes from a family of knitwear designers. So, when Yim decided to join her family's business, she studied under her father to learn all there is to know about making quality knits, focusing heavily on putting materials first, by prioritizing what's used and how it's treated during the design and manufacturing processes.
From there, Ply-Knits was born, a material-first knitwear brand offering simple basics with a twist; think: a striped long-sleeve polo shirt or a color-blocked grandma cardigan or an elegant off-shoulder sweater. Yim's process includes examining boxes of her family's old knitwear pieces and reinterpreting them with a modern eye, creating pieces that transcend trend cycles and that are built to last and to be cherished.
For Yim, sustainability was a no-brainer in order to keep her business around for generations to come. "My family has been around producing knitwear for three generations, I'd like to make sure we don't mess it up for the next three, and more," she says. This means that Ply-Knits checks all of the boxes when it comes to sustainable sourcing, opting to use organic materials and deadstock or recycled yarn, as well as low-waste and green-energy production methods.
Additionally, Ply-Knits strives to be sustainable in design, too. "One special thing we find important is sustainable design, making sure the sweater itself is precious and dear, so you never want to throw it away, and want to hand it down. So, we use rare fibers like Grade AA cashmere and Super 140s merino, and, with our decades of experience, know how to 'treat' and wash it well during our finishing process," Yim says. "An analogy I always point out is this: Think of having picked up some organic pastured eggs from your local farmer's market. You would take care to not overcook it, but heat it just right and season it simply in order to enjoy it best. The same is of top cashmere and merino, which are also made of delicate, organic matter sensitive to heat and pH. If treated right and simply, it is very lovely."
Yim produces her pieces at her family's factory in Dongguan, China, where she has a high degree of control, including everything from how much water usage and waste material a product will produce to the kind of economic impact her brand has in Dongguan.
If there's one thing Yim wants to achieve, it's that she wants to clear up some pretty big misconceptions that come along with being made in China, as those three words have become code for clothes that come from mass retailers and fall under the fast-fashion label. However, that's not solely the case now.
The history of Chinese manufacturing is a complicated one, but its future looks bright. Yim explains, "The majority of low-cost clothing came about in the 1980s when [Chinese leader] Deng Xiao Ping first opened up China [for manufacturing]. Foreign brands were able to take advantage of the low cost of Chinese labor and produce cheap clothes to import into their countries—think of the era of luxury labels with multiple bridge brands, diffusion lines, and licensees sold at JC Penney and Walmart."
But fast-forward to current times, and things have changed for the better, and she's hopeful for a more sustainable future of fashion:
Forty years later, it is a totally different landscape as China has drastically moved up the manufacturing chain. This is a misconception about "Made in China" today that I'd like to clear up. When I look around me, and a lot of the low-cost, mass-knitwear manufacturers have closed up due to the high costs of running an environmentally sustainable manufacturing business in China today. The Chinese government has laid down really strict laws around using green energy, low waste, and anti-pollution solutions. Therefore, the suppliers that currently exist must have strong environmental policies in place, and also supply brands that can afford paying for higher margins and product. This means no more $1 sweaters. Chinese production moving up to high-tech and advanced manufacturing is a significant tailwind to overall clothing quality. So, I see the future of green fashion as optimistic and scaleable, and that most clothing will be sustainably produced.
Lastly, all of Yim's environmental sustainability factors must be in line with business stability, something she points out is not often discussed in tandem with environmental sustainability. "What's your real impact made if you could create the cleanest, most sustainable supply chain in the world, but it is very costly due to, say, your overuse of solar panels, causing your business to close? The overall impact would be none," she says.
At the end of the day, though, Yim admits that the most environmentally sustainable way to make clothes is, well, not to make new clothes—and therefore, she needs to be as responsible as possible if she's going to stay in the business of making them. "There's no way around it, and any company that markets sustainable clothing should be grimly aware of this pretension," she says. "Since my family is in the business of making clothes, the next big thing is to own up to the responsibility."
You can shop Ply-Knits' current offering at Ply-knits.com.