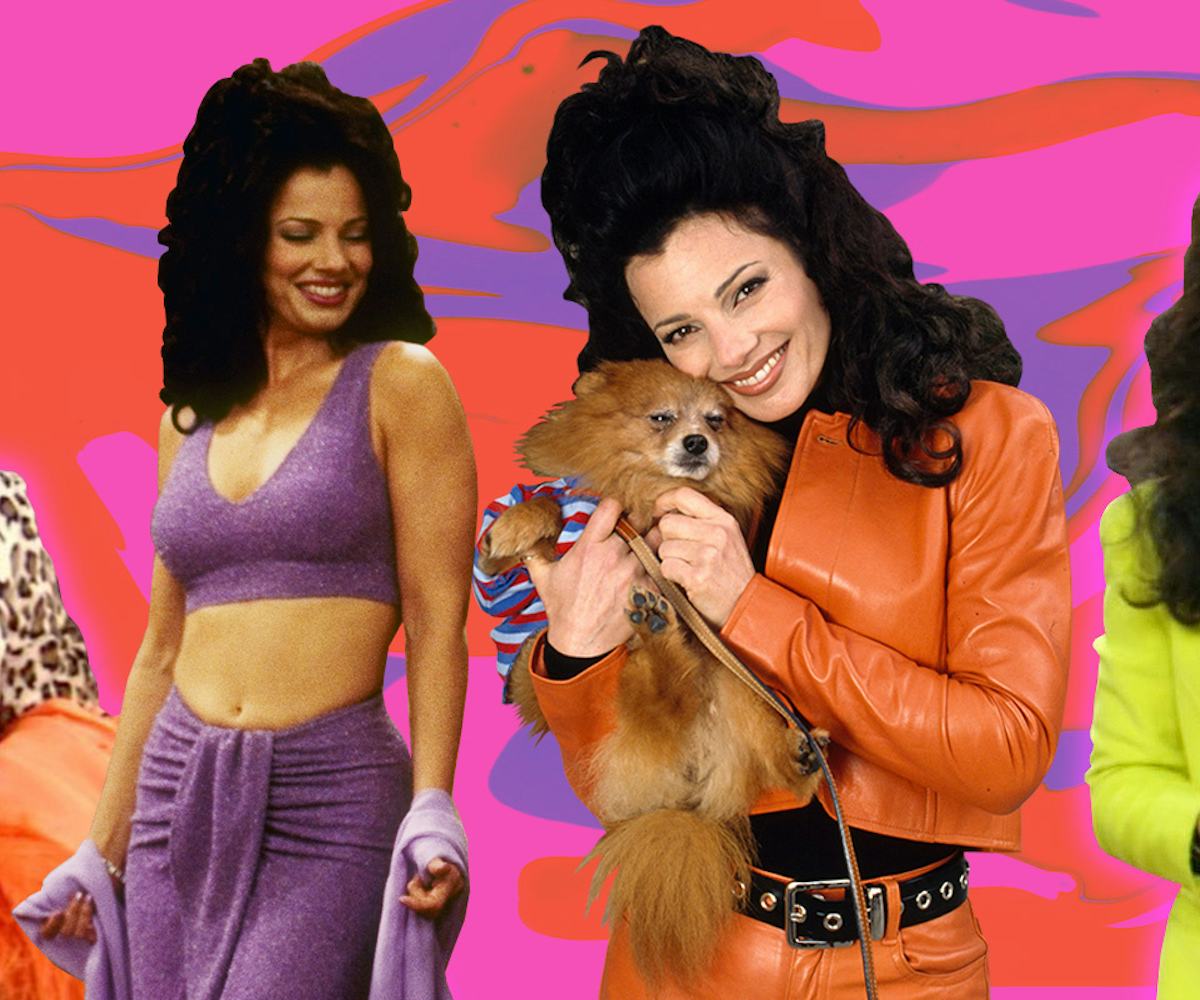 How To Dress Like Fran From 'The Nanny,' 20 Years Later
The '90s television star's iconic style feels as fresh as ever
Head-to-toe zebra print. Highlighter-bright neons. Skin-tight mini skirts with tailored blazers to match. Fur, glitter, camo, and hot pink. Like clockwork, the style trends from the 90's sitcom The Nannyworn by Fran Drescher's character, named Fran Fine, has recaptured the imagination of the fashion world in recent years.
However, what makes Drescher and her bold, hyperfeminine style truly special boils down to more than how well it aligns with a handful of current trends. Fran's style has made her an enduring fashion icon because, despite coming from a working-class background and being a full-time nanny with mountains of credit card debt, Fran never felt the need to tone down her look. Brashly blurring the boundaries between tacky and chic, she was never afraid to be her authentic self, and her bold outfits played with the idea that you don't have to dress "seriously" to be taken seriously as a person.
While our favorite outfit picks, below, contain a fair share of neon and leopard print, you can still channel the wit and fearlessness of The Nanny star's fashion sense if your personal style leans a bit more subdued. At its core, Fran's style is about dressing for you, and only for you — and if that's not a 2020 fashion goal worth striving for, it's hard to imagine what would be. So, whether you're ready to dive into full-on Fran style, or simply want to incorporate her energy in a subtler way, read on to be inspired by the ultimate 90's icon.
Colorful Leather
Get the look: ASOS Design, Premium Leather Suit Blazer, $181.50, and Premium Leather Pants, $152, both available at ASOS; Topshop, Double Eyelet Belt, $40, available at Topshop.
Fran's vibrant orange ensemble shows off the latest iteration of the ongoing leather craze: color. A whole rainbow of leather looks made an appearance on the Spring 2020 runways, including Louis Vuitton, Givenchy, Marni, and more. Plus, the trend is already being embraced by tastemakers, both online and in the streets. A strong case can be made for picking up a two-piece set like Fran's, since mixing and matching both items will create an infinite array of looks.
Leopard On Leopard On Leopard
Get the look: Ana Accessories, Fierce Facts Leopard Headband, $7.50, available at Dolls Kill; Miaou, Lex Jacket, $225, and Junior Jean, $225, both available at Miaou.
Leopard print is arguably more of a lifestyle than a trend. Love it or hate it, the bold statement never actually goes out of style. And when it comes to the idea that "leopard is a neutral," nobody is a truer believer than Fran Fine. Throughout the show's seasons, Fran never shied away from rocking top-to-bottom leopard, zebra, and other animal prints, by designers that include Versace, Betsey Johnson, and Moschino. In fact, the line of bold animal print suits featured in Dolce & Gabbana's Spring 2020 runway show could easily have been pulled from Fran's own personal collection.
All-Weather Whites
Get the look: & Other Stories, Oversized Shaggy Faux Fur Coat, $219, available at & Other Stories; AGOLDE, Parker Vintage Cutoff short, $128, available at AGOLDE; ASOS Design, Ribbed Turtleneck Crop Top, available at ASOS; Urban Outfitters, Everly Oval Sunglasses, $16, available at Urban Outfitters.
The sheer extravagance of this outfit is what makes it so incredible. Reigning Fran Fine style expert Shanae Brown — the genius behind the popular @whatfranwore Instagram page — said this look "gives her Rihanna vibes," and she couldn't have possibly been any more spot-on. Oh, and if you're thinking you'll never have the occasion to pair a fluffy fur coat with a crop top and shorts, just remember that this is the outfit Fran wore to play tennis.
Dialed-Up Neons
Get the look: ASOS Design, Longline Suit Blazer, $98, and Suit Mini skirt, $40, both available at ASOS; Splendid, 1x1 Striped Turtleneck, $26, available at Splendid.
Another 2020 trend that Fran Fine basically invented? High-wattage, head-to-toe neon. Recently spotted on tastemakers ranging from Bella Hadid to Ashley Graham, dialed-up, highlighter-bright hues are having a major moment this season. The electric lime-chartreuse color of Fran's skirt suit was especially favored during New York Fashion Week this past September, where it was featured heavily at the debut Spring 2020 runway show of emerging "It" designer Sandy Liang.
Purple Two-Piece Sets
Get the look:For Love & Lemons, Madeleine Sequin Top, $124.98, and Madeleine Sequin Skirt, $131.98, both available at For Love & Lemons.
Once reserved for royalty and the elite, purple has been associated with wealth and opulence for centuries. Never one to shy away from a statement, Fran's glamorous two-piece doubles down by adding sparkles, not to mention a generous swath of midriff. The look would have fit right in on the recent runways, where shimmering purple looks like this one turned heads for all the right reasons. And, of course, if you're not interested in wearing a two-piece sparkly ensemble, you can still channel Fran's look with a similarly shimmering purple dress.
A Splash Of Tie-Dye
Get the look: Proenza Schouler, Tie Dye Velvet Turtleneck Top, $295, available at Farfetch; Reformation, Tamara Skirt, $98, available at Reformation; Calzedonia, Thermal Super Opaque Tights, $20, available at Calzedonia; Sam Edelman, Hai Boot, $200, available at Sam Edelman.
While Fran certainly wasn't afraid to break the rules when it comes to fashion, her iconic style also proves that building your wardrobe around a few key guiding principles can be incredibly effective. For example, Fran based countless outfits on the same simple formula: black tights + mini skirt + black turtleneck, with the optional addition of a bright pop of color — and, as you can see, the resulting look (which swaps the black turtleneck for a splash of tie-dye) speaks for itself. So good.
Statement Belts
Get the look: Universal Standard, Foundation Long Sleeve Turtleneck Bodysuit, $70, available at Universal Standard; Everlane, The Cotton Twill Short, $48, available at Everlane; superdown, Cuban Chain Belt, $22, available at superdown; HUE, So Silky Sheer Tights, $9.50, available at HUE; Free People. Vegan Oakland Over-The-Knee Boot, $198, available at Free People.
Another example of Fran's classic turtleneck-and-tights combo, this one illustrates how a simple accessory can transform an entire outfit. While Fran pretty much always highlighted her waist, the addition of her chic belt really takes this look to the next level. Not surprisingly, the glamorous chain belts that every supermodel rocked in the 90's are projected to be huge again in 2020, along with virtually every other trend from that era.
NYLON uses affiliate links and may earn a commission if you purchase something through those links, but every product chosen is selected independently.