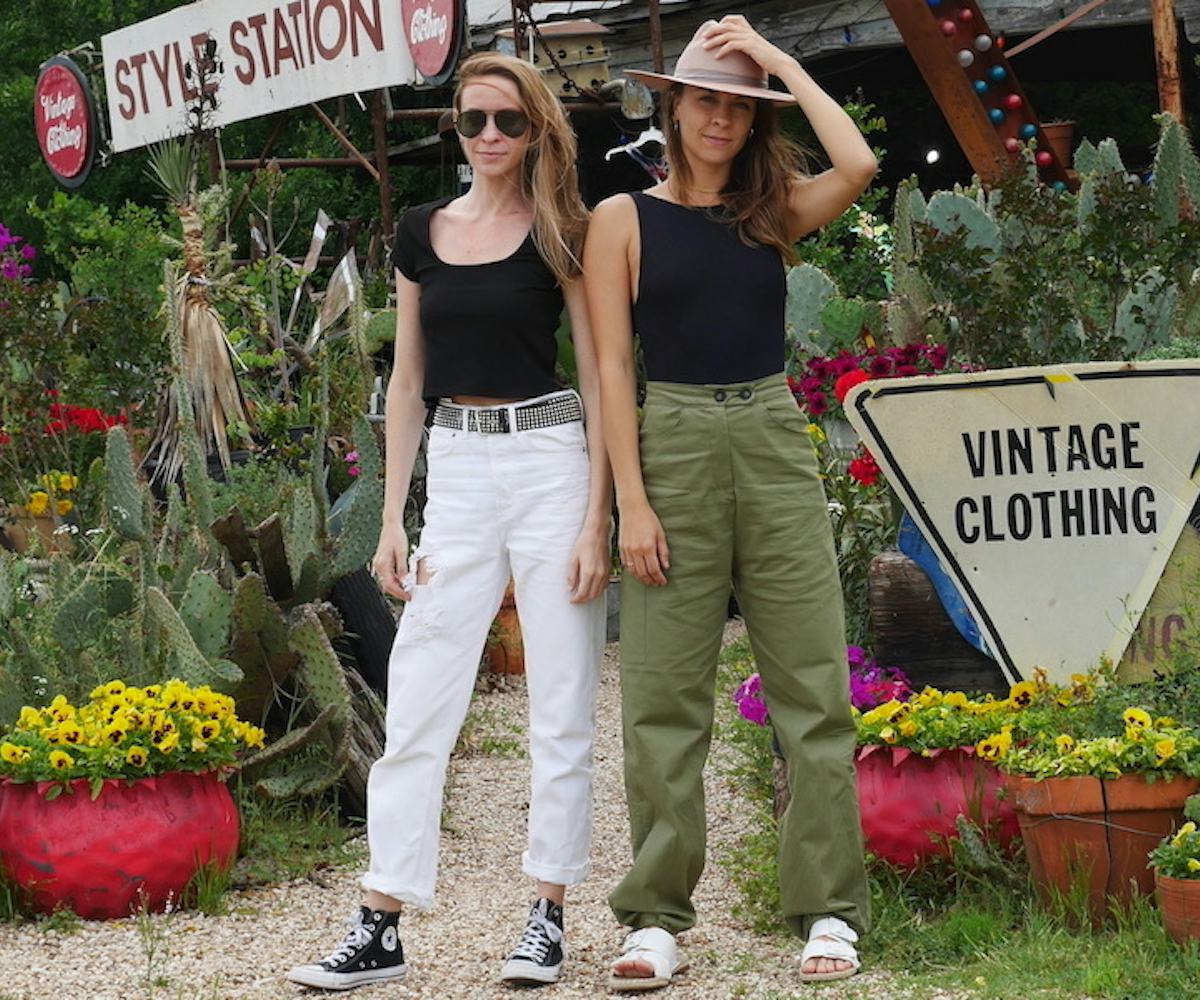 All photographs courtesy of The Range.
How The Range Became A Must-Have For Fashion's Biggest Retailers
Speaking with the brand's founders about being carried everywhere after just two years in business
It's not common for a new brand to be picked up by a major retailer within its first season, but it's even rarer to be picked up by some of the biggest retail names within just two years. Yet that's exactly the dream-come-true scenario that became a reality for The Range, a high-quality basics line created by sisters Brittney and Mia Rothweiler.
"We had the idea for The Range because we saw this hole in the market: stylized basics where we would bring design elements into casual fabric," says Mia, who had a career in fashion sales before launching the brand. "A couple of years ago, I feel like this whole jeans and tee movement came about where people wanted to be casual, but we couldn't find anything on the market for ourselves to wear that wasn't just too basic." Brittney, who was a buyer for 10 years, agrees, adding that the void in the market specifically existed "in-between things being too basic and things being too overly stylized or feminine. What we really wanted to do was take casual fabric, these really comfortable, really wearable fabrics and add design elements into them so it would elevate each piece."
After partnering with David Helwani, The Range launched in 2017 with an edited line of tops and sweatshirts, featuring design touches like twists, buttons, and snaps and unconventional cuts, that was immediately picked up by Shopbop. The season after, the brand was scooped up by Intermix; the one following that, by Net-a-Porter. It is now carried at Forward by Elyse Walker and, starting this month, Revolve.
Brittney and Mia credit their quick success to the tight edit they release every season. "Obviously, it's not a concept that's never ever been thought of before, but I think what The Range does really well is it's very curated," says Mia, who points out that even when they debut new categories, like jumpsuits or pants, they're still essentials rather than special occasion pieces. "I think a lot of times people come out with a line, and it has a ton of different categories or a ton of different ideas, because it's almost like you don't know what's going to hit at first. But that is tougher for a buyer, in the beginning, to be like, 'Wait, okay, like what does this line stand for? Like why am I buying this?' And so I think with us, it was just really easy to be like, 'Okay, I understand that. Like this is why you're doing it... It has a point of view, it makes sense.'"
Brittney adds that, while they "knew on our personal, intrinsic levels, that there was something missing, it was definitely validated through every buyer we pretty much met. A lot of the feedback from the buyers that we heard was like, 'We've had so many call outs for cool basics, and we can't find anything on the market. This is exactly what we're looking for.'" Still, she describes the way they were embraced by retailers a series of "pinch-yourself kind of moments because everything really happened so organically and naturally and pretty quick for us."
And while The Range continues to be an everyday fashion brand, it doesn't mean that it hasn't grown. "We've definitely evolved. We add a pop of color each season, and we've added a new fabric category each season. We've added woven pieces. We've added outerwear," says Brittney, who adds that every design continues to need to fill an existing void in their personal wardrobes before being produced. "We've really kind of like build out the collection to be as a complete full wardrobe where things can be one together and separate and styled differently. We really try to make each one of our collections flow from one to the other so someone can truly wear all of The Range pieces from its entirety, from season to season and day to night."
To test that theory, the sisters embarked on a month-long road trip from New York to L.A. "We only brought The Range, so we literally spend 30 days from day to night testing our own products," says Mia. While the trip was partially to see if the collection would allow them to go from the car to a cocktail event to a dinner with a potential buyer, the main reason for it was to personally visit independent stores in the different city markets and explore where The Range, currently carried at around 70 boutiques, could potentially be a fit.
"In order to build a successful partnership with people on the business level, you kind of have to be there and understand what is going on in this store, who's shopping in the store, who's at their local coffee shop, who's at their local stores around there. That's the only way you're going to really build the business. I could blindly email hundreds of stores and until you walk into them, you don't know if you're going to actually be able to sell," says Brittney, who emphasizes the importance of collaboration with retailers. "We aren't like a sales-like song and dance when we walk in. We aren't there saying like, 'You should buy our product.' It's like, 'Are you the right partner for us?' So it kind of put it like on a different level of not just being like the selling level. It's like a partnership level. And [through this process,] we've been able to maintain the majority of our boutiques." Mia agrees, describing the approach as "a long-term plan, instead of a short-term plan, of really establishing true relationships. We could work hand-in-hand with them throughout each season and really maintain the relationship and grow with them."
What's more, this personal connection allows the two to tailor designs to what their retailers are selling. "Mia and I are in everything single appointment. We are the ones that are hands-on with all of the buyers, and we're constantly asking them how are things doing? What's selling? What brands are you picking up? What are people buying?" says Brittney. "So we're really trying to get real-life feedback from all of them so that we can take that and put that directly back into the collection."
As the brand continues to expand categories based on what their customer needs, according to Mia, it will continue to focus on design and fabric rather than seasonal themes. "We don't really ever want to be driven by trends. We want to be more timeless and chic so that everybody can. It doesn't matter what season you buy The Range from, but you still know it's a piece from the collection."
One that you can wear every day.