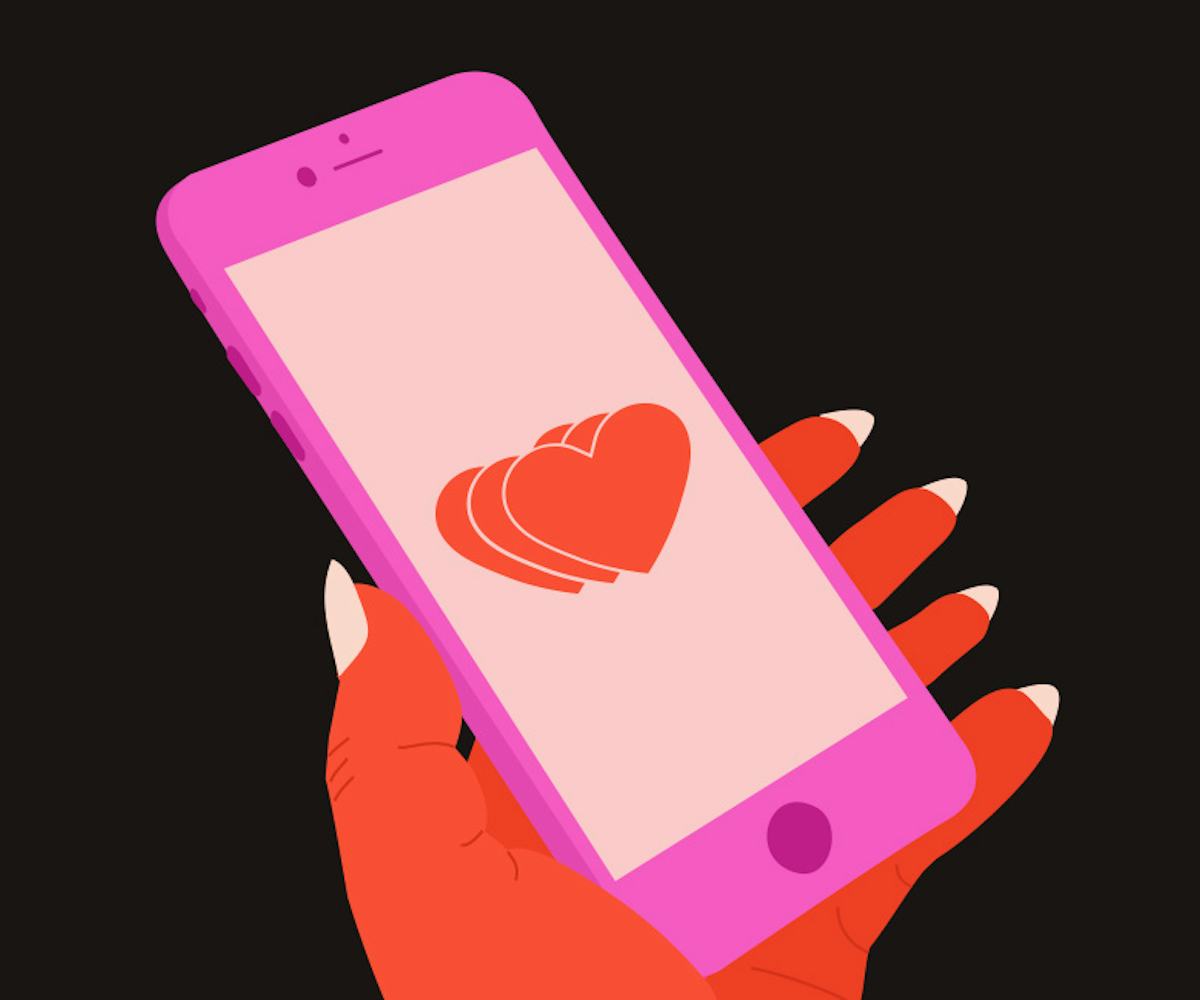 Illustration by Lindsay Hattrick
I Met One of My Best Friends On A Kinky Threesome App
Maybe dating apps are... good?
When I'm hanging out with my friends, it doesn't take long for the topic of dating apps to come up. Among 20-something women living in Los Angeles, this is normal (as is hearing the phrases "It's hard out here" and "Wait, let me swipe for you" repeated). Recently, a friend of a friend in the group just joined Raya—the members-only, celeb-featuring dating app—after six months of unsuccessful Tindering, Bumbling, Hinging, OkCupiding, and all the other -ings internet dating has to offer. "Is there another app I should be using instead?" she posed to the group.
Secretly, I had an answer for this woman. However, I didn't know her very well, and I was nervous it was not the one she was looking for, so instead, I shrugged and took a slurp of my cocktail. I was hesitant because my dating app success story wasn't that I wholesomely swiped my way to long-lasting romantic love; instead, it's that I ended up meeting one of my closest female friends while looking for threesome partners on Feeld—a sex-positive app aimed at helping "open-minded" users fulfill their freakiest fantasies.
Now, I know what you might be thinking: If you're looking for friends, Amanda, why not sign up for Bumble BFF, or join a book club, instead of swiping through the fetish-y app once known as 3nder [pronounced like "thrinder," a terribly clever portmanteau that served as the application's title until they got sued and had to rebrand]? The answer is simple: I had no idea until meeting Amanda K. that having a platonic pal with whom I not only shared all the regular friend interests (in our case, orange wine and road trips… and even a first name), but also our left-of-center kinks and sexual experiences, was something I was sorely missing.
It's no secret that in American dating culture, apps like Tinder and Bumble enjoy a mixed reputation. When I became single at 25 after a basically sexless relationship that dragged on years longer than it should have, I giddily signed up for all the dating apps I'd heard of. I was wide open to sex, love, possibly another relationship, whatever adventures were afloat in the internet's dating pool. I marveled at this newfound ability to plug in your preferences like a Postmates order and suddenly gain exposure to thousands of people you'd never otherwise meet. (Eventually, though, I became so—admittedly, misguidedly—selective that only 31-year-old Jewish screenwriters living in Venice showed up on my dashboards.)
I was also looking forward to exploring different sides of my sexuality, and apps felt like a safe way to ease myself into dating women, as well as experiment with non-monogamy and kink, for the first time. My friends came to (fondly) refer to me as the sexual deviant of the group. "Hey, whatever you're into!" they'd say with supportive, albeit bewildered smiles when I'd tell them about a chic new hands-free vibrator I'd discovered, or some interesting role-play scenario I'd tried with a Hinge match.
"... Apps felt like a safe way to ease myself into dating women, as well as experiment with non-monogamy and kink, for the first time."
However, after a year of swiping, I realized that the quantity of options apps provide does not necessarily elevate the quality of one's dating life. Shadeen Francis, a licensed marriage and family therapist based in Philadelphia, explains, "Young people have so much more choice in partners through dating apps, but having more choices actually leads to fewer decisions." Counterintuitive as it may seem, this "chooser's paradox" is part of the reason why so few matches lead to real-life meet-ups and why those meet-ups rarely end in long, meaningful relationships. If your dating pool is basically anyone in your city, it makes it harder to decide on someone to spend your time with, even as a no-strings-attached hookup buddy. Someone slightly better might be just a swipe away.
By the time the novelty wore off, I found myself in a vicious cycle of deleting and redownloading my dating apps. They were clearly the easiest way to find people, but ironically the endless torrent of profiles left me feeling even lonelier—stranded in the uncanny valley of human connection. "Swipe culture isn't sexy," Francis validates. "The constant flood of profiles, the impersonality of a lot of platforms, delayed messages, ghosting, the fear of being catfished or not measuring up to your profile, connections that never leave the app… folks can be up against a lot! Wrapped up in all this, barrier emotions like embarrassment, disappointment, anxiety, and frustration can arise."
Frustration certainly arose for me. In a viral 2018 article called " Why Are Young People Having So Little Sex?" The Atlantic reported that even though dating apps are giving millennials and Gen Zers unprecedented access to prospective partners, and though our culture is more accepting of different sexual orientations and preferences than ever, we are also having less sex overall than any previous generation. Dating apps are actually contributing to that, the article suggests, arguing that Tinder and Bumble serve as "diversions rather than matchmakers." You log on when you feel lonely, get that dopamine hit when a match pops up, decide that's enough to make you feel better, and stay in for the night. After all, actually trying to coordinate a date IRL would probably go nowhere and make you feel worse anyway.
"Swipe culture isn't sexy."
There is one app, however, that I never deleted because it never did me wrong: Feeld. I first signed up for the app because the guy I was seeing at the time was looking to have a threesome, and I was game (scratch it off the bucket list, you know?). But even after we had our threesome experience (it was fun!!) and eventually broke up, Feeld ended up being the only app I kept on my phone. That's because Feeld is not just for people interested in group sex. It's simply for people who are down to be extremely forthcoming about what they're looking for sexually, whatever that may be (which, IMHO, is ideally how all dating apps should work). "A lot of people on Feeld are just looking for hookups, but you know what? So are most people on every dating app—they're just not upfront about it," wrote Aimée Lutkin, a fellow Feeld user, for Lifehacker last year. "When you get explicit about having sex with someone on Tinder, they react like a cartoon wolf: over the top, freakishly horny, no chill. On Feeld, you can ask someone what they're into, and they'll tell you."
On other apps, I also consistently found that people, especially dudes, had a hard time accepting that I was genuinely open to a casual hookup and not necessarily a long-term relationship. (My guess is this had something to do with the "traditional dating" angle of apps like Hinge and Bumble, in addition to plain old sexist stereotypes of women in their 20s.) By contrast, if you're on Feeld looking for no-commitment sex, other users will take your word for it.
But Feeld isn't just for carnal, nameless shtupping. In fact, it is possible to find a long-term partner on the app (and I'll share some proof of that later). On Feeld, there's a place for you to list all your "typical" personal stats (job, education, neighborhood) and hobbies (movies, music, etc.), in addition to your sexual interests. As far as the latter, you learn the terminology fast: There's d/s (dominant/submissive), dd/lg (Daddy Dom/Little Girl, a type of power role-play), fwb (friends with benefits), NSA (no strings attached), gfe (girlfriend experience), shibari (bondage), unicorn (a woman who's open to hooking up with couples), acronyms for a variety of different group sex arrangements (ffm, mfm, mmf, mfmf, mfmfmfmfmfm, etc.), and beyond. This is not the stuff you'd find on someone's Hinge profile; in fact, you might date someone from Hinge for months and not feel comfortable discussing your interest in any of these things. Feeld is also notably LGBTQ+ friendly, allowing you to select from a long list of gender identities and sexual preferences. You're allowed to be into more than just male, female, or both on Feeld. Gender nonconforming, agender, intersex, transgender, male+female, female+female, male+male, and many more identities are also on the table. Indeed, on Feeld, you could talk about your penchant for vegan pizza, light BDSM, and gender fluidity in the same sentence, and that would be totally chill.
I also consistently found that people, especially dudes, had a hard time accepting that I was genuinely open to a casual hookup and not necessarily a long-term relationship.
Because Feeld encourages you to be so clear about your desires, communication and hard boundaries are not just a good sign but essential. It's simply the culture of the app. Of course, Feeld isn't flawless, and I wouldn't want to meet up with most of the users I come across (there are weirdos in every corner of the internet, including sex-positive ones; not to mention, the app itself isn't perfect, either… it can get really buggy). But each person I did get together with IRL—from unicorns to "regular" straight cis dudes—delivered precisely what they transparently promised. In one particular case, Feeld delivered much more.
Amanda K. and I initially matched because I was looking for a unicorn, and she was looking to be one. We met up for a glass of wine, just the two of us, while the guy I was dating was out of town (going on three-way dates in public to see if the vibe is right for a threesome is a whole other story). We had so much in common: both short, freckly, professional writers named Amanda Marie, who loved Europe, theater, and dominant sexual partners—the similarities were uncanny. We talked about the play she was staging, the book I'd just written, and our cross-country travels, in addition to my teacher-student fantasy, her newfound affinity for dd/lg (Daddy Dom/Little Girl role play, remember?), and what we were looking for in a threesome. At the end of our date we agreed that even if the hookup thing didn't work out (which it didn't… the guy and I broke up), we should absolutely still be friends. Fast-forward a year, and I now consider this person—still labeled "Amanda Feeld Qt" in my phone—one of my dearest confidantes.
From the first five minutes Amanda K. and I met, I found it incredibly refreshing to chat casually—without judgment—about my unique sex life with another young female experiencing something similar. After all, as inclusive as our culture is slowly becoming, it's still not exactly "normal" or even safe to be an openly sex-positive woman in your 20s. Amanda K. agrees: "With so many of my other friendships, I've had to test the waters first to see if we could talk about sex," she told me over Thai food a few weeks ago. "I literally did that last night with girls I've known for years, girls I have traveled with, and we still couldn't talk about vibrators without two glasses of wine." Having a friend with whom you can speak out loud about things like threesomes and role-play "normalizes something that we've been taught to feel shame about," she said. "It's empowering just to be able to have those sorts of conversations." Unexpectedly, for both of us, Feeld made these exchanges possible for the first time. Even after Amanda K. and I both found loving monogamous partners—I found mine in real life; she found hers on Feeld!—we continue to play this special role in each other's lives.
"It's empowering just to be able to have those sorts of conversations."
I reached out to some higher-ups at Feeld asking whether or not it's unusual to meet sex-free friends on their app. "Feeld can be anything a person would like it to be—from a place for platonic connections to an exploration ground for fulfilling long-held fantasies," responded Lyubov Sachkova, Feeld's communications lead. "The way we see it as contributing to sex positivity isn't necessarily by enabling sexual encounters but by normalizing sexuality in all its multiplicity." (I will say it's probably wise to mention in your profile that you're open to platonic friends, though in my case I didn't know I was until I met one!) Sachkova says the folks at Feeld believe "transparency, openness, and trust are at the core of sex-positive experiences," and their platform was built on those principles.
I also asked if Feeld has any data on how many of their matches lead to real-life connections. Though they said they don't collect that sort of info, I can tell you from experience that I've had a much higher match-to-IRL-sex ratio on Feeld than any other app. So has Amanda K., and Lifehacker's Aimée Lutkin reported hooking up with a ton of her Feeld matches, too. As far as I can tell, the sex recession documented last year in The Atlantic may not apply to swipers as communicative and upfront as many of Feeld's are. "We created Feeld as a space for discovering like-minded humans who are open-minded, curious, and accepting," Ana Kirova, Feeld's product lead, told me. As it turns out, those qualities make for a pretty sweet friendship, too.