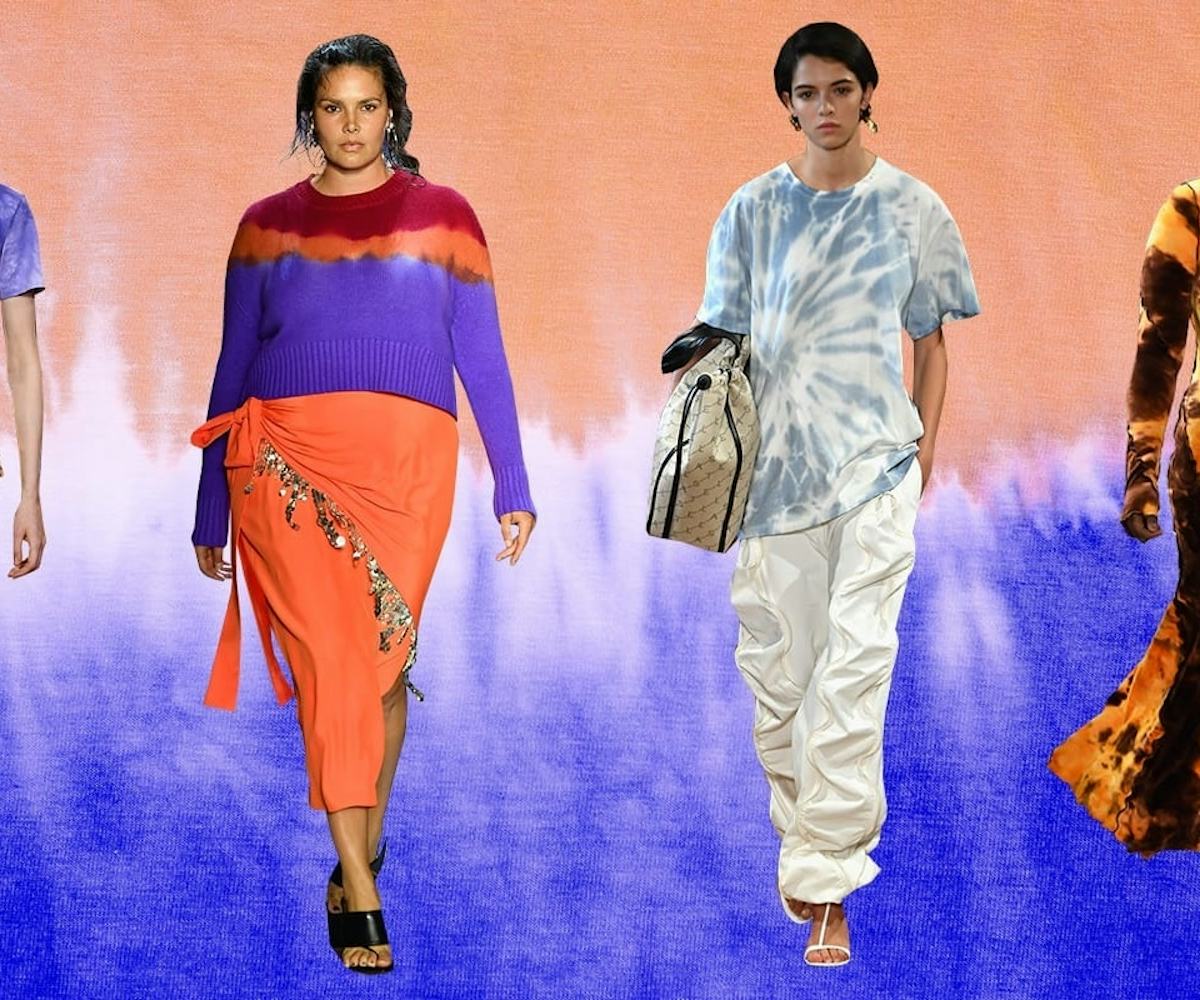 Photos by Frazer Harrison, Pascal Le Segretain, Slaven Vlasic/Getty Images
The Return Of Tie-Dye Isn't Just About Nostalgia
We turned to the fashion experts for their input
Some of my favorite childhood memories, captured by my father's old point-and-shoot, involve me wearing some form of tie-dye; more often than not, a shirt that I probably made myself at a classmate's birthday party, or for a school project. Needless to say, years later, working in the fashion industry, I'm delighted to see tie-dye stage a very real comeback.
There's no denying that tie-dye is having a moment. While its initial reemergence began a few seasons ago, it wasn't until Spring 2019's fashion month that it could be confirmed a full-on trend. Seen everywhere from Prabal Gurung to Stella McCartney (and, of course, that iconic moment Kaia Gerber walked the R13 show in an oversized, rainbow splattered tie-dyed blazer and tattered jean shorts), the trend spanned the runways of New York to Paris.
Fast-forward to February's and March's circuit of collections for Fall 2019, and it was solidified: tie-dye is back.
And, the thing about fashion trends—and, all trends in general—is that they don't happen in a vacuum. For example, the sheer clothing trend (and the subtle, and sometimes not-so-subtle, nudity that came along with it) that emerged in 2018, was much more significant than just an affinity for sheer organzas and tulles by designers. Rather, its prominence was a symbol of rebellion. It was about women reclaiming their bodies in the midst of the Me Too era. We were taking back what was ours.
So, what about tie-dye?
While many millennials (hi!) may associate tie-dye with childhood birthday parties and the hippies who came a few decades before us (hi, Mom and Dad!), the history of the technique runs much deeper. Amanda Hallay, fashion historian and creator of YouTube channel The Ultimate Fashion History, breaks it down:
Although we associate tie-dye with the '60s, the earliest examples date back to pre-Columbian civilizations of the sixth century. However, there is nothing to suggest that earlier cultures didn't also use tie-dye techniques. Various forms of tie-dye have been a staple of Asian textile design from the eighth century onward, and many African tribes continue to use the tie-dye methods of their ancient ancestors. I don't think there's a culture or a continent that hasn't, at one time or another, developed some kind of tie-dye technique; it is, after all, a relatively easy way to add color and pattern to a textile—far easier than a weave or embroidery.
However, the first major resurgence in modern culture would be the one that came about in the late '60s, tied to one of the most tumultuous times in history, as Hallay explains, below:
Solely associated with youth culture, it was a sartorial expression of both "the generation gap" and the sense of disillusionment and disenfranchisement experienced by so many young people. The Vietnam War, the race riots, the student riots, the seemingly endless assassinations—JFK, MLK, Robert Kennedy, Malcolm X—made for a scary and depressing socio-political landscape. The young blamed their parents for everything, and rebellion took many forms; tie-dye was one of them.
Easy to do at home, and delightfully aggravating to parents, the psychedelic tie-dye associated with the era was first seen on the streets of Haight-Ashbury [a district of San Francisco], as worn by the original—and genuine—hippies. Celebrities soon followed suit, with Janis Joplin, Jimi Hendrix, and The Grateful Dead, all poster children of the counter-culture revolution, sporting tie-dye, the swirling, colorful patterns suggesting the visual component of an acid trip.
Tie-dye in the '60s was a finger to the establishment, and that included the fashion establishment. However, it took no time at all for mainstream fashion to jump on the trend, and by the end of the decade, even J.C. Penney and Sears were offering prints that looked like tie-dye in their junior wear ranges. At the other end of the retail spectrum, Italian Vogue featured tie-dye coats in 1970, proving that the trickle-up influence of streetwear to high fashion that we first saw in the mid-1960s had, by the '70s, become ubiquitous.
So what does this revival mean in modern times? "'Fashion is not an island; it's a response!' is a motto I use constantly, and the 2019 tie-dye renaissance is a perfect example of this," says Hallay.
According to Hallay, its comeback is obvious—a response to the global events happening around us. "We are living in increasingly political, and politically divided, times, with many feeling again disillusionment and mistrust of authority and government. In terms of fashion, the 21st century—so far—has been an exercise in reviving trends from past decades, and so disinterring a trend that was used in the '60s to suggest a left-wing, and rebellious, stance seems obvious."
However, she adds that, due to other cultural phenomenon, we've more readily accepted its comeback: "Add to that the fact that it took forever for 'festival chic' style to make it to both runways and real-life retail, and it makes perfect sense to me that we're enjoying this revival."
Not all agree this tie-dye revival has any current political significance. As Lucy Collins, assistant professor of philosophy in the social sciences department at FIT, explains:
Honestly, I'm not sure that is the case. The tie-dye trend seemed to be in the works before the 2016 election. I think, at this point, it was a reference to California cool and more of the general hippie aesthetic. Unfortunately, I think the visual appeal of these trends is more powerful than any political meaning at this point. We've reached a point in fashion where many style components that once held symbolic meaning have become pastiche—speaking in a dead language. Because of the money in the industry and the "anything goes" vibe prevalent in fashion now, I'm not really sure we can attribute a tremendous amount of meaning to any particular style. Additionally, when something like tie-dye is being sold at fairly high price points, such as the current Proenza Schouler and Raquel Allegra iterations, it detracts from any significant political or cultural statement it may contain.
Ariane Machin, psychologist and co-founder of the Conscious Coaching Collective, also doesn't think tie-dye should be tied to a political statement. "I don't think wearing tie-dye immediately means you're trying to convey something more than your enjoyment for tie-dye technique or colors, and a person who is wearing this garment shouldn't be automatically considered to be thinking something or part of a larger group based on their items of clothing," she says.
At the same time, Theanne Schiros, assistant professor at FIT and co-founding scientific director at AlgiKnit, wants us to consider the significance of tie-dye on a more global, cultural scale. She recently visited the Republic of Guinea to work with female artisans on dyeing techniques with the There Is No Limit Foundation, and stresses that it's important we remember that tie-dye is universal. "It is practiced in many countries around the world, with a style personal to the country," she says. "For instance, in African culture, tie-dye is considered luxurious. Silk tie-dye is costly and worn for special occasions such as weddings."
So, whether or not you're looking to make a political statement with the tie-dye top you pick up from Reformation, keep in mind that, while you may just be reliving a bit of childhood nostalgia, tie-dye has a global significance, one that should be honored and respected.