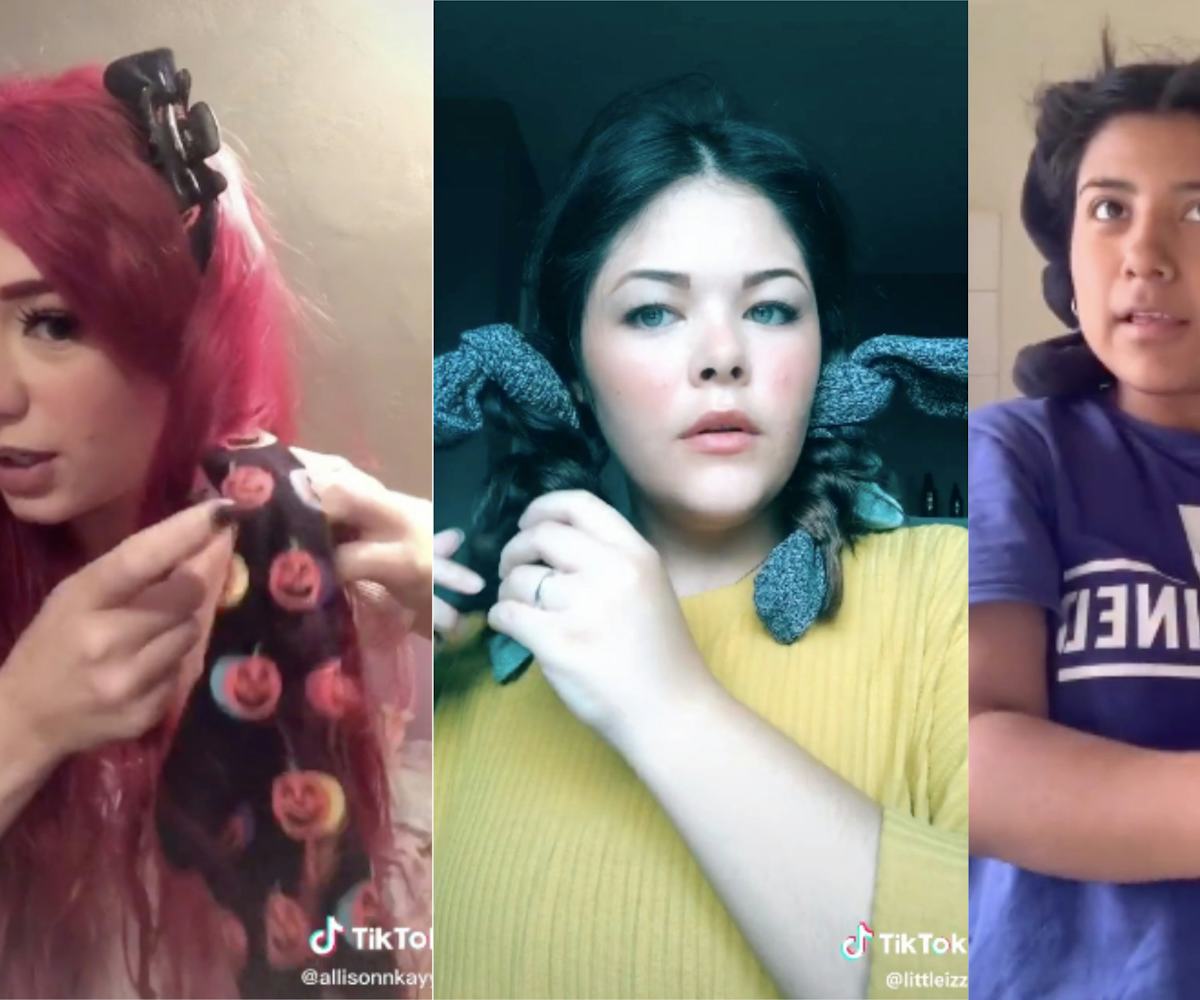 Screenshots via TikTok/@allisonnkayyy; @littleiz; @harleyydiaz
TikTok Teens Are Using Socks To Get The Perfect Curls
Admittedly the youth are onto something with this one
When it comes to finding a quick and easy way to achieve the perfect curls, many have tried, and few have succeeded. Thankfully, some of the brightest minds of our time have found a way. The TikTok Sock Curls Challenge has arrived to the video platform, and thanks to its many ingenious users, your socks might just be the best way to curl your hair without heat.
As pointed out by Teen Vogue, TikTok users are participating in a viral trend that has them weaving their hair around long socks to get Disney princess-inspired curls. As Allure reports, one participant in the trend, a TikTok user known as Ally Kay, has created multiple videos showcasing the easy, breezy method for getting ringlets.
According to Kay, you want to begin with damp hair. After separating your hair into four sections, you clip in a sock so that it attaches to the top of your strands. From there, you criss-cross sections around the sock, forming a pattern that represents an x. Once you've completed the wrapping process, you place a hair-tie at the end, to hold the curl, and then you can remove the clip. Leave the socks in until your hair is fully dry, and then remove. If you want a softer ringlet, you can then run your fingers through your hair.
In true TikTok fashion, many have been quick to try the hack, and have started sharing their videos under the #sockcurls hashtag. While one user couldn't believe the results, another claimed their sock curls lasted for days. The style also appears to work on hairstyles of all lengths, as one person demonstrated the tutorial on shoulder length hair.
It definitely might seem strange to find a beauty use for your favorite pair of socks, but heatless hair styling isn't exactly new. Similar methods in the past have utilized headbands, bobby pins, and soft pillow rollers.
Grab your socks and get to practicing using the videos, below.