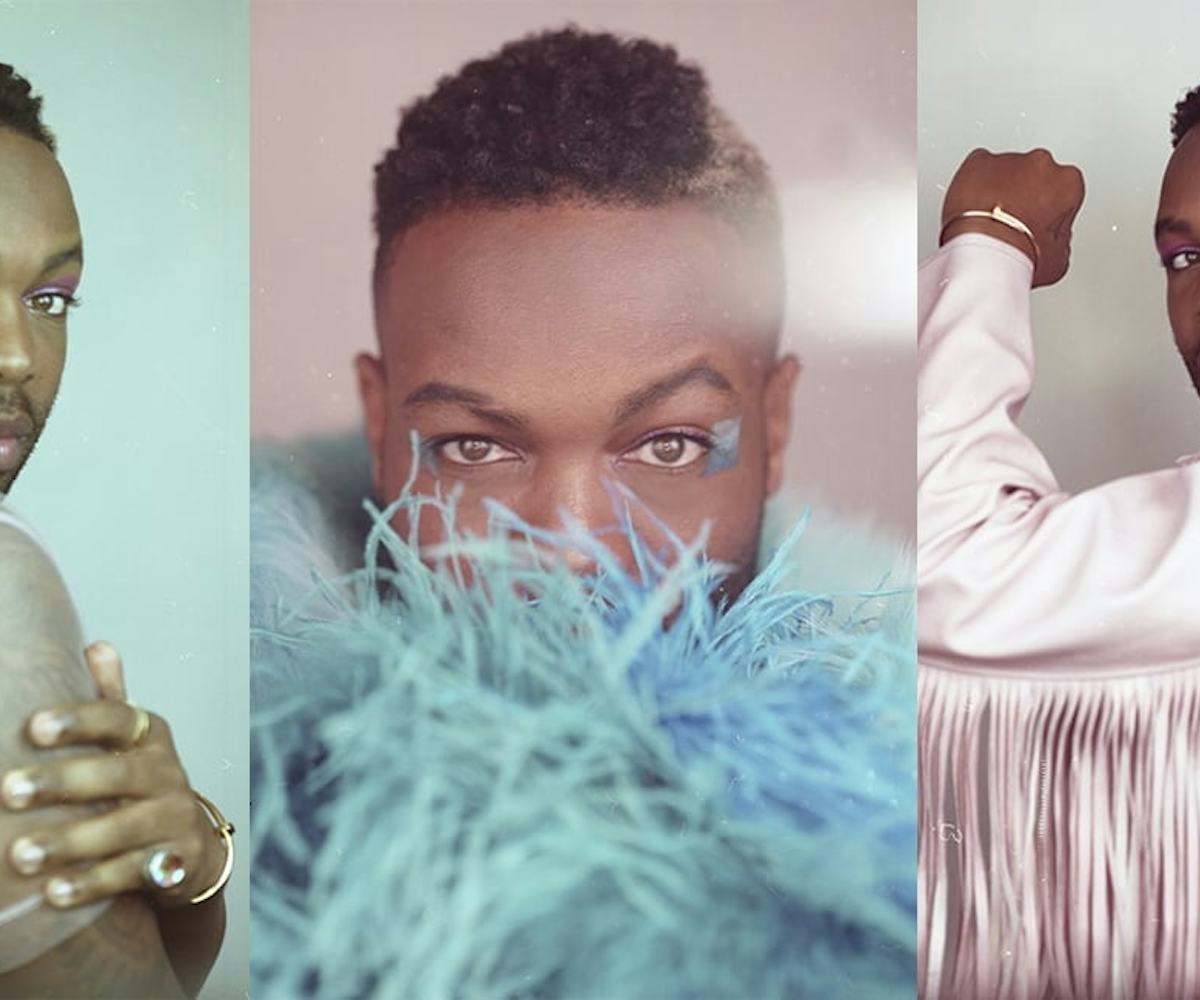 Photo by Jasper Soloff
Todrick Hall On YouTube, Taylor Swift, And His Favorite Drag Queens
You don't get to 3 million followers on YouTube without learning a few things
Todrick Hall is a natural storyteller. Whether he is flailing his arms in tandem with his lower body, composing lyrics, or speaking into a camera frame, he remains determined to put himself into his art and inspire others to tell their stories. From Arlington, Texas, Hall sang his way to the top as a semi-finalist on American Idol Season 9. Since then, he's hit three million YouTube subscribers, choreographed for Beyoncé, performed in Broadway productions of both Kinky Boots and Chicago, and been a judge on RuPaul's Drag Race. But even as he gains a greater platform to showcase his many talents, it is transparent that Hall's pronounced sense of self is integral to everything he puts out into the world.
In anticipation of Hall's newest music, forthcoming this May, Hall revealed, "This is the first time I'm putting out music that has no story line, no arc, and no characters, it's just me writing bops... This has been very freeing for me in a lot of ways." Inspired by like-minded musicians like Ariana Grande, Beyoncé, Taylor Swift, Shawn Mendes, and legendary queens on RuPaul's Drag Race, Hall admits that he's attracted to creators who are similarly unafraid to showcase their authentic self.
Below, NYLON caught up with Todrick Hall to discuss his ever-changing relationship with the arts, his greatest influences, and what matters to him the most.
Have you always been creative?I have one brother, but we are 14 years apart, so I was raised basically as an only child. While I sometimes wished I had siblings, growing up alone allowed me to really explore my creative side. I would papier-mâché things in the garage, put on parades by myself, and re-enact all my favorite movie musicals. I love working with other people, but I definitely know how to take matters into my own hands.
How would you describe your music?Honestly, I don't like to [put my art] in a box. I like writing songs in the same format that you would write a pop song. Originally the idea of pop was that it was just the popular music of that time, so I feel that my music reflects that idea, that it's just popular music. And hopefully, it will be popular!
Who are your greatest influences?Taylor Swift is a huge inspiration of mine. I'm such a huge fan of country music. That's one thing a lot of people don't know about me! There's not a Rascal Flatts song I can't quote every lyric to. I just have such an influence from country music, I feel like the theatre kid in me really attaches to the stories that they tell in those songs. They can transport you to a different place completely.
I love Shawn Mendes right now. I also love Ariana Grande. I think what she's doing right now by breaking barriers, and not being afraid to stand up for herself is so awesome. I love Beyoncé, obviously! Choreographing for her was such an eye-opening experience because I got to see just how hands-on she is and how hard she works. That definitely inspired me.
I also got to be a resident judge on Season 6 of RuPaul's Drag Race, and that was a really awesome experience. Trinity K Bonet coming out about her story living with HIV and being open and being such an inspiration. Adore Delano being such an underdog and growing so much on the show. Courtney Act, just her wings, and that alone was so iconic. Bianco Del Rio is probably one of my favorite Drag Queens not just because she's hilarious but also because she made costumes for Wicked which is pretty iconic. Darienne Lake was so funny to me. And Ben de la Crème!
Be honest, do you have any favorite queens?My favorite queens are Monet Xchange, because I was a fan of hers before she even got on the show. Same thing with Bob the Drag Queen. Bianca Del Rio, Trixie Mattel, Shangela, Alyssa Edwards, Miss Vanjie. The reason why I say those names is because a lot of those people are underdogs who have truly shown that, if you are smart enough to make a brand, are sweet to people, and are easy to work with, you can make such a success of yourself. They have such distinct brands and taglines, and they are all such incredible people off-camera too. There are so many amazing queens, but they are the ones who specifically come to mind.
You recently hit three million subscribers on YouTube! What is the biggest lesson you've learned from YouTube?There will always be people bigger than you, and there will always be people smaller than you. I have really learned who my friends are. I have learned how to take criticism very well. I believe that when I have more dislikes than likes on a post, then that is a true assessment of what the vast majority of people think about that video.
I've also learned a lot about myself. I've done a lot of vulnerable things on YouTube that I never thought I'd do. Every now and then, when I'm feeling down and can't find the inspiration to get up and keep working and keep performing—because this industry will tear you apart—I go back and watch videos, and I have a constant smile plastered across my face. It's like a live-action scrapbook of everything that's happened to me over the past eight years, and I can't wait to see what my future holds.
YouTube helped me get my confidence back. If it hadn't been for YouTube, I probably would have stopped performing after American Idol.
What projects are you most excited about right now?I'm excited that hopefully my music and work will inspire future Broadway performers or kids who just want to perform at all. I'm really excited to fall in love with someone, find my Prince Charming, and have kids and a dog. I'm excited to keep meeting people who inspire me and surrounding myself with positive people and living my life one random creation, synthetic wig, and pump at a time!
I would love to write a book, create a Broadway show, and have a Netflix show. I have so many ideas. I'm starting a new company where I'm releasing the rights to the shows that I wrote in high school for kids to do across America. I'm sure I'm going to be crying in the audience when I watch these kids perform these songs that I wrote when I was 16 years old.
What are you most grateful for?For my friends who do their best to keep me grounded and remind me that the things I'm experiencing are cool. There are definitely moments where I can become jaded and forget how cool the things I get to do are. I've gotten to be on a game-changing show on television where, for the first time, these gay artists were able to be put in the limelight instead of being behind the scenes, showing what they do and ultimately changing pop culture. Standing on stage whilst our show broke records becoming an Emmy Award-winning show. I've now been in five Broadway shows. It's just been an incredible journey and sometimes I just have to stop, pause, and realize that the things that I've done aren't too shabby, and I've still got so far to go.
Photos by Jasper Soloff Styled by Lola Gatti Makeup by Joanne Kim