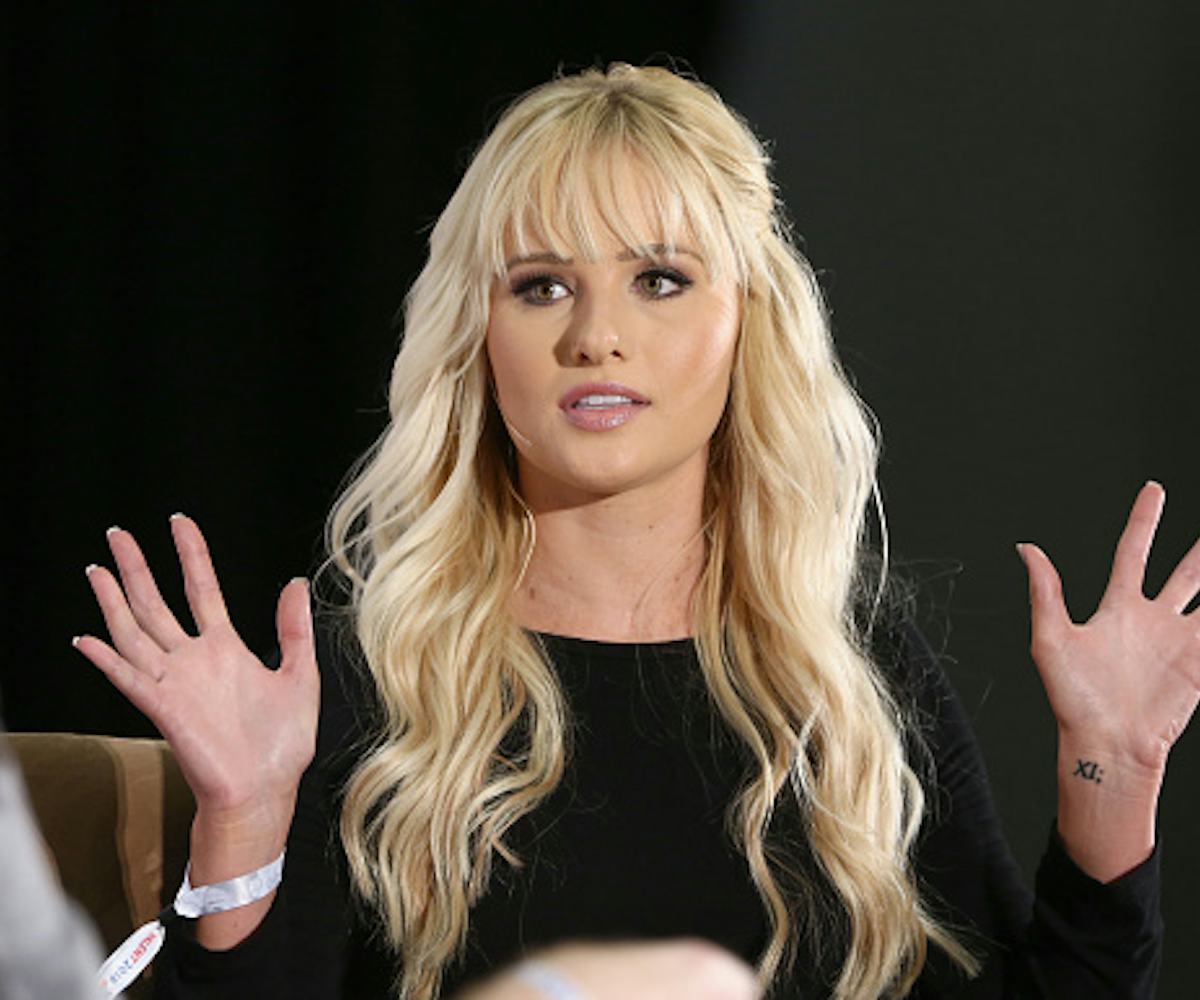 Photo by Rich Polk/ Getty
Tomi Lahren Is Not Pro-Choice, No Matter What She Tweets
Her hypocrisy would be mind-blowing if it weren't so predictable
It's been just over two years since Tomi Lahren appeared on ABC's The View to assert that, despite her ultra-conservative bona fides, she holds one position more normally associated with the left wing: She's pro-choice. In that talk show appearance, Lahren made clear then that her pro-choice views were consonant with her self-identification as a "constitutionalist," further explaining:
I am someone that's for limited government. So I can't sit here and be a hypocrite and say I'm for limited government but I think the government should decide what women should do with their bodies." I can sit here and say that as a Republican, and I can say, "You know what? I'm for limited government, so stay out of my guns, and you can stay out of my body as well."
Back then, we noted the hypocrisy inherent to that position, since Lahren was an ardent supporter of President Trump—who made no secret of his desire to appoint anti-abortion judges to the Supreme Court and other judicial benches—and Vice-President Pence, whose anti-abortion views are even more ardent.
Since Lahren's appearance on The View, she has appeared in the anti-abortion film Roe v. WadeRoe v. Wade, which co-starred fellow execrable conservative troll, Milo Yiannopoulos, and, um, Joey Lawrence. Though the film has not yet been released, it is alleged to contain "several graphic scenes depicting aborted fetuses," and also the acting styles of Jamie Kennedy, so we're not sure for whom it will really be appropriate.
But while Lahren's role in that film would be enough to make anyone question just how committed she is to her alleged pro-choice stance, the recent news about de facto abortion bans in Alabama and Georgia has incited Lahren to speak out about her views once again.
On Twitter, Lahren opened herself up to "attack[s] by [her] fellow conservatives" and spoke out against the Alabama abortion ban as being "too restrictive." And, indeed, her "fellow conservatives" did quickly attack Lahren for not actually caring about human life, and for having too liberal a position on whether or not a woman should be forced to continue a pregnancy that resulted from rape. But then also, as Lahren must have known would happen, other people supported her for... not having one irredeemably monstrous position amongst her arsenal of irredeemably monstrous positions.
But, let's be clear: Tomi Lahren is not—no matter what she tweets—pro-choice, and neither is any supporter of the Republican Party. There is no doubt that there are Republicans who are in favor of safe access to abortion—particularly when it comes to themselves and their family members having said access. But by supporting the Republican Party, they are showing how little it actually matters to them, and showing what it is that they really prioritize over women's safety and freedom: namely, access to guns, bigoted immigration policies, the continued disenfranchisement of voters across the country. I could go on, but there's no need.
Lahren's tweet doesn't reveal in any way that she's an advocate for women's rights, all it reveals is her hypocrisy and that of anyone (Meghan McCain, hi), who would love to have a world created specifically for their needs, and who is willing to sacrifice the rights of the less privileged in order to secure their own. It is despicable and dangerous and incredibly predictable. But, at least, it might give Lahren something to talk about on the red carpet with her fellow anti-abortion movie costars, if that film ever gets more than a straight-to-video release.
If you want to find out how to help women have access to abortion, please visit here for information about donating and volunteering.