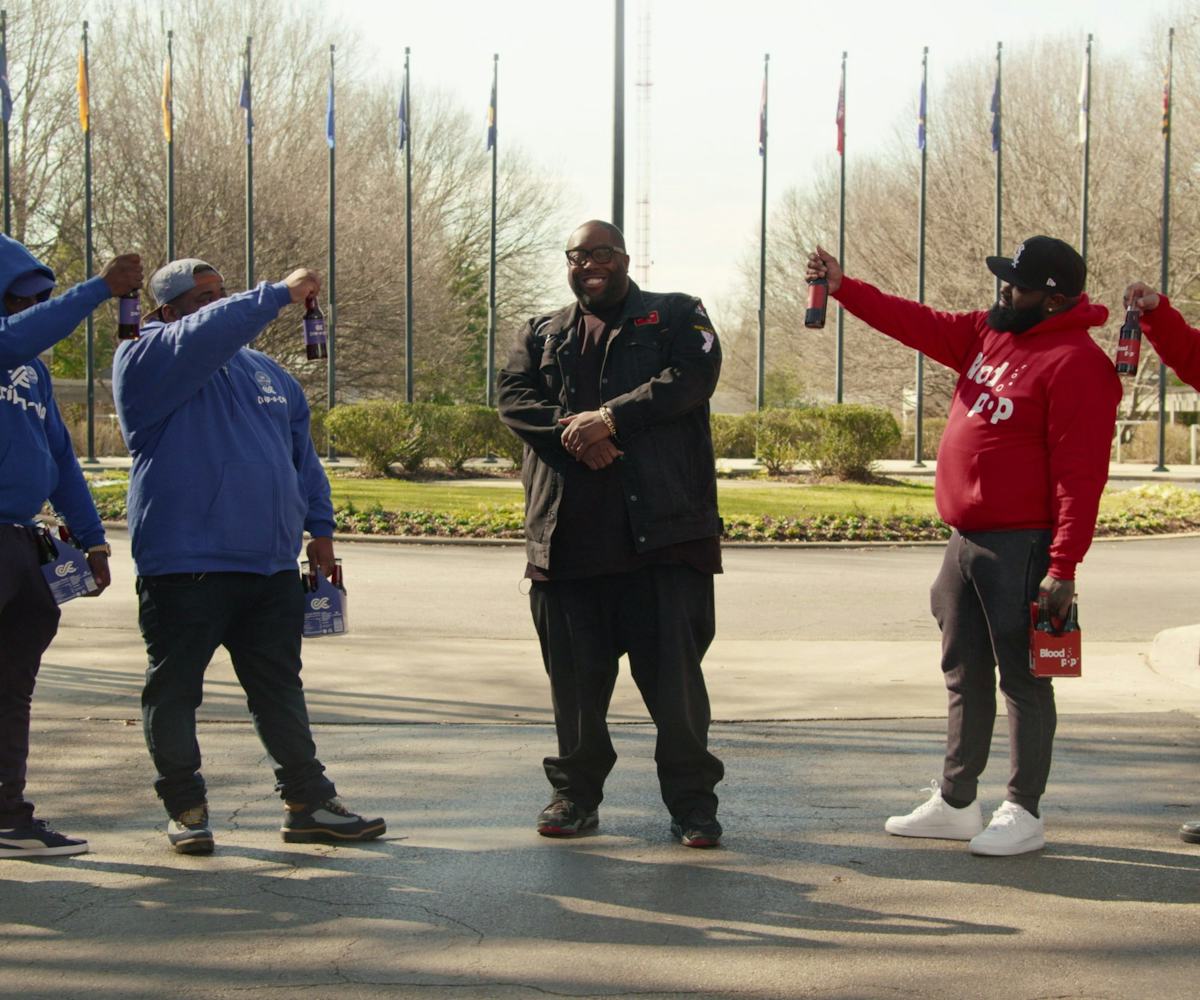 Photo courtesy of Netflix.
'Trigger Warning With Killer Mike' Is An Absurd Show But It Works
Social issues are front and center in the wildest way
Killer Mike is on to something with his new Netflix show Trigger Warning with Killer Mike, even if it's hard to nail down exactly what it is. The six-part series is being billed as a comedy documentary series, but I think social experiment or mockumentary are more appropriate. Still, Trigger Warning accomplishes what it sets out to do: make you think and laugh harder at some of American's most pressing social issues.
Over the course of six episodes, Killer Mike (real name, Michael Render) conspires with all sorts of people from his home state of Georgia to explore different aspects of the human experience—from education and economics to religion and racism. His search for answers include one-on-one interviews, site visits, and all kinds of adventures, some of them more challenging than others. In the first episode, "Living Black," Render tries to frequent only black-owned businesses, services, and products for three days. He struggles to find food and weed grown by black folks, and questions the destruction of the once-sustainable black economy when he meets local black business owners. And in episode four, "White Gang Privilege," he helps members of his local Crips and Bloods gangs go legit by selling their own brand of soda, hoping to recreate the credibility that white gangs like Hell's Angels have been able to establish for themselves. With Render's help, several members go through the process of applying for a business loan, making the drink from scratch in a "trap" kitchen, meeting with beverage industry experts, facing off with a consumer focus group, unsuccessfully pitching their Crip-a-Cola to local retailers, and teaming up with members of rival Blood gang for some healthy competition at a farmer's market.
Render's interest in social issues are front and center in Trigger Warning and reflect the activist spirit that put him on a broader national platform when he campaigned for Bernie Sanders ahead of the 2016 presidential primaries. He was a vocal supporter of Sanders as a candidate who could break our current, corrupt political system and offer the country a more just democracy. And so perhaps expectedly, Trigger Warning is unflinching in its approach to social issues. Render doesn't mince words when he tries to convince black church-goers to denounce white Jesus. It's the type of interaction that often yields hilarious results, while Render's fuck-the-man-and-the-machine attitude is irresistible to people who want to be patted on the back for having left-leaning political values. And for what it's worth, I don't disagree with any of Render's positions. I think it's important for black communities to build a stronger economy for ourselves and question our deep ties to Western Christianity. As a public school student, I also think the education system should infuse curricula with more practical life skills. Growing up surrounded by gang culture in Chicago, I know that portrayals of gang life in black hoods are narrow and shallow, denying the humanity of members. So I welcome a more nuanced portrait.
But some of Trigger Warning is just too damn silly. Things start to fall apart in the last two episodes. In "Outside the Box," Render decides that a musical supergroup can help unify our divided nation. He holds auditions (with T-Pain as a fellow judge) for performers with a political message, and ends up with a mismatched band that includes a white nationalist who uses the N-word in his verse. The season finale, "Kill Your Master," is Render's attempt at creating his own sovereign nation in Georgia. Render buys a farm and collects petition signatures to have his province, New Africa, recognized. He then recruits new "citizens," many of them people who've appeared in previous episodes. By this point, it's fair to question how many of the Trigger Warning participants might actually be actors. Just like that, the hope that this could be the revolutionary show it promises in the trailer begins to fade.
It's possible to use humor to tackle really heavy topics. For example, Render contracting a production team and adult film actors to create an original porno that also teaches actual trade skills is genius-level. It's exactly the kind of sketch I would have expected to see on Chappelle's Show if it aired on HBO instead of the more censored Comedy Central. Render also manages to start his own religion based on weed, wine, and women, and incorporate sleep as a source of spiritual healing and restoration for black folks. To drive the point home, he holds a sermon in an Atlanta strip club, and the episode's outro includes strippers dancing to a gospel choir. So much for the sanctity of the church.
Trigger Warning'
s most beautiful moments come from the dialogue between Render and his subjects. For example, he refuses to let a white first-grader interrupt him while he preaches to one of the black students that his skin is beautiful. "... That'd be like the first lesson in white privilege that he learns and we don't want to oppress people right now you got?" he says before dapping the child up and calling him an ally. He challenges an elderly white woman on her assumption that black people commit more robberies and crimes. There is no argument or tears, just Mike's silent defeat in realizing that her opinion on the subject isn't likely to change. It is sound bites from these scenes that make
Trigger Warning
worth it, however absurd it may be.
Trigger Warning with Killer Mike is available on Netflix now.