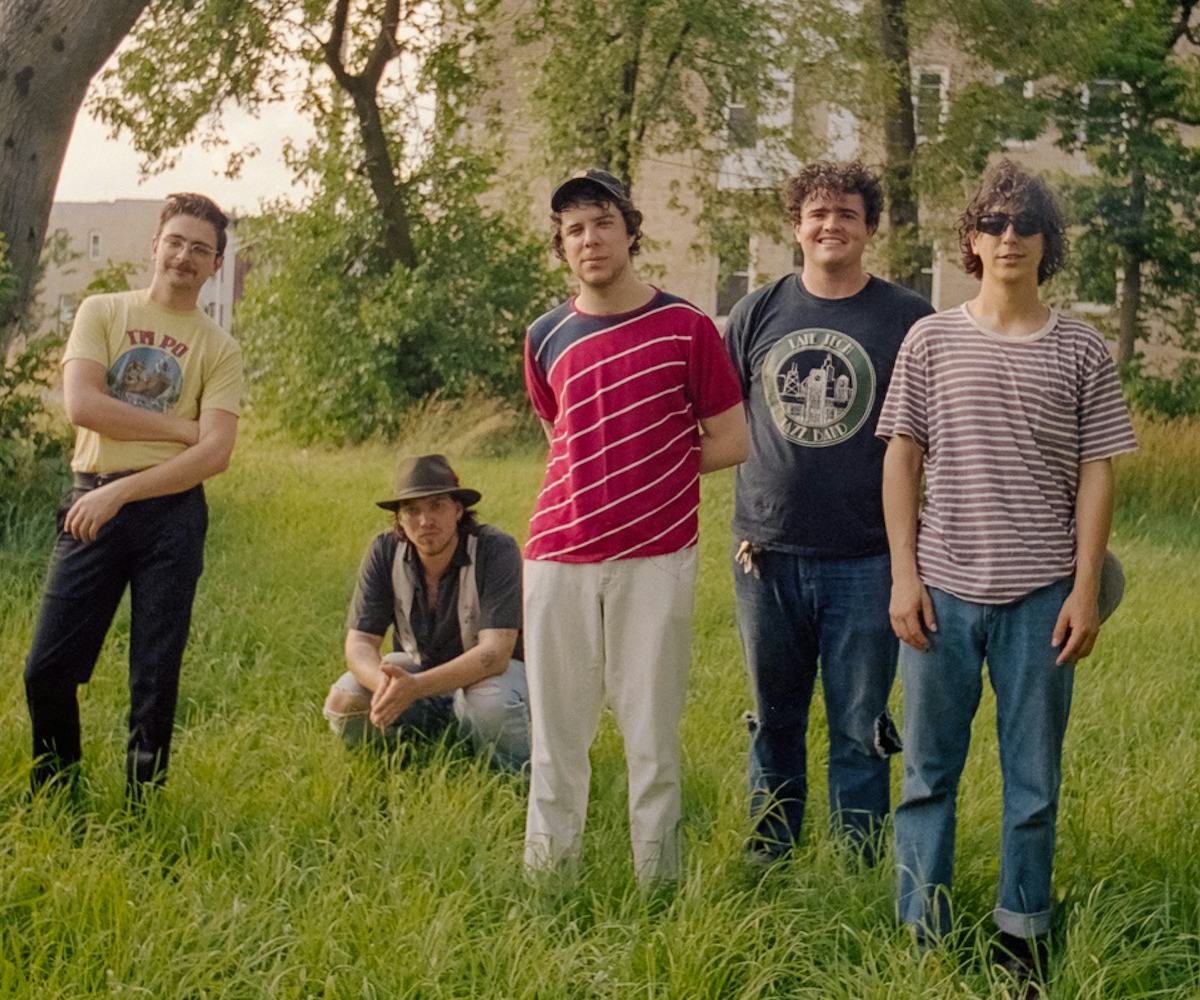 Photo by Cooper Fox
Twin Peaks Is All Grown Up
Talking with the band about their new album, 'Lookout Low'
Listen to Twin Peaks' fourth record, Lookout Low, and you'll hear a band that's comfortable in their craft far beyond their young age. It's all a bit paradoxical, especially for a five-piece whose members all hover around the age of 25: Despite playing together for the past decade, with three self-produced records already under their belt, the record is still a product of a group that has plenty ahead of it, even as they've already accomplished so much.
It's that intimate self-knowledge that gives Lookout Low its lived-in, well-worn sound, a record that's just as mellow as their last full-length, 2016's Down in Heaven, while ramping up the production and musicality of each track. A song like "Unfamiliar Sun" ambles along with the kind of heartbreak that feels appropriate whenever life's inescapable fullness comes into view, as bassist and singer Jack Dolan mourns: "You and I rode so long know I'm never the same/ The leaves will fall, the weight of it all/ Ready or not, it's coming in hot."
As their first proper record since 2016's Down in Heaven, the group focused on giving their songs an outside perspective. Working with a producer for the first time, the band enlisted Ethan Johns, a British producer who's worked with the likes of Paul McCartney and U2, opening their process up in new and surprising ways. The results speak for themselves: While the group managed to record 27 songs during their stay in a studio in rural Wales, a productive burst enabled by being able to record each band member at once, Lookout Low is nevertheless a tight 43 minutes. It's a distillation in 10 tracks of the group's finest songwriting, showcasing multiple tracks from each of the band's singers: guitarist Cadien Luke James, keyboardist Colin Croom, guitarist Clay Frankel, and Dolan. Lookout Low also features backup vocals from OHMME, a standout duo that's also from the same lively Chicago scene that Twin Peaks calls home.
A few weeks before the album's release, NYLON sat down with James, Dolan, and drummer Connor Brodner in a Swedish bar in Chicago, discussing the album over frozen glogg slushies.
How did you end up recording 27 songs at once?
Connor Brodner: The goal was just to record anything anybody had, whether it was in line with some sort of vision or not.
Jack Dolan: We've always approached every record from the same place, where we all individually have demos and stuff that we bring to the table. We had a conversation way before this that was kind of like, "How do we make sure that it's all the best stuff that we have?"
Cadien Luke James: We've never done band demos, it was always someone had their own demo. And we would just make the album version and kind of be writing any part changes or whatever after laying down our instruments. We wanted to make full band demos, so we could get everyone's contribution and idea on their instrument before we recorded the song.
JD: It's fully realized more than it's ever been.
How did recording the album in Wales come about, and what was that whole experience like?
CLJ: When we decided we wanted to do the record with Ethan Johns, he didn't want to come to the States, he wanted to be close with his family in the U.K. And he was looking for a retreat-like rural studio.
CB: Even he was even blown away by the studio. It was really professional, but also just a large house.
JD: There's another one that's pretty close that we were going to go to initially. And it ended up being that the Cure was recording there. It was like, "Okay, I guess we won't go there." [laughs]
CLJ: It was a really awesome spot. The people who run it are just this couple, like a pretty young couple, who met working there and got hitched and bought it. They really took care of us, they cooked us three meals a day.
CB: Monnow Valley Studios. Definitely recommend anyone who's looking at studios.
JD: When we came back, I was watching the Oasis documentary on Netflix, and there's a whole thing about the studio. How they, like, stayed there and recorded Definitely Maybe.
CLJ: We did Down in Heaven similarly—like, in a rural location—but we set up our own studio. We hadn't really recorded in a kind of fancy studio like that before, so it was really cool. It was nice being out of the country, so far removed from everything, being able to say, "We're here to get this done." When we were done each day, we watched a lot of movies, which was nice.
How did recording with an outside producer impact the way you worked?
CB: We've been very nitpicky in the past, let little things bother you because it wasn't how you wanted it, whether it's a mistake or not. But the producer put it a great way: "It's not a master unless there's a mistake."
CLJ: It ended up being really reassuring, because I think we were all to some extent a little nervous or unsure about how recording live vocals and just doing it like that was going to go. The first couple times we listened back to a take, I think we all still had to get used to it. But it felt like he just put a mirror up to the band.
CB: Just knowing what you're looking for moving forward, you know, we have a better idea of what's really important and what's a non-issue. Sometimes you're too close to it, and you build up shit in your head. It was really cool to be able to get out and just trust what was going on.
CLJ: Also, finally understanding why everyone always talks about us as a live band. We've never really gotten to experience that. This isn't the same either, but being able to gain confidence in these live takes and be like, "Oh man, we just did that."
CB: We had figured out how we all work together without an outer party being involved.
JD: It takes a lot for a band that's been together for so long to concede so much to one person and just putting the utmost trust in him. When he's like, "That's the take," we'd be like, "Oh, okay." And then it becomes easier the more you do it. Eventually, it was like, "That's the take, that's the take, alright. Cool, we're done." [laughs]
CLJ: We didn't know exactly what we're looking for. But he wasn't looking to tell us how to change the song. You know, stuff like, "This lyric isn't good, fuck that guitar part." He was pretty much like, "Just play the song." He listened to it, and the most he ever did was come by and be like, "Maybe don't use any of those pedals."
It's not like you're old or anything, but having played together for a full decade, the band is definitely more established than many others with members your age. What's the biggest thing you've noticed that's evolved over that time?
CB: Our chemistry. It's something that I never think you get to a place where it's that's done at being built or figuring each other out in little weird ways. We feed off of each other and without having to speak something into existence, it'll come through in a song.
JD: It's easy to forget that we're all just like 25, because we've been doing this for so long. We're all still super young. You're always reminding yourself that, like, there's so much more that left in the tank, appreciating how long we've been doing it without feeling like old heads a little bit. But with the climate of music, especially with the internet, you can feel like you're outdated a couple years in.
CLJ: It still feels for me like, the last two records, each time it feels like our first record again.
CB: We're getting closer to where we've always wanted to be, or didn't know how to get there, which is cool. I'm glad we haven't gotten there yet, because then what do you do?
CLJ: Keep on the music somewhere new.
JD: Jeff Tweedy started Wilco when he was 26. So we're still not there yet.
Do you notice getting older impacting your desire to tour or do things as intensely as you used to?
CB: We recently had to drive back from New York, and we were like, "Man, maybe we should just play at someone's house." But then it was like, "Damn, I'm tired." Back in the day, we would play shows at houses and people would come or not come. Now it's like, there's going to be a dangerous amount of people, things are going to get broken. If there are kids drinking there that are underage, the cops come...
CLJ: Yeah, I used to be that underage kid. I really appreciate the people who let us hang at shows in their basements when we were underage. Now, I'd be sketched out about it, I'm not as cool. [laughs]