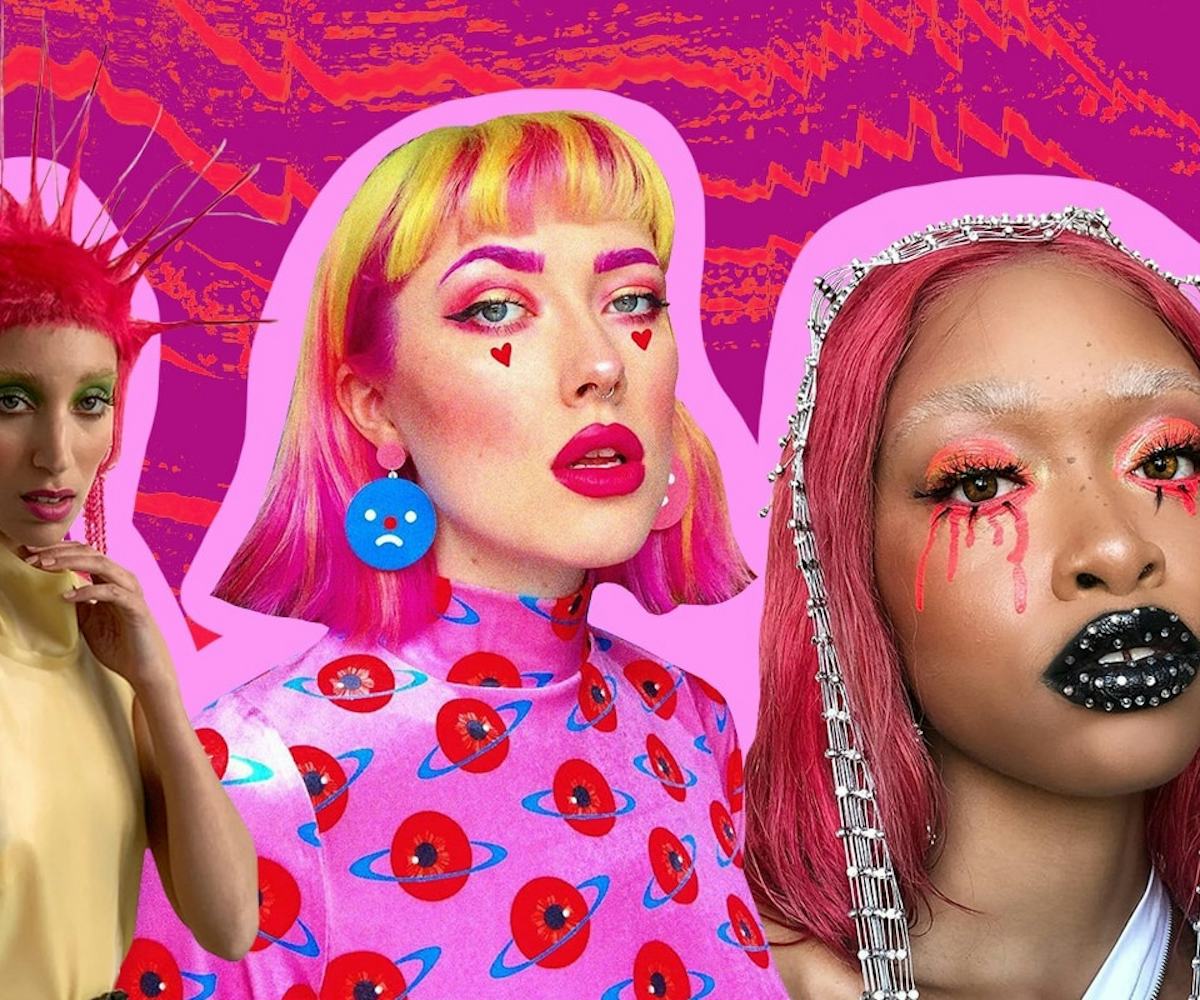 Photos via @anatakonyourface, @evaniefrausto, @elizabethwhibley, @thescottedit Instagrams
Looking For Unconventional Beauty Inspiration? Follow These Instagram Accounts
Look, we've pretty much had it up to here with today's major players in the world of beauty blogging and YouTube. From all the drama surrounding James Charles—the transphobic comments, the whole thinking influencers are marginalized thing, and that entirely too long and drawn-out back-and-forth with Tati Westbrook—to all of the other racist YouTubers and literally everything Jeffree Star says or does. We're just... over it.
With that said, we've been looking to give our own feeds a bit of a makeover—and, if you find yourself still following any of the above, we're pretty sure yours could use one too.
That's why we did a deep-dive into the wild world of Instagram to find the accounts that actually deserve our follow. Far from the cookie-cutter, caked-on looks you'll find on traditional "influencer" accounts, these are the young, emerging visual artists, working makeup artists and hair stylists, models, and other influential types opting for cutting-edge, unconventional takes on beauty.
So if you find yourself looking for truly unique (and *bonus* drama-free) beauty inspiration, go ahead and give these 10 accounts a follow. We promise, you won't be disappointed.
@elizabethwhibley
If cute-but-quirky looks in a Lisa Frank-esque color palette are what you're craving, consider giving U.K.-based artist, student, and model Elizabeth Whibley a follow.
@uglyworldwide
Chances are you're already familiar with Detroit-born model Jazzelle Zanaughtti, aka @uglyworldwide; they're a muse of legendary photographer Nick Knight and now a household name in fashion, starring in campaigns ranging from Savage x Fenty to Mercedes-Benz. To our delight, their Instagram feed is filled with all the gender-bending, out-there, wild beauty looks we crave.
@laetitiaky
Prepare to be mesmerized by the intricate hair sculptures of Ivory Coast-based artist and fashion designer Laetitia Ky.
@thescottedit
L.A.-based makeup artist Scott Osbourne Jr. doesn't shy away from a powerful punch of pigment and intricate, hand-drawn detailing—but what else would you expect from Rico Nasty's key makeup artist?
@kikopaint
U.K-based artist and musician Kiki Nafig doesn't just do makeup but rather creates literal works of art—masterpieces, really—with her face as her canvas.
@cupidsvault
New York-based stylist, makeup artist, and overall creative Cupid goes beyond makeup to create his otherworldly looks, using everything from flowers and succulents to ribbons, chains, and feathers to create some of the wildest, boundary-pushing looks we've ever seen.
@adultsdrink
If you're looking to add a bit of edge to your daily look, check out the feed of Georgia-based writer and makeup artist Jacinda Pender, where you'll find tons of artfully unconventional looks that are still, oddly, wearable.
@anatakonyourface
The work of London-based makeup artist Ana Takahashi is always intricate, to say the least, whether she's painting a detailed landscape of Mount Fuji on her eyelid or a pearl-lined, Boucher-inspired masterpiece over her entire face. Either way, her feed is sure to get your own creative juices flowing.
@urgalsal_
London-based beauty blogger Salwa Rahman is one to watch, as her captivating "more is more" approach to makeup breaks all the rules. Whether she's bedazzling her face in crystal appliques or smearing neon all over her lids, we just can't get enough.
@evaniefrausto
If you find yourself in need of some wigspiration, look no further than the account of NYC-based hairstylist Evanie Frausto.
Want to see more stories like this? Sign up for our wellness newsletter.