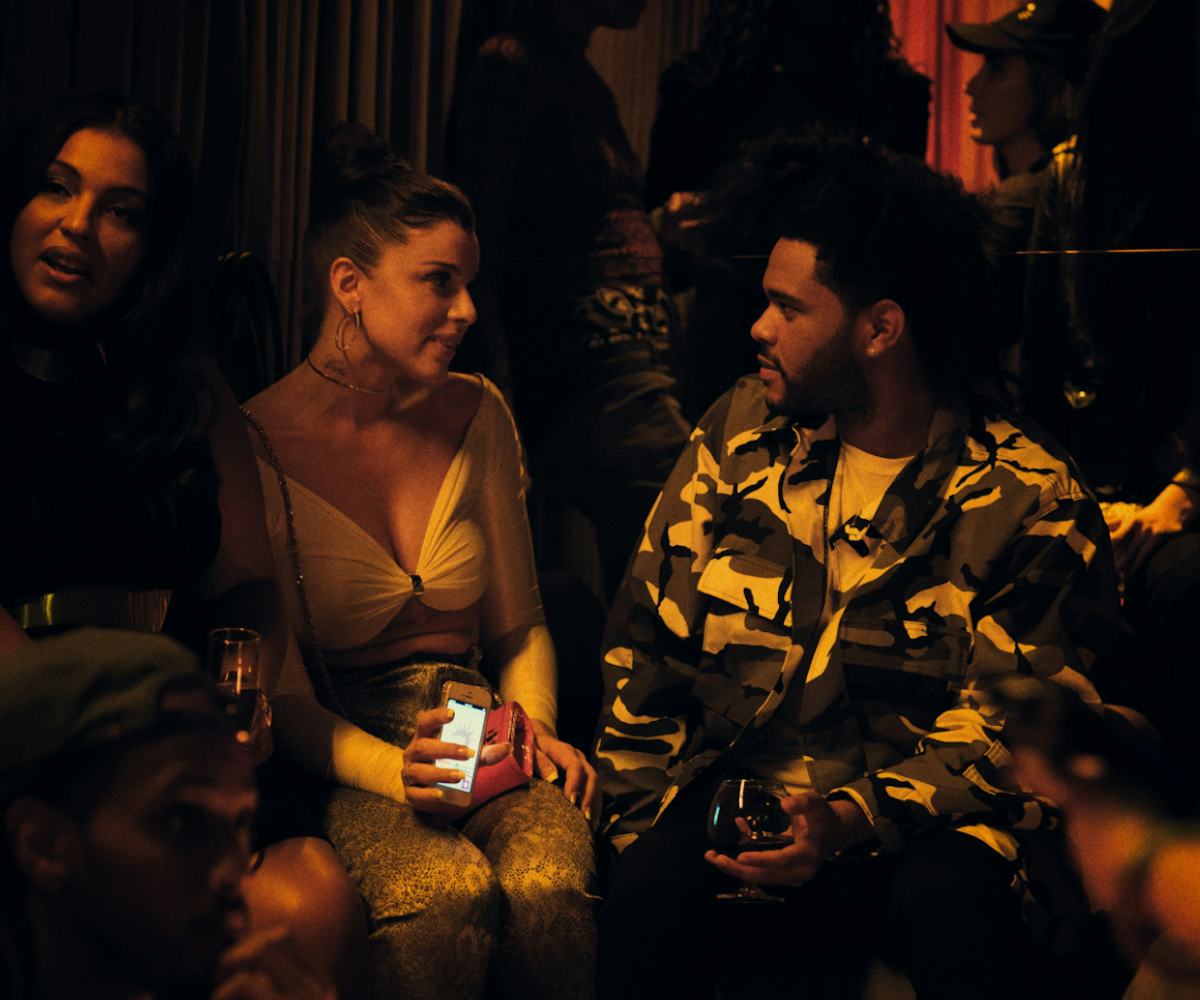 Photo Courtesy of A24
The Weeknd Wore His Own 2012 Jeans In That 'Uncut Gems' Club Scene
Costume designer Miyako Bellizzi takes us through all the circa 2012 looks
Sure, Uncut Gems is a non-stop, adrenaline rush of a movie that you can't shake off even hours after you leave the theater. But it's also a hyper-stylized editorial snapshot of New York fashion in 2012 — best illustrated, obviously, in an intense pressure-packed and action-filled nightclub scene.
Diamond District dealer Howard Ratner (Adam Sandler) is relentlessly hustling towards that next big — and usually elusive — score, while also feeding a pretty major gambling addiction. Leaving his justifiably dissatisfied wife and kids in the 'burbs, he's rushing into Manhattan to meet girlfriend and shop employee, Julia (Julia Fox). Since she only had to cross town from Howard's Murray Hill crash pad, Julia's already settled into the club's VIP room and partying with a potential customer: a then-up-and-coming artist named The Weeknd (Abel Tesfaye, playing a version of himself). Because "he's gonna be major, even though he's from Canada," as Julia explained earlier to a skeptical Howie.
For the film's utmost authenticity, writer-directors Josh and Benny Safdie cast real, first-time actors, like former Celtics forward Kevin Garnett (who has a promising second career in Hollywood), so the choice of the exact 2012-era nightclub naturally stayed true to life, too.
"1 Oak is a staple New York City-type place, especially in that era," says Uncut Gems costume designer, Miyako Bellizzi, who previously collaborated with the Safdie Brothers on Good Time. "It was really [authentic to] where they both would be going."
When 1 Oak opened its doors in the post-crash year of 2008, the admission policy — enforced by discerning clipboard gatekeepers and hulking bouncers — was based on "an appealing personal style or disposition," per co-owner Jeffrey Jah to The New York Times. By 2012, 1 Oak was at its pinnacle, bringing celebrities and a mix of New York City subcultures together to collectively fist-pump to Tiesto and Avicii and stunt with tragically overpriced bottles of Grey Goose.
The frenetic and unpredictable energy from the pounding music, pulsating lighting, and aggressively flickering champagne bottle sparklers help foreshadow the accelerating action to come — as well as the specific-to-2012 style to unfold. Also, Bellizzi, who's styled for the likes of Nike, Dior, Supreme, and Kenzo, would know all the 1 Oak swagger, firsthand. "At that time period, I actually worked in a club in the Meatpacking District," she admits. "So I remember a lot.
As played by IRL club fixture Fox, Julia is "Howard's right hand," explains Bellizzi, setting the scene. "She's the one in the [diamond] shop making all the deals and she's the number one salesperson." Julia also serves as the face of the brand, essentially, so she wears all of the sparkling showroom merch as a kind of marketing exercise. "[Howard and Julia] always leave the house wearing what they're selling. So if someone likes it, they can be like, 'Come to my shop,'" adds Bellizzi. For the night out, she accessorized Julia with relatively subtle channel-set oversized hoops and a choker, sourced from Diamond District jewelers "up the street," but did sneak in one vintage-inspired statement ring by Mindi Mond.
"But, also, she only wears designer," adds Bellizzi.
Julia's chain link-strap bag is Chanel, as are most that she carries — and some borrowed directly from Fox's own personal collection. Her Guiseppe Zanotti heels are crystal-encrusted "super gaudy, high" peep-toe platforms, which awkwardly highlight Julia teetering past the cackling 1 Oak queue outside the club — presumably in search of a cab in a pre-Uber Manhattan.
As for her outfit, "Julia is the typical uptown girl who goes downtown to party," explains Bellizzi. "She's a very specific New York City girl, who works in the Diamond District, so she wouldn't really be particularly fashionable or style-heavy. She's a little behind the times, too, just like Howard." (More on him in a sec.)
Finding the right look was a "constant struggle" for Bellizzi, who considered a custom dress by Beckett Fogg and Piotrek Panszczyk's club-wear brand Area and, of course, Hervé Leger bandage dresses. But Bellizzi landed on a pair of vintage silver, python-print Christian Lacroix slim-fit trousers from Gabriel Held Vintage. After considering multiple options, she eventually had the film's in-house tailor custom-make an ideal '70s-inspired long-sleeve crop top in a specific white fabric with a sheen. Thinking on her feet to finish off the look, Bellizzi "sacrificed" her own wide-band hoop — straight off her ear — to cinch the deep-V of Fox's top to the bra. The whole look came together when The Weeknd-requested blacklight illuminated the room. ("Where's the f*ckin' blacklight?!")
"We didn't even test it with the blacklight, but as soon as she walked in the club — seeing how brightly lit up her shirt was — I was almost in tears," says Bellizzi.
The lighting also helped determine The Weeknd's camo jacket to perform "The Morning," from his 2011 debut "House of Balloons" mixtape, and proposition Julia in a cozy restroom moment. And The Weeknd did indeed wear a lot of military-inspired boxy vests in 2012. (See: Lollapalooza and Osheaga.) Coincidentally, Bellizzi worked with the Canadian singer-songwriter in "2013 or 2014" for an unreleased video of "Can't Feel My Face."
"It was a weird full-circle moment, as well, because I hadn't seen him since then," says Bellizzi. Brainstorming during a few prep meetings, Tesfaye gave her access to his early 2010s wardrobe, which he still had on-hand. "But then, at the end of the day, we ended up going with the white-and-black camo because it popped so brightly," recalls Bellizzi. "He usually did the green or the brown camo a lot." Tesfaye made his own contribution to the production by wearing his own jeans, too.
Also, look closely at The Weeknd's friends' outfits, which are full of sartorial Easter eggs representing that nascent period of streetwear's current iteration, which is hitting its peak today. "That new elevation of streetwear had just started. It really hadn't been a thing before that point," explains Bellizzi. "It was the beginning of high-end designers becoming more streetwear."
She had specific 2012 items in mind to incorporate, like trendy MA-1 flight jackets and two very recognizable pieces from Riccardo Tisci for Givenchy. Flawless (actual custom jeweler Greg Yüna) wears a star-emblazoned shirt from the French luxury house to vouch for Howard's entry into VIP and Demany (LaKeith Stanfield) low-key drips in Tisci's signature Rottweiler graphic T, but hidden under his neon orange hoodie. "That was a big top," Bellizzi says.
For the guys, she spent a fair amount of time hunting streetwear from dealers on eBay, while for the club-going women, The RealReal was a huge resource for 2012-era resale. "It was a big year for peplum, neon, and mesh cut-out," she says.
Rounding out the club scene for any era, really: Howard. "For me, working and going to 1 Oak and Avenue around the corner, at that time period, there's always that guy," says Bellizzi. "The midtown, uptown guy, middle-aged guy who's trying to be young and cool. You always see them at that club."
Howard perfectly embodies that guy in his shiny pink button-down shirt, accessorized with his go-tos of "always matching" Salvatore Ferragamo shoes and belt, as he struggles to make his way through the throbbing crowd, while yelling into his iPhone 5, as the transition lenses in his Cartier frames go dark.
Bellizzi had Howard's shirt custom-made by a New York tailor to achieve that perfect shade of pink — with trying-way-too-hard shine and the business-y double-button collar — to contrast the rest of the cool kids and stand out from the blacklight-ready white. "It's Howard's version of dressing up," she says
The deliberate untucked nature of his shiny shirt also enhances the absolute indignity of Howard groveling at VIP, getting into a losing shoving match with The Weeknd and being carried out of 1 Oak by bouncers like a squirming rag doll. ("I know every single DJ in this town!")
"That scene in general, that whole day, was a pivotal moment in film for me where everything just made sense and meshed together and everyone looks so good in the club," says Bellizzi. "I was brought to tears on that day."
Uncut Gems will be out in theatres December 13.