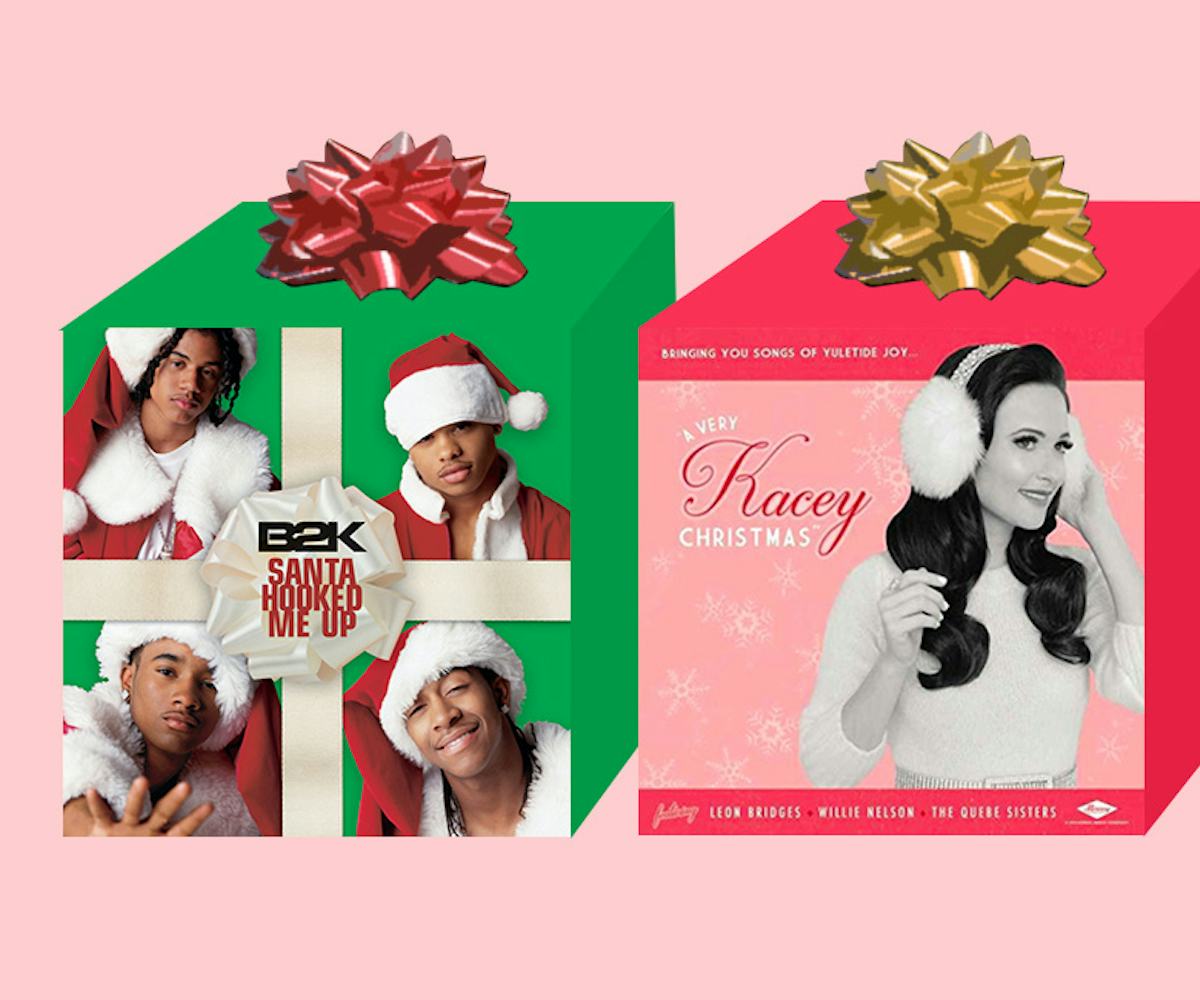 The 11 Most Underrated Holiday Albums
Every artist, it seems, has made a Christmas album at one point in his or her career. It's almost like a rite of passage to add your voice to the holiday music lexicon—if you haven't, can we really take you and your music seriously?
Of course, we can, not least because artists often make holiday albums primarily for money, as Vox points out, noting that it's a "great way to pull in some extra cash in a year when an artist hasn't created a plethora of new, personal work." And making them doesn't take that much out of them as far as creativity goes, we imagine. Most records are covers of already famous songs because rarely do original tracks reach Jackson 5-, Nat King Cole-, or Wham!- levels of fame.
That's why, usually, these one-off albums are tucked away in an artist's discography, played only by the most devoted of fans. So, we decided to pull some of them out and bring you the ones we consider to be the most underrated. Like we said, almost every artist has made a Christmas album, so there are likely many you've never heard before (like Hilary Duff's 2002 creation). Ahead, check out our favorites for when you want some holiday music you haven't heard a million times over.
Kacey Musgraves, A Very Kacey Christmas
If you've worked in retail during Christmas time, you know the pain of being forced to listen to holiday music on repeat. My saving grace came in the form of Kacey Musgrave's A Very Kacey Christmas, which got me through two Christmas seasons. It's a mix of both classic covers and original tracks, but the originals are where she shines. "Present Without a Bow (feat. Leon Bridges)," "Christmas Makes Me Cry," and "Ribbons and Bows" are so good they get playtime outside of the holiday season. The album is campy and nostalgic, and I'm sure it will be a classic for years to come.—Lindsay Hattrick, design assistant
Bright Eyes, A Christmas Album
Ah yes, Bright Eyes' 2002 album, A Christmas Album, aka the sound of my holiday teen angst. As a teen, I felt I was too cool for the radio station Christmas music my parents played, and instead holed myself up in my room with my iPod and Bright Eyes. This Christmas covers album brings the same sad, melancholy vibe as singles like "Lover I Don't Have to Love" released the same year. While I'm no longer an angst-ridden teen, this album is a great companion to my adult "single and lonely" holiday feelings.—Hattrick
Whitney Houston, One Wish: The Holiday Album
I honestly don't know what more I could want from a Christmas song than Whitney Houston singing it. While every song on One Wish: The Holiday Album is a Certified Holiday Banger™, my two favorites are "The Christmas Song" and "Have Yourself a Merry Little Christmas." Houston's soaring vocals and riffs on each of these songs send me every time. This album should be getting Mariah Carey-level holiday airplay.—Hattrick
B2K, Santa Hooked Me Up
The New York Times called this album "the year's most ludicrous Christmas album" when it came out in 2002, and it's not not a compliment. Holiday albums are typically comprised of identical renditions of the same songs, but not B2K's. There's rapping, there are slow jams about being dumped on Christmas, there are accusations that Santa's gone crazy—a well-rounded album! But the record also proves that, sometimes, covers aren't horrible. Jhene Aiko (yes, that Jhene Aiko), swoops in on the last track for an unexpectedly fun version of "Santa Baby."—Taylor Bryant, web editor
CeeLo Green, CeeLo's Magic Moment
Fourteen tracks seems a little excessive for a Christmas album, and it is, but CeeLo Green does a good job of holding your attention. There are features from Christina Aguilera, and kind of randomly from The Muppets. The real win here though is Green's signature Motown flare which adds an extra dose of charm to typical Christmas songs like "This Christmas" and "White Christmas." It's an album that both you and your parents will love.—Bryant
Hilary Duff, Santa Claus Lane
This album popped up on my timeline recently by way of a tweet announcing that it's been 16 years since its release. And, just like that, I found myself walking down Santa Clause memory lane. This was pre-Metamorphosis Hilary Duff, so it wasn't on a lot of people's radars yet—but, that's what this list is for! The record isn't on Spotify or anything (unfortunately!), but you can find the unprecedented six original songs and classic Christmas covers somewhere on the internet if you dig. You'll know you've found it once you come across amazing lyrics like: "I went for a walk as the snow came down/ And when it stopped I was in a different town/ And the sign said have no fear; you're not lost you're here!"—Bryant
Christina Aguilera, My Kind of Christmas
Sure, Mariah Carey is everyone's undisputed queen of Christmas, but in 2000, Christina Aguilera blessed us with an entire holiday LP of her own. A deep cut in the consciousness of Christmas albums, My Kind of Christmas doesn't get the attention it deserves. Look no further than "The Christmas Song (Chestnuts Roasting Over an Open Fire)" where she roasts your faves with the most legendary vocal runs. "These Are Special Times," written by Diane Warren, is peak 2000s R&B/pop with a festive twist. Perhaps it was too ahead of its time, but 18 years later, Xtina's masterpiece is the gift we should all receive.—Javy Rodriguez, associate social media editor
The Maine, ...And a Happy New Year
Did you even have an emo phase if this didn't take precedence over all other albums once December 1 hit? My music taste may have expanded quite a bit since this EP came out, but there's no way I'd ever want to go a year without "Ho Ho Hopefully" blasting on repeat.—Allison Stubblebine, editorial assistant
Various Artists, The Hotel Café presents... Winter Songs
If you're tired of the traditional Christmas album but still want to get in a little holiday cheer, this is the album for you. Ingrid Michaelson and Sara Bareilles perfectly capture the melancholic beauty of winter in the titular "Winter Song," before a solid lineup of singer-songwriters and pop vocalists cover all the classics. If it's not Fiona Apple's rendition of "Frosty the Snowman," I don't want it'—Stubblebine
Barbra Streisand, A Christmas Album
I don't actually really like Christmas albums all that much, probably because the world is forced to listen to them nonstop for a full month, and I don't like being told what to do. Even so, I would listen to Barbra Streisand sing literally anything, and I would listen to this album any time of year. Actually, this is probably the only holiday album that I give the time of day (I know, I'm a Grinch, don't come for me).
—Bailey Calfee, staff writer
Low, Christmas
A lot of Christmas albums reflect the part of the holiday that is excessive, upbeat, and tangible. This album by Low is slow, spare, and oftentimes feels like the endless white sky when it's snowing. Despite the weight of the atmospheric compositions, the songs are comforting in their earnest portrayal of winter, and their covers of "Silent Night" and "Little Drummer Boy" keep the album from straying too far from the familiar. —Sarah Lutkenhaus, design director